Shifting IP Dynamics: Top 5 Players Lapsed 43% of their Portfolio due for Maintenance
The Covid-19 pandemic has impacted almost every business and industry sector except a few. While there's been a lot of buzz around the shifted IP dynamics during these unprecedented times, the USPTO preliminary data for the year 2020 shows 1% decrease in patent grants and a 2% drop in application filings, when compared to the pre-pandemic year. In contrary, WIPO data shows a cumulative increase of 4% in PCT applications over the same period.
To explain these contrary figures, a detailed analysis is subject to application data publication which may take more than a year for accessibility. So, it would be inappropriate to argue about the dampened US filings or correlating the slump with the quality of applications, given the latest USPTO fee hike.
To avoid making any speculations, it would rather be wise to take a plunge into the patent portfolio management strategies of the top companies that may shed some light into these shifting IP strategies, amidst the ongoing crisis.
Letting Patents Lapse
By observing the data fetched using some of the propriety tools, it is found that top 65 companies with the maximum number of US grants for the year 2020 had lapsed 1,53,045 US grants – that were scheduled for their first, second, and third maintenance terms in 2018 and 2019.
Data indicates that 28% of the total US grants scheduled for their maintenance terms in the years 2018 and 2019 have been lapsed, however some of these patents could still be reinstated. The figure below illustrates the top five players in accordance with the number of lapsed US grants scheduled for respective maintenance terms in the mentioned tenure.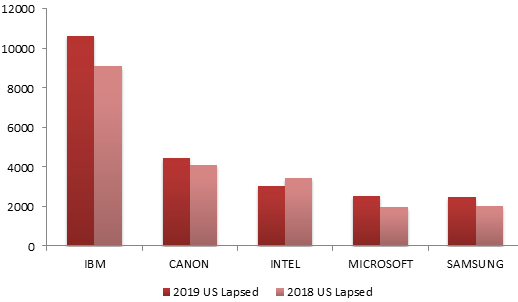 The numbers reveal that these top 5 companies have lapsed a cumulative 43% of their patent portfolio scheduled for maintenance during the years 2018 and 2019. Such a huge percentage raises rather shallow but important question about their filing strategies. However, one may simply argue that this is only but a consequence of their underlying low risk and cost contained during patent creation policy.
Otherwise, if an inordinately qualitative IP policy is followed at the time of patent conception, companies may end up with additional cost overheads on top of enhanced risks – may even miss on some promising technologies. While this may sound logical, it may not uphold as any conclusive argument.
This data and the presented facts warrant the need for diving into the above players' filing and grant numbers.
Inevitable Portfolio Elites
Figure below illustrates the top 5 players with maximum number of US grants for 2019 and 2020. The same can be observed over many preceding years. These are the same companies which have been lapsing maximum number of patents over the years. This essentially corresponds to their diligent IP policies – lapsing all that weighs on funds while innovating the future tech.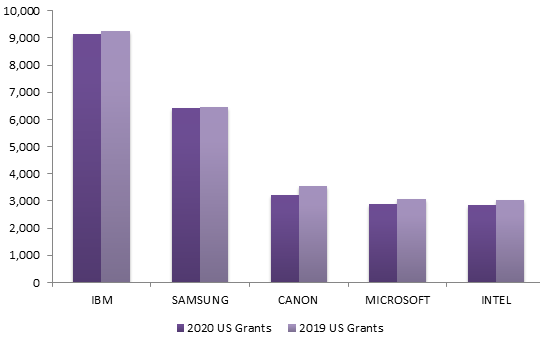 This however isn't just a number game. Hundreds of their patents have been reassigned over the years, e.g., approx. 5000 of the IBM US patents have been reassigned in 2019 alone. That would mean to either license or sell depending on its applicability/non-applicability with respect to their products. This collectively means:
They have embedded continuous portfolio evaluation processes, to categorize patents: we call them as Fundamental, Future and Fringe.
Based on their evaluation processes, they continuously shape their portfolio decisions either to keep, license/sell or lapse their patents.
These are some of the foundational strategies that have been helping them to unceasingly lead the innovation table together with their market spaces.
Funds Delegation
Now, let us redirect our investigation and look from the objective of cost delegation – if that may be a case for any company. And to illustrate the same, let's take the example of IBM and evaluate the lapsed US patents according to first, second and third maintenance terms for the years 2018 and 2019. Figure below depicts the astonishing comparison of IBM's effective maintenance fee against the fee paid for the subject tenure for its US grants.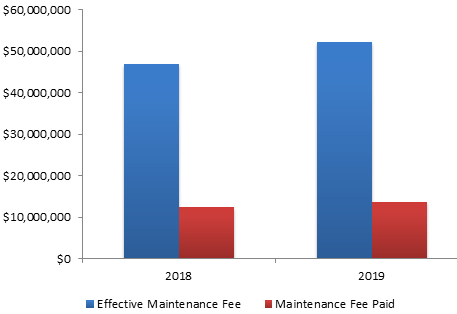 It is evident from the figure that IBM has been consistently lapsing a huge set of its portfolio and together with several of its parallel IP strategies, has successfully been leveraging its strong patent position to achieve grand IP and market specific goals. We would however like to reiterate that some of the patents from the recent lapsed portfolio may be reinstated, but that may hardly affect such a massive difference.
Anyone from the IP industry who has followed to this point must have comprehended the use of these funds. Without any doubt these saved funds can be used to rejuvenate any companies' future and current IP strategies from filing fresh applications to prosecuting progressive innovations.
A sneak peek into the clutter
As mentioned, this isn't just a number game and has much more to it. Portfolio evaluation is the key in the process, e.g., US 7215319 patent lapsed by IBM in its third maintenance term discloses a wristwatch feature based on optical touch sensing mechanism. However, present day market besides being loaded with smartwatch consumer base doesn't utilize such a sensing mechanism. And the tremendous advances in the smartwatch enabling technologies have rendered the patented technology obsolete. This signifies the need for consistent evaluations, or the companies would end up protecting dead assets with strained budgets.
Data further suggests that a good number of semiconductor patents have been lapsed over the years which certainly correspond to the consistent advances in the technology sector.
The onus lies on IP leaders and the above findings make it imperative for them to utilize similar strategies to benefit from these shifting IP dynamics.
Mudasir Ibn Bashir, Dhananjay Kr. Das (ICT) and the Editorial Team
Having Queries? Contact Us Now!