Why is it Important to File Patents in FinTech?
File patents in FinTech: FinTech is an emerging industry that uses technology to improve financial activities. To file patents in FinTech is uniquely powerful as compared to trademark and copyright.
Perhaps, patent protection is one of the most crucial elements that FinTech companies need to work on. This is the most significant in the case of FinTech start-ups. This is because they spend a lot of time, effort as well as development costs in creating novel solutions. New ideas pose a second-mover advantage when not filed or defended accurately. This is why the FinTech industry is currently witnessing a surge in patent filings.
FinTech Financing Trend – India
FinTech market possesses the ability to scale up to $31 billion in India in the coming years. WhatsApp is the most popular and widely used messaging app with over 200 million active users in India. This app rolled out a Unified Payment Interface (UPI) feature that was developed by National Payments Corporation of India (NPCI). This instant mobile-to-mobile digital money transfer system between participating banks allows users a fuss-free platform for merchant payments. UPI payments is quickly getting adopted by other global giants too including Google. This global platform launched their payments app called Google Tez, which has now been re-branded as Google Pay. Samsung and Amazon followed suit by launching Samsung Pay and Amazon Pay respectively.
Apart from global giants, Indian digital payment companies such as PayTM, MobiKwik, PhonePe and FreeCharge, are all UPI-enabled and strengthening their market game. Mobile payments to date have witnessed several investments.
Let's have a look at the FinTech patent trend across India: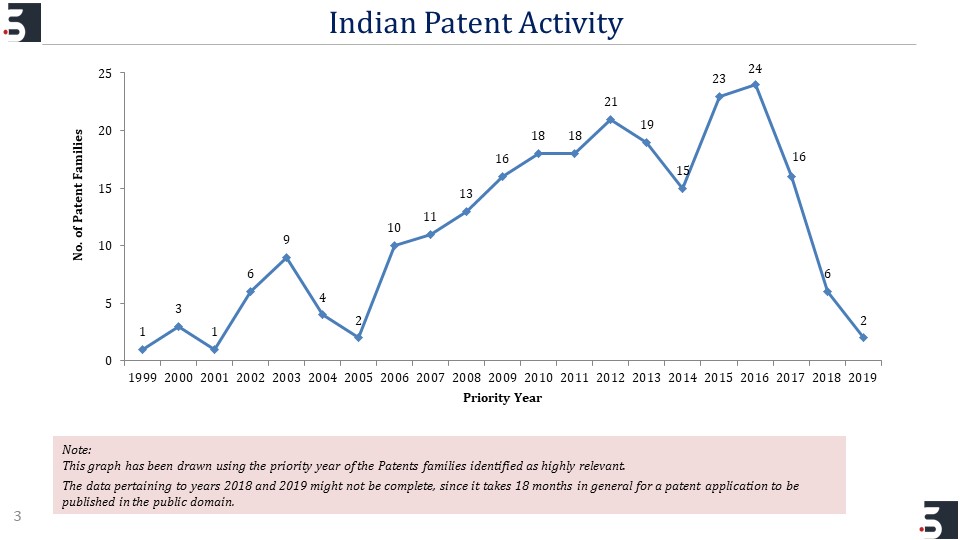 The above graph shows the Indian patent activity for the past two decades. The graph below shows Indian companies who hold the maximum number of patent families in this market: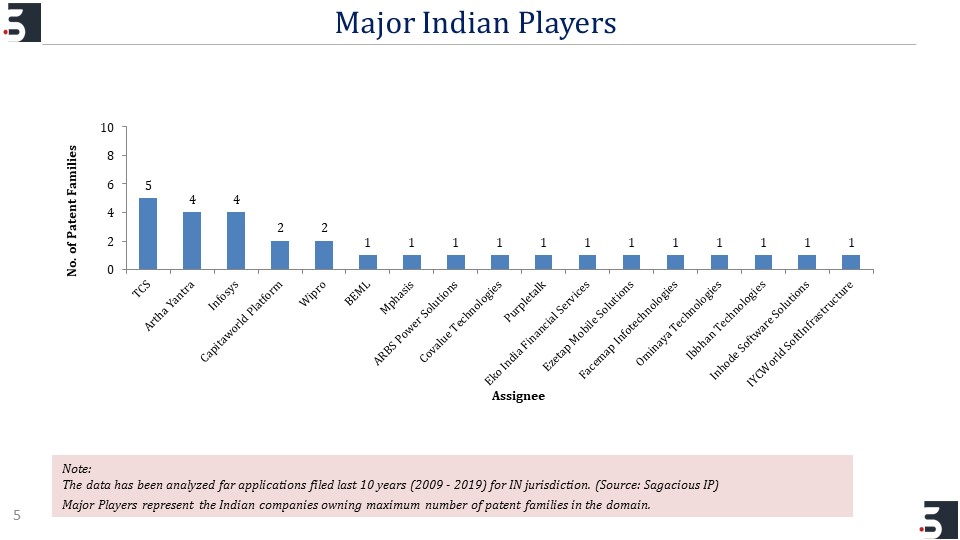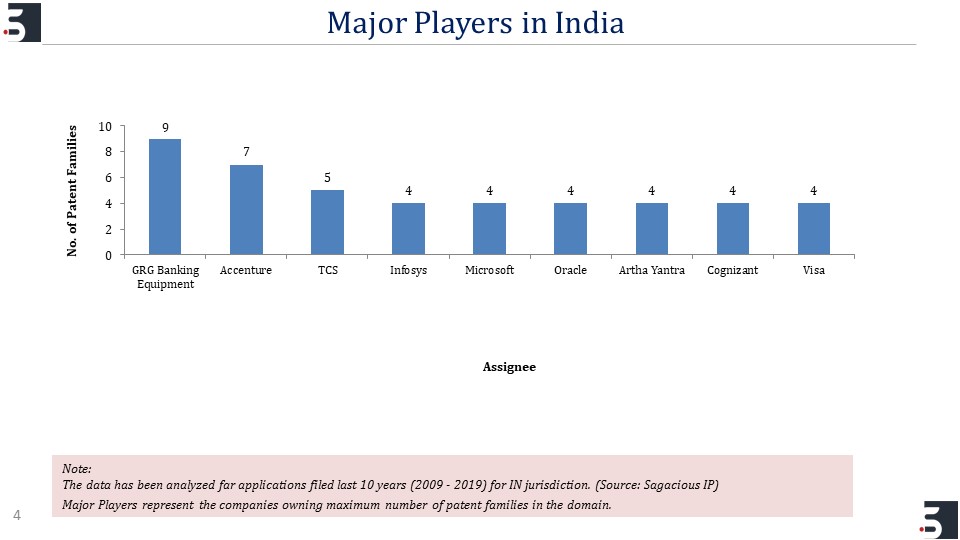 Let's also have a look at the major Fintech players in US: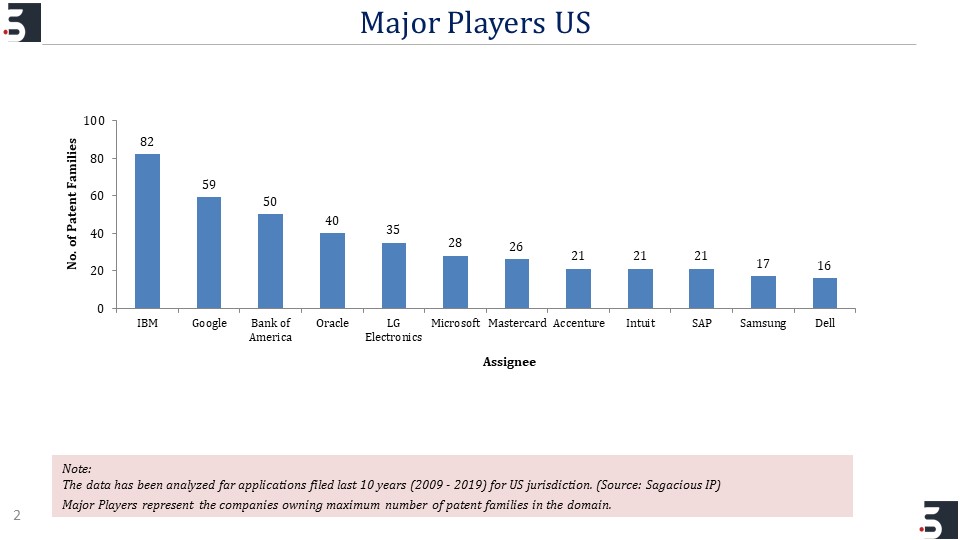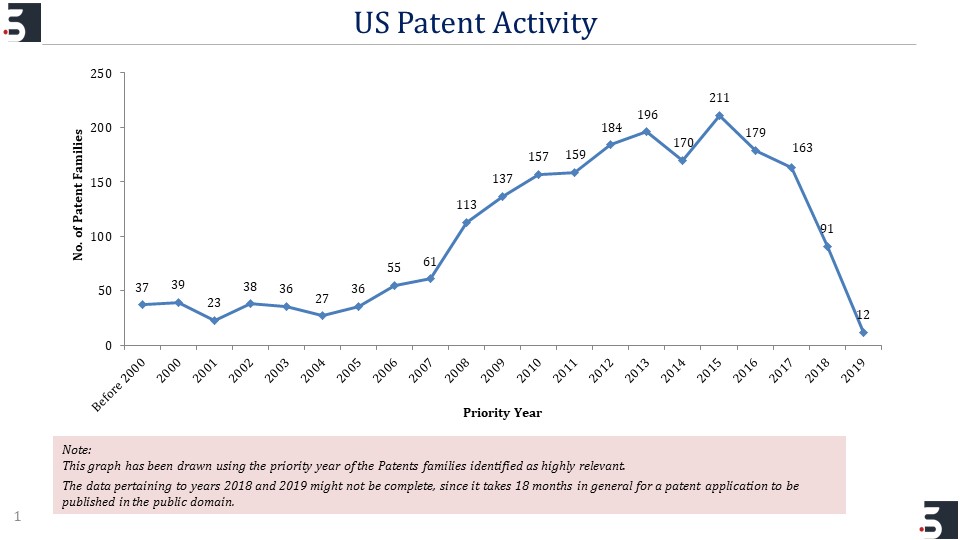 Advantages of Patents in FinTech
Gain market share
Patent applications are significantly valuable and can attract investments from potential investors in the market.
Unlike copyright, patents can protect the functionality of the invention. A FinTech patent prevents third parties from exploiting the method, process and/or apparatus protected by the patent. This allows patent holders to exercise monopoly on their invention in terms of commercialisation or licensing. This creates a valuable revenue stream that boosts the company's profile substantially.
How to Protect the New Ideas
Given the value of FinTech patents, the protection of your FinTech inventions should be a part of your overall IP strategy. It is important to consider patenting your invention at the concept stage, even before you plan to bring your innovation into the market as at times publication can affect the patentability of your idea.
Changes in FinTech law are quite dynamic. Hence, in order to file an effective patent, it's best to start-off by first evaluating the basic steps on how to get a patent.
The basic rule that applies to getting a FinTech patent is to first ensure that the technical idea you have brings about an applicable change in the practical functioning of a financial problem.
FinTech patent proposals must meet industry standards such as – improved network security for a financial transaction, innovative interface, enhanced computer resource use, increased reliability in network traffic speed, etc.
To conclude, it is worth noting that patents are not appropriate for all ideas. It is important to evaluate and review your innovation for patentability through an expert.