Automated Patent Ranking: An Effective Way to Identify Quality Patents for Your Business
In this IP-driven age, companies are constantly trying to strengthen their IP portfolios, especially patent portfolios. This is to stay ahead of their competition and to avoid getting embroiled in patent litigations. To obtain a strong patent portfolio, companies not only need to evaluate their existing portfolios to identify and retain high-quality patents but also abandon the low-quality ones. Since identifying quality patents from a sizeable portfolio is often difficult for companies running on tight budgets and limited resources. Therefore, they usually look for solutions that enable them to identify such patents accurately and cost-effectively. Read on to discover how companies can identify quality patents using an automated patent ranking tool.
Sagacious IP's Automated Patent Ranking Tool
Despite the availability of numerous patent ranking tools in the market, most of them offer limited parameters for ranking. Understanding this limitation of the existing ranking tools, Sagacious IP built an automated patent ranking tool. This tool uses numerous objective parameters and assigned weights to assess the quality of patents. Some of the parameters used by the tool are forward citation count, backward citation count, number of family members. In addition to these, prosecution time, pending life, big assignee count, type of assignee, and claim count are also there. This tool enables clients to use several parameters for ranking patents. And, also allows them to add and use more parameters in the future.
Identifying Quality Patents Using Patent Ranking Tool
In Sagacious IP's automated patent ranking approach, all patents related to an industry are first extracted. Thereafter, a list of ranking patents parameters is set. These parameters act as quality indicators. Finally, the patents, as well as parameters, are fed into the patent ranking algorithm to get a set of ranked patents as an output (Fig. 1).

Case Study: Ranking Patents of the Home Automation Industry
IoT's home automation segment is rapidly gaining popularity due to rising innovation in the field and declining cost to the customer. Therefore, Sagacious IP chose this segment for patent ranking. For the study, our in-house team considered specific class codes and keywords that are pertinent to the home automation industry and identified more than 1000 patents for ranking.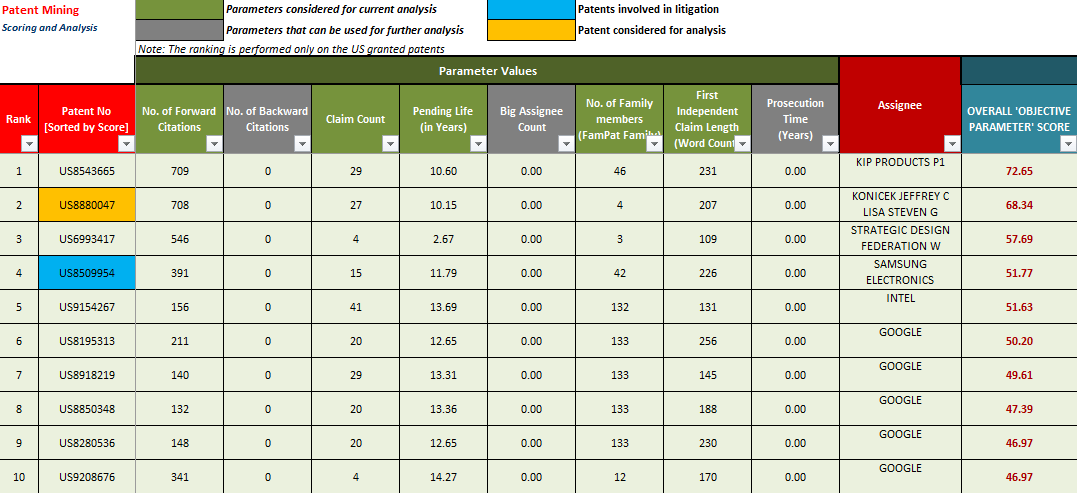 Next, the team considered certain parameters (green columns in Table 1), obtained relative scores for each parameter, and assigned weights to them. Thereafter, the team obtained an objective parameter score that enabled them to prioritize the patents. Notably, the high-quality patents were at the top of the patent ranking list. It is interesting to note that some of the leading companies of the world were ranked below some not-so-known companies and inventors in the patent ranking list. For instance, a patent from KIP Products (Rank 1) and an individual inventor's patent (Rank 2) held top spots due to their patent quality. Further, a patent from Samsung Electronics (Rank 4) is a litigated patent that companies themselves mine for enforcement. Inclusion of this patent in the list further validates Sagacious IP's patent ranking algorithm.
Final thoughts
Today, more than ever before, companies are looking for solutions that enable them to identify quality patents rapidly and accurately. This is because such patents help them to have a competitive advantage over others. Sagacious IP's proprietary automated patent ranking tool is a unique offering that helps in identifying quality patents and allows companies to side-step challenges associated with a sizeable patent portfolio. Click here to download our report on how to identify quality patents from your patent portfolio and click here for our webinar on this subject.
-Abhinav Mahajan (ICT Licensing), Dhananjay Kr. Das (ICT Sales) and the Editorial Team
Having Queries? Contact Us Now!