5 Distinctive Features of EU Patent Laws
The impending global financial crisis that will follow the COVID-19 pandemic, coupled with an increase in regulatory demands and litigation has led to a severe contraction of demand in the global market. As researchers predict the expansion of legal outsourcing, it is imperative to be aware of five vital features of EU Patent Laws.
What Researchers Say
World Intellectual Property Organization (WIPO), which is an eminent global forum for IP services and policies, came up with a rather controversial proposal to enable countries to outsource their patent examination duties to other countries. In an attempt to create an innovation-friendly environment, European Commission honed an "all-inclusive IPR strategy". A single registration and subsequent payment of the required fees will help you attain European Union trademark and a registered Community design. This will grant you equal protection in 38 European countries. Or one can simply go through the European Patent Organization (EPO) that was initiated in 1977. EPO comprises of a European Patent Office and an Administrative Council that has representatives from different European states. Additionally, each state has distinctive patent laws. However, there are some common data laws across European Union which are critical to keep in mind: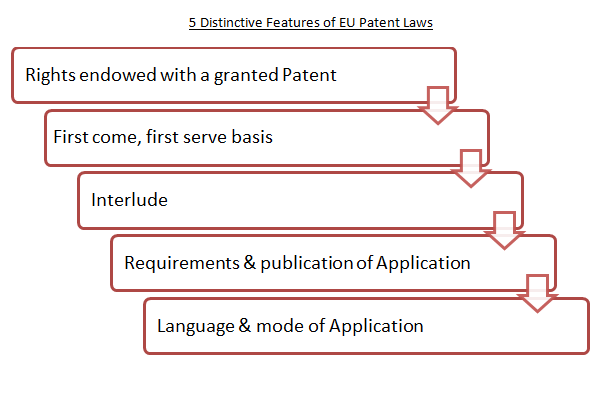 1. Rights endowed with a granted Patent
When it comes to rights conferred to a patent, the EU Patent laws hold a unique feature. For member states of the European Patent Convention, the EPO grants similar rights to the applicant as per the countries in which protection is required. Hence, a European Patent is often cited as a "bundle of rights".
2. First come, first serve basis
In a case where two or more people simultaneously draft a patent on similar invention grounds, the Office considers the first application. Under the assumption that invention is patentable, the date of filing is given precedence even if the second applicant was behind innovation.
3. Interlude
The EU Patent laws reject the application if the invention was made public before filing. Hence, it is best to steer clear from any publication, public sale or lecture conducted on the invention without signing a non-disclosure agreement. It does not matter who made the invention public. Even if the breach was carried out by a third party working independently, the application will be mercilessly rejected.
4. Requirements and publication of Application
Apart from being industrially applicable, your invention must satisfy two more categories to be patented in the EU. It should be novel and necessitate an innovation step. The applications of the patent satisfying the aforementioned conditions are published 18 months post the date of filing if it is not withdrawn by the applicant.
5. Language and Mode of Application
Unlike laws of other countries, EU grants relaxation when it comes to specifying the best mode to undertake invention. The specifications should incorporate at least one method to carry out the invention. It also allows the application to be filed in any preferred language provided that the translation into the official languages such as English, French and German is submitted within 2 months following the initial application.
Conclusion
Usually, the basic principles of the patent laws are harmonized around the globe. However, what differs is their procedure of enactment. The above-mentioned EU patent laws serve as a general guide to bear in mind for businesses seeking IP protection in European countries.
-The Editorial Team