Evolution of IPTech as a service (IPTaaS)
With the advent of advanced technologies such as artificial intelligence (AI), machine learning (ML) and automation, it is no surprise that most sectors that were previously governed by traditional structures have now experienced a complete paradigm shift. The 4th industrial revolution has brought enhancements in technological fortes that has enabled a high degree of automation in activities that were otherwise labour-intensive.
Similarly, IP service providers have also embraced technological advancements. IPTech as a service (IPTaaS) has evolved into an operational model that has been embraced by traditional IP partners to deliver customized IT solutions for clients' IP needs. The following article covers the evolution of IPTaaS by shedding light on its use in various arenas.
A case for IPTech as a Service
Today, IPTech involves a range of hybrid and digital platform-based services that provide solutions to the various requirements of corporate and IP law firms. Due to this, IP service providers can overcome the barriers of human errors and provide clients with highly accurate core as well as paralegal services. Along with that, the customer engagement methods of such firms have also been taken up a notch with the help of information technology (IT). While in most cases, such technological advancements are complementary to the traditional methods of working, in others, it has entirely replaced manual labour.
Since IP-related work (including prior-art searches, patent analytics or patent monetization) often requires manual intervention, IPTech needs to be customized so that it meets specific requirements. Therefore, in many cases, a human analyst is needed to help with the understanding of complex IP concepts and technical jargon. To create tailor-made IT solutions for IP needs, IPTech software are created by developers who are well-versed with these IP concepts and terms. Let's learn about IPTech services.
Key IPTech Services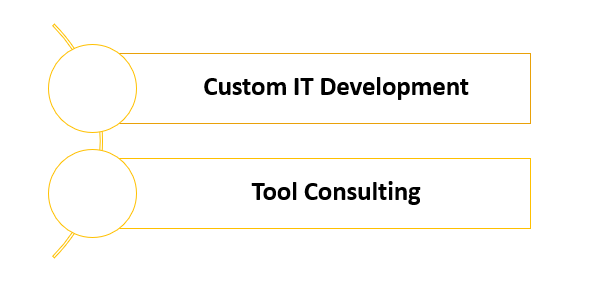 1. Custom IT Development: As a result of advancements in the use of IT in IP, custom IT development has become one of the major IPTech services. It allows developers to create automated tools based on the existing requirements rather than the other way around. This enables firms to retain their pre-defined SOPs within the new automated platforms.
2. Tool Consulting: Since there are so many IPTech solutions in the market, firms often face the dilemma of choosing the ones that would perfectly suit their requirements. Hence, tool consulting is yet another major IPTech service. This consists of subsidiary services like tool scouting, benchmarking for specific requirements, recommendations for choosing the best tool, end-to-end implementation support, tool integrations, and customized solutions. Furthermore, tool consulting provides support to companies in adapting the chosen tools in their organizational systems.
Meanwhile, with the rapid growth of the IP software market at about 14% CAGR, it is perceived to become an inevitable part of most IP firms operating in the industry today. In light of this development, the use of advanced IPTech tools had to be adopted in patent searching, analytics, drafting, IP management, as well as monetization. With the help of AI-based tools, patent prosecution processes such as docketing, IP portfolio management have been redefined. Nevertheless, a high level of advancement of Information Technology Enabled Services in conducting due diligence for strategic decision making is yet to be achieved.
Use of IPTech in Law Firms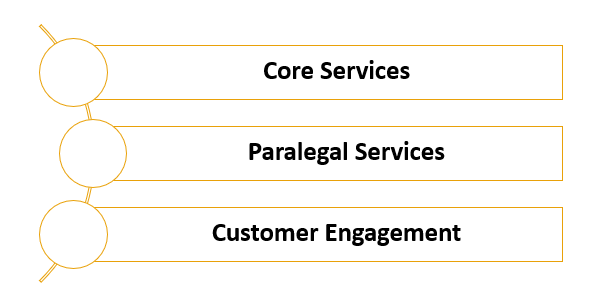 1. Core Services
Automated tools have been developed that streamline the process of filling Invention Disclosure Forms (IDF) as well as facilitating seamless interactions between inventors, attorneys, and clients. With the help of natural language processing (NLP) and machine learning, automated patent searches have become the latest buzz. Moreover, techno-legal terms are now recognizable by AI. As a result, patent drafts and patent proofreading can now be automated. Legal shell documents to requisition office action, as well as producing summaries of patent rejections, objections, and allowances can also be done with the help of these IT tools.
2. Paralegal Services
Software solutions in terms of docket management systems and automated filling up of forms have reduced the cost of filing for corrections. Software support for paralegal services like trademark and patent filing has also helped in streamlining these processes. Computing excess claim fees by patent authorities like the United States Patent and Trademark Office and the European Patent Office are also accomplished nowadays with advanced computational software. Similarly, patent term adjustment calculations and reviews are among other paralegal services that have been completely transformed by advancements in IT.
3. Customer Engagement
Although customer engagement tools based on modern software have been around for a decade or two, they are relatively new in the IP industry. Privilege programs, customer relationship management, automated invoice generations on professional as well as government fees, etc., have been the departments where IT and IT-enabled services have significantly outdone themselves in revamping IP firms' customer engagement methods.
Use of IPTech in Corporates
Large corporates can successfully use such IPTech services as cornerstones to enhance the efficiency of their other in-house IP processes such as portfolio creation. It helps in improving the portfolio management lifecycle. Some of the most popular ways in which such corporates use IPTech to enhance their competitive edge are:
By using automated patent searching and developing innovative patent screening methods.
By using automated landscape analysis to keep a close eye on the innovations by competitors.
Using docket and idea management systems to instantly capture and track the development of innovative ideas.
Conclusion
IPTech enables IP firms to not only save costs but also increase their efficiency in delivering results to clients. Similarly, increasing accuracy and processes that save time enables a human analyst to focus on core activities. At the same time, due to simultaneous involvement and evolution of human intelligence, IPTech is unlikely to encroach on human jobs. Therefore, with the technology rapidly evolving side-by-side as a service, companies can now acquire this assistance from IP service providers and leverage such customized tools to boost their IP as well as R&D processes.
Sagacious IP provides IPTech services such as custom IT development and tool consulting to businesses. Our techno-legal experts offer IT solutions that leverage AI, machine learning and big data analytics to offer the best results to companies. To learn more about our IT for IP initiative, click here.
-Sumit Prasad (Technology & Innovation) and the Editorial Team