Freedom to Operate (FTO) Search Cost: A Value Addition or a Drag on Company Resources?
The dynamics of a business environment has undergone a massive transformation in the last two decades. Take the product lifecycle for technology as an example. It is much shorter than it was before and in order to stay ahead of the curve, companies are constantly innovating to offer a better experience to its customers.
However, there is one crucial challenge that businesses tend to counter while innovating for a novel product. It is the possibility of resemblance to an existing product or an underlying technology. The similarity can be willful or unintentional. Agile companies with proactive management weed out the problem by performing a Freedom to Operate (FTO) search. Compared to a patentability search, an FTO search is much costlier on an average. So, the big question always remains "Is FTO search cost worth it?"
The following article discusses why FTO search cost is vital towards a long-term business plan and why it is not really a cost per se.
How Freedom to Operate (FTO) Search can Avoid Damages – A case study
Freedom to operate (FTO) search is also known as Infringement Analysis or Clearance Search. A comprehensive FTO analysis covers all forms of valid patent rights and related agreements and contracts. This is to ensure that the launch or development of any new product does not infringe upon any existing patent. Patent infringement can be a costly affair for any company irrespective of its size. A timely intervention by FTO search can help in avoiding damages. The below case study highlights the same.
Ranbaxy vs. Apotex
While planning to launch an antibiotic drug – cefuroxime axetil in the USA, Ranbaxy, an Indian Pharmaceutical giant came across a patent number (5,847,118) owned by a Canadian pharmaceutical corporation – Apotex. The process of manufacturing was the same as claimed by Apotex in the patent. However, in a thorough FTO analysis, Ranbaxy was successful in identifying one variation in the process of manufacturing. While it used acetic acid as a polar organic solvent, the term itself in the actual patent was defined as sulfoxides, amides and formic acids. Based on the findings of the detail, Ranbaxy was granted a declaratory judgement by the United States Court of Appeal, Federal Circuit (CAFC) and granted the freedom-to-operate. Source
Avert Brand Dilution through an FTO Search
Building a brand takes years of sustained hard work and diligence. Any news of patent infringement (willful or unintentional) generates a negative sentiment around the brand that may take years to restore. Besides, the negativity around the brand, it will also affect the revenue and existing market share. Consumers today are smarter than ever before and can instinctively prefer association with a brand that inspires confidence, strength and integrity. Hence, it is imperative that companies invest in an FTO search to prevent brand dilution and possible reduction in customer base.
Perform FTO Search, Avoid Monetary Implications
In case a company decides not to conduct a professional FTO search, consequences can be far-reaching. The settlement amount or the money paid as damages will far exceed the original cost of performing an FTO search (Figure 1). The incurred damages could also be in the form of royalty payment for the period of unauthorized use. Both willful and unintentional patent infringement could be avoided by performing an FTO search with the right counsel. Polaroid Corp versus Eastman Kodak Company is one of the most famous cases here whereinKodak was successful in avoiding the finding of willful infringement due to patent clearance studies conducted by a patent law firm. The court concluded that although Kodak was infringing, it was not willfully done.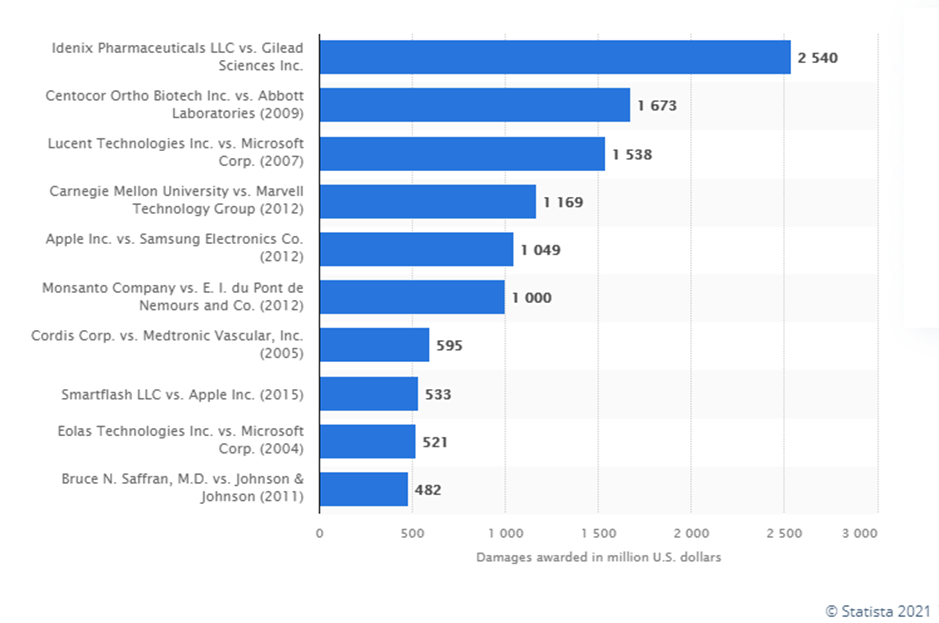 Business Implications of an FTO Search
Brand loyalty is a very complicated term in modern businesses. Customers are always looking for better products and solutions. If a brand is perceived as a laggard (due to patent infringement), its customer base will reduce in no time. The customer base is directly proportional to the revenue of the company. Hence it makes sense to invest in an FTO search and consider the cost as a part of the long-term business strategy. One of the best examples is that of Motorola who got bogged down due to a pile of patent infringement cases by industry bigwigs.
Conclusion
From the above discussion, we can positively conclude that lack of FTO search due to cost involved can pose an existential threat to the company. Besides, the financial and business implications, it might shake the very foundation of your business by diluting your brand beyond repair. Hence, it is imperative that companies with far-sightedness look upon the FTO search cost as a long-term investment.
Sagacious IP's Freedom to Operate Search service has been designed and developed to deliver cost-effective and precise analysis in the nick of time. Our service ensures that your business staves off any financial or business implications resulting from a possible patent infringement.
Having Queries? Contact Us Now!