Technology Scouting and Its Relevance for Businesses
A business must maintain a strong patent portfolio to compete in today's world of quickly emerging technologies. However, it is not feasible for any company – large or small – to consistently innovate the most effective tech and lead the innovation charge. Thus, smart businesses are leveraging the power of technology scouting to acquire disrupting business opportunities and bring value to customers. It can assist companies in locating and procuring upcoming innovations via licensing or purchase. Therefore, an increasing number of businesses are actively embracing this concept to obtain new resources and ideas.
Technology scouting is how global leaders remain at the forefront of technological advancements. This article will help you learn about its meaning, types, process, tactics to improve it, etc.
Technology Scouting – Introduction
Being at the forefront of technological advancements is a challenging task for any single organization, as it requires abundant financial and human resources. But with technology scouting, businesses can enjoy access to the latest innovations by acquiring or licensing patents from third parties to establish a compelling patent portfolio. Thus, one can describe technology scouting as finding, analyzing, and evaluating all existing innovations required to start, complement, or accelerate a new technology or product's development.
Technology scouting is a well-known component of competitive intelligence, which businesses leverage as a tool for their competitive strategy. One can also utilize it to predict technological advancements, or in a more general sense, as a means for corporate foresight. It entails an employee or an external consultant engaging in boundary-spanning processes to tap into new knowledge. This individual is often referred to as a technology scout. The person must be a lateral thinker, respected within the company, knowledgeable in science and technology, cross-disciplinary orientated, and imaginative personality. Technology scouts also often play a crucial role in formalized technology foresight.
A thorough technology scouting shows all the critical aspects of technology, such as essential patents, competitors' activity in the field, university research activity, and the list of the numerous companies active in that technological area. Here are a few significant steps involved in the technology scouting process.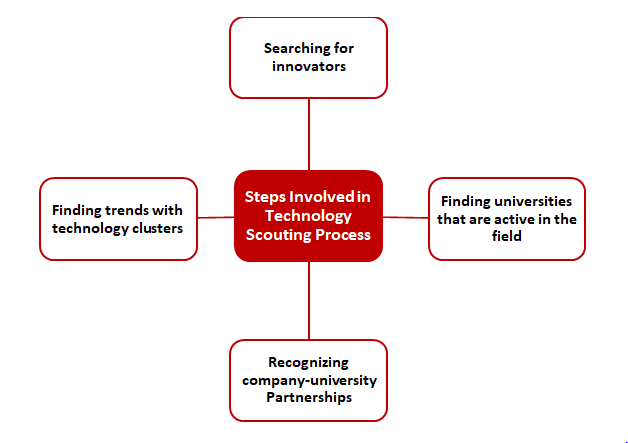 Finding Innovators: One of the most important phases in technology scouting is identifying potential innovators and recruiting their services for innovation-related initiatives. This begins with researching and comprehending relevant literature, which helps identify top players in the technological domain. Indulging in this first-level analysis, you can discover top innovators, their recent publications, patent activity, association with key players, collaborations, etc. These innovators can assist your research and development with their years of experience in the concerned technological space.
Identifying Different Universities Active in That Field: Universities are innovation hotspots, and a hub of students, academics, and scientists. Most technology giants source research from numerous institutions to build formidable patent portfolios. Thus, a business must look for universities that are active in a specific technology or subject. The research carried out by these universities can provide critical insights to help boost the innovation process.
Understanding University-Company Collaborations: As mentioned above, working with universities is a critical strategy for building a solid patent portfolio. Before agreeing to collaborate, it is crucial to know whether the university has a similar association with any other organization. Per rules, licensing inventions developed in partnership with one business to another is prohibited. The absence of association with any organization gives you the opportunity to collaborate with the university and boost innovation and development.
Spotting Trends through Technology Clusters: A thorough technology scouting strategy can aid companies in identifying technological trends, enabling informed decisions regarding their future endeavors. These trends can help understand upcoming technologies, hot spots, technologies correlated with new products in the market, and correlation with market foresight. Furthermore, associations can be drawn with international events, laws, and authorization to gauge how a particular technology is faring.
An increasing number of businesses are utilizing technology scouting to stay relevant or lead in their business areas. Let us now delve into the plethora of factors behind its growing significance and role in today's business world.
Rising Importance of Technology Scouting
Today, several technologically advanced businesses are interested in conducting systematic technology scouting. This is due to the following factors:
Globalization: Technology development globalization necessitates the observation of worldwide technological trends. Failing to track new technologies being developed in different parts of the world can have serious repercussions for any business.
Strict Research and Development Budgets: R&D effectiveness is routinely under intense pressure across industries. This is because of the fierce competition in the market and simultaneous increase in R&D costs. Companies must be open to external technologies and ideas since concentrating on internal resources is no longer adequate.
Short Product Life Cycles: Companies must raise their research and development spending as shorter development and product life cycles mean that the advantages of novel technologies in the market are only temporary. This is because new technologies can easily render old ones redundant in a short period of time.
Research Activities: Numerous companies are reducing their long-term research initiatives. As a result, it is becoming more challenging to recognize and evaluate significant technological developments, particularly in the field of basic research.
External Technology Sources: Businesses must constantly keep an eye out for potential technology sources due to the growing reliance on external technological developments.
Information Overload: It is challenging to detect and follow relevant technological trends and developments due to rising workloads and an almost unmanageable amount of information. Technology scouting can help streamline the process.
Diversification: As technology becomes more diverse, businesses must become experts in a continuously increasing number of technologies.
Intricacy: It becomes more difficult to track particular trends due to the complexity of technology development and an increasing overlap of supposedly distinct technology areas. Technology integration frequently takes center stage. Therefore, choosing the best technologies has often replaced technological competence as the critical success factor.
Open Innovation: Tech scouting is a crucial component of the open innovation strategy, and the significance of technology scouting is consequently driven by open innovation.
With time, technology scouting will only become more critical for companies. Let us now discuss the various technology scouting types that business leverage to keep up their tech game.
Types of Technology Scouting
Each technology scouting type fulfills different needs of the company. Following are the types of technology scouting businesses can perform.

State-of-the-Art: During an innovation process, enterprises might need detailed information on new emerging technology to assess the possibility of replacing existing technology with alternative solutions. State-of-the-art technology scouting helps acquire a detailed description and scenario of the required technology, find the most active and innovative businesses in the relevant sector, discover & compare the most innovative products available or being developed, and identify the most significant center of competence operating in the field.
Problem Solving: Innovation processes applied to products always require searching for new technologies, procedures, and high-performing materials. During the initial stages of innovation, one can encounter major technological problems. However, in most cases, it is not always necessary to invent a completely new idea. Often solutions are already available but applied in different environments. Problem-solving technology scouting helps access information about solutions that are ready to be put to use in one's own product or procedure. Additionally, it helps in the identification of a wide range of new alternatives for adoption and development as well as the preliminary technical feasibility analysis of the identified technical solutions.
Suppliers/Competencies/Key Players: The search for technology partners to realize the innovation processes is crucial for any organization. It helps develop a clear and complete picture of the crucial aspects of a particular technology sector. Due to this, it is essential to carry out a preliminary analysis of products and relevant characteristics. This technology scouting type allows businesses to obtain a thorough understanding of the major participants in a specific technology industry, get access to publicly available financial and corporate data, and evaluate the level of innovation of chosen players and their appropriate positioning in the market.
We will now understand how technology scouting improves invention capabilities with the help of a few prominent examples, such as Cisco Vs. Lucent and Blockbuster Vs. Netflix.
Leveraging Technology Scouting to Improve Invention Capability
Technology scouting foresees technological changes and new markets, lowers innovation risks, and eases the burden on the R&D departments. Check out the several ways in which technology scouting can take the invention capability of any business to new heights.
Boost in Innovative Strength: Technology scouting supports efficient and effective innovation management, particularly regarding idea generation, project management, and field evaluation in the innovation search. Regardless of its size and its R&D facilities, integrating external ideas and technology improves a company's innovation potential. Cisco, for instance, had substantially fewer internal resources than Lucent but made up for this deficit via technology scouting. The company was always looking for promising start-ups around the globe to partner with or invest in. In the end, Cisco not only succeeded in competing with its significant opponent Lucent, but occasionally outperformed it in the market on several fronts.
Reduction of Disruptive Technologies' Danger: Disruptive innovations can either entirely replace current products and technologies or substitute them to the maximum extent. The inability to recognize long-term technological trends or disruptive innovations early enough is one of the significant dangers to competitiveness in diverse industries. It is because these new technologies may develop outside of their own industry and escape their radar. One example is Blockbuster, which had long been a market leader in the distribution of videos and movies. Blockbuster lost countless consumers to Netflix's video streaming model in just three years and was forced to declare bankruptcy in 2010. Technology scouting keeps emerging trends or potentially game-changing innovations, such as online video streaming, from going unnoticed.
Discharge of Internal R&D Department: Internal expertise and resources are usually insufficient nowadays to meet the market's demands. Due to shortened technology and innovation cycles, R&D departments frequently lack the resources essential to ensure the level of innovation required for a new product. The internal R&D department can work more efficiently with the help of technology scouting and focus on core capabilities.
Identification and Development of Emerging Markets: A business can identify upcoming markets and their technologies with the help of technology scouting. Additionally, it lessens uncertainty about the innovations needed for the new market.
Thus, any business that aims to be at the forefront of technological advancements in its domain must leverage technology scouting to the fullest. We will now move forward to learning about the myriad ways to enhance technology scouting.
Tactics to Improve Technology Scouting
The secret to successful technology scouting is taking advantage of the appropriate opportunity at the right moment. Following are the five strategies that can help you improve technology scouting.

The high number of new start-ups and patents is making technology scouting more valuable than ever. However, collecting information is getting difficult. Technology scouting has become a crucial tactic for businesses looking to boost their R&D efforts while maintaining competitiveness. Though there are plenty of ideas, finding high-value possibilities has become challenging.
You must first establish precise criteria for what you are searching for and how it connects with your strategy before beginning the scouting process to ensure that you consistently take advantage of these worthwhile possibilities.
The next step is using search engines and markets to look for opportunities. Marketplaces offering the most recent innovations from universities worldwide, such as Flintbox or AUTM GTP. Another helpful search engine for finding innovative businesses and their financial history is CrunchBase.
Reduce the Number of Tools
Information silos make it difficult for coworkers to access data when kept across several platforms. Ad hoc programs, such as MS-Excel and SharePoint are frequently used for tech scouting. However, these tools cannot keep up with your organization's expansion. A systematic approach that utilizes a purpose-built tool for analyzing technology scouting opportunities can prove to be effective.
Manage your portfolio of opportunities in one location to break down information silos and improve communication across departments, regions, and collaborations. It will increase awareness of the information that is already available.
Consider that you have a lucrative opportunity and that a coworker is considering a similar option. This information enables you to inquire and make decisions right away. Thus, the right tool can enhance transparency between internal and external teams to boost coordination.
Assemble a Top-notch Team of Collaborators
Communicating with your team to discuss opportunities becomes more challenging as your opportunities and partnerships expand. A team that reviews a multitude of technologies every month may run into problems with prospects requiring re-evaluation and develop an unmanageable pipeline.
Without a framework for communication, managing partners can become laborious and ineffective. Opportunities are often missed because communication and potential partners cannot be tracked. To make decisions more effectively and quickly, teams should coordinate action items and generate visibility into several ongoing interactions. It makes communication easier and enables everyone to understand their responsibilities right away.
Identify Trends for Crucial Insights
Making the right decisions is critical to the tech scouting process, and that requires reporting. The team should always be ready to demonstrate metrics on its impact. However, it might be challenging to synthesize data from multiple conferences and departments into a comprehensive report. Getting all the information and producing accurate reports is a nightmare because the information is dispersed across various documents and shared websites. In a survey by 'The Economist', about 56% of top executives expressed concerns about making wrong decisions due to inadequate or erroneous data.
It is crucial to let management know about the successes when evaluating team accomplishments and collaborations/beneficial projects. Just one outstanding success can persuade management to support visionary initiatives. However, finding financial information, details on partnerships and resources relevant to the presentation is the difficult part. It can take longer to gather information from outside partners. The success story can become obsolete by the time information is gathered.
Sagacious IP, a renowned intellectual property research and consulting company, enables you to boost your technology scouting efforts. Take a look at our methodology in conducting technology scouting for our clients.
Sagacious IP's Technology Scouting Methodology
We perform technology scouting in eight steps. These are: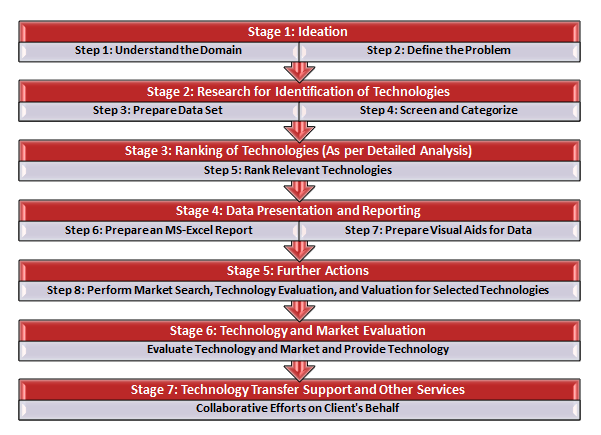 The various steps involved in our technology scouting methodology are explained below:
1. Understanding the Domain: This includes performing preliminary research to gain an overview of the technology landscape and comprehensive understanding of the domain.
2. Defining the Problem Statement: The next step is to segregate the problem into crucial aspects to perform a modular and holistic search. Then we identify the existing problems in the prior art and align them with the statement.
3. Preparing Data Set: It involves identification and collection of different keywords and major terminologies used in the domain, and relevant classes before performing a patent search on Questel Orbit based on keywords and classifications. Searches on literature databases, such as Google Scholar and university technology databases like Flintbox and AUTM-GTP, helps find non-patent literature. Our team also finds inventors and significant players in the domain through preliminary searches. Inventor and assignee-based searches (for both corporate and university) help capture relevant technologies at this stage.
4. Screening and Categorization: The data set obtained from Step 3 is filtered and segmented using the following approaches:
Screening the data set to check the relevancy with respect to the problem statement and obtaining relevant and potentially relevant set of references.
Preparing detailed taxonomy based on the technology of interest.
Bucketing of the relevant references and technologies as per the taxonomy.
5. Ranking of the Relevant Technologies: Here, all the technologies are ranked within different categories of relevant and potentially relevant data as per their significance and development status. The following criteria is used to rank these technologies:
Relevancy to the problem statement
Technology readiness level
Existing partnerships/interest in the technology
Feasibility
6. Preparing an Excel Report: All the relevant data (patent and non-patent) is collated and presented in an MS-Excel sheet along with their bibliographic information.
7. Visual Representation of Data: Relevant patent data set obtained from Step 3 is used for visual depiction in the form of graphs/bars to demonstrate the following information:
Patenting activity (or filing trend)
Legal status
Expiry trend
Top assignees (includes both corporate and universities)
Market countries
Research countries
Top inventors
Top classification distribution
Further, information related to potential collaborators and licensees is also present in the report. The non-patented technologies (research publications and technologies in their early stages) are visually represented. Identified technologies are defined as technology clusters and other related infographics. This step is optional, and its inclusion depends on the client's needs.
8. Performing Market Search, Technology Evaluation, and Valuation for Selected Technologies: Technologies selected as per the client's request can be further evaluated to determine the Net Present Value (NPV) that the chosen technology may generate for the patentee/licensee of the claimed invention based on the present status and forecasting of the future value of the patent.
Technology scouting may appear simple and straightforward, but a number of challenges can occur while carrying it out. The below section highlights the most common obstacles that prevent one from performing technology scouting effectively.
Challenges in Technology Scouting
Although technology scouting can be performed with ease, there are a few difficulties you might run into. These are listed below:
Finding and connecting to the right business – Identifying the leading innovator in a particular technology domain and collaborating with them can be challenging. This is because the research pool can be vast, and not all sources may be apt for the business to collaborate. Since technology scouting can be a time and cost-intensive task, this poses a big challenge for start-ups and small companies with limited resources.
Gauging and reporting each initiative's success – Not all technology scouting initiatives end up delivering outcome for the company. Hence, measuring and reporting them is a daunting task.
Managing a dynamic IP portfolio – Intellectual property portfolios are forever-evolving as companies consistently abandon old patents and acquire new ones. Therefore, it can be a challenge to keep an eye on all relevant technology domains and innovations occurring in them.
Why Choose Sagacious IP for Technology Scouting
Sagacious IP is the best technology scouting partner for a number of reasons, namely:
Profound knowledge and analysis of technological issues across 30+ industries and technology domains.
A group of more than 2,000 researchers, innovators, and subject-matter specialists.
Collecting and sourcing relevant technological data from university specialists, individual inventors, R&D facilities, and incubators.
Complementary services, such as technology evaluation and market research, also available to offer comprehensive solutions.
A systematic approach to problem-solving that identifies new innovations and solutions.
Quality inspections at several levels.
Customized reports and search expenses.
Conclusion
Success in the current knowledge age depends on how well the business produces, stores, and uses information. Therefore, it must monitor its technology and continue to innovate to reap the rewards. Putting together an internal team of experienced technologists, scientists, and inventors in a particular field is one way to create a strong patent portfolio. Another way that several businesses opt for is external technology scouting partner.
With the growing complexity of products and services and the proliferation of technologies, it has become difficult for any company to innovate alone. This is where Sagacious IP comes into play and offers technology scouting service to help businesses achieve their goals. Click the link above to learn more about this service.
– Devika Saini, Manisha Rani (Life Sciences & Chemistry) and the Editorial team
Having Queries? Contact Us Now!