Freedom to Operate FTO Search on Pharmaceutical Formulations
Freedom to Operate (FTO) is a way to identify any potential legal road-blocks for launching a new product or service in the market. For a Life Sciences Company, the investment involved in Research and Development (R&D) and launch of a drug or a formulation in the market is astronomical. Hence, the goal of an Freedom to Operate FTO is to give the client (inventor or company), a list of patents upon which their product or technology could be infringing (patent infringement occurs when another party makes, uses, or sells a patented item without the permission of the patent holder) and thus help them formulate their defense strategy.
Overview of the Freedom to Operate (FTO) Process
Understand the scope, the subject matter, therapeutic areas, and the specific market of the technology.
Formulate a search strategy for identifying patents the invention might infringe. Identify and form keywords to find technology in the claims section of patent applications that might apply to the technology.
Know the country specific statuses, doctrines and case laws for infringement.
Search patent related prior art.
Review the patents and look at individual claims. Identify patents and technology most likely to block the technology in question. Discard results that are not relevant and keep the subset of patents with claims that could present a potential barrier for entering the market.
Identify solutions to potential problems like look at the patent status, potential expiration, and/or research.
Prepare an invalidity/FTO opinion based on the overall analysis and specific findings.
Present the results to the inventors. Show the potential intellectual property (IP) problems and solutions and make suggestions towards a plan for moving forward.
Recommended Practices While Performing an Freedom to Operate FTO Search on Patent Database Platform Including FTO Search on Pharmaceutical Formulations
Date Restriction: Since only live patents may affect FTO, a time period of the past 20 years is ordinarily used for searching patents. For pharmaceutical patents, an additional 5 years can be added to the time period considering patent term extension or supplementary protection certificate provided to orphan drug patents.
Jurisdiction Restriction: Specific jurisdictions covering markets where the product or process is to be practiced will be searched allowing geographical restriction for searches.
Document Type Restriction: Only granted patents are searched for an FTO since only patent claims affect FTO. Hence, non patent documents are not considered for an Freedom to Operate FTO Search.
Recognizing Pharmaceutical Technical Considerations: Unique Freedom to Operate FTO Search On Pharmaceutical Formulations & Analysis
Upon examination of a pharma product/invention, the following pharma-product/process-specific components are considered by FTO team:
The compound itself must be considered: crystalline form, amorphous form, enantiomers, metabolites or prodrugs.
Pharmaceutical composition types such as delivery systems, vehicles, adjuvants must also be considered.
The methods, steps and components involved in the product synthesis are also critical: steps and the reagents and techniques that compose each step, intermediates, reagents, purification techniques and protocols, handling techniques and procedures.
Methods of use such as downstream considerations are also important: modes of treatment, dosimetry, route of administration, limiting side effects.
Pharmaceutical patent Information: In addition to the standard patent search tools and resources, a pharma product/invention has its own patent resource materials. These also involve the Orange Book and the Merck Index.
In addition to searching scientific and patent databases, and checking the Orange Book listed herein, FTO team needs to consider patent applications (indicator of what might be subject to protection pending patent issuance) and the patent file wrapper.
Evaluating the relevance of a patent
Any claim covering all components of the invention are considered relevant.
In cases where the invention comprises A+B+C+D+E, a claim comprising the elements A+B+C is considered relevant.
Claims covering only one of components of the invention are not a direct threat and thus can be considered as potentially relevant and further analyzed to assess the risk.
A broad claim covering the concept of the invention but not specific aspects of the invention is not generally relevant but may be considered as a similar/related patent.
Any possible combination of the pharmaceutical drug with any other active ingredient is not considered relevant.
In FTO all possible relevant results are required to be found as each of the relevant results individually affect. Even a single relevant result, when missed, can turn out to be prejudicial to the project objective.
Why you must carry out an Freedom to Operate FTO Search
Minimizes the risk of getting sued by others for infringing upon their patent rights.
Helps in identifying patents that have expired (in most countries its upto 20 years) and the useful technologies that can be used from these expired patents.
Helps in identifying patents which are relevant to the product/technology and create financial strategies such as purchase of patents, self-patent redesign, licensing, patent invalidation.
Case Study Regarding FTO Search On Pharmaceutical Formulations
In one of the FTO projects involving a drug as the subject invention, Sagacious IP performed a search and subsequent analysis for Ribociclib.
In order to establish the inventions comprising the drug, pharmaceutical compositions containing Ribociclib were studied. Initial search query on the specific drug and further refining retrieved around 500 results. At this stage manual analysis and interpretation are of high importance so as to not miss any relevant result in machine search algorithm and thereby refine results accordingly. Subsequently patents disclosing Ribociclib, compositions/formulations, methods of treatment/ use, purification or crystallization were analyzed. As requested, the client was provided all the relevant patent literature involving Ribociclib. Sagacious IP's report was highly appreciated by the client and helped them in formulating their market strategies. The image below is a concise snapshot of the retrieved results, which were analyzed by our experts: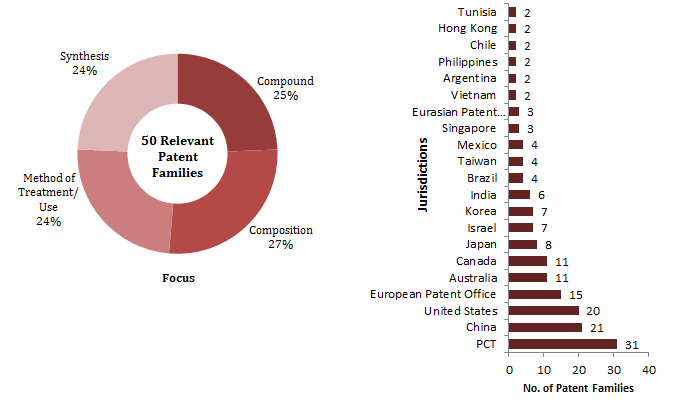 Figure 1: An overview of the relevant families with the segmentation based on the focus of the claims and the Jurisdictions protected.

Figure 2: Segmentation of the relevant patent families based on the type of formulations.

Overall, based on the insights from the FTO, we recommended our client to target the least protected countries and focus on solid or semi-solid compositions of Ribociclib.
Sagacious IP assists in conducting novelty, invalidity, clearance/FTO and infringement searches and also assist clients in evaluating market trends, risks and overall complete techno-IP consulting. Download our Freedom to Operate FTO Search Sample report here.
– The Life Sciences and Editorial Team
References:
http://nopr.niscair.res.in/bitstream/123456789/11580/1/JIPR%2016%282%29%20204-209.pdf
IP: Writing a Freedom to Operate Analysis
Freedom to Operate Search (FTO Search) | Infringement Analysis / Clearance Search
https://pdfs.semanticscholar.org/5573/d6d0a8f141a3a2cd36baf3a7c0fad7752755.pdf
Having Queries? Contact Us Now!