How to Perform Claim Mapping or Prepare EOU Charts?
Most companies, whether they hold a sizable patent portfolio or not, are embroiled in patent litigations at some point in their IP journey. While there can be various types of litigations, patent infringement litigations are one of the most common ones. Companies claiming patent infringement have to prove their allegation by showing how a product or service infringes the various elements of their asserted claims. So, claim mapping is the method that companies use to prove infringement.
The following article explains how companies can effectively perform claim mapping or prepare Evidence of Use (EoU) charts.
Evidence of Use and Claim Charts
EoU refers to the identification of potentially infringing products present in the market for evaluating the strength of patent infringement assertion. A claim chart is a graphical or tabular representation that analyzes each patent claim by breaking it up into its constituent elements or limitations. Thereafter, one presents the evidence of each prior art. On the other hand, claim mapping aims to map every claim limitation as well as the EoU, intent, prior art, standard, product, service, the invalidity of a patent claim, or the intended meaning of every phrase, word, claim limitation, etc.
Also Read: Patent Drafting: Complete Patent Specification Elements
Types of Claim Mapping
There are two types of mapping – 'Patent to Standards' and 'Evidence of Use' or 'Patent to Product' claims mapping. In the Patent to Standards method, researchers ascertain whether a patent covers any existing or proposed technical standards. Thereafter, they map every individual patent claim element to its standard technical specification. In EOU or Patent to Product method, researchers determine products, systems, or services present in the market that have similar product features with the patent claim elements. Thereafter, they map each patent claim element to the corresponding feature of the product/service.
How to Identify Infringing Products?
The process of identifying potentially infringing products is as follows:
It starts with the search and analysis of the subject patent by preparing a claim chart with an independent claim using the technical standard specification.
This step is followed by the identification of systems, services, product catalogues, press releases, corporate websites, etc., with the help of similar inventions which are claimed in the patent.
Next, the claim chart mapping is done by mapping systems, services, or products that are similar to the product specifications, literature, figures, patents, and photos.
In the end, citation analysis (examination of the frequency, patterns, and graphs in documents) is performed with the help of claimed independent patent elements.
Also Watch : Patent Portfolio Monitoring: Know How to Effectively Use Monitoring for IP Commercialization and Monetization – Webinar
Major Advantages
They help in gaining knowledge about the potential infringement of existing patents. This knowledge can be useful while selling the patent assets since proof of patent infringement can assist in strengthening the terms of sale.
They even help in identifying the right target companies in which there is comparatively more scope of improvement.
Identify potential patent infringement:
They also help in analyzing a patent portfolio and identify the patents that have a high potential of being infringed.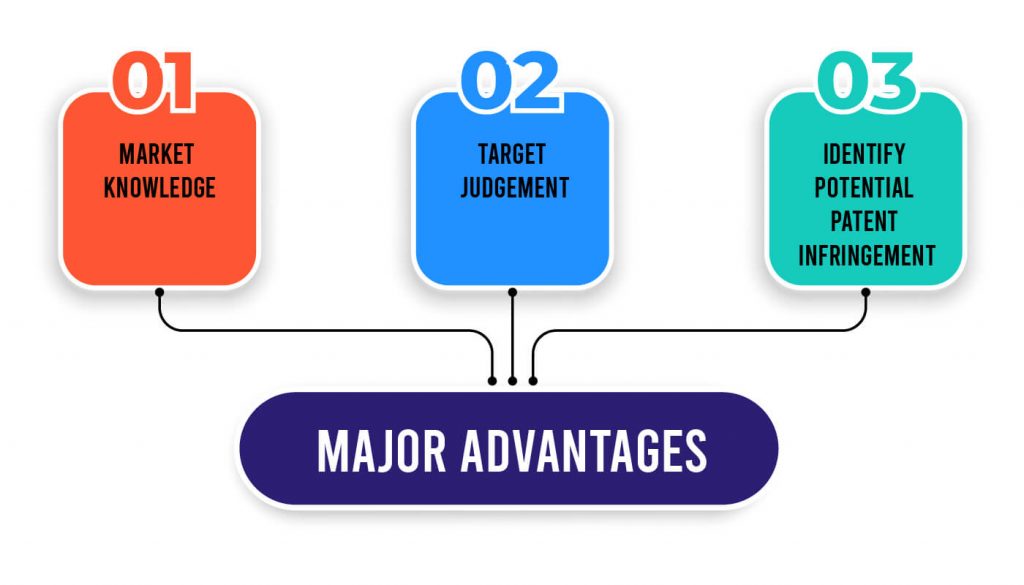 Our Approach
At Sagacious IP, we help companies such as yours to prove the use of their products/technologies by third parties. Our structured EOU chart maps the literature, patents, terms, figures and third-party laboratory analysis services to improve claim charts. Furthermore, considering the requirements of various companies, we have come up with different kinds of EOU Chart mapping services. They are based on novelty mapping, clause level mapping, and/or element level mapping.
Conclusion
Patent infringement is quite common these days. Companies facing patent infringement use claim mapping for proving their claims and stopping the illegal use of their patented inventions. However, as claim mapping can be a difficult and time-consuming process, businesses can reach out to companies such as ours. Sagacious IP's Evidence of Use (EoU)/Claim Chart Creation service shows patent infringement by complying with the 'all elements test'. It is based on which a product or process has been accused. Also, involving correct interpretation of the claim/mapping of the claim elements to the evidence gathered from the accused product. Click here to know more about our service.
Having Queries? Contact Us Now!