Patent Portfolio : How To Identify Deal Drivers
Intellectual property can account for 70% of a company's value, but how can you be sure that you're protecting the right patents? Being able to sift through your IP and pick out the gems amongst it can be a challenge, however, with the right strategic mindset, it can be done. Companies like Samsung and IBM own many granted patents and they are generating revenue by selling and licensing them. Considering the high volume of transactions in these areas, a strategic plan is needed that will identify the best patents to strengthen the portfolio of patent.
In order to implement a successful IP Monetization strategy, the IP portfolio must be thoroughly assessed and understood. When it comes to a healthy patent portfolio, quality is more important than quantity. Knowing your patent portfolio goes beyond maintaining a simple list. Identifying the most pertinent patents in a list of thousands can be tedious and difficult.
An automated, first-order process for ranking patents lightens the load considerably.
Our in-house Patent Ranking Tool identifies the patents that are most and least likely to be useful. The resultant monetization strategy is designed quickly without jeopardizing the quality of analysis. This quantitative analysis is done to achieve a priority order and to start any further patent portfolio management/optimization process such as – patent tagging, infringement analysis, etc. Several significant indicators are used to assess a patent's value. Based on these indicators, the scoring and ranking of a patent is done. Below are some of the key parameters:
Citations
Citations are used as a strong indicator of patent value. Also, Citations in general, and forward citations, are found to be positively correlated to the valuation of the patent. Meaning, a high number of citations is correlated with a higher patent value.
Also included in this are a range of factors that measure the originality, generality, or radicalness of the patent; as well as the breadth of the patent specification scope (i.e. the number of IPC codes the patent has listed).
Family
The Family Size indicator represents the number of countries in which protection is sought for the same invention. Patents representing large patent families are particularly valuable.
Timing
The timing indicator is most commonly represented by the patent age factor (which measures the age of the patent from its priority date). Patents generally see their economic value peak during 8-12 years after their priority date. Prosecution length is also categorized under timing and measures the amount of time a prosecuted patent spent in prosecution. The underlying reasoning being – the longer a patent spends in prosecution, stronger and in turn more valuable it is.
Claims
The claims count factor assigns patents that have more claims a higher value. The number of independent claims, as well as the length (word count) of the first claim or the entire patent specification, is another measure of value. The broad claim in a patent typically offer more protection against infringers than a narrow claim because they are often very hard to design around, so the quality of claim also plays a big role in patent ranking.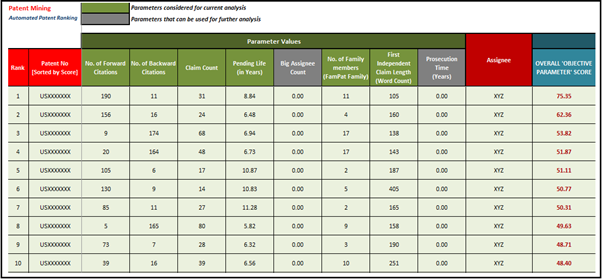 Also Read: Patent Portfolio : How To Reinvent
Conclusion
The above points are helpful in mining the hidden gems in the intellectual property marketplace. It promises the most successful patent licensing opportunities, including those that yield hundreds of millions in revenue. Sagacious Research employs a risk-mitigated, mutually beneficial methodology, to give companies an objective assessment of the strongest opportunities for monetization. Our experience ensures that the assertion of a company's intellectual property rights is performed to the highest standards. This helps in providing a quick and rational overview of outstanding patents from the portfolio bulk.
Download our exclusive report on identifying the gems from your Patent Portfolio.
Sagacious IP's Patent Licensing and Monetization service offers end-to-end solutions, from ranking your patent portfolio to identifying potential licenses, that enables you to transform your IP into a revenue generation unit.
– Amit Kumar (ICT Licensing) and The Editorial Team
Having Queries? Contact Us Now!