3 Indicators That Tell You When to Begin Patent Search Outsourcing
The World Intellectual Property Organisation (WIPO) has aptly highlighted the importance of conducting patent searches before filing patent applications. A prospective innovation or invention can be identified as unique by carrying out proper patent searches. This also opens up the possibility of commercializing such inventions and generating revenue through IP.
Hence, this article discusses the top 3 indicators that tell you when to start outsourcing your patent searches.
Why are Patent Searches Needed?
In 2018, WIPO reported that 3.3 million patent applications were filed worldwide. This implies that R&D teams across the globe are constantly innovating to create new technologies or processes that can be patented. Therefore, it is crucial to conduct proper patent searches to verify the novelty of any organization's innovations. External IP partner firms have been gradually gaining importance owing to the growing demands of organizations to conduct thorough patent searches before they invest their valuable time and resources into prospective innovations.
However, determining the need for an external search partner for performing patent searches can be a daunting task for many organizations. Decision-makers often find themselves in a fix when they try to identify the need to outsource patent searches. Therefore, listed below are 3 indicators that tell when to start outsourcing your patent searches.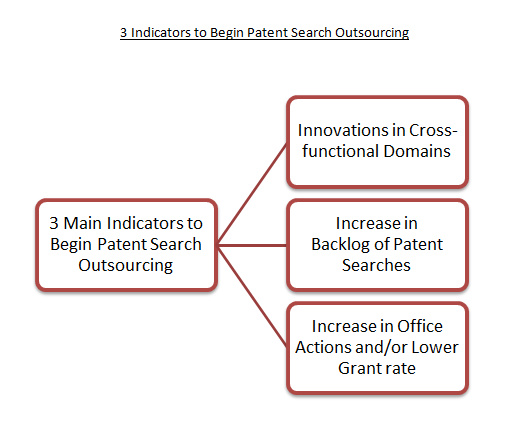 Innovations in Cross-functional Domains – This indicator is present in almost all the organizations in the present scenario. It is common these days to involve ICT technologies in most inventions. With an increased focus on the development of artificial intelligence, machine learning and standard essential patents, there is a surge in cross-functional inventions.
Our Inventors and R&D teams can get an idea in a totally unrelated or new domain – or leverage and combine several domains while creating an invention. These invention disclosures require a technical IP expert to review the novelty aspect. However, the existing in-house IP team may not be a specialist in all the new-age technologies. Further, adding new team members/IP specialists to cater to such inventions may not be a feasible approach.
In such cases, it is advisable to outsource your patent searches to external IP Firms having cross-functional domain expertise. Their diversified teams will be able to collaborate and evaluate your ideas and present an exhaustive report, so that you can make an informed and timely decision about the future of the invention.
Increasing Backlog of Patent Searches – This is undoubtedly one of the most prominent indicators. Generally, it is advised to immediately start outsourcing when you have a backlog of more than 10 patent searches. Timely evaluation of IDFs through external IP search experts will surely help you in identifying critical inventions and securing priority dates on time.
Pending evaluations of invention disclosures (IDFs) can push in-house IP teams to postpone other strategic clearance projects and IP analytics which might be critical to business. Either way, in-house teams will be in a tough spot to prioritize and manage stakeholders in case you have an increasing backlog of patent searches.
Also, a consistent backlog of searches indicates the need for a full-time analyst – either hire someone in-house or get a full-time equivalent (F.T.E) with an IP firm. However, if the backlog of searches usually starts increasing when the R&D teams gear up, or during the end of the year, then outsourcing searches to your trusted IP firm will be the best choice. During work spikes, it becomes difficult to get a new vendor on board, as it takes considerable time for vendor registration.
Hence, it is advisable to have at least one vendor registered and start outsourcing patent searches to them on a routine basis. This will build mutual trust and make the vendor accustomed to your technology, so that when you have work spikes, your vendor can support you efficiently and seamlessly. (Read: "How to make your vendor, your IP Partner")
Increasing Office Actions and/or Lower Grant rate – This is another key indicator which suggests that your in-house team needs external support, and it's time to start outsourcing your patent searches. In case you are experiencing a lower grant rate or delay in patent grants by various patent authorities, then such delays are often indicative of an ineffective prior-art search.
Generally, if your patent applications are getting more than 2 office actions, it means that the prior-art search report needs to be revisited. It is possible that either the drafting team missed relevant information from the report, or the search report was not exhaustive.
Please note that filing a patent application is a considerable investment. With an increase in the number of office actions, this investment increases significantly as legal fees involved in such proceedings are hefty. If a poor patent search is the cause of the delay in grants and a higher number of OAs, then getting your patent search outsourcing process in place is a must.
Conclusion
It is no secret that the success of a patent filing relies heavily on an effective patent search. Therefore, organizations take adept measures to carry out such searches. In case they are unable to perform patent searches in-house, it is advisable to seek assistance from external patent search providers. Sagacious IP's patentability searchserviceis designed to provide you cost-effective and accurate prior art at the right time. Whether you are a patent attorney, an inventor, or someone responsible for patent prosecution, this search enables you to take your innovation forward and achieve the best results. Click here to know more about the service.
-Tanmay Mittal (IP Solutions – India) and the Editorial Team
Having Queries? Contact Us Now!