IP Diligence: How Can Competitor IP Strategy Guide Your R&D Efforts?
Modern-day corporations – both medium and large, have recently begun to recognise the strategic value of intellectual property. To overcome the tide of stiff competition from several competitors that operate on a meganational and transnational scale, corporations need to keep improvising on their products and processes. The competitive edge gained by such companies is mainly because they continuously invest in tedious research and development (R&D). This means that IP strategies are also of prime importance and need to be well-guarded by an organisation's IP management team.
R&D Productivity and Growth
Records from 16 OECD countries show that the annual growth rates of R&D have been steadily on the rise from 1990 to 1998. This has resulted in an increase in organisational productivity. This indicates that the growth of the R&D department is of immense importance in furthering the business objectives of an organisation. For organisations that hold a robust IP portfolio, this is even more important as efficient IP strategies can enhance the productivity of their R&D teams. Due to this reason many highly competitive organisations look towards unravelling the IP strategies of their competitors so as to boost the efforts of their own R&D teams.
How a Competitor's IP Strategy Can Help
Given below are some of the key ways in which the IP strategies of competitors can be utilized by firms to boost the performance of their own R&D teams.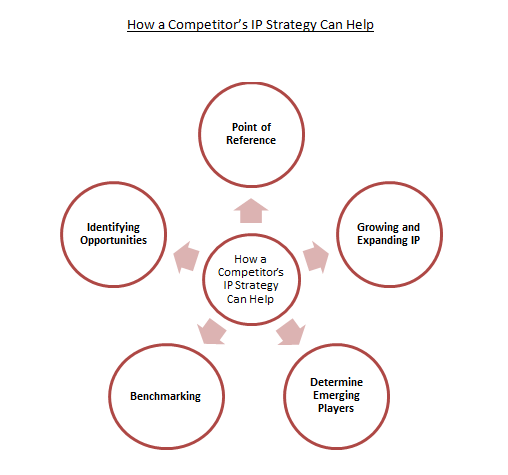 This technique can be deployed by R&D teams to avoid areas of IP infringement. To gain a point of reference from the IP strategy of competitors also means to avoid investing in sectors where the technology is not so relevant. In this regard, tracking a competitor's IP portfolio and the different domains and sub-domains of technology it encompasses can help R&D teams to drive innovation in similar areas to achieve a competitive edge. This can also help R&D teams to chart a specific route map in achieving a targeted innovation.
From tracking a competitor's IP portfolio, organisations can also grow and expand their own IP portfolio. Useful insights gained from a competitor's IP portfolio can range from the understanding of which IP domains have been rejected by patent offices-to-analysing which IP has more commercial value than others. Along with this, an analysis of the existing patent landscapes can further guide R&D teams to gain knowledge of which technology clusters to avoid when growing and expanding their IP. It can also enable R&D teams to further diversify their innovations and inventions.
Determining Emerging Players
By identifying key competitors and players in the field of innovation that the R&D teams are working on, organisations can get an idea of the past and present patent filings in the same domain. These competitors or key players in the particular domain have skilled IP. R&D teams can to a great extent help guide the collaborative and competitive strategies of an organisation.
The process of benchmarking one's own technological innovations against that of competitors can help organisations to gauge the existing potential in the respective market as well as understand the prospective for growth and limitations. This can also help forecast future trends within the same technological domain. This can enable R&D teams to improvise on their existing research. Moreover, with benchmarking, competitors with expertise in particular patent pools and licensing with regards to a particular technological domain can also be identified.
Identifying Opportunities
Analysing a competitor's IP portfolio can help R&D teams to work on areas of innovation that competitors have either overlooked or failed in. Equipped with this knowledge and experience, R&D teams can avoid risks of failure and make better decisions when developing IP. Moreover, what might appear to be a risk for a competitor can prove to be an opportunity for others. For example, if a competitor has overlooked a whitespace opportunity for innovation, it could be due to certain risks associated with that domain. The assessment can help in future forecasting and devising appropriate strategies.
The Dynamism of IP Strategies
IP strategy is not something that is set into the policy frameworks of organisations. These strategies keep changing and evolving over time based on some variables that are dependent on both the internal and external business environment of the respective organisation. Since a good IP strategy is linked with the growth of an organisation, competitors are constantly switching up their strategies. Organisations need to keep a close watch on competitor's IP strategies to be able to successfully adapt them into the efforts of their own R&D processes.
Having Queries? Contact Us Now!