5 Patent Searching Databases that a Patent Attorney Should Know About
For inventors and businesses within the intellectual property ecosystem, it's always advisable to acquire patent protection for their various innovation(s). This protection is offered by their respective national patent office. However, for a patent application to get accepted, the inventor must ensure that the guidelines and/or patentability criteria defined by the patent office are fulfilled. The first and foremost patentability requirement is that the technology claimed in the patent application does not already exist i.e., it should be novel and non-obvious.
The easiest and fastest way of checking this is by navigating the best patent databases that comprehensively record patent information, in a way that can be easily searched across several parameters. Let's learn about such patent searching databases in this article.
What is a Patent Searching Database?
A patent searching database is a type of online resource that helps innovators, IP specialists, and legal experts obtain quick and reliable results during the patentability search process. Innovators and companies are often assisted by IP law firms that depend on these widely-accepted patent search databases to look for existing prior arts that are in the form of patents.
Such databases reduce the time spent on gathering information, analysing potentially relevant results, and producing an actionable report. So, here are the top 5 patent searching databases that patent attorneys need to know about.
5 Essential Patent Searching Tools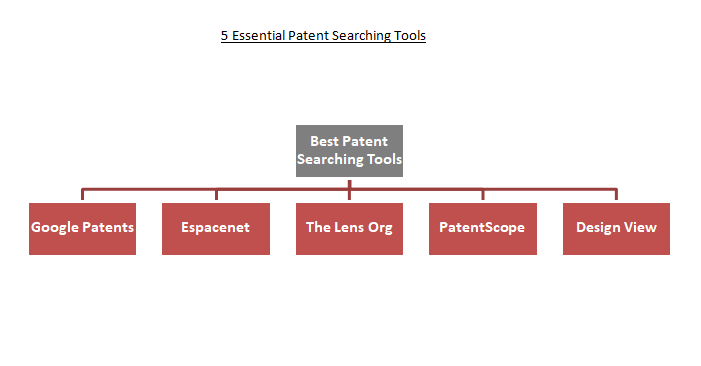 1. Google Patents
This is an innovative yet free intellectual property-searching database introduced by Google in 2006. It's an essential software program for IP law firms, as a few patent searching software do not provide a full-scale novelty search for prospective patents. Therefore, it is always good to crosscheck with Google Patents. It is as simple as entering the correct patent name in Google Search. Thereafter, the first result that shows up is often the direct link to the patent. The vast database of Google Patents covers 87 million patents from countries such as the USA, China, Japan, Korea, and Europe.
2. Espacenet
This is one of the largest IP searching databases available. It encompasses the resources of the patent organizations of more than 98 countries. With the use of this free IP searching database, IP law firms can provide better services to their clients.
Espacenet has more than 110 million patents accessible freely from their database and is capable of solving some of the major problems faced by intellectual property law firms with regards to patent art and patent novelty searching.
This IP searching database allows users to search using Smart Search, Advanced Search, and Classification Search tools. The Advanced Search tool is particularly useful for IP law firms while searching for patents because it allows search using publication number, the application number, priority number, inventor's name, and the publication date.
3. The Lens Org
The Lens Org is one of the oldest digital patent searching databases that patent attorneys need to know about. It is an open database that incorporates information from the world's leading patent authorities like the United States Patent and Trademark Office (USPTO), the World Intellectual Property Organisation (WIPO), and the European Patent Office (EPO). The Lens Org has patent bibliographic data of the EPO from 1907 (more than 81 million documents), USPTO patent applications from 2001, USPTO patent (granted) from 1976, more than 14 million USPTO assignments, EPO grants from 1980, WIPO patent applications from 1978, as well as full-text patents from IP Australia.
The Lens Org has a vast and extensive database to search from, along with several kinds of metadata searchability from publication, filing and priority dates, and extended patent family sizes. The database is useful for patent attorneys who are looking for a user-friendly and easily accessible universal patent database.
4. PatentScope
PatentScope is WIPO's online patent searching database that anybody can use free of charge. This browser-based patent searching database has made available all international Patent Co-operation Treaty (PCT) applications in their full-text forms. It has also integrated the patent documents registered under the fold of other participating regional patent authorities within this database.
5. DESIGN View
DESIGN View is a free database to search the design patents. This database was introduced back in 2012 by the European Union Intellectual Property Office (EUIPO). Approx. 16,941,630 registered designs of 72 participating national offices across the globe can be searched on this database. The interface of this database is quite user friendly. One can execute the simple search or the advance search to refine the search scope. Also, this database allows side by side comparison of designs. Moreover, it is available in 37 different international languages so that patent attorneys can search for patents in the language they are most comfortable with.
Conclusion
After reading this article, it's evident that patent search databases can significantly reduce the turnaround time for patent searching. Similarly, these tools can help patent attorneys simplify the patent searching process, navigate through bulky patent documents efficiently and draw the most effective results.
Sagacious IP, a global IP research and consulting firm, is well equipped to offer businesses and IP law firms quick patent information search solutions. Our patentability search services are designed to find pertinent art both cost-effectively and at the right time.
Rohit Kumar (Engineering) and The Editorial Team