Trademark Registration of App Icons: Impact and Relevance in the Digital Age
Research suggests that a great icon has the potential to boost app downloads by 560%. This affirms the need to create an aesthetically appealing app icon that conveys the brand's story, aligns with the brand image, signifies app's purpose, and stands out from the competition. However, merely designing an impeccable app icon does not suffice as it could be easily imitated – thereby ending your product's distinctiveness. Registering your icon as a trademark is a novel solution to this problem.
By registering an icon as a trademark, one can keep competitors from copying its design. An increasing number of organizations are now choosing to protect their app icons with exclusive trademark rights. Uber, Twitter, Netflix, and Google Chrome are such global brands to name. It is also important to note that if you also run a business using one or more apps, then you must also consider safeguarding your intellectual property against any potential infringement.
This article will discuss reasons to register your app icon, the trademark registration process, what makes an icon a good trademark, and copyright as an option to give you a complete insight into trademark registration of app icons.
Why Register a Mobile App Icon?
Trademarks are names, symbols, slogans, and logos associated with a brand. They help in differentiating the products and services of one company from that of another. An app icon bolsters brand recognition and association, and helps retain the existing user base. Furthermore, a lot of resources go into designing an icon that stands out from the competition and is in line with brand guidelines. Therefore, it is crucial to protect it with trademark registration.
An icon registered as a trademark adds exclusivity and discourages competitors from imitating or using similar icons to scale up its customer base. Moreover, before launching the app icon, its owner must ensure that no similar trademarked app icons exist in the relevant classes.
The most important reasons for registering your mobile app icon as a trademark are mentioned in Figure 1 below: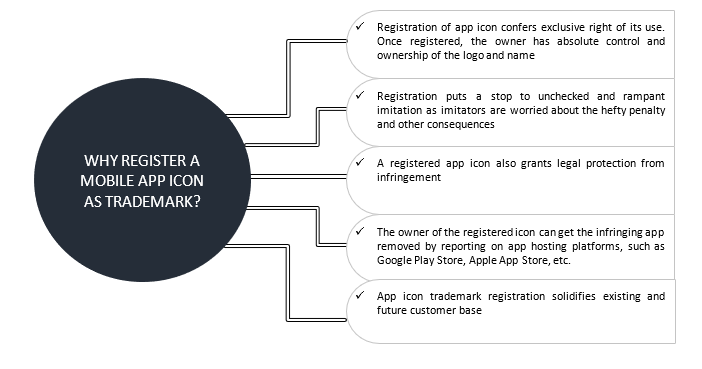 Now that we have emphasized the reasons and need for registering the mobile app icon as a trademark, let us familiarize you with the trademark registration process and its various steps.
Process of Mobile App Icon Trademark Registration
The trademark registration of an app icon involves steps shown in Figure 2 below: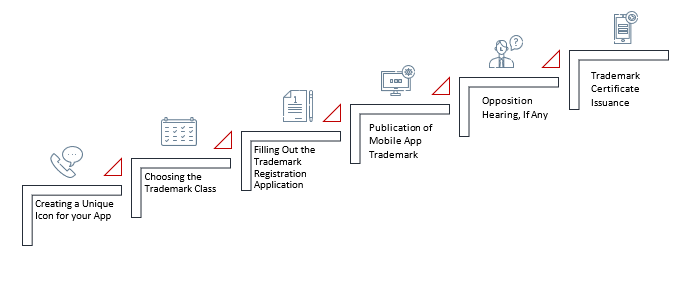 1. Creating a Unique Icon for your App: The first step is to create a new app icon with no prior registration in any relevant classes. Any similarity with an existing symbol is bound to raise opposition from its owner. In the worst case, the trademark application is rejected, and you have to start from scratch. The icon of the app and its name can be registered as one trademark.
2. Choosing the Trademark Class: Once a unique app icon is created, the next step is to choose the suitable trademark class for registration. Only the trademarks registered under the correct category enjoy legal protection against infringement. In addition to that, the trademark office may object to the application if the applicant fails to mention the right class in the form.
3. Filling out the Trademark Registration Application: Next, the applicant fills out the trademark application form for registration. The applicant can choose to mention more than one class in the same form. The option eliminates the need to file separate applications forms to register the mobile app icon under different classes. The application form can be filled out in both online and offline modes, adding to the convenience of applicants.
4. Publication of Mobile App Trademark: The trademark registrar examines the application and publishes the mobile app trademark in the trademarks journal. Once published, any third party can oppose the trademark which has been published in the journal. In addition, a person can raise opposition for the trademark in any one or more classes.
5. Opposition Hearing, If Any: If a third party raises an opposition or objection to the app trademark on publication, the registrar informs the applicant of the same. Afterward, the applicant must file the counter-statement for the opposition and furnish pertinent evidence. The registrar listens to the arguments of both parties and passes judgment as per the registrar's discretion.
6. Trademark Certificate Issuance: The registrar issues the trademark registration certificate after passing an order of acceptance of the trademark application. In case there is no opposition to trademark registration within a specified time, the registrar issues the trademark registration certificate for the mobile app icon under all the requested classes.
Besides being familiar with the mobile app icon trademark registration process, it is also important to understand what makes an app icon eligible for registration. The following section elaborates on vital points necessary for designing an attractive and registrable mobile app icon.
Things to Consider While Designing an App Icon as a Trademark
Before designing an app icon, one must keep certain essential points in mind and not deviate from them to ensure creating a design that is registrable as a trademark. These are shown in Figure 3 below: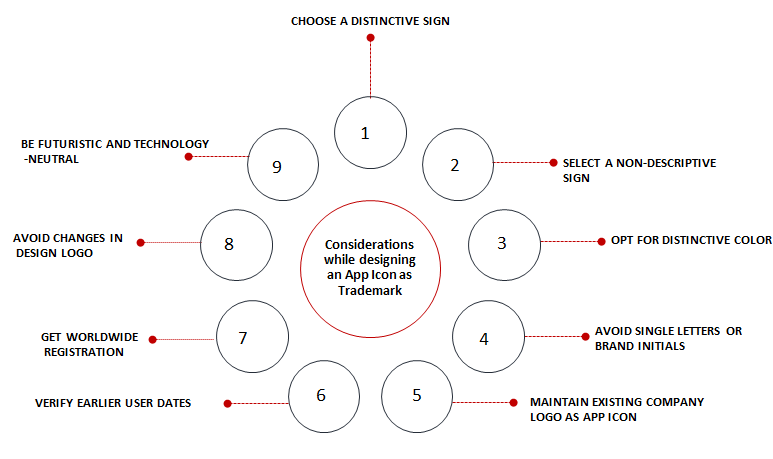 1. Choose a Distinctive Sign
For any app icon to be a valid trademark, it has to be distinctive. That is, it should be unique and different from icons belonging to competitors. Distinguishing marks enable the customers to differentiate the goods and services of one brand from the ones belonging to another. In Figure 4 below, you can see icons of four different apps offering the same or similar services, i.e., video streaming services. Yet, all four marks are easily distinguishable from each other due to their adoption of a distinct design and elements.
Moreover, a distinctive sign may also eliminate any chances of confusion or mistaken identity where the goods and services are different. However, you must not let the quest for uniqueness lead you to overly simplistic or abstract graphics, as they are considered unfit for registration as trademark. The trademark office often rejects applications for such app icons due to their banal, decorative or functional nature.

2. Select a Non-Descriptive Sign
Many businesses consider descriptive elements essential to help guide customers in understanding the purpose of the app. On the contrary, an icon composed of elements that describe the kind, quality, or intended purpose of the goods or services, or their other characteristics, is considered unfit for registration as a trademark. A rationale for excluding such signs from trademark registration is that certain marks, symbols, logos, shapes, phrases, etc., may be generally used to describe specific goods or services. Some such general icons are – " " for music player apps, " " for food delivery apps, " " for weather reporting apps, etc. Exclusivity over these marks can create a monopoly in the hands of a single market player. Nonetheless, the descriptiveness of an app icon is not entirely disallowed in case the app icon is well-known due to its intensive use and massive global attention. For instance – the icons of communication app "WhatsApp," and music streaming app "Wynk Music" use common elements for calling and music, respectively. This is shown in Figure 5 below:

As lucky as they may be, a fate as that of WhatsApp may not be for every app. Therefore, it is crucial not to hurdle registration in the initial stages by including general, descriptive elements in the icon design. The most assertive and defensive trademarks are original logos and are unrelated to the goods and services provided through the app.
You can see non-descriptive app icons of four multinational companies in Figure 6 below:

3. Opt for Distinctive Colors
Businesses also tend to follow the path taken by their competitors and stick to specific identifier colors for particular categories of goods and services. For example – green color for communication apps, blue color for weather reporting apps, yellow for cab-hailing services, etc. are widely used, as shown in Figure 7 below:

A possible motivation behind the step is to utilize a tried-and-tested color scheme for the category. However, a color common in the trade may easily be used by another competitor. To avoid such scenarios, it is sensible to adopt colors and/or a combination thereof, which may stand out from the competition. For example – Netflix, Amazon Prime Video, and Apple TV, three of the most popular OTT platforms in the world, use distinct color or color combinations to stand out from the crowd. This is shown in Figure 8 below:

4. Avoid Using Single Letters or Brand Initials
Irrespective of the device or gadget you view them on (tablet PCs, smartphones, or smartwatches), app icons are tiny and offer limited space. Therefore, designers have to be wary of overcomplicating the design by incorporating too many elements in the icon. Since the names of brands are often too long to be included in the app icon, businesses often adopt the first letter (initial) of their brand names in the design. For instance, Netflix uses "N," and Skype uses "S" in a particular style and font in their app icons. However, legal experts routinely advise companies to refrain from such practices since the protection provided to a registered brand name does not extend to the individual letters or initials. A justification for this exclusion lies in the fact that there are millions of app icons but only 26 letters in the alphabet. While applicants may be able to obtain registration of a single-letter trademark logo, this registration cannot bar others from using the same letter in a different style and manner. For example – the letter "M" is used by both Myntra and Gmail, while "P" is used by Pinterest and Picsart for their respective app icons. This is shown in Figure 9 below:

It is important to note that these brands' popularity and a unique combination of colors have made these marks well-known, and thus protected by the law. However, brands that do not have robust recognition or reach cannot take the risk of adopting single-letter icons. However, brands with short names, such as ZARA or GAP, or brands with multi-letter abbreviations can safely choose to adopt their initials in their app icons if designed in a unique style and manner. Some such examples are given in Figure 10 below:

5. Choose the Existing Company Logo as an App Icon
In this era of technological advancements and internet trends, the next tactical move for many brick-and-mortar companies is to expand their business into the digital space and build an online presence and reach. Many businesses are approaching this by opting for independent or stand-alone branding for their digital existence. However, this strategy is flawed as it leads to negative brand coherence and creates a break in offline to online merging for omnichannel marketing efforts. One may avoid this by adopting the offline brand logo as the new online app icon. It allows businesses to capitalize on accrued reputation, consolidate existing rights globally, and avoid new trademark filings. In Figure 11 below, you can see app icons of some international companies designed using their offline brand logos:

6. Check for Earlier User Dates
An essential step involved in designing a registrable app icon is checking for already registered trademarks for the designed icon. A trademark availability search can reveal any similar or identical third-party trademarks that may pose a roadblock in accepting your app icon as a trademark. It is also crucial to check for other potential prohibited marks such as emblems, flags, common symbols, names of government organizations, or marks that may hurt the religious sentiments of any class or section of the citizens of any country. Some of these logos are shown in Figure 12.

7. Get Worldwide Registration
Businesses often forget that IP rights are territorial. A trademark granted to an app icon in the USA may not be valid in India, and vice versa. Mobile applications, by nature, cut across traditional territorial limitations. An app created by an organization in one corner of the world can become the most sought-after app, downloaded by hundreds of thousands of people around the globe in unimaginably short time. TikTok, Facebook, and Twitter are a few such apps to name. One should note that while a sign may be unique in one country, similar or identical trademarks may exist in another one. Therefore, a brand that aims to have a global outreach must pay due attention to the global context while registering an app icon as a trademark, as worldwide registration of app icons, provide greater exclusivity.
However, this is easier said than done. Global registration will incur more time and resources, financial as well as personnel, than a regional one. Hence, thorough deliberations must be carried out to assess the scope and outreach of your brand before going for global registration. In some cases, regional registration may be selected to help save resources like time and personnel. Despite many benefits, if you find the process of mobile app trademark registration cumbersome, there is a feasible alternative, i.e., copyright protection.
8. Avoid Making Changes in the App icon
The trademark protection of an app icon may become invalid if changes are made to the design. Therefore, it is recommended to stick to the original logo of the app icon. However, most jurisdictions allow using all colors under black and white icon registration. In other words, the app icons registered in black and white may change their color but have to remain faithful to the fundamental design, style, and structure to retain their protection. In case you make a drastic change in design, it is imperative to file new trademark registrations to protect it, as the existing registration is only valid for the original icon. Figure 13 shows the transformation of the Uber's app icon over the years. Such changes can leave the new design vulnerable to imitation unless safeguarded by a new trademark registration.

9. Be Futuristic and Technology–Neutral
The app icons are usually designed and adopted as per the visual space provided to an icon on the screen. The shape and area of an app icon results from the user interface which is imposed by the graphics of different operating systems, such as iOS, Android, etc. Thus, an alteration in the graphics of the operating system can force brands to revamp their icons, altering the validity of their trademarks. Therefore, it is wise to file for trademarks in a technology-neutral way; for example, in a standard (square) form without claiming use as a "smartphone app" in the description.
By now, you must have developed a sound understanding of the mobile app icon trademark registration process and points to consider while designing a new mobile app icon. But before you begin applying for the registration of trademark, you should also learn about the copyright option. We focus our discussion on the same in the next section.
Is Copyright of App Icon an Option?
A mobile app icon can also be protected as an artistic work or a graphical element vested with its creator or author. The app icon could be protected regionally or globally by Berne Convention. Under the principles of the convention, any work originating in one of the contracting states enjoys protection in other contracting states as it is granted the same privilege as works by the latter's own citizens (principle of "national treatment"). In case the icon has been designed by a contractor, employee or any other third party, a formal transfer of related copyright and design rights must take place. This is done in order to avoid any conflicts in the future.
Conclusion
In conclusion, app icons are key brand identifiers and must be protected with exclusive trademark rights. The numerous benefits of registering an app icon as a trademark include keeping a check on imitation by other businesses and retaining the existing customer/user base. Several things must be heeded while designing an app icon that can be registered as a trademark. Failing to adhere to these recommendations can result in the rejection of the trademark registration application.
One must also ensure not to infringe upon anyone else's trademark or copyright while designing the app icon. Since trademarks are territorial in nature, companies must access the target, reach, and potential of their app before choosing between global and territorial registration. In some countries, if a registered trademark is not used for a continuous period of five years from its date of registration, it is liable to be removed from the register of trademarks upon a complaint from an affected third party.
Trademark registration can be a lengthy process and requires the insights of experienced and skilled professionals. Many organizations with substantial in-house resources take the task of trademark registration upon themselves. However, outsourcing the job to an organization specializing in mobile app trademark registration is advisable for most companies.
Sagacious IP is one of the leading IP solution providers across the globe. The company has gone from strength to strength and expanded to six countries with four delivery centers since its inception. Over the years, it has served more than 5000 clients with impeccable IP solutions and successfully delivered over 25,000 projects globally. In addition, through its Trademark Filing and Prosecution Service, it helps clients maintain exclusivity and protect their brand from possible infringement.
Maitrayee Sinha, Akash Dudhwa (IP Filing and Prosecution) and the Editorial Team