5 Ways to Align Your IP Service-Related Business Strategy with Your Client's Needs
As per the World Intellectual Property Indicators report, a 5.2% increase in global patent filings was witnessed in 2018 as compared to 2017. This dataset indicates that companies around the world are fast realizing the importance of protecting their innovations. Despite the apparent significance of IP, it gets tough for companies to handle all IP-related tasks in-house. Consequently, they reach out to IP firms for numerous IP services such as IP search, IP filing, and IP management. As the demand for IP-related services is only set to grow, IP firms that provide these essential services need to align their business strategies with the needs of such companies.
If you are an IP firm and are unsure about how to align your business strategies with your client's needs, then this article is for you.
IP Services Sought by Clients
Small to large businesses that either have sizeable IP portfolios or extensive research and development (R&D) processes often require different types of IP services from IP partner firms. Patentability searches, invalidation searches, FTO searches, IP landscape reports, whitespace analysis, invention disclosure form (IDF) drafting, patent drafting, IP portfolio pruning, patent licensing, and patent prosecution are some of the most sought-after IP services. Although IP law firms handle issues related to IP litigations, these issues also come under the purview of IP services provided by IP partner firms. Moreover, since the IP service market is set to grow at a CAGR of almost 12% from 2020 to 2030, aligning business strategies with the specific needs of the clients has become even more important. Listed below are the five most effective ways of aligning your business strategies with your client's needs: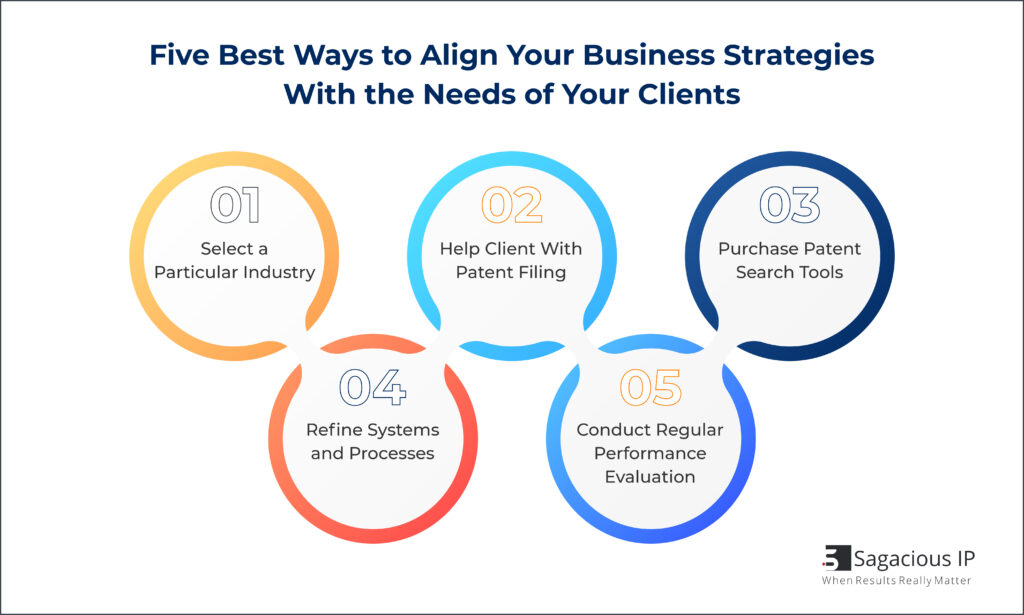 1. Select a Particular Industry
IP service providers usually operate within specific industries, technological domains, subdomains, or specific niches. Aligning business strategies for such IP firms means focusing on acquiring adequate resources that are specific to the needs of their clients. For example, for an IP business that operates within the electronics industry but specializes in the smartphone chip sub-domain, acquiring talented IP search analysts within that domain would help them to align their business strategy with their clients' needs.
2. Help Clients with Patent Filings
Many clients seek external IP management partners in order to reduce their costs of maintaining an in-house IP management team. Therefore, your business strategy should be developed in a way that fulfils the needs of such clients. If your client takes your services but still needs to invest his/her time and resources in filing patents, then it shows that you do not offer holistic state-of-the-art services. Hence, it is crucial to model your business strategy as per your client's requirements.
3. Purchase Patent Search Tools
Patentability searches, Freedom to Operate (FTO) searches, and Invalidation searches are some of the most sought-out services that clients look for while selecting their IP service providers. Your business strategy should include a budget for purchasing and maintaining commercially available and reliable IP search tools and platforms. This is because such tools will allow you to handle large volumes of tasks and deliver projects within the stipulated deadline.
4. Refine Systems and Processes
Clients always look for prompt communication channels and quick redressal of all their IP management concerns. Therefore, a comprehensive business strategy for your IP firm should include the formulation of effective communication channels to maintain constant communication with your clients. Furthermore, you must analyse your firm's internal organizational structures and processes periodically. This allows you to refine your internal systems and processes in order to meet your client's needs.
5. Conduct Regular Performance Evaluation
As an IP firm, your business strategy should involve hiring talented IP professionals from reliable recruitment sources. Besides hiring the right talent such as skilled IP attorneys, IP search analysts, and portfolio managers, you must also conduct a regular performance evaluation of your employees to gauge their competencies and their requirements in different client projects. Most clients want to partner up with reliable IP management firms that can boast of a highly skilled workforce and analysts with expertise in specific domain.
Conclusion
IP firms usually devise their business strategies to provide the best IP services that empower both individual and corporate innovators around the world. However, with the sharp rise in patents related to digital technologies such as artificial intelligence (AI) and machine learning (ML), such firms need to review and modify their business strategies more frequently – not only to stay afloat in this competitive environment but also to serve their clients better.
-The Editorial Team