Patent Landscape Study on Artificial Retina
Patent Landscape Study on Artificial Retina: In 1929, Otfrid Foerster, a German neurologist discovered that electrical stimulation of visual pathways can be perceived as light or phosphenes. We have come a long way from that discovery. Now, we have retinal prosthesis available in the market that stimulates the retinal layer of eye to produce vision in blinds. Such device includes Argus® II, which received CE (Conformité Européenne) marking in 2011 and FDA approval in 2013; and Alpha-IMS, a photovoltaic-based retinal prosthesis which obtained its CE marking in July 2013.
Artificial Retina can be used to vision to the subject suffering from retinal diseases like Age-Related Macular Degeneration (AMD) and Retinitis Pigmentosa (RP), which causes blindness by degeneration of photoreceptor cells in the outer layer of the retina. Artificial Retinas are based on the principle that electrical stimulation of the retinal layer yields visual sensation. Electrical stimulation is achieved either by an array of micro-electrodes or micro-photodiodes. Retinal implants are categorized into three categories based on the region of their placements. These regions are:
Epi-retinal (on the retina)
Sub-retinal (behind the retina)
Suprachoroidal (between the sclera and the choroid)
The artificial retina market is expected to grow US$102.9 million by 2023 at a CAGR of 2.1%. Key factors driving the growth of this technology include increasing cases of vision impairments, growing health expenditures and in partial success of cochlear implants. Hence proving that humans can regain significant sensory function with limited input. As per World Health Organisation, age-related macular degeneration is the third ranked cause of impaired vision. Approximately 5% of blindness globally is due to AMD. It is estimated that globally 196 million people will have AMD in 2020, increasing to 288 million in 2040. RP was prevalent among 1.5 million worldwide in 2014.
Patent Landscape Study on Artificial Retina
Patent filing in this domain is increasing at an average growth rate of 14.1% per year, with more than 1/3rd of the total patents being filed after 2010. United States is the leading research country in this domain, followed by China, Japan and Germany; with China being a new entrant in this technology as it started patent filing in the last decade only. Key players working in this artificial retina domain include:
Second Sight
Nidek
Nano Retina
Retina Implant
Pixium Vision
Bionics Institute Australia
Newsouth Innovations
Key Patents With Forward Citations
Patents mentioned below possess forward citations at whooping number of 300 or more that shows their significance impact on this particular field!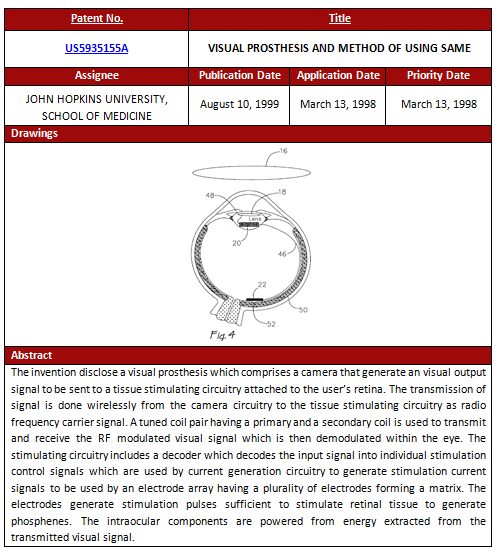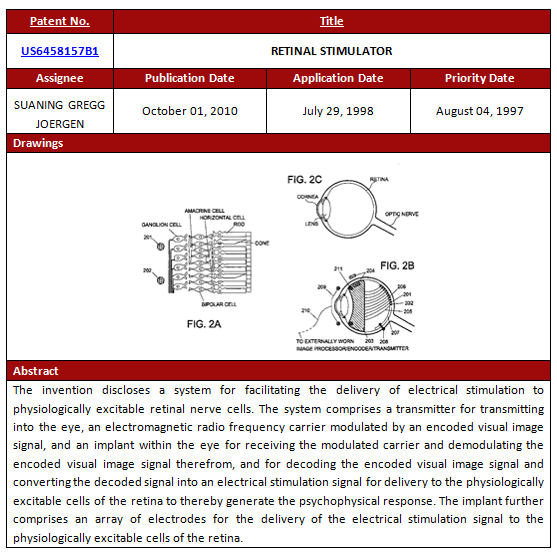 Recent Trends in Artificial Retina
Initial patent filing in the domain focused mainly on creating various configuration of retinal prosthesis and placement of these systems in various regions of the eye for proper stimulation of neural nerves. Patents disclosing about a retinal prosthesis which allow for nutrient flow through them were also filed before the year 2000.
Also Read: Patent Analytics Through Reverse Image Search Engines
After definite structures of the prosthesis were developed, focus of researchers shifted towards improving electrode arrangement to reduce or prevent damage to the retina layer. Decreasing power consumption and heat generation were also focused upon as with improvement in microelectronics systems, the chances of damage to retina also increased. Researchers also focused on video conversion systems for proper utilization of the limited number of electrodes present on the prosthetics. Major focused technical challenge during 2001-2010 includes:
Improving electrode structure for proper implantation in retina
Using neural growth on the electrode for improved functionality
Implanting the device in such a manner to reduce damage to the retina
Elimination of external systems and creating a self-sufficient prosthesis
Improving manufacturing method for producing flexible prosthesis
Reducing power consumption and heat generation
Converting of high-resolution image to low resolution as per the electrode array
Improved configuration mounting
Improving power consumption of the artificial retina
Efficient multiplexing of plurality of electrodes in a nerve stimulator
Reducing the electrode size
Improved packaging of the retinal prosthesis
After 2010, researchers seem focused upon increasing number of electrodes while keeping the size of the implant to minimum (i.e. electrode density). Focus is also upon using different kind of materials for achieving improved biocompatibility and flexible structure of the implant. Devices used in clamping of the implant to the retina layer have also been improved.
Also Read: Biosimilars – A Market Research Study
Challenges
The primary obstacles to the growth of this technology are:
Low visual resolution (simulation results indicates that 600-1000 electrodes are needed to enable various tasks including face recognition, whereas Argus®II currently uses 60 electrodes thus the available spatial resolution needs to increase by at least a factor of 10).
Improving the biocompatibility of the device to ensure longevity; and
Image processing needs to be done in real time so there is no delay in interpreting an object in view.
Future Prospects of Artificial Retina
Artificial Retina has come a long way in the past two decades, showing the technological capabilities of this technology and with constant advancements in biotechnologies, micro-electronics and biocompatible materials; this technology is sure to grow. With the growth of this technology various other fields have been identified for the application of this technology which includes:
It will be worth witnessing the advancements in the artificial retina technology and spin-offs technology developed from its advancements.
-Yogesh Soam (Engineering) and The Editorial Team
Having Queries? Contact Us Now!