Compulsory Patent License Regime in India – An Explainer
License regimes in different countries follow specific rules and regulations that are unique to them. These regimes are constructs of laws built to regulate systems, procedures, and operating rights of licensees and licensors. Depending on the objective, a country may choose to either follow the usual licensing regime (called a voluntary license) or a compulsory one. The following article talks about the compulsory patent license regime in India and how it works.
Compulsory License and its Importance in India
According to the provisions of a standard compulsory patent license, any third party interested in a patented product, service, process, or design can apply for a license, without the consent of the patent owner. In India, these compulsory licenses are granted to such interested entities by the Controller General of the Indian Patent Office (IPO).
Notably, the IPO grants thousands of patents every year. With this, the level of competition is also steadily increasing in the country. As a result, compulsory licensing has become an important issue wherein organizations are looking to acquire free licenses to mass-produce innovative products or services. Given below is a graphical representation of the rate at which granted patents increased in India from the year 2015 to 2020.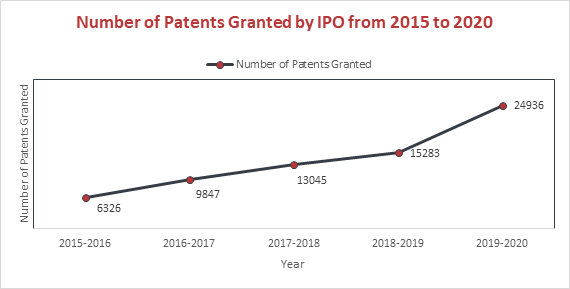 Figure: Number of Patents Granted by IPO between 2015 and 2020
In India, compulsory licensing gained prominence in 2012. The first compulsory license was granted to Natco Pharma by the IPO on 9th March 2012, for the revolutionary drug Nexavar. It was originally developed and patented by Bayer Corporation to treat liver and kidney cancer. Natco Pharma undertook the challenge and succeeded in bringing down the selling price of Nexavar from Rs. 2.8 lakh to just Rs. 8,800, making it accessible to people of all social classes.
How Compulsory Licensing Works in India
In India, the Indian Patents Act (IPA) of 1970 is the key legislation or "law in force" for patents. Based on this law, various authoritative rights and powers are given to the Controllers of the IPO. Specifically, Chapter XVI of the IPA talks about the compulsory license regime that binds all innovative companies operating within the country.
In this chapter of the IPA (1970), Section 84 stipulates that any entity (having an "interest" in that invention), be it a person or an organization, can file a request with the Controller General of the IPO for the grant of a compulsory license. This section provides three years to the patentee/patent owner to work on their patented invention or prove that their innovation is beneficial for society. The deadline begins from the date of patent grant.
If these conditions are not fulfilled, then their patent is either liable to get licensed for free or upon payment of royalty/remuneration (to the patentee or owner). This must be paid by any entity that applies to the IPO for a compulsory license.
Conditions for Obtaining Compulsory License in India
Referring to the above-mentioned Natco Pharma vs. Bayer Corporation case, one becomes familiar with the conditions under which a compulsory license can be sought. These conditions, represented through a graphic below, are based on analysis of several factors, most of which are directed towards people's welfare.

Graphic: 3 conditions to satisfy to seek a compulsory license in India
Opposing a Granted Compulsory License
Once a compulsory license application fulfils these three conditions, all the related documents are published in the Official Journal of the IPO. Thereafter, the compulsory license grant can be opposed by the patentee or any entity within the first two months of publication. The patent owner or any other entity can oppose the grant by filing a notice of opposition using Form 14. The opposition results in a hearing wherein the compulsory license holder or the licensee, as well as the opponent, are given a fair trial.
Other Aspects of Compulsory Licenses in India
Some licensed inventions can only be worked on with the help of licenses of other related patents. For this purpose, the IPO has facilitated the licensee to apply for additional compulsory license grants for these related patents.

In such cases, the applicant needs to further fulfil certain conditions to obtain a compulsory license. The most important one is that the patented innovation should have contributed significantly to the growth of economic or industrial activities within the country.
Meanwhile, when the patentee or the patent owner realizes that the obtained compulsory license no longer fulfils the original set of conditions, he/she may even apply for termination of that compulsory license via Form 21. During the termination process, both the patentee as well as licensee are served notices and are called for a hearing. Thereafter, the license grant gets terminated.
Conclusion
With an increasing number of patents being granted every year, organizations need to identify licensing opportunities. The process is not easy because, in India, there are ways in which one can prevent competitors from applying for a compulsory license. One such method is to launch the innovative product at a price justified for the Indian consumers. Therefore, seeking assistance from a strategic partner to obtain a compulsory license can help.
Sagacious IP offers end-to-end patent licensing support to businesses and individual patent owners. Our team of licensing experts focuses on identifying deal driver patents and designing a robust licensing program for businesses in a cost-effective manner.
-The Editorial Team