How Competitor Monitoring Helps to Strategize and Identify Opportunities
How Competitor Monitoring Helps to Strategize and Identify Opportunities: Understanding competition is critical to work on challenges and make the best use of opportunities. Even if a company is aware of their competition, there are multiple factors which may affect their hold in the market, particularly if the competition is not tracked. There may also be competitors out there who are monitoring the company, its reaction to various events and predicting the choices the company is going to play. Therefore, it is important to be aware of the business space in regular duration of time to avoid any risks and be prepared with a strategy.
Competitor Monitoring: Competitor monitoring involves tracking competitors working in the same technology domain for their business, collaborative and market strategies. Business aspects can include R&D, product development and prices, whereas collaborative aspect covers partnerships, licenses and M&A. Marketing events, public release and consumer response cover the scope of market aspect.
Focus of Competitor Monitoring: Monitoring study is performed at regular intervals of time, focusing on information gathering, analysis and relevant insights.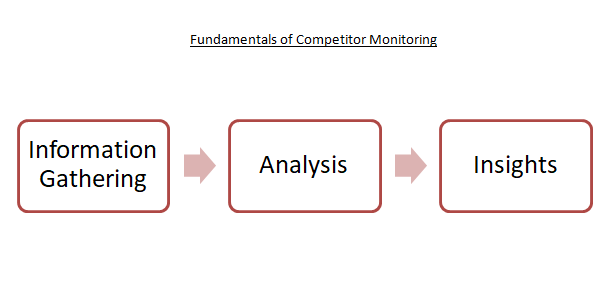 To illustrate further:
Information Gathering: Various patent and product portfolios in a technology are identified. Technical literature, market trends, collaboration activities, and marketing strategies are determined. All of these can provide information related to the current competition.
Analysis: Next step is analysing this information with respect to known competitors, to determine their present and future goals and actions. This step also involves identifying emerging players, which may be new players altogether or are associated with bigger names, yet not prominent names in the competition. The gathered information is further analysed for market surveillance, for updates, news and upcoming trends.
Insights: Analysis of the competition space provides insights related to future forecasts in the technology area, failures which any of the competitors have faced – to decide whether to avoid the risk or take a chance and further, understanding areas of untapped potential. This means any potential opportunity which the competitor has forgone is worth opting for or not.
How to Gather Information:
There are various sources to gather information that may prove highly useful in tracking competition. Following sources are illustrated:
Patent Portfolio: Monitoring competitors' portfolio (including product launches, new pipelines, or announcements) and identifying products' features protected by the competitor in the last few years of patent filing, provides forecasts related to competitor's upcoming moves and future inclination.
Research Papers: Tracking research papers (white papers, journals, articles, blogs, etc.) to identify companies and their research areas. This provides information related to new players entering or planning to enter in the domain.
Seminar/Conferences: Tracking seminar/conferences in the technology domain to identify companies who are showcasing interest in the seminar/conferences. Such tracking can also provide hints about new players entering or planning to enter in the technology domain.
Mergers & Acquisitions: Tracking mergers and acquisitions in the technology domain to identify new competitors. For example, Google (an IT company) acquired Nest (home automation company) to enter in the business of home automation.
Analysis
Analysing Competitor Portfolio: Patent Portfolios of competitor interest are studied to predict their future strategy. The prediction is based on existing trends and assumptions of similar situations.
The analysis involves patent searches for assignee [corporate trees & normalized names] and inventors to identify:
Investment areas based on technologies they are filing
Prosecution stages of their applications [Post Grant Review, Inter Partes Review, or Ex Parte re-examination procedures]
Representatives who are filing for the competitors to determine hidden applications
Family extension & scope of protection in different countries
Size & strength of a portfolio
Strategies to implement in competition:
Updating claims in own application to offset competing technology
Prevent infringement threat by designing around their claims
Use of rejected applications as prior art/useful technologies with no exclusive rights
Markets to be targeted
Strategic relationship
Analysing New Entrants: Markets are not predictive all the time. Emerging players are usually missed due to lack of enough data. Other than known key players in a domain, upcoming players are also required to be identified during competitor monitoring.
Here, in addition to dedicated assignee-based searches, keywords, classes and citation searching are also important
Scientific literature represents their work in nascent stage
Strategies to implement in competition:
Identifying aspirations of new entrants – there is a high rate of small entities abandoning applications as per cost/market trends
Possibilities of investments, partnerships, acquisition
Determining new inventors as resource pool
Determining new keywords, classes and assignees in the domain
For instance, an established entity with strong portfolio may have the following characteristics:
Portfolio has many grants
R&D is strongly focused on building & maintaining patent portfolio
IP insights are integrated in business decisions
Focus on core technological advancements
Engaged in licensing/partnerships
Performs regular monitoring and due diligence
Alternatively, a new entrant building on IP may have the following traits:
Portfolio comprises mostly applications, saving priorities
R&D is focused on designing IP around competitors or bringing revolutionary technology
Business strategy focuses more on licensing, selling and technology transfer
IP focus is on building portfolio
Business integration and competitor monitoring is not as prevalent as with established entities
During a typical competitor analysis, an established entity can be easily identified through patent activity. However, there can be a vast number of filings to screen for the most relevant technology. On the contrary, an emerging player may not be easily identified as leading players in a technology area and competitive data might be missed. Therefore, it is crucial to gather and analyse information considering possibilities of unknown competition.
Market Surveillance: Duration between filing and patent publication is long and till the time a patent is granted, the market is not the same.
Products provide glimpses of patented technology that are launched in the market
Marketing strategies (events, seminars, conferences) and consumer response to the product give insights on upcoming trends
Partnerships, M&As
Litigation events are important to keep tabs on events threatening or opportunity to own business.
Strategies for the client:
Duration between filing and patent publication is long and till the time a patent is granted, the market is not the same.
Products provide glimpses of patented technology making it to the market
Marketing strategies (events, seminars, conferences) and consumer response to the product give insights on upcoming trends
Partnerships, M&As
Litigation events are important to keep tabs on events threatening or opportunity to own business.
Case Study 1: How Sagacious IP helped a European Multinational in tracking their Competitor's next strategy
The client wanted to commercialize their technology and was interested in due diligence of the space before proceeding with any collaborations. They were especially interested to determine moves of a competitor in immediate future.
Sagacious IP planned a study around:
Competitor Portfolio:We identified competitors' filings in last five years and determined their growth in competing tech over time. Prosecution time and grant success of their portfolios were also studied, and citation nodes were determined to understand reference tech.
Parties Involved: Funding agencies for the competitors were determined. Further, research collaborators and companies licensing platform technologies with them were identified to determine business relations. Past projects of key inventors were studied to understand their expertise.
Market Surveillance: Current product pricing and presence in key geographies were studied. Consumer engagement and marketing strategies were determined e.g. blogs. Seminars and public events were determined along with organizing agencies. Participating organizations relevant to the domain were determined.
The process was performed regularly every 3 months in a span of 2 years. The client was able to determine possible infringement chances and identify potential collaborators significant to their commercial model.
Insights from Competitor Monitoring: Cumulative data from portfolios, product and literature can be analysed and timely monitored to identify:
Strategies missed or avoided by competitors
Enhancing R&D to overcome existing challenges in the art
Opportunities in different geographies
Scope of improvement of own products
Portfolio/product lifespan
Alternatives for patented technology in the market
Leading inventors working for competitors for hiring/research institutes/universities, etc.
Analysing mistakes of competitors, whether it can be profitable for own business or not.
Analysis Models to Derive Insights: Various analysis models can be developed as per the end objective.
Accordingly, insights can be derived with respect to:
How competitors fare in ranking with regards to filing over time
How active they are in a domain-niche sub-domain (technical expertise over time)
Ongoing prosecution and litigation
Where their tech stand in portfolio benchmarking in comparison with current popular technology and authority they have in Patent pool/licensing deals.
Based on the insights generated, a company can pursue with the following action steps:
Preventing Infringement/Clearance
Opposition
Licensing/Buying/Selling
Design Around
Case Study 2: How Sagacious IP helped a Fortune 500 Company in prioritizing actions from a vast data of Insights
The client approached Sagacious IP with large data they had compiled over the years for a few competitors in the field and were not sure how to use that information to study how they fare in the competition. Further, they wanted a plan on prioritizing their actions in business strategy based on the insights.
Sagacious IP devised a strategy around this and planned the analysis around the following:
Existing Information: Segregated relevant data from obsolete information, verified for any false positives in the data and conducted focused searches in portfolio, literature, and market to cross-check recent insights.
Analysis: Identified separate aspects that influence their immediate, short term and long-term goals. Prioritized the parameters as per goals and ranked comparatively on the basis of key aspects – portfolio landscape study, license/partnership information, active portfolios and market presence.
Refining Insights: Determined opportunities, risks and scope of improvement. Narrowed down monitoring to specific key technical aspects of certain active portfolios while monitoring the study quarterly.
Using the competitors' information, the next course of action for the client was decided. The client was pleased with streamlining of their competitor monitoring process and found it easier to track and utilize recent updates in competition. They found breakdown of future course of action through regular monitoring quite convenient.
Setting Up Monitoring: what should be considered
One of the most important factors to be considered for successful competition monitoring is to consistently update the list of competitors. It is not necessary that the companies at the start of the study remain the same till the end of the study, and also, their rankings between each other.
The setup can include the following:
Monitoring Patent Portfolios for Landscapes, Freedom to Operate, Invalidity — Quarterly/Biannually
Insights drawn:
Competitor vs. Tech
Competitor vs. Geographies
Leading Competitors
Competitors vs. Citations for reference tech/intersecting competitors
Monitoring Literature for Landscape, Infringement, Invalidity— Monthly/Quarterly
Insights drawn:
Product Launch
Individual inventors/Funding Agencies active in the domain
Public Forums, Blogs, Seminars, Conferences
Monitoring Markets for Oppositions, Litigation, Licensing, M&A — Monthly/Quarterly
Insights drawn:
Insights
Due Diligence
Infringement Identification
Details of Mergers and Acquisitions/Partnerships/ Patent Pools
How to Consume Actionable Output: Competitor Monitoring can benefit an organization in risk mitigation, strategizing for R&D, in commercialization approaches, tracking competition and building IP. While risk mitigation can include safeguarding from infringement risks, assessment of competencies & priorities can also become handy before strategizing for R&D. Tracking competing technologies, licenses and partnerships, market percolation and consumer behaviours can influence commercialization approaches. Identifying expansion opportunities, and enforcing IP are major factors for building and maintaining IP.
How Competitor Monitoring is better than a SWOT Analysis
Competitor monitoring involves tracking various aspects of business, therefore unique for every competition and requires more than a general SWOT analysis. Unlike a traditional analysis, which broadly covers subjective data regarding strength, weaknesses, opportunities and threat, detailed competition analysis spreading over any kind of relevant data provides an objective view of the competition. Information, which could have been otherwise missed due to non-relevance to any of the four parameters can be captured. Further, competitor monitoring is able to address flaws associated with a typical SWOT analysis by not restricting an attribute to just four parameters but making way to add an additional parameter, if required. For instance, scope of improvement may not necessarily be a weakness and might not be out there available as an opportunity to exploit. This can be considered as an additional parameter to be analysed.
Moreover, an attribute may not fit in any category. For instance, smart wearables are close to the skin and track important vitals. However, there are cases that they are known to cause to react with the skin, and leak currents. Here, strength and weakness overlap because the device is meant to be worn close to the skin. This is a grey area which is not distinctly separate for strength and weakness. A detailed analysis can provide a comparative matrix wherein such grey areas in the technologies across players can be considered on a similar scale.
Another limitation of a traditional SWOT analysis is that no parameter is on priority. A product may have multiple strength areas, and just one weakness. Yet, at a particular point of time, that weakness might need to be addressed first.
Therefore, a traditional analysis needs to be modified to accommodate supportive data at regular intervals that adds value to the overall business strategy.
To conclude: Competition is not something that can be tracked using set patterns or formulae. Competitor monitoring involves various aspects – from technology to product, associations, marketing and overall presence in the space.
It is important for entities to make their technologies/products stand out by learning from their competitors: where they are right, where they went wrong, predicting next strategy and making the most of opportunities. A regular analysis considering all the associated factors is vital for a company's success. Sagacious IP's competitor monitoring services are cost effective and time bound. Click here to know more.
-Devika Saini (Life Sciences) and the Editorial Team