How EU Companies Can Tap The Opportunities In India With An Innovative IP Strategy
The bilateral relationship between the European Union (EU) and India is constantly evolving. This is demonstrated by the fact that the two jurisdictions have increased bilateral trade by 72% in the last decade. EU foreign direct investment stocks in India were pegged at €75.8 billion in 2019. Having said that, India is among the world's fastest-growing economies and provides ample opportunities for EU innovative companies to expand in the country. The following article discusses the areas of opportunities along with the IP strategy that EU companies must consider while entering India, and also shed light on the Indian IP regime and the recent developments in it.
Indian IP Regime – An Overview
In the early stages, the overall IP administration in India lacked efficiency as the processing of IP applications and court-related matters was slow. It took applicants about 5-10 years to receive a final decision in any patent-related matters or about 2-4 years in decisions pertaining to trademarks. However, recent amendments in Intellectual Property Rights (IPR) in 2016, have improved the overall process, and expedited the system. As per the reports, the grant of patents has increased by 55.3% in India within a year of enacting these policies. Similarly, for trademarks, the pendency has been reduced from 14 months to 1 month.
Post the new IP policy framework, India now has a well-defined and up-to-date statutory administrative procedure and a decent judicial IP framework. The country has IP offices in all major cities – Kolkata, Delhi, Chennai Mumbai and Ahmedabad. India is also a signatory to all important treaties like Paris Convention, Patent Cooperation Treaty (PCT), Berne Convention and Madrid Protocol. The country recently signed the Nice and Vienna agreement for Trademark also.
When it comes to the judicial system, India has constituted the Intellectual Property Appellate Board (IPAB) which facilitates an applicant to challenge the orders passed from the patent offices and appeal for the rejected application. Similarly, infringement suits in India can be filed at district and high courts along with commercial courts established under high courts.
Areas of Opportunity for EU Innovative Companies in India
Most of the real-time opportunities for European companies in India fall under projects pertaining to the Business Support to EU-India Policy Dialogue. The project led to the signing of several policies and joint declarations between the EU and India in 2016. The sectors that have been unfastened for European companies under this project are:
1. Water Management: The India-EU water partnership focuses on water management issues in India. The former has myriad water bodies that require management, cleaning, and monitoring. The EU is looking out for technologies within the European Union to work on water-related issues with India under this project.
2. Clean Energy and Climate: It is a project focusing on the renewable energy sector in India. Be it clean energy, offshore wind, energy storage or clean technology, the project focuses on all of them.
3. Resource Efficiency: This initiative focuses on UN sustainability resource consumption goals. India was looking out to partner for its resource efficiency. EU has adopted this initiative so that companies from the union can enter India directly to be a part of these real-time projects.
4. Urban Partnership: India-EU Urban partnership is a project that focuses on smart cities between Europe and India. Best practices from cities in Europe have been adopted in these Indian cities that have partnered under this project. Furthermore, New Delhi is looking to create nearly 100 smart cities wherein EU innovative companies can showcase their technical know-how to the government of India by manifesting this partnership.
How EU Innovative Businesses Can Formulate Effective IP Strategy While Entering India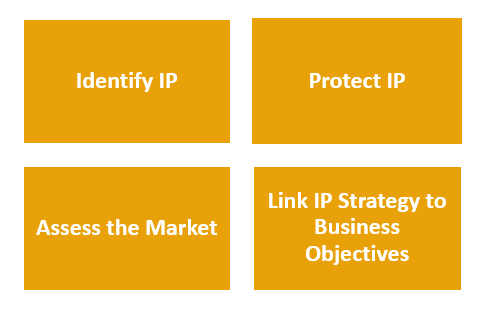 1. Identify IP: As a stakeholder, a company must identify what exactly is the IP associated with the target company. It may include trademarks, patents, trade secrets, copyright, etc. The only requirement for protecting the identified IP is that it must be able to differentiate a company's product or services from others. Thereafter, the company can pursue IP protection.
2. Protect IP: Once the IP – the essential and distinctive attribute of the company – is identified, one can seek protection for it by filing an application with the Indian Patent Office. After the new IPR policies of 2016, patent grants have been expedited in India, putting it at par with its western counterparts. Furthermore, IP research and consultancy companys can play a crucial role in helping EU companies acquire the right and adequate protection for their IP.
3. Assess the Market: EU innovative companies must assess the IPR policies prevailing in the country and how they can affect their entry into the new market. Similarly, they must identify the existing gaps in the market in order to prevent infringement of products and services. For instance, patents are geographically limited rights. Therefore, when a business plans to enter into a country with its product and services without infringement, it needs to assess who has patented what in that country. The method to carry out this exercise is called Freedom-To-Operate (FTO) searches. Additionally, FTO searches also help companies to identify possibilities of expansion.
4. Link IP Strategy to Business Objectives: Unlike traditional uses, IP can also be utilized to generate revenue. There are many existing means that allow businesses to leverage their IP. However, the strategy that they adopt must align with their business objectives. The different strategies that companies can choose are offensive, defensive and commercialization of IP assets. While offensive strategy pertains to filing IP and not allowing other businesses to use it, the defensive approach is related to monitoring the IP and competitors and enforcing the IP rights upon infringement by filing a lawsuit. Lastly, the commercialization approach deals with looking for potential partners for collaboration and sharing IP to generate revenue collectively.
Conclusion
To summarize, the growing EU-India collaboration may provide ample opportunities to EU innovative companies to explore IP filing and protection in India. In order to do this successfully and include IP in internationalization strategy, the interested bodies must understand the specific challenges and opportunities pertaining to the country of interest by gaining specific insights into IPR laws/policies in India.
Sagacious IP's India patent filing and prosecution services are designed to help businesses in their endeavor to pursue IP expansion in India. Our highly skilled patent attorneys are up-to-date with IPR policies of the country and can assist businesses with patent filing and prosecution. To watch a webinar on this subject, click here.
Vivek Singh, Shweta Sharma (Intellectual Property Prosecution) and the Editorial Team
Having Queries? Contact Us Now!