How Our Trademark Landscape Search Service Helped A Fortune 500 with Competitor Analysis
Understanding and monitoring trademark trends is critical for companies to maintain a competitive edge. It can help optimize R&D efforts on new products and markets, keep track of competitor's IP, and take the right business decisions. Which is why companies often carry out Trademark Landscape Searches through in-house or external IP teams to meet such objectives. With proper analysis, they are able to find in-depth information on current trademark trends, understand the status of competitors' trademark portfolios, and formulate effective marketing and trademark filing strategies.
Depending on one's needs and circumstances, Trademark Landscape Search can be performed in a particular country, region, or globally. Our latest case study article sheds light on our Trademark Landscape Search Service which recently helped a Fortune 500 company learn about its competitors' trademark portfolio and their trademark filing strategies in major industries and markets.
Client Overview and Problem Area
Our client — an American multinational consumer goods company, is a global leader in a wide range of personal health/consumer health, hygiene, and personal care products since many years. The product portfolio was divided into several segments, such as grooming, beauty, healthcare, fabric & home care, baby, feminine, and family care.
The company's focus area was to monitor its competitors' trademark filings and the strategies they were using for filing trademarks in different markets. The client wanted to know the market trends, and what products their competitors were launching in the key markets.
The project was comprehensive as each competitor had multiple subsidiaries and brands in many markets. Sagacious IP supported the client in various brainstorming sessions on the Trademark Landscape Search. During these sessions, it was decided that the Trademark Landscape Search Report (TLSR) would include Trademark Name, Key Markets, Product Category, Design, Application Number, Application Date, Registration Number, Registration Date, Type of trademark, Owner Name, Classes of Goods & Services, etc. Some other elements were also added at a later stage after further discussions.
How did Sagacious IP help the client?
We began by fully understanding the client's needs. The idea here was to conduct a comprehensive Trademark Landscape Search and provide all essential information in the TLSR. As per the client's request, our team:
Fetched the required data for the countries/key markets shared, filtered critical data for each market, and prepared a preliminary search report for the client to review.
Searched for all relevant subsidiaries.
Provided a detailed Trademark Landscape Search Report and a PowerPoint presentation with the help of our trademark experts.
Categorized all the results as per the client's requirements.
This was a major Trademark Landscape Search project which covered multiple brands, categories, and product lines. Sagacious IP's trademark team sifted through more than 100,000 results during TLSR preparation. The graphic below shows the categories for Trademark Landscape Search: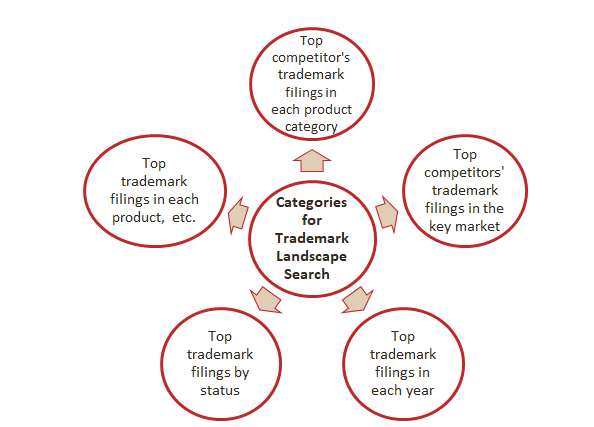 Sagacious IP provided impactful, detailed trademark landscape information along with graphical representations to simplify the report findings. This information can help understand trademark trends and competitors' trademark filing strategies in the key markets to make critical R&D decisions.
Result
Our trademark team was given a tight deadline of mere five weeks to deliver the project. However, we were able to successfully gather all the data and create a thorough Trademark Landscape Search Report well on time. The client further requested a few additions to the report, which were promptly addressed.
The report helped the client understand the trademark landscape for different markets and industries, and make critical R&D decisions regarding their business and trademark portfolio. The subsequent customizations made in the TLSR were appreciated with overall satisfaction of the project delivery.
Final Thoughts
Trademark Landscape Search is a great way to understand the trademark market and competitors' IP strategies. The search also helps in knowing what new products a competitor plans to launch in different classes of goods & services. The Trademark Landscape Search and Analysis Service also helps the research and development team make the right decisions regarding marketing and company growth. It is a valuable tool that combines data from various sources to find the latest trends and uncover competitor trademark applications, strategies, and new opportunities across various categories and countries, allowing clients to better align their business and trademark-related R&D efforts.
– Gopal Singh Rawat (Trademark) and the Editorial team