Looking for Prior Art? This AI-based Tool Can Boost Your Searches
Performing comprehensive prior art searches is a crucial first step before filing a patent application. Doing this not only prevents infringement lawsuits but also saves the costs associated with patent prosecution. Considering the significance of these searches, companies invest huge capital on either conducting them in-house or through external search providers. However, they still struggle to get exhaustive search results that are relevant to their invention's subject matter.
In the following article, we discuss how an AI-based tool can help in boosting prior art searches.
So what is a Prior Art Search?
It refers to a search that is carried out to determine an invention's novelty and to understand the ideas that are already known about the invention. It entails looking for patent and non-patent documents such as published materials, research articles, scientific papers, press releases, and newsletters. Performing these searches can help businesses or inventors to save costs and resources associated with patent filing and prosecution.
4 Key Scenarios that Call for Better Prior Art Searches
Limited Budget – Sometimes IP lawyers get clients that do not have enough budget for conducting full-fledged patentability searches. However, they still need background references to define the scope of claims and then draft patent applications for their clients. Also, they need to submit some relevant prior documents in the information disclosure statement (IDS) along with the client's patent application. Based on our internal findings, on an average, even if the concept is broad and they have all the keywords and patent classes, it takes at least 3-5 hours to perform these searches on their own.
Time – Ever so often, companies do not have the time to engage external search firms to conduct manual prior art searches. They also struggle to find time to execute the searches themselves due to their planned day-to-day activities. As a result, they can only spare some time to search for their invention's subject matter. In such cases, there is a trade-off between the time invested in performing searches and the exhaustiveness of the achieved results.
Validation – There are times when companies are unconvinced with the findings of their search firms. In case they do not have sufficient budget or time to go for a second iteration, they try to run a quick search and confirm if some obvious results have been missed. However, performing such rapid searches without considering all the relevant keywords and classes can result in missing out on important prior arts.
Inventors – Many inventorsstruggle to identify the keywords and classes to search for the relevant subject matter on patent databases. If they somehow manage to obtain broader keywords, they still have a large number of documents that need to be analyzed before deciding whether their idea is patentable or not.
How a Typical AI-Enabled Search Engine Works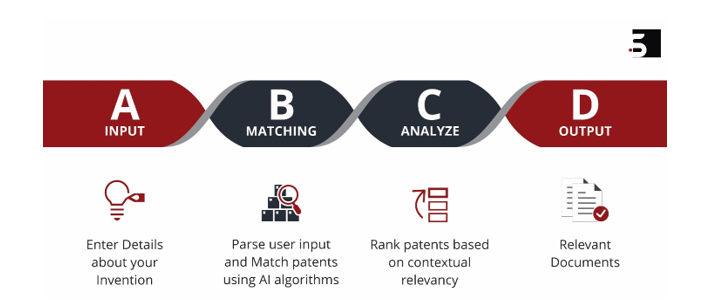 Figure above demonstrates the general process of an AI-enabled search engine. At first, an input is provided either in the form of a patent number, an invention text, a claim, or a detailed technical taxonomy. Then, the tool parses the entered information, matches it to various patents using AI algorithms, and returns a list of results. Once this is done, the algorithm also ranks the identified patents based on contextual relevance. Most of the tools used today are primarily working on improving steps B and C.
How Our AI Prior Art Search Tool Works
LivePat™, an AI-based tool, which uses a pay-per-use model for prior art searches has been developed by Sagacious IP in collaboration with Amplified AI. The first step for searching prior arts using this tool involves entering an invention disclosure or a paragraph. Next, the searcher needs to choose the classes to ensure that only relevant results are captured. Once the search is run, the top 50 results matching the entered description are reported.
In this tool, there is only +/- 4% variation in performance across technologies (as per Amplified AI). Further, it has been tested on 1000+ actual searches and against more than 1 million past cases related to examination and oppositions with a nearly 90% success rate.
How LivePAT Helps in Various Scenarios?
On using the LivePAT tool, IP attorneys who need a quick and low-cost background search spend almost half the money they would pay for performing manual prior art searches. This means LivePAT offers similar search results at lower prices.
Based on our experience, IP attorneys typically spend nearly 3-5 hours to perform prior art searches. LivePAT allows them to get prior art references in around 30 minutes. The time saved using this tool can be utilized in other important business tasks.
Sometimes companies need to validate the previous searches done by their external search providers. Using LivePAT tool, they can easily check the accuracy of the delivered results. Besides, this tool can also be used to ensure that no relevant results are missed.
Generally, inventors who are at ideation stage, do not want to involve IP search firms or IP attorneys. They just need to quickly understand the novelty of their inventions. Since this tool helps in conducting prior art searches easily, i.e., without worrying about keywords, classes, and iterations, inventors can simply enter the text related to their inventions to get relevant results.
Conclusion
Before filing a patent application, it is imperative to conduct comprehensive prior art searches. Since businesses or inventors cannot forgo these searches, they seek methods to save time and costs. Artificial intelligence (AI) and AI-based tools not only make prior art searching easy but also help in reducing the time and costs associated with it.
If you are looking for AI-based tools for searching prior arts, Sagacious IP's expert guidance can help. Our novel "IT for IP" service offers a hybrid mix of bespoke IT solutions and exclusive AI-driven tools for IP departments, IP law practitioners, business intelligence units, etc. Click here to know more about the LivePAT tool and click here for the webinar.
Sumit Prasad (Technology & Innovation), Prateek Mohunta (COO) and the Editorial Team