Navigating Technological Domains with Patent Landscape Analysis
Business organizations strive to innovate new products and methods to develop and sustain an edge over the competition. However, being at the forefront of technological advancements in any sector or industry is a daunting task as it requires an unparalleled understanding of the technology, top innovators in the field, total volume of inventions, top markets focused by leading innovators, new entrants in the market, etc. While this may seem overwhelming, there is an IP (intellectual property) service that can help fetch all this information and much more. The service being talked about here is, of course, Patent Landscape Analysis (PLA). It helps companies gain in-depth knowledge about the trends associated with a particular technology domain.
This article discusses patent landscape analysis, its importance, benefits, etc. It also delves into patent landscape reports (PLRs) and highlights Sagacious IP's expertise in performing PLA and preparing PLRs.
Understanding Patent Landscape Analysis
Also referred to as "patent mapping," patent landscape analysis is a multi-step process that uses computer tools and human intelligence to analyze, organize, and extract value from vast amounts of patent data. A thorough patent landscape analysis includes references and analytics from which essential legal, business, and technical information can be extracted. It creates a set of patents that are pending or in process in a particular field. There are numerous formats for reporting the analysis, such as World Intellectual Property Organization reports, 3D maps, MS Excel, the integration of multiple studies, etc.
Furthermore, it helps companies establish their IP strategy. It also assists in comprehending the competitive landscape in R&D-intensive fields and assessing the impact of industrial policies. Thus, in a nutshell, patent landscape analysis sheds light on the innovations at the heart of technology and competitive products. This enables firms to make intelligent decisions before spending time and money on new technology and product development opportunities.
Now that we have explored the meaning of patent landscape analysis, let us look at its need for businesses.
Why is Patent Landscape Analysis Conducted?

Patent landscape analysis serves as a foundation for answering specific policy problems. It also aids in strategic investment and research decisions, as well as the development of a factual base and insights into competitors' actions. In addition to that, business strategists use the information to source available solutions, find white space (gaps), identify potential merger/acquisition partners, spot in/out-licensing scope, and open new areas of opportunity in tech domains.
Patent landscape analysis can be performed to assist companies in:
Evolving and building their business strategies
Identifying their competitors and dominant players in the sector
Determining the white space (gaps) that does not contain a lot of patents
Minimizing risk and identifying areas for future growth
Becoming more equipped to develop new licensing strategies
Thus, we can see how carrying out a patent landscape analysis can be incredibly beneficial to a company. In the following section, we will discuss its benefits in more detail.
Benefits of Performing Patent Landscape Analysis
Organizations developing innovative products and methods can rely on patent landscape analysis for various reasons. Three significant advantages of performing this study are:

1. Better Understanding: The primary benefit of conducting a patent landscape analysis is that it offers a thorough understanding of the technology, product, and competition in the geographical location you have selected for performing the search. You can get a better insight into development in the scope and duration of patent protection which can aid in comparing trends in technological sub-sectors, and the identification of underdeveloped areas. In addition to that, you can also determine the type of connection that exists between inventors and applicants.
2. Improved Decision Making: A patent landscape analysis can help you make more informed choices. The data collected via analysis allows for evidence-based decisions and identifying areas for future growth. The research sheds light on general innovation patterns, which help choose future technology areas. Moreover, organizations can simplify risk assessment and the type of investments needed. In-depth awareness of a patent field can assist businesses in actively defending their intellectual property rights or researching areas of interest for competitors.
3. Identification of Competitors: Patent landscape analysis assists your organization in identifying the critical participants in a specific technology sector. Several businesses rely on patent landscaping to build unique procedures, techniques, and technologies to assess their respective strengths and capitalize on the collateral. You can use it as a guide to find out which patents are about to expire or have not been updated, get a sense of how "busy" or "open" a particular sector is, and identify who might be a potential licensee. Thus, it also helps identify the nature of investments required for Research & Development (R&D). In addition to simply assessing the commercial potential of existing patents, organizations become better equipped to create new licensing strategies and enhance their current products.
The benefits of patent landscape analysis enumerated above can bolster businesses to dig deeper into their business strategy and put in efforts towards conducting a patent landscape study.
How To Perform a Patent Landscape Analysis
The basic idea behind patent landscape analysis is to examine and organize patent activity in a specific technology area. The following steps are involved in performing a successful PLA.

Step 1: Analyze the technical aspects of your subject
Start by developing a proper understanding of the technology area. The best way to get acquainted is by reading appropriate online resources, research papers, and news articles that are relevant to the technology domain. With these, you will gain valuable insights about the technology for creating an outstanding landscape report in the future. Additionally, it will assist you in narrowing the aim of the analysis that best suits your strategic vision.
Step 2: Understand the requirement
Landscape reports can be of various types; thus, there is no "one-size-fits-all" solution for every report. Therefore, it becomes essential to understand the goal behind performing a patent landscape analysis to create your patent landscape report accordingly. An organization can conduct a patent landscape analysis for several reasons. Whichever the case may be, one must understand the exact need first and then move further accordingly.
Step 3: Define the scope of the patent landscape search
Clearly defining the patent landscape search's scope is critical in the overall report generation process because without this, you may end up with heaps of data with no meaning at all. The scope determines how accurate and precise your report will be. Further, it will help you decide which regions to search, how far back to look in time, whether to include abandoned patents, patent families covered, and more.
Step 4: Devise a patent search strategy for identifying relevant documents
Another critical step during patent landscape analysis is formulating patent search strategies. It must define several patent and non-patent sources to acquire all the relevant data. You can collect data from the United States Patent and Trademark Office (USPTO), the World Intellectual Property Organization (WIPO), and the European Patent Office (EPO) databases as well as other sources. Further, it includes conducting preliminary searches of patents and technical literature and collaborating with the technical team and market experts with knowledge in the technology area to establish a collection of relevant keywords, patent class codes, and organizations operating in the technical field.
Step 5: Categorize the collections for further analysis
The next step involves a thorough review of the collected data by the technical and IP expert teams to classify the results into more accurate and relevant categories in accordance with the requirements of the technology of interest. Experts must populate the categories with relevant patents depending on the requirement. This step involves manual reading of the collected data based on title, abstract, claims, and full specifications. Patent categorization results in a valuable hierarchy that can be further used by IP experts for extracting valuable insights, such as identifying gaps, key inventors, filing year trends, and top filing countries.
Step 6: Generate a report with statistical figures
The last and most important part of a patent landscape analysis is generating a comprehensive patent landscape report wherein we create a document that is easy for users to interpret and consume. Including statistical graphs and figures is the best method to accomplish this and results in a more valuable output.
Data analysis and management is a time-consuming process. Over time, a number of tools have been developed to increase the accuracy of landscape reports. In the following section, we will discuss the tools required for performing a patent landscape study.
Tools Required for Patent Landscape Analysis
Exploring large amounts of data can be exhausting, time-consuming, and resource intensive. The good news is that there are some excellent free and open-source tools available for conducting a successful patent landscape analysis and preparing a detailed patent landscape report. The challenge lies in determining which will best serve your individual goals in relation to your background and the time available to learn some programming skills.
There are several automated patent landscaping technologies that make the analysis simpler and faster. These tools use predefined algorithms to swiftly incorporate key terms, sift through massive data, and provide a preliminary assessment with a graphical representation. This rapid method is ideal for organizations that need to evaluate data quickly, but the results often have low accuracy. Additionally, automated patent landscaping tools have other drawbacks as well. For instance, they can miss crucial documents while collating data. Moreover, since automated PLA tools use algorithms for labeling documents; these tags often tend to make no sense at all on their own and result in inaccurate charts and statistics.
Sagacious IP maintains a trustworthy database for searching and has a team of technical specialists who have first-hand knowledge of the tools necessary for patent landscape reports (mainly MS Excel and PowerPoint). Several advanced data handling and charting systems for patents offer additional insights and enhance the ability of the end users to comprehend the technical field.
Finally, it is crucial to establish a patent monitoring and management system to keep the data updated to undertake the most efficient patent landscape analysis. The data becomes outdated as soon as the landscape analysis is finished. The frequency of updates—weekly, monthly, or quarterly—significantly impacts how much information users receive in real-time. As a result, it becomes possible to react intelligently to changes in the technology landscape.
Patent landscape analysis is generally followed by the creation of a report known as the patent landscape report, which will be discussed in detail in the following section.
Objectives Behind Patent Landscape Reports
Creating a patent landscape report or PLR can be time-consuming and costly, but it is often the final step in the process of patent landscape analysis. Whatever the purpose may be for conducting PLA, these reports have a specialized framework. They are meant to efficiently facilitate high-stakes decision-making in different technological sectors with the most significant degree of assurance. The approach towards generating a PLR will vary depending on the business objectives that prompted the preparation of the report for a particular decision cycle. Various organizations have different goals that must be researched before making an informed decision about allocating resources to a new project.
For many years, decision-makers have relied on personal connections and intuition. But, with the implementation of patent analytics and patent landscape reports, these critical decisions may be made using data-driven methodologies that provide informed choices and lower risk profiles. PLRs, in general, aid in informed decision-making, helping decision-makers save time and money in making more effective choices.
Moreover, recognizing a competitor's talents, resources, and knowledge is essential to corporate strategy. Organizations usually have no direct prior experience in the sector when seeking to enter new markets or technology areas. When this occurs, a patent landscape report can provide critical information about the top players, inventors, and technology sub-categories related to the area of interest. These reports typically answer all your questions and help you develop an effective strategy.
It is also vital to realize that one may find it difficult to understand the intricacies of patent information in a patent landscape report and may misinterpret the data. Precisely why, it is recommended to have an analyst analyze this key data source expertly. This spares the decision-maker from learning these abilities on their own, thereby saving time and maximizing benefits.
Patent landscape reports are typically technologically focused, rather than being competitor-centric, and are best suited for providing a background collection of insights linked with a specific field. Once initial knowledge is obtained, the patent landscape report can be used to establish continuous monitoring.
The preparation of a patent landscape report entails an in-depth analysis of patent data. However, sifting out the relevant patents can be challenging. Bibliographical fields in patents can prove immensely beneficial here. The next section delves into the same.
Patent Data Analysis for PLRs
Patent landscape analysis or the preparation of a patent landscape report entails a thorough assessment of patent data. This patent data can be vast, creating a hindrance for the patent analysts performing PLA. However, there are numerous bibliographical fields that can help filter, categorize and analyze the voluminous patent data. The most crucial bibliographical fields for the preparation of a patent landscape report are explained below in detail. These are frequently used in the statistical analysis of patent collections.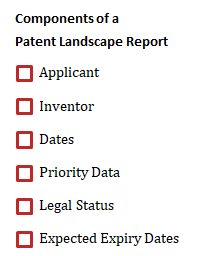 Applicant: An applicant is a person or entity seeking to receive an intellectual property right. It could be the inventor or the representative to whom the inventor assigned their right to the invention.
Inventor: The inventor is the author of an invention and has the right to be mentioned as such in the patent. Unlike applicants, the names of inventors do not change.
Dates: Patent authorities determine the application date if specific requirements are fulfilled, which can differ from when the applicant lodges the application. The report can also include other important patent-related dates, such as the earliest priority date, application date, and publication date.
Priority Data: It comprises three elements: application number, filing date, and identification of the country where the application was filed. It can be used to identify the patent published in different countries and languages but refers to the same invention.
Legal Status: These details include alive, pending, lapsed, revoked and expired status of patents.
Expected Expiry Dates: These are the dates on which patents are expected to expire or lapse. Including them in the report also aids in decision-making.
Advanced patent landscape reports are gaining immense popularity lately. The following section discusses this new area of interest and its advantages.
Advanced Patent Landscape Reports and How They Differ from Traditional Reports
Entering a new domain necessitates an in-depth understanding of the prospective market. Intellectual property trends play a vital function in supplying such information. And this is why advanced patent landscape reports or APLRs are handy as a decision-making tool for companies. They are intended to offer information on diverse areas of technology that shed light on a specific domain.
Patent landscape studies reveal significant details, such as patent trends, market developments, such as mergers and acquisitions, in/out-licensing, litigation, opposition activities, and so on. They are displayed in charts from which critical insights are derived, and are separated to illustrate the crux of the scenario to help minimize the associated business risks and capitalize on the opportunities. The insights gained from preparing a patent landscape report can be applied to almost any organization engaged in evaluating technology and its impact on the market.
Advanced patent landscape reports help make crucial decisions and give enough knowledge of whether and where to invest in a domain. It provides insights into a particular technological domain and helps decide the scope of white space in the area. Based on this report, one can choose if and where to perform a white space analysis to find significant insights on untapped technology areas and assist organizations in focusing on such vital information. This enables businesses to enter a new market with a clear plan.
Aside from that, APLRs can help determine whether a company should enter a new technological domain through acquisitions and mergers. They can be utilized as a drafting manual to create essential strategies such as acquisition, patent filing, key country markets, etc. It also helps uncover:
the IP field's growth,
determine whether it is worth investing in that area.
Furthermore, advanced patent landscape reports can also help identify the top patents that have impacted the market and the countries obsolete from the technology. It also sheds light on the scope of competition and whether it is high or low. PLRs also inform you about active litigations and companies seeking to acquire patents.
When planning to enter a new domain, companies rely on third parties for performing patent landscape analysis and sharing patent landscape reports. The next section highlights what separates Sagacious IP from other IP service providers offering the PLA service.
Why Choose Sagacious IP for Patent Landscape Analysis
Sagacious IP's patent landscape search service helps businesses understand how a technology or sector is progressing by providing an overview and analysis of patent information. We have curated a team of highly skilled individuals capable of offering clients landscape analysis services tailored to their needs. The team can perform customized searches to undertake investigations of patent and non-patent sources for market penetration and relevant products. Clients can shape data and generate insights by using a detailed information pool to extract information. We also offer a visualization dashboard to assist clients in slicing and dicing data and obtaining meaningful insights based on their needs. Customers use Sagacious IP's patent landscape analysis to identify patents that their competitors are filing, their patenting strategy, new strengths/weaknesses, opportunities/threats in the domain, M&A opportunities, and technology white spaces, and then shape their company and R&D efforts appropriately.
Conclusion
A patent landscape analysis can provide valuable insight into any technical domain. The extent or scope of such a study can be customized to offer solutions to business difficulties, such as determining a company's R&D direction or analyzing the strategy of rivals. Companies, thus, will face fewer risks if they can assess innovations while budgeting for R&D. Sagacious IP's patent landscape search service assists clients in understanding the evolution of an industry or technology by providing an overview of patent data. This allows them to make important business decisions. Visit our website to learn more about the service.
– Manisha Rani (Life Sciences & Chemistry) and the Editorial Team