An Overview of Indian IP Ecosystem & Government Initiatives
The advent of the technological era has witnessed a substantial growth in the importance of Intellectual Property (IP). The laws that recognise and protect Intellectual Property Rights (IPRs) have been implemented quite recently. These rights are jurisdiction-specific. Therefore, as the world witnesses an increasing number of global and cross-border transactions, it gets crucial to ascertain and analyse the nature of protection accorded to IPRs in each jurisdiction. Sagacious IP's guide on the Indian IP Ecosystem and Government Initiatives analyses the state of IP ecosystem in India and brings forth the various initiatives taken by the Government of India to promote IP filings.
Below is a visual that shows the different types of IPRs registered in India.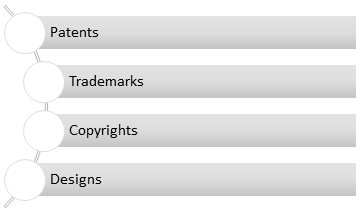 Our guide answers the following questions:
What are intellectual property rights and what are the administering offices in India?
What is the IP registration process for Patents, Trademarks, Copyrights, and Designs in India?
What are the IP filing trends in India?
What are the IP offices in India and how to do e-filings?
What are the initiatives taken by the Indian Government to promote IP filings in India?
Besides, the guide also covers these important topics:
Awareness and sensitization for safeguarding the intellectual property rights (IPR).
Recent developments in India's IP regime.
Assistance for Startups and Micro Small & Medium Enterprises (MSMEs).
Benefits provided to startups and MSMEs in the above schemes.
Download our guide to know more.
Submit your information below to download this exclusive guide:
An Overview of Indian IP Ecosystem & Government Initiatives