Markush Structure Patent Search and Analysis
Chemical Structure Patent Search and Analysis: A chemical structure or Markush structure search is the basic backbone of almost all pharmaceutical and chemistry patent pools and is of utmost importance to inventions in achieving the greatest legal protection and scope. Markush structures are simplified versions of chemical compounds that list multiple chemical entities or species in a single structure.
The Idea Behind Markush Claims
In general, the biological activity of a compound depends on the core structure aka Markush structure wherein most of the times such structures are complex. Often pharmaceutical patents disclose a few variations of a given structure, claiming a backbone that further lists groups of chemical moieties with similar function. Irrespective of numerous combinations encompassed through a Markush claim, the structure itself is – generic.
For instance, a drug based on slightly different structural variations from a Markush claim disclosing a chemical compound and displaying a similar activity as the claimed compound shall fall under the scope of the claim. An example of such structure in a patent reference is as shown below.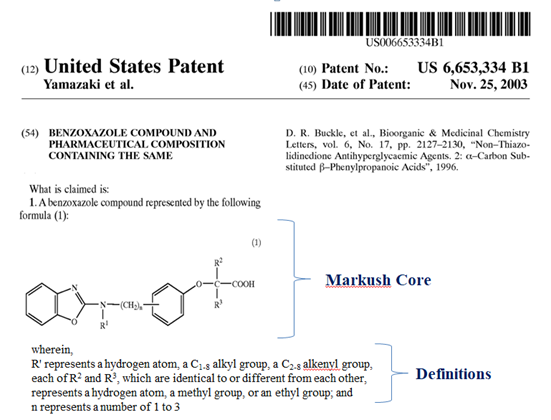 Unique Search and Analysis
In the case of Clearance Searches, unlike generic keywords searches, search analysis on structures are important to capture chemical backbones with variations in functional groups. For instance, before launching a chemical product such as a herbicide in the market, a clearance search identifying Markush structures is preferable than performing a typical keyword generic search. Markush search shall disclose numerous variations possible in a structure that helps in refining and identifying compounds with moieties possibly broad enough to weaken the clearance chances of specific yet an obvious structure of the herbicide.
Similarly, in the case of Validity/Invalidity searches, identifying a different functional group performing a similar activity in a compound is critical in affecting obviousness and thereby legal enforcement of the patent.
Accomplishment of such analysis takes place by carefully designed comprehensive searches that identify relevant results. However, as much as it may appear simple, analysis and refinement of identified results is tricky and require high expertise.
Also Read: Freedom to Operate FTO Search on Pharmaceutical Formulations
Chemical Structures Challenges
Markush structures are complex in nature. While a simpler Markush structure may comprise more than a thousand compounds; a complex Markush structure may comprise more than 1×105
Databases (free and paid) which may provide wide coverage and details related to Markush structures are limited.
Searches are complex and may retrieve unlimited results if queries are not optimized.
Refining results based on structure similarity, identity and functionality is a task that requires high subject matter expertise and experience in analyzing Markush structures.
Databases for specific chemicals (Registry/DCR) or for common names are not comprehensive.
Similar structures may have applications in various industries, such as cosmetics, agricultural products, healthcare, homecare, textiles, etc.
Overcoming Challenges (Chemical Structure Patent Search)
One must simplify the structures/claims and identify the active core and peripheral functional groups of the structure. This is the first step to avoid misinterpretation of structures during the course of analysis. The core identification takes place by understanding the property of the active agent and the overall activity of the compound. The next step involves representing the simplified core structure to formulate a query on search databases. These databases might include as STN, SciFinder, etc. At this stage, retrieval of a number of search hits takes place. Further, the search query optimization takes place based on additional features such as relevant keywords and/or classes. The query search execution takes place comprehensively while identifying the requisite search results. Further, filtering or initial screening of relevant results takes place following analysis.
Generating a simplified core design and running a query requires a clear understanding of the structure. It is usually the analysis aspect of the captured results that test the expertise of the researcher. Unlike keyword-based analysis, Markush structure analysis requires a correct interpretation of the compound with respect to the invention scope.
In case of a novelty search, a specific core structure with substituents similar to the subject invention shall be considered. In this case, there might be variations in the substituents that need to be noted. Alternatively, in a FTO/Clearance search, the analysis further requires considering broader versions of a structural backbone. In scenario for "R" group as propyl, a patent reference claiming R as C1-8 alkyl group is also relevant. This is because C1-8 alkyl group may comprise methyl, ethyl, propyl or octyl.
How does Sagacious IP Help in Overcoming Challenges?
Therefore, in view of above challenges, Sagacious IP works towards value addition at each step of innovation cycle. Therefore, it remains well-informed about global technology, market and IP footprints in the industry. We provide a dedicated team of highly experienced and extremely skillful researchers. Moreover, we provide an array of services in Pharmaceuticals, Chemical, and Material Science industries. Let's look at a case study of the service.
Case Study (Chemical Structures)
In one of the FTO projects involving a structure as the subject invention, Sagacious IP performs a search. It performs a subsequent analysis to determine whether its possible to claim benzoxazole derivatives or their target sites of action.
In order to establish a chemical basis, Markush compounds that contain benzoxazole core were studied. An initial search query on the specific structure retrieved thousands of results. Refining the query with one of the properties as an anti-cancer agent retrieved around 1300 results. Further, this led to determination of specific cancer pathways on the basis of client's requirement. These could become the potential targets for benzoxazole derivatives. At this stage, manual analysis and interpretation are of high importance. It is so as to not miss any relevant result in the machine search algorithm and thereby refine results accordingly.
Subsequently, biological target analyzation took place. It started off from a broad backbone to specific structure responsible for the inhibition of biological targets. These targets include MEK, EGFR, and DNA polymerase, etc. As requested, the client was provided all the relevant patent literature involving biological targets with analysis of various functional groups. The client highly appreciated Sagacious IP's report. It aided them in bagging a top spot for their product amongst highly competitive markets. The image below is a concise snapshot of the search query and retrieved Patent search results. The experts further analyzed them as well.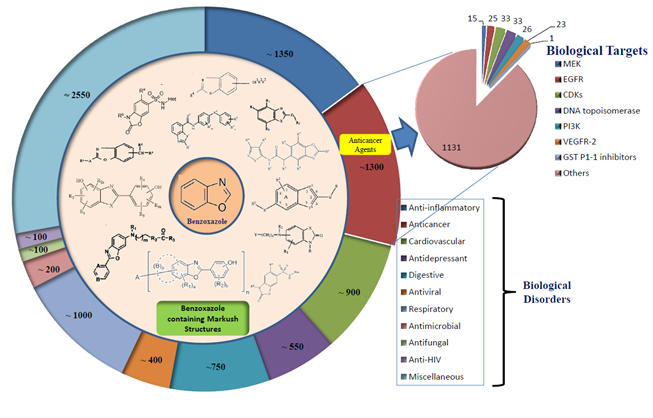 This figure shows an overview of Benzoxazole containing Markush inhibitors (~9100 patents) with their biological activity. It also provides an in-depth analysis of benzoxazole containing anticancer (~1300 patents) agents with major anticancer targets e.g. CDKs, DNA polymerase, and EGFR.
Conclusion
Sagacious IP assists in conducting novelty, invalidity, clearance/FTO and infringement searches related to Markush structures. It also assists clients in evaluating market trends, risks and overall complete techno-IP consulting.
Download our sample Markush structure analysis report to know more.
– The Life Sciences and Editorial Team
Having Queries? Contact Us Now!