Monitoring Different Stages of Patent Prosecution and Litigation – Webinar
An Approach to Mitigate Risks and Improve Commercial Strategy – By Monitoring Patents During Prosecution and Litigation. Several patent applications are filed globally every year in a particular technical domain and therefore to minimize risks, a strategy involving monitoring patents at different stages of its prosecution is critical.
Legal Status Monitoring Helps In
Keeping a track of status of self and others' Patent applications and Patents
Being updated about the upcoming opportunities and potential threats from the filed patents.
Tracking and filing against the Patent or Patent applications that might be infringed and are filed in the area of interest.
Keeping track of prosecution events for the patents in own portfolio.
Identifying abandoned and expired Patents and strategize its use in future.
Tracking expired and abandoned patents that enables to pinpoint inventions that are soon to be available in the public domain and are safe to use.
Monitoring the current status of prosecution for newly published patent applications as well as any post-grant events for issued patents, such as a request for continued examination (RCE), a post-grant review (PGR), or maintenance status.
Litigation Patent monitoring provides update regarding litigation of a company's or competitors' patents from PTAB, RPX or other courts.
Key-points Covered in this Webinar
Different aspects of legal status & litigation monitoring and how to use the information obtained through monitoring.
How does the legal status monitoring help in risk mitigation, in tracking IP, commercialization, and building IP.
How can expired/ abandoned patents be tracked and utilize freely available technology in building up their own IP.
Case Studies on How Sagacious IP helped its Clients in monitoring legal status for effective strategic decisions.
Anchor
Ram Tenneti, EVP, Sagacious IP
Key-note Speaker
Key-note Speaker: Pooja Chhikara, Assistant Manager LSC, Sagacious IP
Submit Your Information to watch the Webinar:
Webinar Transcript
Ram Tenneti – Good morning, good afternoon, and good evening!
Welcome everyone to the webinar! I hope you and your loved ones are doing great amidst this crisis. Please be well and take care. This is Ram Tenneti, Executive Vice President at Sagacious IP, signing in from India. Welcome you all to our webinar today on the topic, "An Approach to Mitigate Risks and Improve Commercial Strategy – By Monitoring Patents during Prosecution and Litigation".
Now, before I go on to introduce this topic and the esteemed speaker on our session today, I'm delighted to welcome all the participants from different parts of the world. Let me tell you that your participation is a wonderful encouragement to the efforts and attempt that we are making to raise awareness and spread the knowledge that has been honed by Sagacious IP over several years of working with Inventors, R&D organizations, IP Departments, and Law Firms.
Now, taking things ahead, our speaker of the session today is Pooja Chhikara. She's the Assistant Manager with our Life Sciences and Chemistry team and a qualified patent agent having more than five years of experience and several projects ranging from patent analysis, competency in identifying and assessing IP in the Biotechnology, Microbiology, Biochemistry, Genetic Engineering, Pharmaceutical Immunology, and Food Technology Domain.
Welcome to the webinar Pooja!
Pooja Chhikara – Thanks, Ram, for having me on the webinar.
Ram Tenneti – Wonderful! Thank you! Gentlemen, let's do one thing before we start of the presentation today.
Let me quickly ask for the initial remarks on today's webinar topic "Monitoring Different Stages of Patent Prosecution and Litigation to Mitigate Risks and Improve Commercial Strategy".
Pooja Chhikara – Yes, Ram.
Introduction
As we know a patent is a legal right provided by the government of a particular jurisdiction. Hence, a lot of legal events are associated with it, starting from the patent filing till the patent is expired. These events come with certain timelines. Thus, it is important to stay updated with all these legal events of one's own as well as of the competitor's patents.
To stay ahead in competition,
And, for corporate success by using the legal environment to secure a competitive advantage.
Ram Tenneti – Okay, wonderful! Thank you, Pooja for setting the context of the webinar.
Now, let us get started, taking the time constraint into our mind. The main part of our presentation shall begin in a while. For that let me invite Pooja to take us through the webinar.
Over to you Pooja!
Pooja Chhikara – Thanks, Ram!
Prosecution Patent Watch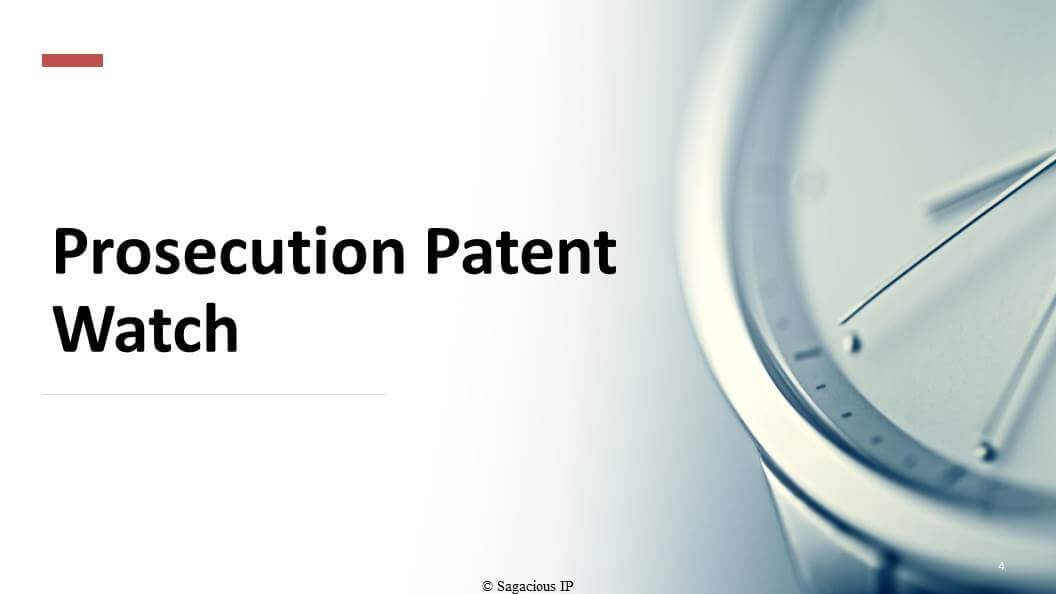 Let's start off with what Patent Prosecution Watch is. It is a monitoring of prosecution stages, including monitoring communications from patent office from the time of filing until the grant of a patent. These communications of prosecution stage include events such as Office Actions, Responses to Office Actions, Amendments, ideas, filings, fee payment, and et cetera.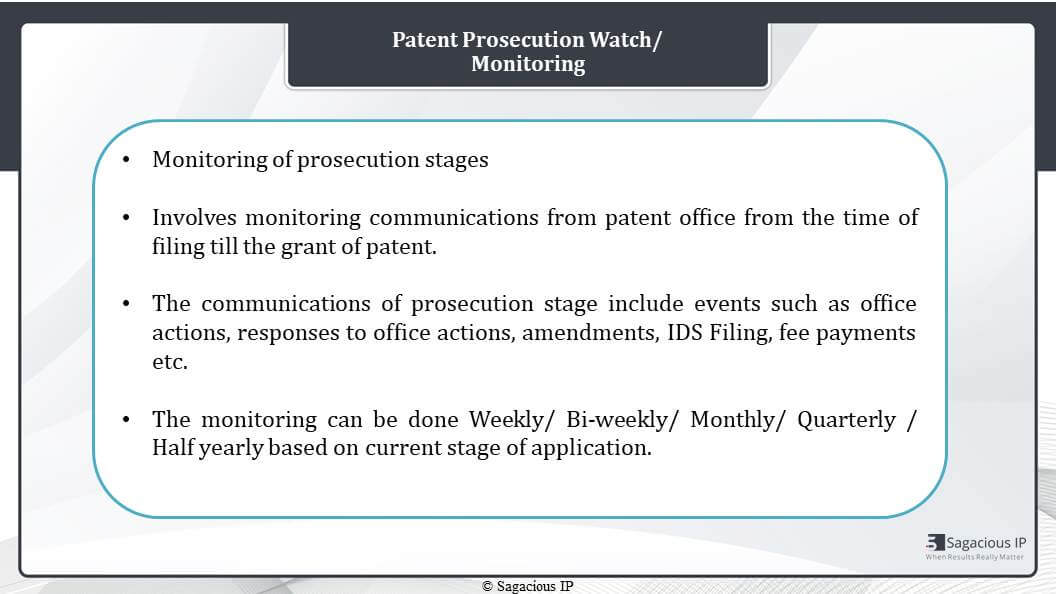 This monitoring can be done at various frequencies, for example, weekly, biweekly, monthly, or quarterly based on the requirements and the current stage of an application.
Different Stages of PROSECUTION
Prosecution of a patent can be mainly divided into two parts: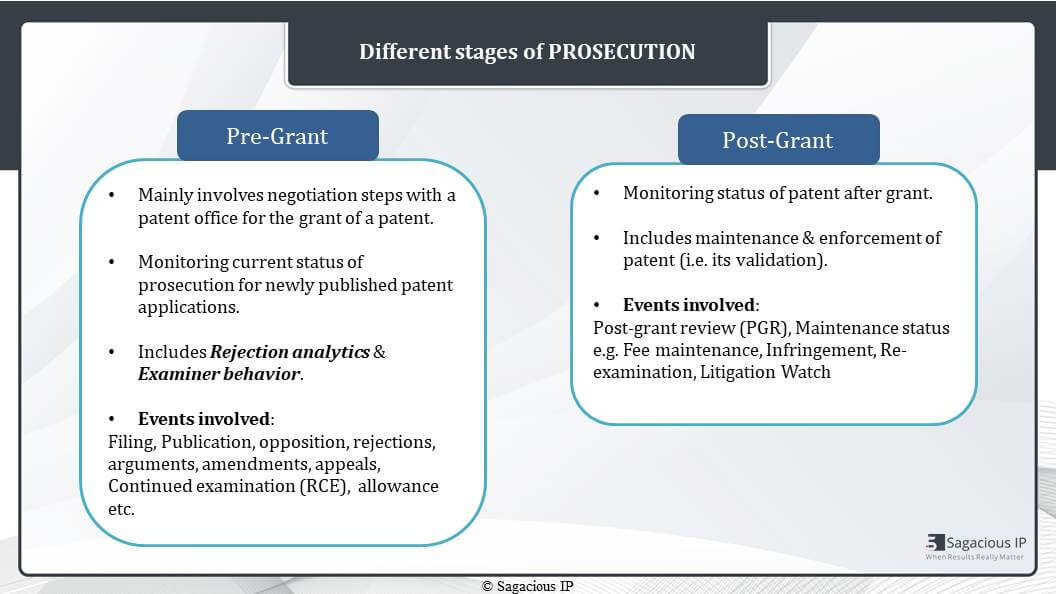 The first is Pre-Grant. That is before the grant of a patent.
The second is Post-Grant. That is after the grant of a patent.
Pre-Grant
The pre-grant stage mainly involves negotiation steps for the patent office. In other words, it includes monitoring current status of prosecution for newly published patent applications, and Rejection Analytics, and Examiner behaviour. So, overall, the events include Filing, Publication, Opposition, Rejections, Arguments, Amendments, Appeals, Continued Examination Requests (RCE), Allowance, et cetera.
Post-Grant
Further, post-grant stage includes maintenance and enforcement of patents. The events involved are Post-Grant Review (PGR), Maintenance Fee, Infringement, Re-examination, and Litigation Watch.
How Can We Use Prosecution Monitoring?
Now, let's discuss for what all purposes we can use the prosecution monitoring.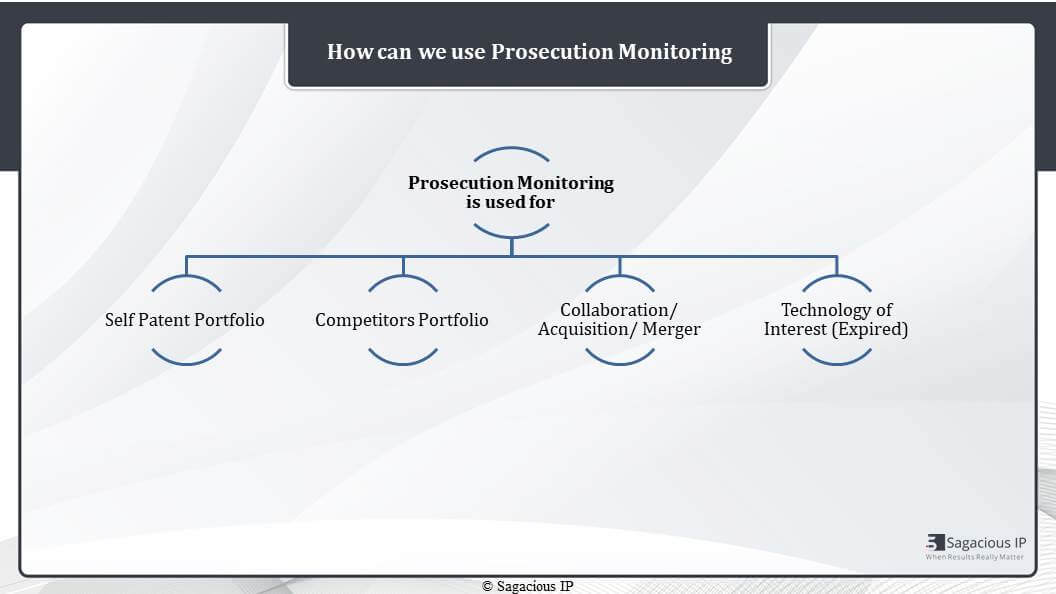 The first is a Self-Patent Portfolio. That is to monitor your own set or list of patents.
Now, the second is Competitors' Portfolio. That is to monitor the set of competitors' patents.
The third is doing Prosecution Monitoring before going for a collaboration or acquisition or merger.
And, the fourth is monitoring the Technology of Interest that is soon going to be expired.
Now, let us discuss these four types one by one in terms of what insights we can get and how the risks can be mitigated.
Self-Patent Portfolio
Insights
The first is the self-patent portfolio. The insights receive from a monitoring of a self-patent portfolio are Updates of Patent Office Requirements, For example, Preparing Documents, Arguments to Rejections, and Amendments in patent applications.
Further, this monitoring can be used to track legal status of a patent application when it is filed in multiple jurisdictions wherein specialized knowledge or databases are required, for example, Non-English language, Varied Patent Number Formats, et cetera.
Then, in the post-grant phase, insights are received regarding maintenance of a patent, for example, fee payment, and determining potential infringement so as to enforce rights or negotiations.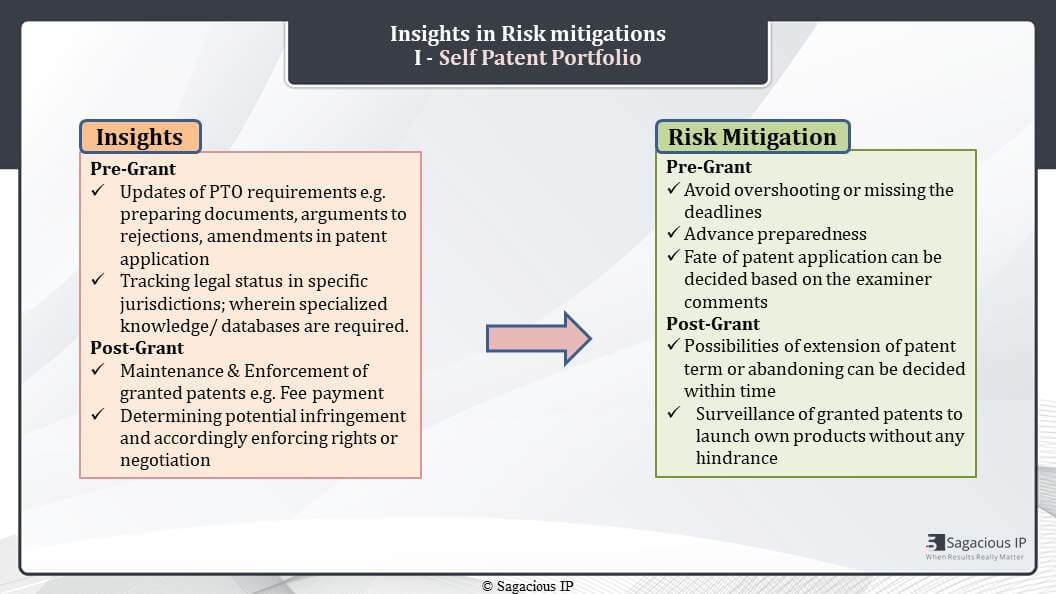 Risk Mitigation
As a result, overshooting the deadlines can be avoided, preparations can be made in advance, and fate of patent application can be decided, based on the examiner comments. Further, after the grant, possibilities of extension of patent term or abandoning can be decided within time and the surveillance of granted patents to launch own products without hindrance.
Case Study I: How Our Patent Monitoring Service Helped a US Based Multinational in Maintaining Their Self-Patent Portfolio
Now let's discuss a case study for the same. In this case, the client was interested in monitoring their large patent portfolio in US and EP jurisdictions. The portfolio was divided into two parts, pending and granted patents. The legal status was monitored for all US, EP and WIPO members.
Based on this study of portfolio and chain of legal events, Sagacious IP recommended a quarterly watch for granted patents and a biweekly watch for pending applications. As an outcome, the client was able to receive timely updates for the maintenance of granted patents and alerts for response to examiner rejections timely in case of pending applications.
On the right side, there are screenshots from the respective granted and pending patent monitoring reports. You can have a look over them.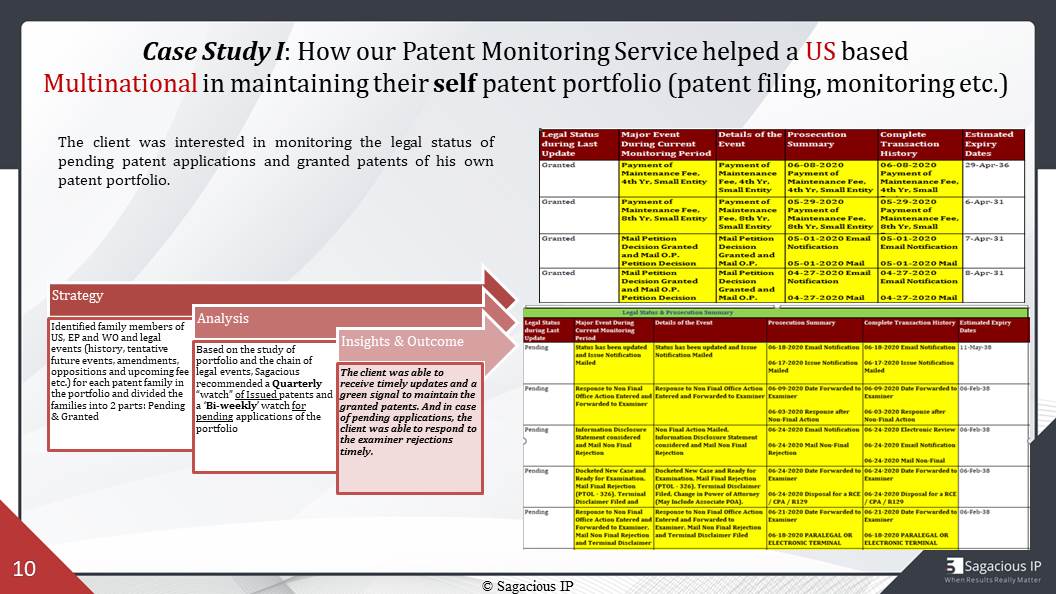 Competitors' Portfolio
Insights
The next is the use of Prosecution Monitoring for competitors' portfolio to mitigate certain risks.
Here, the monitoring report helps in tracking the status of pending patent applications of the competitor. In a post grant stage, this monitoring would provide alerts for opposition filing so as to invalidate a patent. Infringement checks can be made. Further, the forecast of new filings by competitors helps in anticipating their move in new application, technology or jurisdictions to understand the competitors' patent strategies.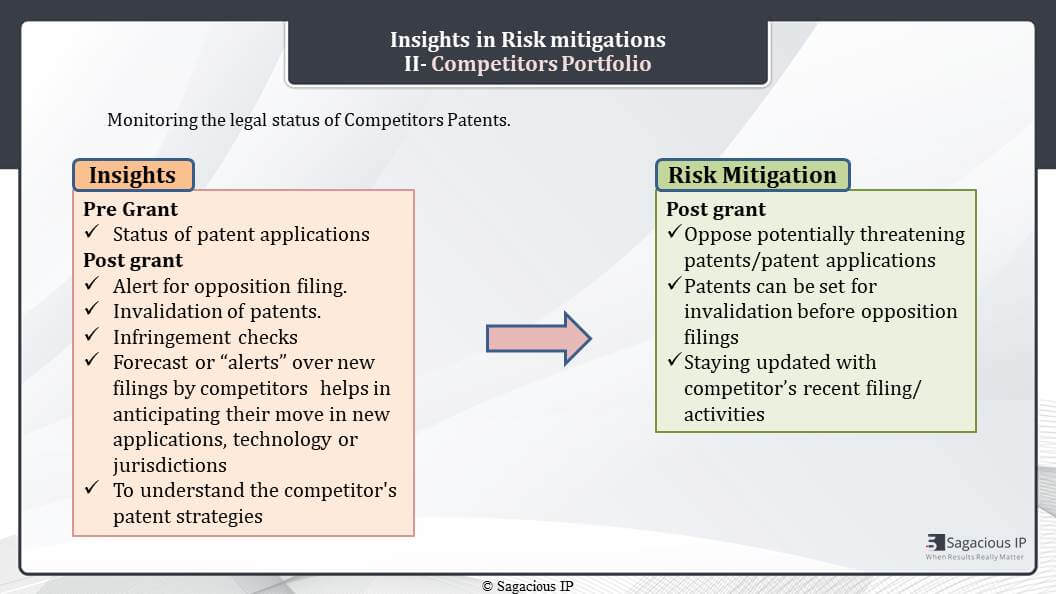 Risk Mitigation
As a result, one would be able to oppose potentially threatening patents or patent applications, can set patents for invalidation before opposition filings and can stay updated with competitors' recent filing activities.
Case Study II: How Our Patent Monitoring Service Helped a Europe Based Company in Achieving Their Goals against Competitor's Patents
Now, let us see a case study for competitor's portfolio.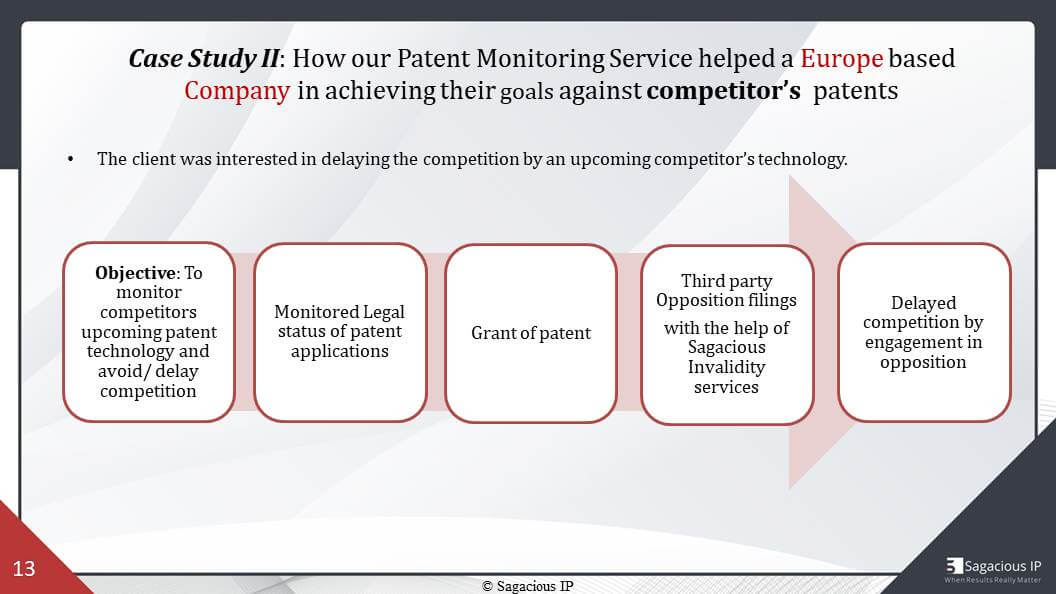 Here, the client was interested in delaying the competition from an upcoming competitor's technology. So, we monitored the legal status of patent applications when the patent was granted. The client filed a third party opposition with the help of Sagacious IP's Invalidity Search Service, and consequently the client achieved delayed competition by engagement in opposition.
Mergers/Acquisition/Collaborations
Insights
Next, we have the use of Prosecution Monitoring in mergers, or acquisitions, or collaborations. By monitoring all potential candidates for a collaboration event, the evaluation of legal status of patent portfolios of the candidates can be performed. A better comparison can be made based on their expired and enforced IP, so as to choose a better candidate based on more active patents than expired ones.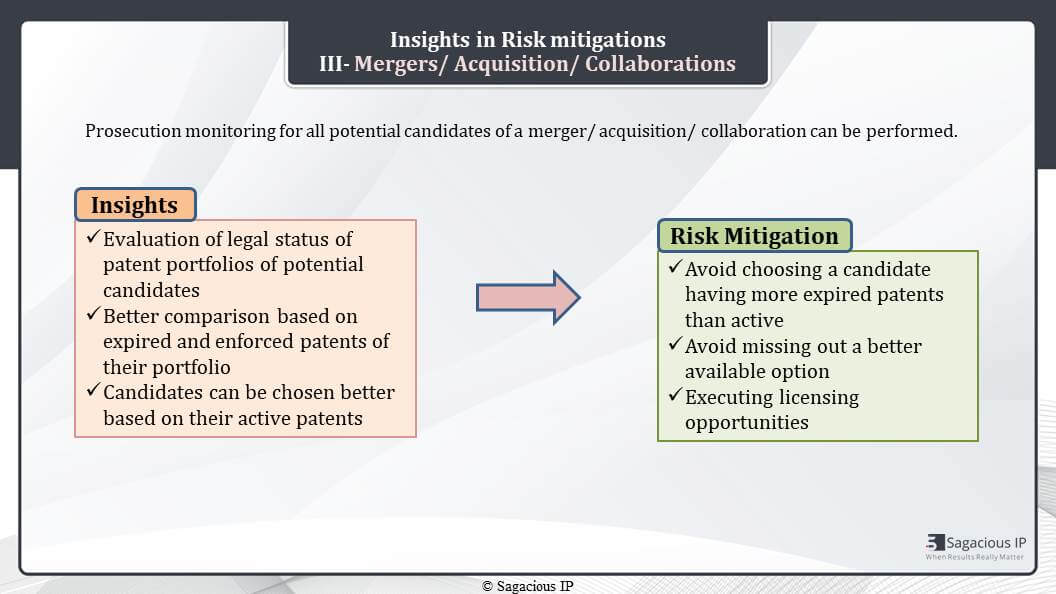 Risk Mitigation
This would allow avoiding missing out on better available options and licensing opportunities can be executed.
Case Study III: How Our Patent Monitoring Service Helped Another Europe Based Company During Collaboration
The same is elaborated here with the help of a case study. Here, the client was interested in evaluating the differences between potential candidates for collaboration to identify the best option for him. We monitored the legal status of patent applications of the candidate's companies and compare the total number of their active and expired patent technology.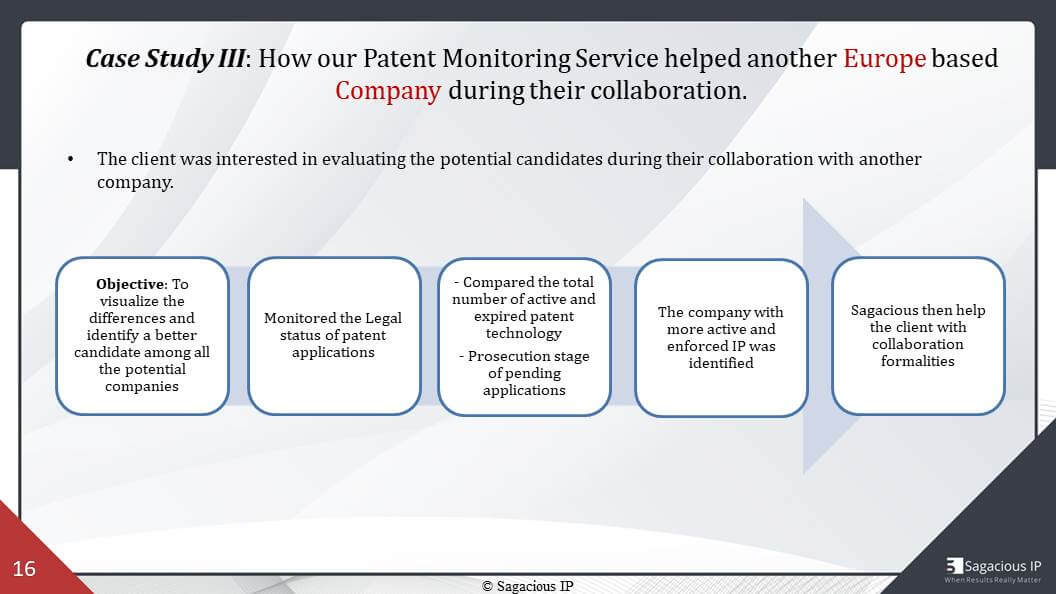 After that, we monitored the prosecution stage of pending applications. Consequently, the company with more active and enforced IP out of the potential candidates was identified and collaboration formalities were performed.
Technology of Interest (Expired)
Now, we have monitoring the expiry status for technology of interest.
This is an important part of legal status monitoring which includes identifying abandoned and expired patents so as to strategize their use in the future. This enables to pinpoint inventions that are soon to be available in the public domain and are safe to use. Hence, it is useful for clients who want to search for any expired patents in the technology of interest so that they are free to use that technology without any legal risks.
Insights
Hence, this monitoring would tell you when the technology would be available in the market for free, the right time for acquiring the technology and to avoid infringement risks.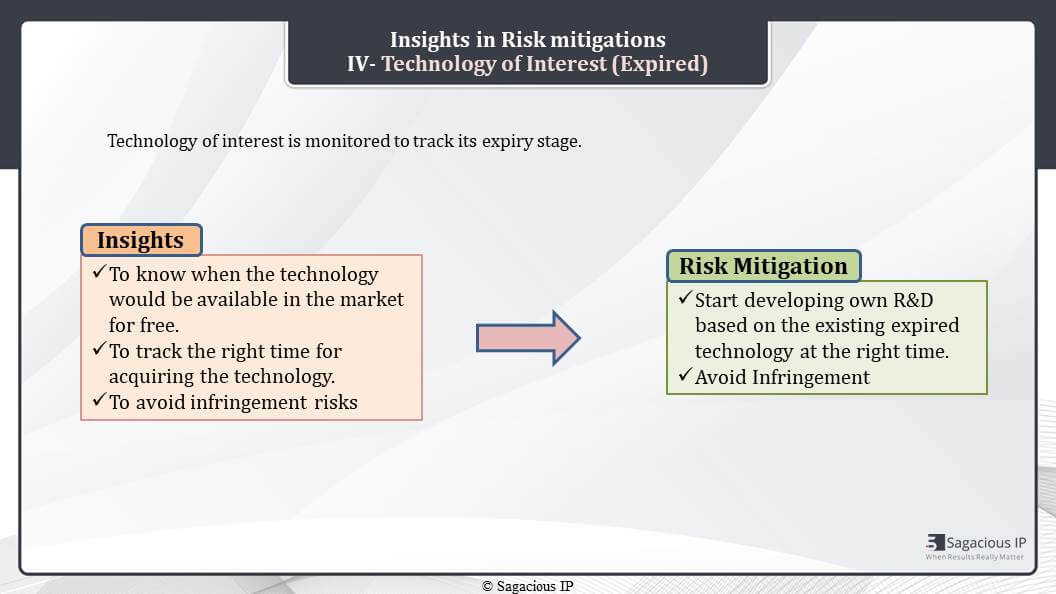 Risk Mitigation
This would help you to start developing your own R&D based on the existing expired technology at the right time.
Drug Expiry Watch
Now, the expiry based monitoring is mainly useful in Pharma domain to estimate when a drug loses its market exclusivity rights.
Let's take an exemplary case of a generic company G which is waiting for a drug to get expired. By doing the drug expiry watch, the generic company G can prepare their market strategy based on the expired or abandoned patents related to the Drug D to know whether the technology is in the public domain and safe to use.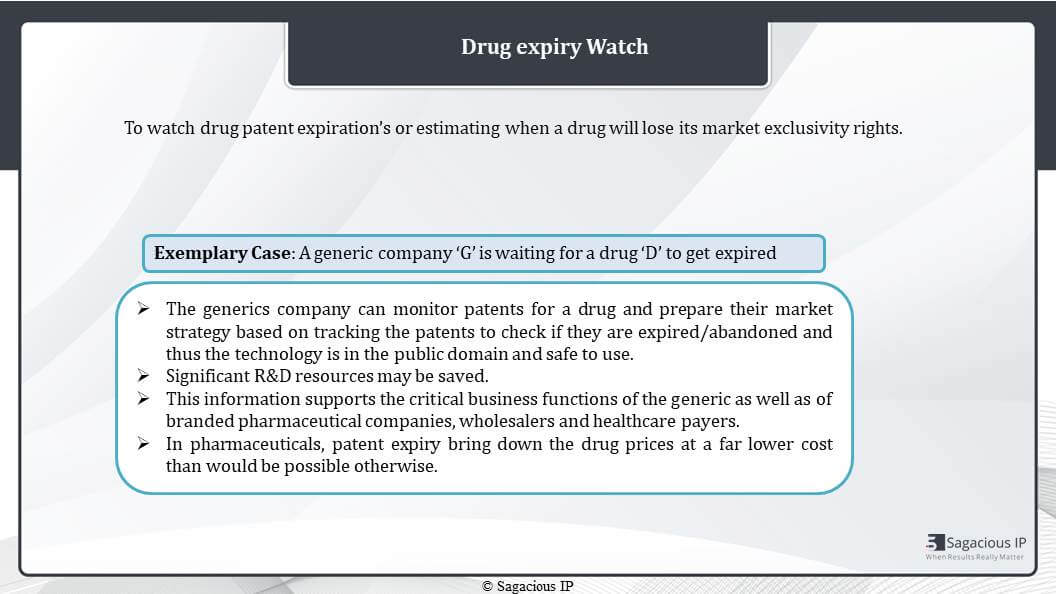 Thus, the G Company can save significant R&D resources and this information supports the critical business functions of the generic as well as of branded pharma companies, wholesalers and healthcare payers. Also, the patent expiry brings down the drug prices at a far lower cost.
Important Steps in the Methodology of Drug Expiry Watch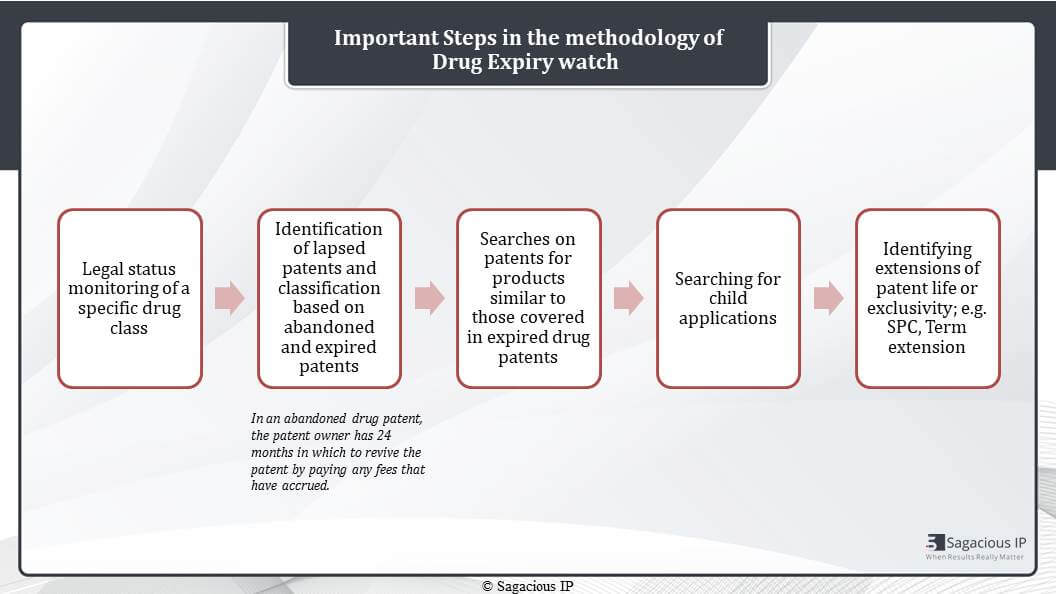 Now, discussing the important steps in a drug expiry watch:
The first is monitoring the legal status of a specific drug class.
The next is segregating the lapsed patents into abandoned and expired as the abandoned patents can be revived within 24 months by paying fees.
Then, the searches are performed to identify patents or products similar to those covering expired drug patents so as to avoid infringement.
The next step is to check for child applications that are continuations, CIP, or a divisional application as companies protect their interests further by filing these kinds of applications.
Then, the final step is to check for extensions of patent life or exclusivity, for example, Supplementary Protection Certificate, SPC in Europe or Patent Term Extension in case of US. These extensions can last for five years and aim to compensate patent holders for marketing time lost while developing the drug and awaiting government approval.
That was about the four applications of Patent Prosecution Monitoring.
Overview of Prosecution Monitoring
This diagram here gives an overview of all the stages we have discussed previously. At the bottom, we have the prosecution stages, and at the top it is broadly depicted at what all prosecution stages the different applications of prosecution monitoring takes place.
For example, the Self-Patent Portfolio can be monitored from the time of filing till its expiry. Now, starting with preparation of documents, then responding to examiner's rejections and carrying out amendments in the pre-grant phase. Then, after the grant, the patent can be monitored for fee payments or for the maintenance of the patent and infringement checks.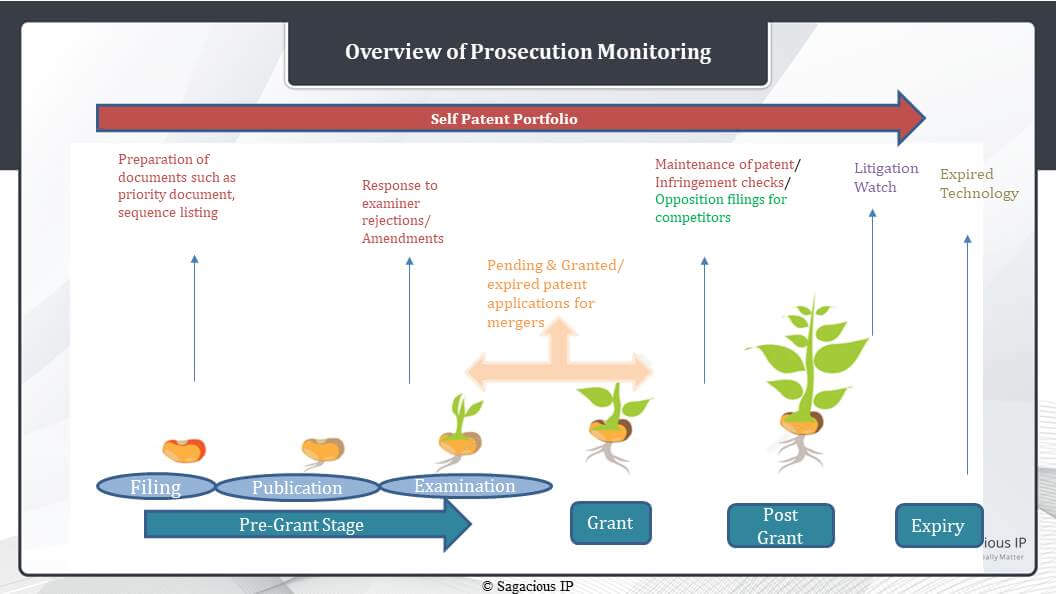 Then, the second case that we discussed was the competitor's patents portfolio. For that, the competitor's patents can be monitored in the pre-grant stage as well. However, one main benefit is reaped by filing third party oppositions after the grant of a patent.
However, there are some countries that allow opposition filings in the pre-grant stage as well. So, in those cases, opposition's can be filed in the pre-grant stages as well.
Then, the monitoring of expired technology is generally started in the late post-grant phases till the expiry of the patent so that the technology can be used for free without infringing.
And then, we also discussed about the mergers and collaborations. In these cases, pending, granted, and expired or legal status are taken into consideration.
We have one more patent post-grant prosecution event which is litigation watch. We will discuss it in our next slides.
How Prosecution Monitoring Helps During Commercialization of a Product
Before starting with the Litigation Watch, let's discuss how prosecution monitoring helps during commercialization of a product.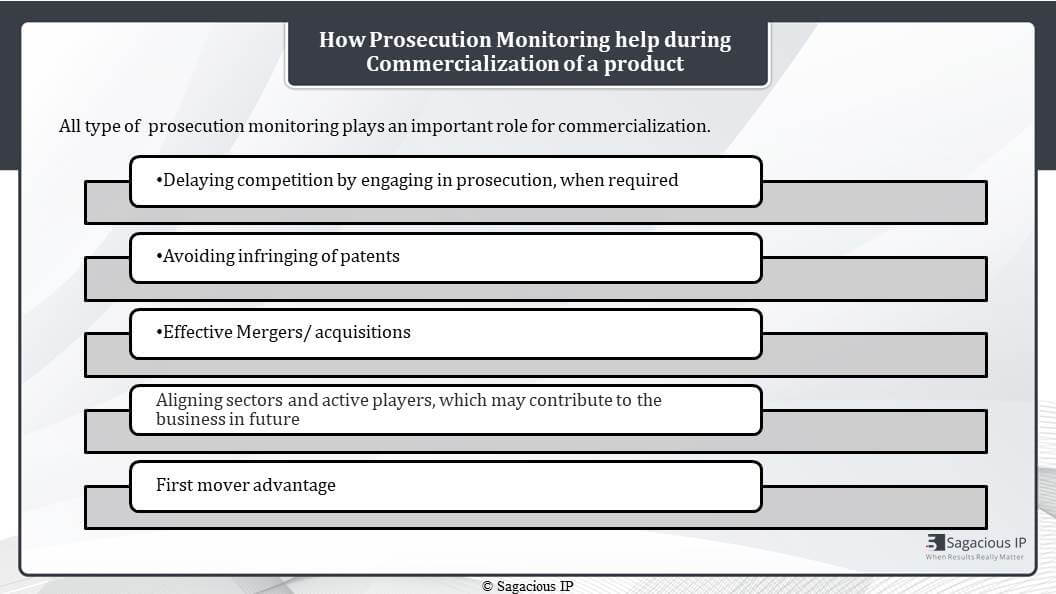 All type of prosecution monitoring plays an important role for commercializing:
Delaying competition by engaging in prosecution when required
By avoiding infringing of patents
In effective mergers and acquisitions
Aligning sectors and active players which may contribute to the business in future by monitoring the legal events of the prosecution monitoring
And, by monitoring the desired legal events, the prosecution monitoring gives us the first mover advantage.
Litigation Patent Watch
Now, we have Litigation Patent Watch. Let us first know: what is a patent litigation?
Introduction to Patent Litigation
It describes legal actions relating to the infringement of patents. The cases are filed in District Courts, Appellate Boards, Federal Courts or High Courts.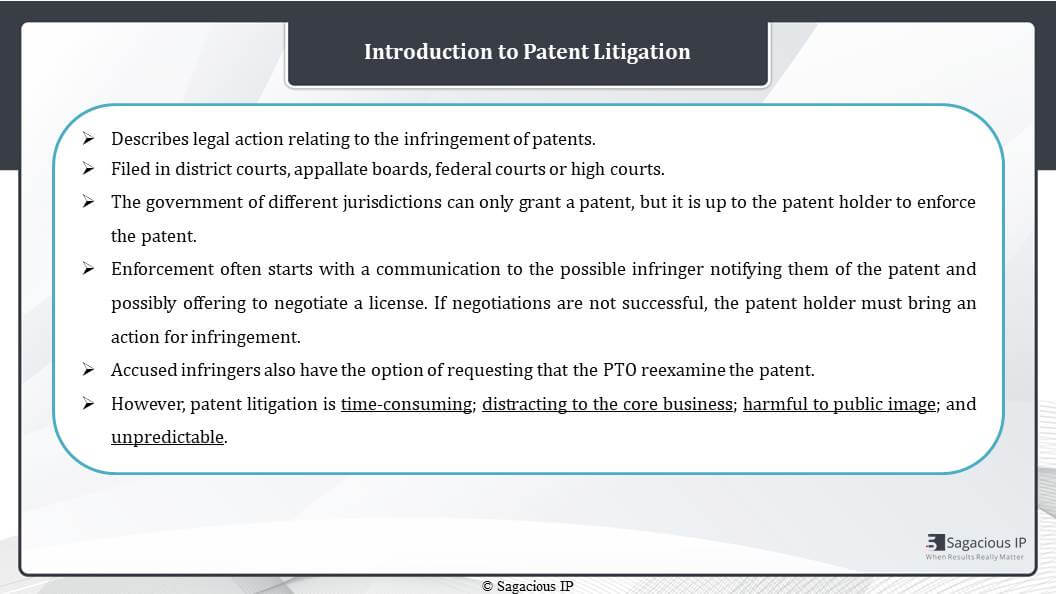 A patent holder brings an infringement suit when the negotiations for licenses are not successful with the infringer, and in turn the accused infringer has the option of requesting the PTO to re-examine the patent for its validity.
However, some of the drawbacks associated with patent litigation are:
it is time consuming,
distracting to core business,
harmful to public image,
and, it is very unpredictable.
Litigation Watch
Now moving to litigation watch, it is the monitoring of litigation cases, filings, outcomes, et cetera.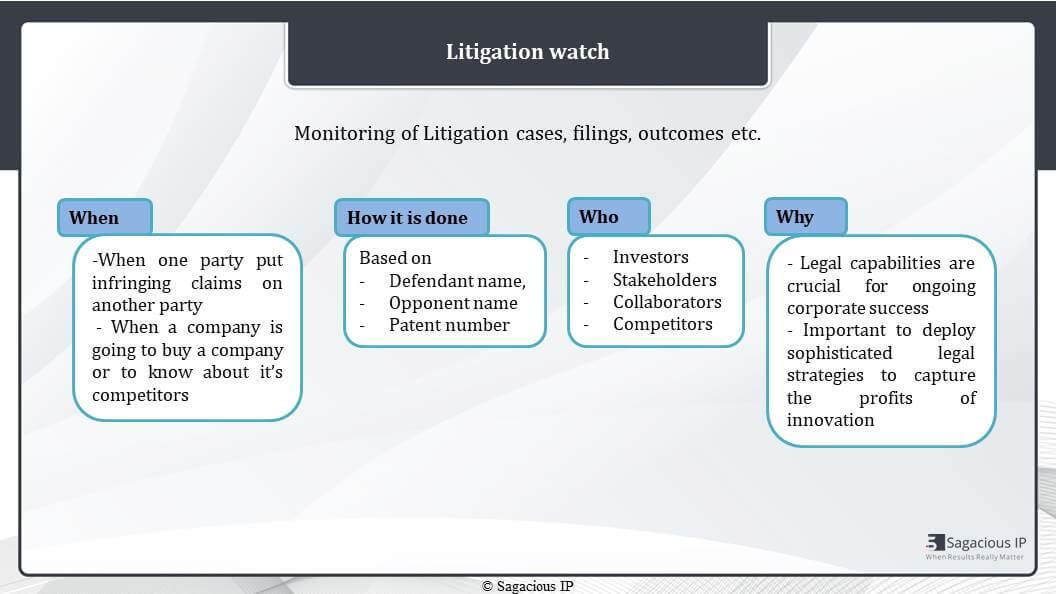 It is generally done when one party put infringing claims on another party or when a company is going to buy a company or want to know about its competitors. The watch can be done based on the defendant name, opponent name, or the patent numbers. It is mainly helpful to investors, stakeholders, collaborators, and competitors, because the legal capabilities are crucial for ongoing corporate success and it is important to deploy sophisticated legal strategies to capture the profits of innovation.
Case Study IV: How Our Patent Monitoring Service Helped a Japanese Company to Launch an Infringement Free Product
Further, in one of our case studies, a client was interested in doing an FTO search before launching his product.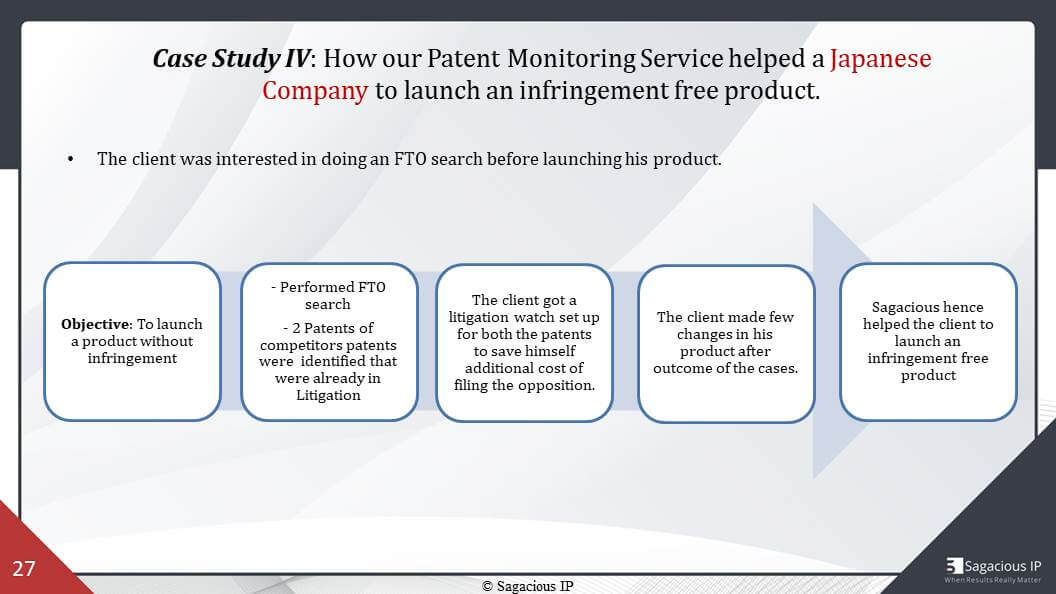 When the FTO search was prepared by Sagacious IP, two patents of competitors were identified on which the client's product was infringing. However, both the patents were already in litigation at that time. The client got a litigation watch setup for both the patents to save himself an additional cost of filing the opposition.
When the outcomes of the cases came out, the client made a few changes in his products based on the outcome and arguments given during the case. Hence, Sagacious IP helped the client to launch an infringement free product.
That was all in Prosecution and Litigation Monitoring.
To conclude, we would say monitoring legal status either for own patents or that for others is important to stay informed, pre-prepared, and to take further actions. The monitoring of different stages of patent prosecution and litigation is an inherent step to take into consideration while going for any patent related activity.
So, are there any questions?
Questions and Answers
Ram Tenneti – Thank you Pooja for that brief introduction and giving a quick understanding. Now, I do have some questions here that I look are very interesting.
Let me start off with the first question.
During Mergers and Collaborations, Is a Legal Status Monitoring Is Enough to Decide the Right Candidate?
When you say the prosecution monitoring can be use during mergers or collaborations – Do you mean that a legal status monitoring is enough to decide the right candidate?
Pooja Chhikara – I would say no. Just doing the legal status monitoring, it is not enough or an activity like a merger or collaboration to take place. There are various other factors that need to be studied to take the final decision, of course. What we have discussed in the webinar is the indications that can be drawn with the help of a legal status monitoring during a merger or collaboration.
I, also, mentioned in the conclusion that prosecution monitoring is something that is inherent in every step of a patent related activity. We have to take into consideration the legal aspects of a patent. But, yes, we have to take into consideration the other factors as well.
Can You Recommend Prosecution Monitoring to Someone Who Has the Portfolio of Less Patents?
Ram Tenneti – Would you recommend a prosecution patent monitoring for someone who is having a portfolio of just about five patents?
Pooja Chhikara – Of course, we can recommend the prosecution monitoring to someone having very few patents also. Though, we would preferably recommend it to someone having a large portfolio. The reason behind saying yes is that for someone having their focus on other core business areas, there can be a gap in the monitoring and understanding the legal events. As a result, important insights can be lost.
Secondly, it, also, depends on how new your patent portfolio is. If it's a very new one, then the patents are more prone to getting rejections. So, hence, it is better to get it done from professionals and patent and market analysts, who can provide the right insights at the right time to take the right actions.
Apart from Generic Companies, Who Else Can Reap Benefits of Patent Expiry Watch?
Ram Tenneti – Apart from generic companies, are there anyone else who can reap the benefit of a Patent Expiry Watch and if so, how?
Pooja Chhikara – Of course, any company can pick the benefit of expired technology related to their domain of interest. It's just that the trend is more commonly seen among the generic companies. That's why we presented that example in the webinar.
So, by performing a patent expiry watch, it can provide any company a first mover advantage to strategize the R&D at the right time, and consequently in coming up with their own product without infringing anyone. So, any company can get the expiry patent watch. It's not just the generic companies.
Ram Tenneti – All right! That's wonderful!
Well, thank you Pooja for those enormously helpful answers to the queries that we have. We are running short of time, so I would love to take a brief note of all the questions that we have here, and definitely, the ones that could not have been answered. We'll get back to you.
Thank you Pooja and to all the participants of the webinar! As I said earlier, you can definitely e-mail us at webinar@sagaciousresearch.com.
Submit Your Information to watch the Webinar: