Sagacious SCALE™: Integrating Market and Patent Analytics to Make Effective Collaborations
With an ever-increasing competition in businesses, patents are no longer just the means to secure one's innovation. Instead, they can play a decisive role in facilitating critical business decisions such as collaborations, and mergers and acquisitions. But organizations are yet to harness the full potential of patent analytics or information to strengthen their investment decisions. This article talks about how businesses can integrate patent intelligence with business information to assess the competitive landscape for broader decision-making within their companies. But first, let's talk about the importance of patent analytics while making business decisions.
The Need for Patent Analysis in Business Decisions
Mostly, important business decisions are based on competitive intelligence pertaining to financial data, marketing, strategy and various other parameters. However, with the increasing investment share of intangible assets, taking into account patent information to perform competitive benchmarking has become important.
Businesses can utilize patent analytics to make sound decisions in terms of licensing and acquisition of advanced technologies. It can help them to understand the know-how of the relevant technology field in order to forecast market needs. So essentially, an IP perspective can offer businesses a new way of perceiving competitive benchmarking.
Integrating Patent Intelligence with Business Data
After understanding the importance of patent analytics in making holistic business decisions, the next obvious question is how to put this strategy to use. There are several tools in the market that provide insights for market data based decision-making. However, there's probably no tool that augments such analysis leveraging patent information. Hence, Sagacious IP is trying to bridge this gap with its proprietary graphical analysis tool – Sagacious SCALE™. Let's discuss the methodology of this tool and how it can benefit businesses in weighing out collaborations with other companies.
As seen in the figure below, this tool divides the overall graphical area into five grades – entrants, lookers, aspirants, competitors and seasoned. It then positions companies (highlighted as dots) into various grades depending on their investment and execution score – represented on the X and Y axis, respectively.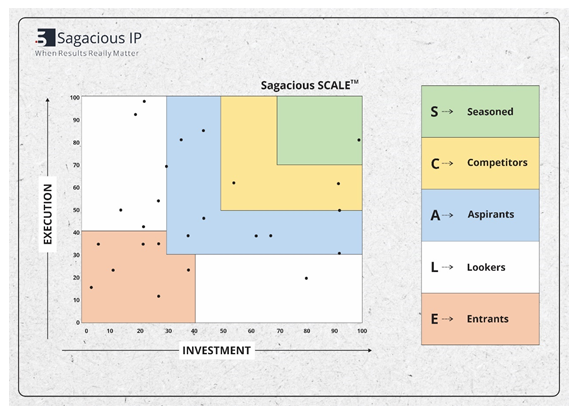 While investment axis is the culmination of parameters based on intangible assets such as patents and R&D and innovation advancement, the execution axis comprises parameters based on product development and market execution.
The top grid of this tool is occupied by seasonal players, basically all top corporate firms that have high-performing assets throughout. Then there are 'competitors' who fall a little behind 'seasonal' players and perform well on both axes. They are followed by 'aspirants' who perform on either of this axis, and 'lookers', who do extremely well on one axis. Lastly, there are entrants, who are emerging players.
Using Sagacious SCALE™ – Fostering Synergic Collaborations to Become a Seasoned Player
Now let's put the above-mentioned methodology to use in a hypothetical example. Suppose Sagacious SCALE™ is deployed by Facebook to identify companies with complementary strength. Based on the observations offered by the SCALE, the social media giant can then decide which company complements its growth. By complement, it's implied that companies that have a high execution score can join hands with firms that have a high investment score to become seasoned players.
Let's assume Facebook is looking for a partner to collaborate with. It has certain objectives and expectations from its partner in mind. The figure below shows that Facebook's investment score is high. So it would definitely look for a partner whose execution score is high. Keeping this requirement in mind, Facebook can join hands with a company that has a high execution score to complement its growth. In this case, it is 3D Robotics. This kind of observation can be generated at a high level by using the Sagacious SCALE™.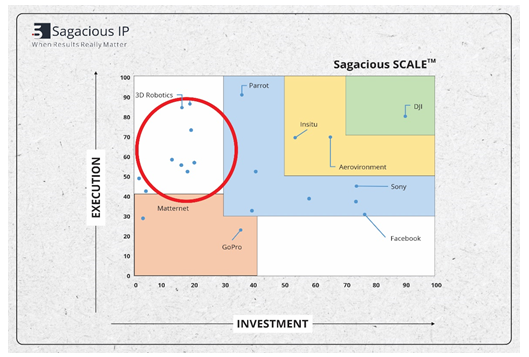 However, that's not it. The image above shows that there are 7-8 companies that have a high execution score. So which one will be the best match for Facebook? To answer this question, Sagacious IP uses synergy analysis, which rates certain execution parameters to arrive at the right choice of partner. These parameters include product maturity, product durability, vision alignment and geographical presence. Facebook can decide which of these aspects it is looking for in a collaborative partner, and choose the one that has the highest synergy with it depending on the ratings assigned to those selected parameters.
Therefore, this tool offers comprehensive observations based on market and patent analytics to any entity wishing to test waters before entering into collaboration with a company. However, its uses are not limited to collaborations. It can be used by organizations for strategic planning to: decide their future roadmap, identify buyers for its patents and other monetization opportunities.
Conclusion
Patent analysis is a useful technique todraw an overview of competitors' strengths, weaknesses and most importantly business strategy. Sagacious SCALE™ helps businesses to leverage patent information to observe these aspects and make critical business decisions based on them. In terms of decisions pertaining to acquisition and mergers, patent information helps in narrowing down the choices of the companies and technologies to consider.
Sagacious IP offers patent landscape analysis enabling businesses to understand evolving industries. Our in-depth overview and analysis of patent information, combined with market data, helps organizations to identify M&A possibilities and threats in their technology domain. To watch a webinar on the subject, click here.
Nitin Sharma (Engineering Searching) and The Editorial Team
Having Queries? Contact Us Now!