F3 Analysis – Fringe Patents
F3 Analysis is an award-winning solution from Sagacious IP for Patent Portfolio Optimization.
Effective patent portfolio management is the key to leveraging inventions to increase business value. Patent portfolios that are full of high-value patents not only unlock a new revenue stream, but also help companies establish as market leaders.
The F3 Analysis model helps companies categorize their patents into three major categories:
The concept of F3 Analysis originated with the intention of maximizing value from the patent portfolio of an organisation. The patent portfolio analysed using F3 Analysis can provide various benefits for the organisation's business. It helps organisation to gain insights into its patent portfolio by giving an accurate picture of the most valuable, least valuable and invaluable patents maintained by it. This helps the organisation to take the decisions regarding which patents are worth maintaining, which are ones meant to be sold or out-licensed and which should be abandoned. Timely analysis of patent portfolio provided by F3 Analysis can provide huge value to business. The F3 Analysis model is currently deployed in U.S., European, Japanese, Korean, and Chinese companies with over 100,000 patents across the globe.
Fringe Patents (F3 Analysis)
Most established businesses have thousands of patents to manage, but it is difficult to determine which ones are vital for their business and have strong potential. Patents are not static rights; they require periodic review and maintenance (including monetary maintenance) to optimize their value for an organisation/ business. Businesses with competitive targets require a robust patent portfolio management strategy.
Fringe patents represent technology that may not be core to a company's strategy or technology that has pivoted through the years. These patents need to be managed crucially, as they can directly impact the business in terms of unusual monetary expenditure spent over the patents. Proper management of such patents can add value to the organisation business. Under F3 Analysis solution, the Fringe patents are categorized into three sub-categories:
Monetisable Patents
Lean Patents
Obsolete Patents
Monetisable patents are the ones which although might not be core to the organisation's business and hence it might not be infringed by the direct competitors. However, these could still be relevant to start-ups or companies in a different domain. Hence, they should be sold to or out-licensed to the organisations/ start-ups working on the relevant domains.
The second sub-category is Lean patents. These are the patents which are not infringed and neither do they have any open family members and hence may also not be taken further for filing Continuation applications to improve the claims. These could also be patents that are very narrow and hence it is also possible to design around them. These could be packaged with other patents of the relevant domain to derive monetary value. The third sub-category, obsolete patents, comprises of those patents which work on a pivoted technology which is not currently being used in the market. Thus, such patents cannot add any kind of benefit as the technology they work on is out-dated.
From the above it is rather straightforward to see that maintaining such lean and obsolete patents can be uselessly extortionate for the organisation. The F3 Analysis solution proposes that such patents should be pruned in a timely manner, in order to save the maintenance fee spent on them.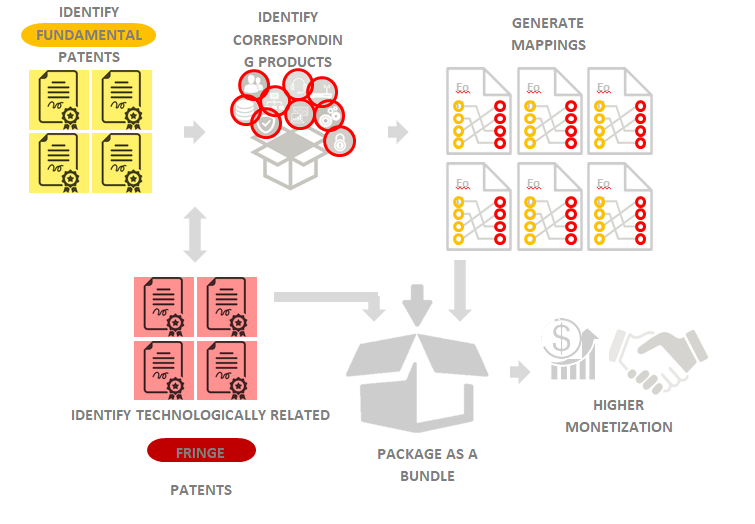 The major benefits F3 Analysis solution provides through Fringe patents for the organisation includes:
Providing monetary benefits by selling or out-licensing the Monetisable patents
Saving the expenditure spend on the maintenance of lean and obsolete patents
Better visibility into one's own patent portfolio
– Arshjot Gill, Manager – ICT Licensing and Rachita Goel, Asst. Manager – ICT Licensing

Click here to submit your request for the recorded webinar