Understanding Industrial Design in a Global Context
The design of a product remains one of the critical aspects in offering a unique identity. It is vital towards brand communication, which is why brands spend immensely in creating eye-catching designs to represent their product. As brand communication gets intrinsically linked to the design of a product, design strategy needs to play a crucial part in the overall business strategy for modern businesses.
In this article, we will understand the significance of industrial design, how it differs from utility patents and trademark, how it affects the consumer perception of a brand and how to formulate a business strategy vis-à-vis industrial design.
Industrial Design can be categorized as a combination of lines and colors or any three-dimensional form with a unique impression. Since the design is regarded as the essence of a product and increases its visual appeal, protecting that design secures your unique brand identity. Its protection applies to various products, including jewelry, lighting, packaging, textiles, electronic goods and even logos. Usually, consumers perceive brands with bold, innovative designs as industry trendsetters.
Difference between Industrial Design, Utility Patent and Trademark

Both patent and industrial designs are subsets of the intellectual property umbrella. While a patent is related to the protection of new inventions and focuses on functionality and content, industrial design is concerned with a product's aesthetic value. Table 1 below lists the main differences between utility patent and industrial design.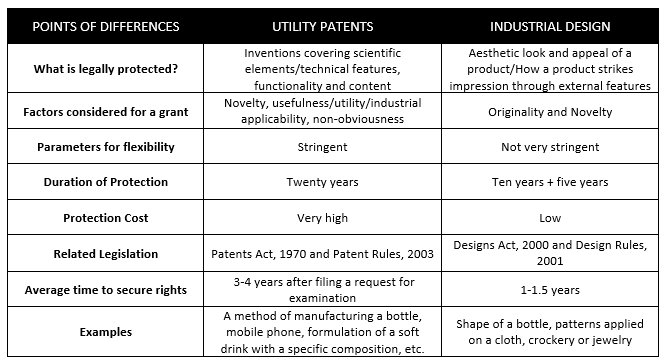 Now that we understand the difference between industrial design and utility patent, let us understand how it differs from trademark.
A trademark is a sign capable of distinguishing goods or services produced by one business from another. The trademark can be a phrase, word, symbol, design, insignia, picture, shape, logotype, color or a combination of more than one of these. A growing number of countries are also accepting 3-Dimensional sign (shape of a product or packaging), olfactory sign (sense of smell), audible sign (sound), moving image, a hologram and text or texture of a product to be a mark. A trademark is usually protected by its registration under the relevant trademark law. Some of the more famous trademarks across the globe are those of Apple, Coca-Cola, McDonalds and Nike.

Industrial design and trademark may look alike, but they are different. Some of the differences are listed out in Table 2 below.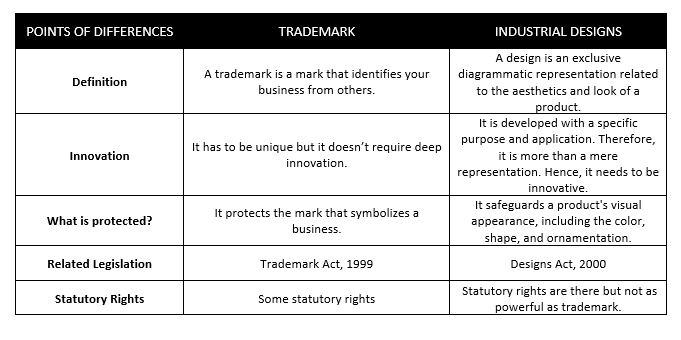 Industrial design and trademark are both indispensable parts of a business. A successful organization always allocates a fair amount of resources for developing and protecting them as they are crucial to accomplish an organization's short-term and long-term objectives.
How Industrial Design Helps to Achieve the Set Business Objectives?
Design strategy should complement the business strategy. Decision-makers in an organization can leverage industrial designs to achieve the business objectives via larger picture visualization and faultless execution. One of the central business objectives in an organization is to guide its profitable operations. This is possible only by acquiring new customers and retaining the existing ones. Today, customers make a purchasing decision based on price, quality and product design. A breathtaking design captures customers' interest and reinforces a positive brand image of the organization. As a result, a new customer is ready to switch while the old customer is happy with the current portrayal of the design.
It is imperative to understand international designs, community designs and national designs of the EU countries before formulating a business strategy vis-à-vis industrial designs.
What are International Designs, Community Designs and National Designs of the EU Countries?
The International design system allows the applicants to secure design protection concurrently in many countries or regions via one international application in one language with one set of fees. Moreover, there is no need to file a regional or national design application once you have filed an international design application. Popular global design application routes are:
The Hague System for the International Registration of Industrial Designs
Paris Convention Treaty
What is The Hague System for the International Registration of Industrial Designs?
The Hague system for international registration of industrial designs helps applicants register up to hundred designs in seventy-five contracting parties covering ninety-two countries by filing a single international application.
Who can use the Hague System?
The eligibility for filing an international application under the Hague System is listed below:
Applicant must be a national of a contracting party or of a member state of an inter-governmental organization which is a contracting party.
He/she has a habitual residence or domicile in a contracting party.
He/she has a real and effective commercial or industrial establishment in a contracting party.
How does Hague System work?
There are four steps to obtain international design protection under the Hague convention. The steps have been mentioned in Figure 1 below: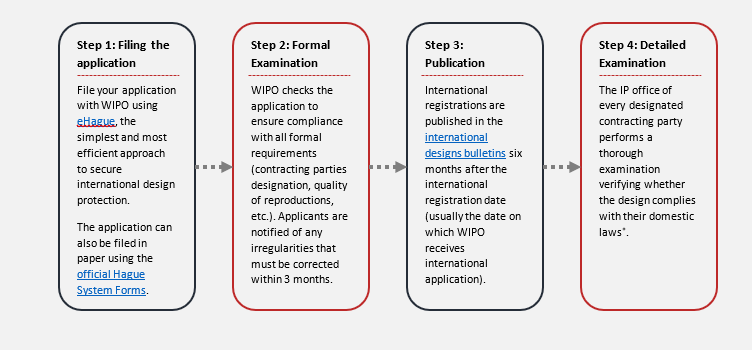 *The designated contracting party can refuse protection within its territory, notifying WIPO within six (in some cases) 12 months from the date of publication of international registration. WIPO notifies the territory where protection is refused.
Now that we are familiar with the benefits of Hague System, let us move on to understanding the Paris Convention.
Paris Convention for the Protection of Industrial Designs
The Paris convention applies to intellectual property in the broadest sense, including industrial designs. The important provision of the convention falls into three main categories – national treatment, right of priority and common rules.
1. National Treatment: The provision on national treatment states that – with regards to protection of industrial design, each contracting state should grant the same protection to nationals of other contracting state, the way it grants to its own nationals. Besides, applicants of non-contracting state are also entitled to national treatment under the convention, provided they are domiciled or have a real commercial or industrial establishment in the state.
2. Right of Priority: The Paris convention also provides the right of priority in the case of industrial designs. The right of priority states that applicants can seek protection in any of the contracting states on the premise of filing application in one of the contracting states. The protection should be sought within six months for industrial designs. The subsequent application is regarded as filed on the same day as the first application. Besides, the application enjoys priority over applications filed by others during the same time for the same industrial design. One of the main benefits of this provision is that applicants looking for protection in multiple countries need not present all their applications simultaneously. The applicants will have 6-12 months to decide the countries wherein they are seeking protection and organize the steps necessary for securing protection.
3. Common Rules: The Paris convention lists a few common rules that every contracting state must follow. The rules are stated as – "Industrial designs have to be protected in each Contracting State, and protection may not be forfeited on the ground that articles incorporating the design are not manufactured in that state".
In addition to international design, there is also community design that offers protection beyond the territory of a country. Let us understand it in the next section.
What is Community Design?
Community design allows protection for an industrial design across the European Union (EU). There are two kinds of community design:
Registered Community Design: It allows you to protect the design with the European Union Intellectual Property Office (EUIPO) before it is commercialized.
Unregistered Community Design: It allows you to commercialize industrial design directly without any registration.
Suppose you are doing business in more than one country and seeking protection within the EU. In that case, the option of registered community design is the right one as it has several benefits.
Practical Advantages of Registered Community Design (RCD)
RCDs provide robust and uniform protection throughout the EU. Besides, it is governed by a single legal system.
RCD is easy to file with one application, one language of filing and a single file to manage.
RCD also provides the scope to file multiple applications (including several designs) with only one file.
Applicants must understand the elements of a design patent application before filing it. Thorough knowledge of these elements increases the chances of success of a design patent.
Important Elements of a Design Patent Application
There are six important elements of a design patent application, as shown in Figure 2.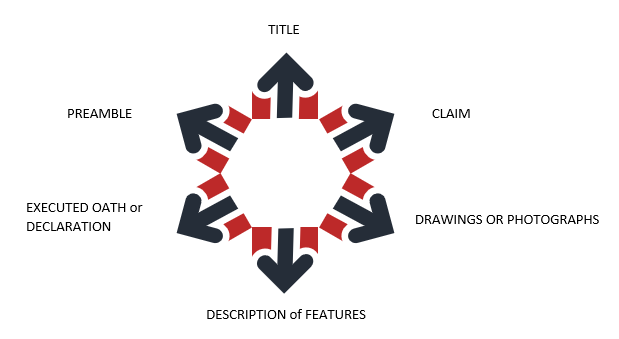 Preamble: Generally, the preamble is mentioned on the cover page of the published patent. It lists the name of the applicant, title of application, and occasionally a brief description of the article.
Title: The title of a design patent application helps to identify the product and is usually the name by which the product is famous in the public domain. It also helps the examiner to identify the field of search of the prior-art and proper assignment of new applications to the relevant class and sub-class.
Claim: Claim is one of the more pertinent elements in a patent application since it determines the scope of protection. Anything outside the scope of claim does not enjoy the protection. For design patent, only one claim is sufficient that can describe the ornamental feature.
Drawings or Photographs: Clear and precise drawings bolster the chances of success of design patent application as it simplifies the task of an overburdened examiner to understand the inventions faster.
Description of Features: The figure description in the design patent applications helps to highlight the view as represented by each of the drawings, i.e., front elevation, side view, etc. Adding multiple views is not compulsory; however, it can better explain the design under examination.
Executed Oath or Declaration: The design patent application must also include the oath or declaration besides the drawings and specifications.
Now that we understand the important elements of a design patent application, let us see the global patent filing trends for Industrial Design.
Global Industrial Design Patent Filing Trends and Statistics (Hague Convention)
Design Count in industrial design applications shows a different trend globally and for countries covered under Hague Convention. Globally, the design count (number of design contained in industrial design applications) has shown improvement in the year 2020. Industrial design applications contained approximately 1.4 million (shown in Figure 3) designs in year 2020 corresponding to a growth rate of 2% in 2019.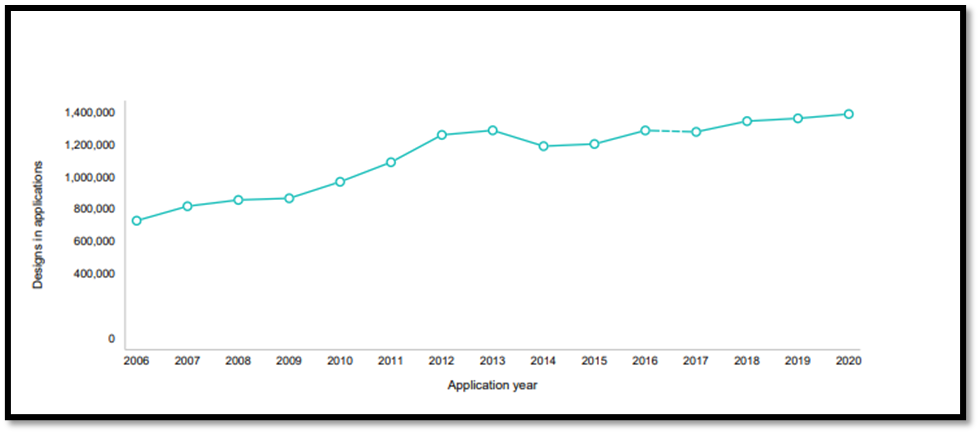 China with its expanding economy accounted for almost 55.5% (shown in Figure 4) of total design count contained in applications filed worldwide. It received 770,362 designs in applications in 2020, contributing more than half of activity globally. China was followed by European Union Intellectual Property Office (EUIPO) with 113,196 designs, the Republic of Korea (70,821), U.S. (50,743) and Turkey (47,653).

Compared to worldwide data, industrial design trends for Hague Convention is slightly divergent. International applications filed under Hague Convention had dropped by 1.6% to 5799 applications in 2020. Besides, the design count contained in the filed applications witnessed a fall for the first time since 2006, by 14.7% to 18,636 designs (shown in Figure 5). The downward slide can be attributed to the reduction in application and design count from countries such as Germany, Italy and Republic of Korea.

The top five countries with the highest number of design counts in Hague international applications (shown in Figure 6) are Germany (3666), U.S. (2217), Switzerland (1948), Republic of Korea (1669) and Italy (1231).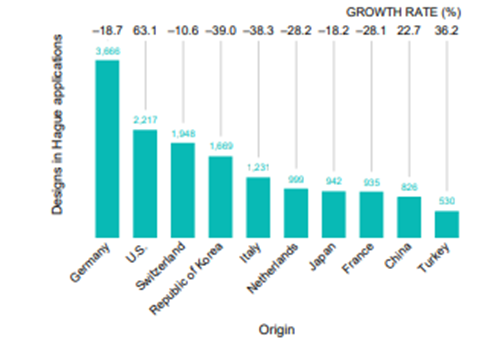 Now that we are familiar with the industrial design trend across the world, let us discuss the design prosecution cycle.
Design Prosecution Cycle
It refers to the complete process of filing the design patent application, issuance of examination report by the examiner with objection, replying to the objections, attending hearings if required, acceptance of application and finally issuance of a certificate of registration. The steps of the prosecution cycle are shown in Flowchart 1.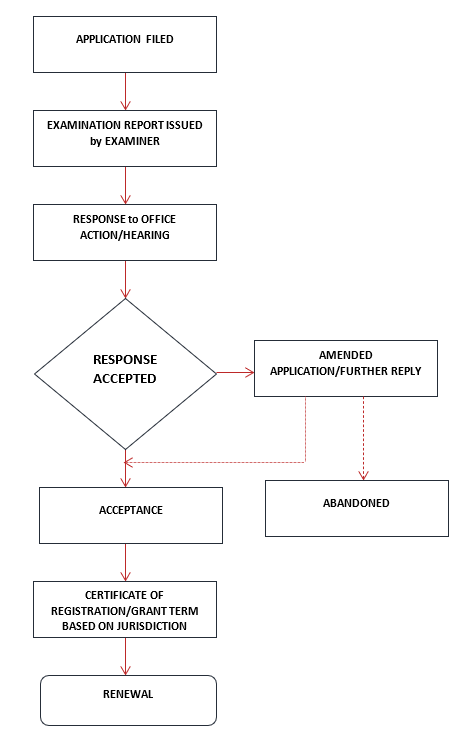 The first step in the design prosecution lifecycle is filing of design application with a properly prepared form and appropriate design representation. A fully compliant application form is vital to save valuable time and resources.
The application for registered design is duly examined by the examiner for any non-compliance with the set norms. The examination report is delivered to the applicants for the necessary correction via post or electronic transmission. The applicant must respond to the report within 3 months from the date of communication of statement.
While reading the response of the applicant, if the controller/examiner believes that all the rules and regulations have not been adhered, the same shall be communicated to the applicant for a hearing date.
If the applicant fulfills the entire requirement, laid down under the set rules, the design application is registered.
After registration, the design is published in the Patent Office Journal.
Litigation arising out of design patent infringement has been on the rise as the number of industrial design filings have increased. A standard parameter has been set to decide whether a design patent has been infringed or not.
How Design Patent Infringement is conducted during Lawsuits?
An ordinary 'observer test' has emerged as the benchmark for deciding a design patent infringement. It states that if an ordinary observer finds two designs as substantially the same inducing purchase of an imitator design supposing it to be the original, then the original design patent is infringed by the imitator.
The premise of this is that a test conducted with a person versed in a trade can easily identify subtle or minor variations between similarly designed products as shown in Figure 7. This will destroy all the protection that is granted to the design patent in question. Under extraordinary (expert) observer test, the only time design patent infringement will be established, is when two products are an exact replica of each other. Unfortunately in practical situation, the exact replicas are never found. That is why ordinary observer test stands strong in passing a definite judgment on design patent infringement.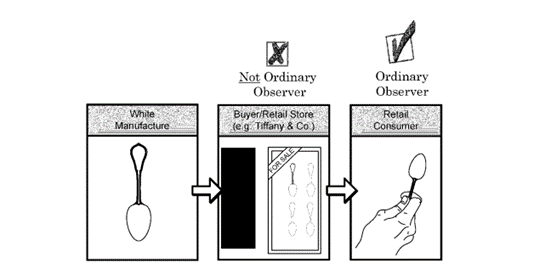 Now that we are familiar with how design patent infringement is conducted during lawsuit, let us discuss the life of design patent and country specific analysis.
Life of Design Patent and Country Specific Analysis
The life of design patent varies as per the rules of different jurisdiction. The filing patterns and its compliance see a similar divergence across borders. Table 3 lists the country-specific analysis for industrial design across the globe.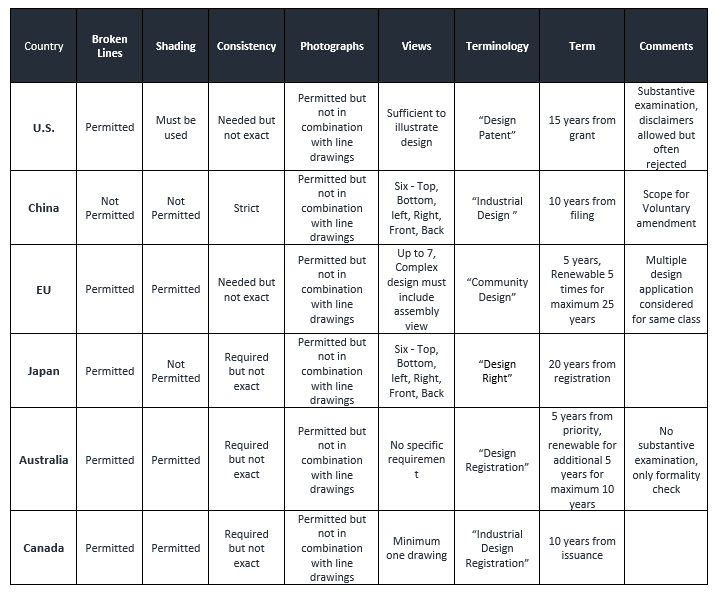 You would be surprised to know that the same design can be registered as a trademark and design patent depending on functional variations. We will discuss the concept in the next section.
Can the Same Design Receive Trademark & Design Patent As Well?
In multiple instances, the same design enjoys protection under trademark and design patent laws both. Some well-known examples of design trademark that have also been subject of design patents are the APPLE iPod® electronic music player, DUSTBUSTER® vacuum cleaner and the NIKE Air Max 1995® shoe upper. The confusion regarding registration arises out of functional interpretation, i.e., de facto versus de jure functionality.
De Facto versus De jure Functionality: The shape, design, or feature of a product might have some function, but still be registrable as trademark or design patent. The reason is that the product might be de facto (in fact) functional but not so in de jure (in law). This is despite the fact that trademark and design patent rules require the shape or ornamental features to be non-functional.
Once a design is registered, the conflict and litigation arising are inevitable. Therefore, let us deliberate about conflict management with relevant patents laws in different countries.
Conflict Management (Patent Laws) of Different Countries
In the U.S., under the existing patent law statute, no protection is granted for unregistered designs. However, all design patent related rights can be obtained by filing design applications at the United States Patent and Trademark Office (USPTO), followed by a grant.
Design patent rights are protected by the U.S. patent law statute for registered design, as outlined in 35 USC § 171. In addition, the law offers protection for the ornamental design of an article of manufacture.
In India, for registered designs, the rights are protected by the Designs Act, 2000. Section 2(d) of the act protects design features, such as shape, configuration, pattern, ornament and composition of lines or colors.
Under section 22 of the Design Act, a registered design can be eliminated, placed aside or the registered owner can be restrained by order of injunction from practicing the use of such design.
Conclusion
From the above-discussed points, we can positively conclude that the registration of design patents is paramount for sustaining the individuality of your brand. Based on the pace of growth of your company, you can look forward to registering for multiple jurisdictions. Although easier said than done, it requires, the skills of expert IP professionals. Therefore, it is prudent to outsource the task to a reliable service provider.
Sagacious IP is a leading value-driven and technology-focused IP research company that provides reliable support services to the global IP community. With its presence across three continents, it offers service to Fortune 500 companies, law firms, start-ups and R&D organizations. Besides, through our Design Filing and Prosecution service, we help clients secure the registration of designs and keep track of deadlines related to design filings in India. Click here to know more about this service.
-Vivek Singh, Akash Dudhwa (India Filing and Prosecution) and the Editorial Team
Having Queries? Contact Us Now!