A Bird's Eye View of IP Through Technology Credentialing
Innovation and technology enhancement are crucial towards navigating effectively in the market. However, it is also vital to communicate the underlying novelty of the innovation to the end consumer to establish the brand's credibility. While companies protect their Intellectual Property (IP) via patents, trademarks, etc., the technical advancements and improvements are best communicated through ingenious methods of communication. Such methods help to explain the potential impact of the technology and effectively improve the company's market position. These communication methods are via different channels and through the product/service itself, forming the core of the technology credentialing concept.
This article will explain the concept of technology credentialing and how its in-depth research provides an edge to competitor landscape analysis.
Technology Credentialing and Why to Track it
A product or technology's commercial success depends on the market drivers, and consumer choices play a significant role. For effective market growth, it is imperative among competitors to promote their products so that the consumer can understand their USP. Technology credentialing comes into play here as products are provided with descriptions that are best suited to reflect technological advancements over the competition without confusing jargons. Determining how competitors are credentialing their products is helpful for businesses to gain insights into market trends and strategize accordingly.
For instance, an applicant filing patent applications would not see the returns immediately after filing an application. However, once the application is published, the company markets its technology to pitch potential licensees or develop a consumer base by credentialing its products. Pending IP is one of the labels that are added while marketing the product. Alternatively, the company may disclose "new formula using X advanced process" as a part of technology credentialing without disclosing the exact formulae. It helps affect brand marketing and promises a consumer base before the IP is protected or monetized. Such credentialing is done using various marketing platforms such as websites, social media, advertising channels, blogs, surveys, etc.
Tracking such credentialing provides insights related to:
How competitors target consumers – labelling IP, technical advancements, problems claimed to be solved
What drives consumer choices – this is generally reflected in the market success of products with credentialing
Markets of interests for competitors – the difference in credentialing between markets is also reflective of IP filed in those regions
Subsidiaries and brands within companies can be tracked while identifying credentialing
Platforms that are popular among product owners and consumers
Drawing parallels and trends in IP filing and market presence
Region-wise trends for a company's product
How to Effectively Search and Analyse Technology Credentialing: A Case Study
Sagacious IP worked with one of the Fortune 500 companies to uncover how their global competitors credentialed their technology to consumers. The idea was to understand how the technological advancement in their products and the protected IP is explained to the consumers in straightforward language to expand the market base. There was a certain level of IP to be studied; however, the market presence of the technology was the central aspect of the search.
With a strong presence in various consumer segments, such as hair, skin, personal care, grooming, home care, etc., the client was interested in determining how competitors communicate the differentiating factors of their product from others based on technology. They had a compilation of around 20 competitors across 8 eight segments in four South Asian markets, which they wanted to study.
The project scope was expansive as each competitor had various brands under them, with multiple products in each product segment across different markets in South Asia. Sagacious IP assisted the client in brainstorming through other aspects to be studied for this research and the depth of study.
Eventually, taxonomy was prepared to credential the technology in the following manner:
Multiple products under each segment, each brand and each competitor were studied for their IP, technology presence on social media, presence in scientific literature, e-commerce, press release and blogs across markets. In addition, indicative features had been highlighted with supporting information such as product claims and case studies.
The overall project was a vast landscape across various technology segments. The graphical trends were quite diverse and exciting due to each segment's multiple brands and products. The insights were significant to determine the points shown in Figure 1.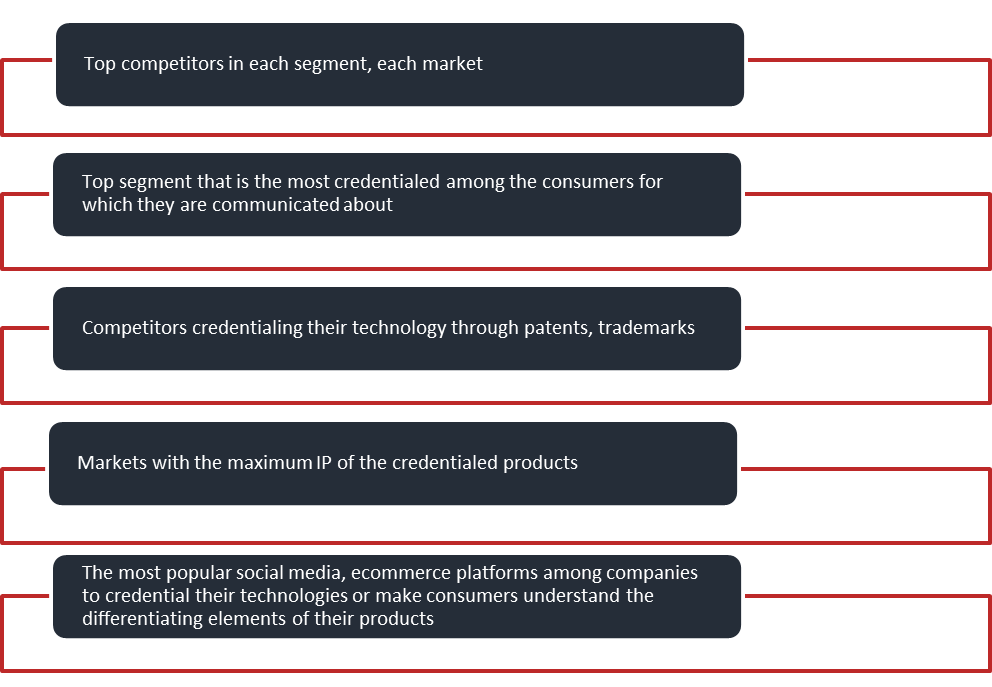 The client received bite-size yet highly impactful information compiled into the technology landscape and graphical deliverables, which they could use to understand upcoming competition and align with their strategy.
Conclusion
Technology credentialing studies provide a bird's eye view of IP and the market presence of various products. It is especially helpful in tracking multiple competitors in a technology space across geographies and marketing platforms and developing a long-term strategy for R&D business. The study becomes significant in today's age with a shorter product life cycle, low brand customer loyalty, and reduced attention span. The right technology credentialing strategy offers a valuable insight to brand communication and saves time and resources while starting from scratch.
-Devika Saini (Life Sciences & Chemistry) and the Editorial Team
Having Queries? Contact Us Now!