Are you Ready for EU's New Unitary Patent System?
The European Union (EU) market is set to enter a new age of innovation management. The long-awaited introduction of the unitary patent & unified patent court, scheduled to come into effect in early 2023, is expected to enhance the development and trade of IP-intensive goods and services and scale up European small and medium-sized enterprises (SMEs).
With the intent to improve and strengthen the centralized European patent granting system, the unitary patent will set the foundation of providing innovators with cost-effective patent protection and dispute settlement process across Europe. Although the unitary wheels are set in motion, businesses are still struggling to adjust to the new norm and unclear about the compliances involved during the patent application process.
This article delves into unitary patents in great detail. We discuss the importance, registration process, benefits, application process and the role Sagacious IP plays in helping clients secure their IP under the new patent regime.
Understanding Unitary Patent
Also known as a European Patent With Unitary Effect (EPUE), a unitary patent is a single intellectual property right that may be used in at least 17, and possibly as many as 24 of the 27 EU member states. Non-EU nations will not participate in the UPC, and their laws regulating the application and enforcement of patents will remain the same.
A unitary patent will provide standardized protection in all participating EU member states. Thus, a single infringement lawsuit will enforce the patent throughout the European Union, and a single annual renewal fee will keep the patent valid in all participating states. However, third parties can have an invalid unitary patent revoked in each of the participating EU member states through a single revocation action.
Even though unitary patents will eventually apply to most EU member states, few countries are yet to ratify the Unified Patent Court Agreement (UPCA), which will come into force alongside UPs. Therefore, these countries will not be covered by the first set of unitary patents. Furthermore, Spain, Poland, and Croatia are three EU nations that have not yet ratified the entire UP package. Hence, it can take some time for the legislation to be approved in all participating nations.
Why Opt for a Unitary Patent
There are various reasons for businesses to submit a unitary patent application in Europe:
The unitary patents' primary goal is to support the centralized pre-grant procedure with a centralized post-grant procedure in which the EPO serves as a single point of contact for obtaining, maintaining, and managing all patents. A unitary patent will provide extensive and consistent territorial protection for a reasonable renewal fee, thereby offering better value for money and lower complexity for businesses.
Under the current system, businesses must file lawsuits concurrently in every nation where their European patent is recognized. Such multi-forum litigation is costly and difficult, and may result in legal ambiguity. The Unified Patent Court, a court shared by the participating member states, centralizes litigation for both unitary patents and traditional European patents. This further promotes the growth of consistent jurisprudence and boosts legal certainty, reducing fragmentation.
A unitary patent give innovators uniform and extensive territorial protection in the participating member states. Thus, the same restrictions, scope of rights, and remedies are available across the UP's jurisdiction.
Patent owners can obtain a unitary patent by submitting a single request to the EPO rather than validating their European patent in numerous different states, which can be an expensive, time-consuming, and difficult administrative process. The procedure for acquiring unitary patents is fairly easy to understand and completely free of charge.
A unitary patent greatly reduces the expenses associated with acquiring patent protection throughout the participating member states and simplifies the European patent system. It eliminates the need to adhere to the unique requirements of different member states and the necessary costs for the same. These costs typically comprise publication fees paid to various national patent offices, translation costs, and any fees charged by local attorneys. In contrast, a unitary patent does not require the hiring of numerous local attorneys, agents, or specialized service providers.
The renewal fee is extremely competitive and business-friendly since it is equal to the sum of the renewal fees in the member states where traditional European patents were most frequently validated at the time of fee-level adoption. Thus, the patent protection will allegedly cost less than EUR 5000 for the first ten years, which is the typical lifespan of a patent. Additionally, patent owners who submit a statement on a licensing of rights to the EPO can get a 15% discount on the renewal costs.
Small and medium-sized enterprises (SMEs) and other small organizations that often have limited resources available can obtain uniform and comprehensive protection for their ideas through unitary patents in a simpler and more affordable manner. Additionally, the compensation plan, which provides SMEs, non-profit organizations, natural persons, universities, and public research institutions with a lump sum payment of EUR 500, reduces translation expenses for these organizations.
Transfers, licenses, and other rights do not need to be registered individually in each country's national patent registry in order to maintain a unitary patent. Rather, one entry made in the register for unitary patent protection centrally managed by the EPO will suffice. The same holds true for claims made regarding licenses of rights. A single legal framework, including in regards to the types of documents and evidence needed, significantly decreases administrative complexity. It also lowers related expenses, such as administrative charges and the cost of employing numerous local agents.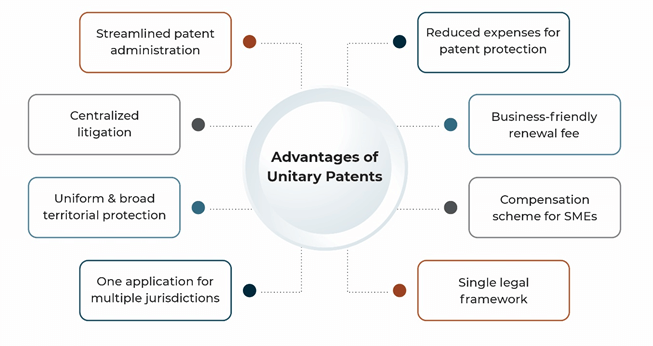 Jurisdictions Covered by the Unitary Patents
Most EU members have agreed to implement the latest patent system with a few exceptions. The United Kingdom has left the EU and announced that it no longer wishes to adopt unitary patents. Moreover, while Spain has refused participation, Poland has not yet signed the necessary laws. Since the time to ratify legislation varies for countries, the jurisdiction of a unitary patent is likely to evolve over time. It is noteworthy that the same patent cannot be granted unitary protection and also be validated in individual participating EU member states.
Furthermore, a unitary patent will not apply to Switzerland or Norway, which are covered by the European Patent Convention (EPC) but do not belong to the EU. However, applicants will be able to get a unitary patent and validate it in non-EU and non-participating nations. As per the developments so far, the first UPs that are expected to roll out in early 2023 will cover Austria, Belgium, Bulgaria, Denmark, Germany, Estonia, Finland, France, Italy, Latvia, Lithuania, Luxembourg, Malta, Netherlands, Portugal, Slovenia, and Sweden.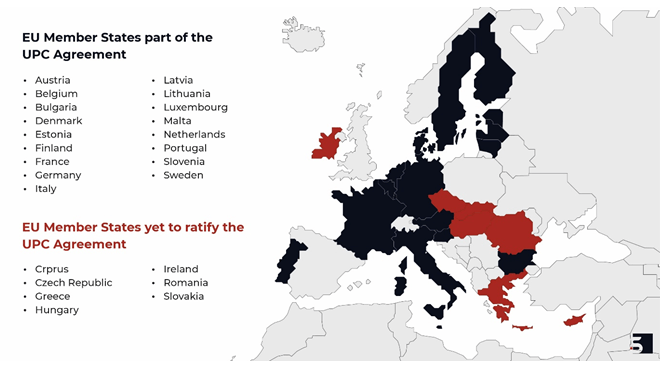 Unitary Patent Application Process
The European Patent Office (EPO) will be in charge of unitary patent examination and grant under the European Patent Convention (EPC), and the application and examination procedure for European patents will remain the same. Therefore, the application and examination of both European patents and unitary patents will follow the standard examination procedures.
Upon the approval of a European patent by the EPO, the applicant has one month to submit a request for unitary effect. The unitary patents provide patent protection with the same effect in all participating countries under enhanced cooperation. It is pertinent for European patents to have the same set of patent claims in all participating EU member states to register as a UP.
The unitary effect request for an English-language European patent must also be accompanied by a translation of the specification into another official EU language. For instance, an English translation must be submitted if the original application is in French or German. Applicants should therefore consider whether the unitary effect is of interest at the grant/pre-grant stage to allow time for translation and a request to be completed in due time.
Applicants who do not have a residence or principal place of business in any participating state can voluntarily specify "a place of business on the date of filing." Moreover, German law will be applied to the treatment of the unitary patent as an object of property.
Requirements for Unitary Patents
The following criteria is essential for any intellectual asset to gain unitary effect in Europe:
The European patent must have been awarded the same set of claims in each of the 24 participating EU member states. Thus, it is crucial to avoid removing the designation of any of the 24 participating member states' names during the examination.
The request for unitary effect must be made within one month of the European patent's grant. No official fee will be charged for the submission or assessment for unitary effect.
The request for unitary effect during the 6-year extendable transition phase must contain a translation of the specification into another EU official language. Moreover, this translation should not be prepared via automated means.
Unitary Patent Cost
The possibility to receive patent protection across several nations without the need to validate a European patent in each nation separately, with the related expenses and translation requirements for each country, is one of the biggest advantages of UPs. This will result in significant cost savings for applicants who consistently validate their patents in numerous European states. Furthermore, a single annual fee will be necessary for the renewal of the unitary patents, as opposed to the current requirement of renewal fee payment in each country where a European patent is to be renewed.
The renewal fee is set in accordance with the June 2015 agreement. It states that the UP renewal fee would be close to the total of the total fees payable for renewal in four countries where a European patent is most frequently renewed. These nations include Germany, France, the United Kingdom, and the Netherlands. Moreover, despite an initial proposal, small entities or SMEs will not receive any discounts on renewal expenses.
Whether this fee level will be sufficiently low to encourage widespread use of the system by applicants who validate in only a few countries or whether it will primarily benefit a minority of applicants who have already validated in many countries remains unanswered. According to the EPO, the adoption of a unitary patent system for small entities will be monitored, and additional measures to support their use may be put in place, if necessary.
Why Choose Sagacious IP for Unitary Patents
Sagacious IP is one of the most renowned and largest IP service providers in the world. We have successfully delivered more than 25000 projects in over 16 languages for clients from 100+ countries. Our 300+ patent experts have years of experience in offering patent and trademark-related services. To help clients secure their IP under the new patent regime, Sagacious IP will offer the following services in accordance with the unitary patent coverage:
UP/UPC Patent Registry Monitoring for Competitors (Competitive Intelligence) – It involves regularly watching the opt-in/out status of the patent portfolios of interest or those filed by competitors. It will help clients understand the strategy for various jurisdictions and provide insights on technology spread across markets.
Guiding Clients on UPC opt-out/opt-in option for European Patents – In accordance with their portfolio, we will advise our clients on the opt-out/opt-in strategy and help them understand the process of opting-out/opting-in once UP comes into place. Further, Sagacious IP will support clients in docketing, especially concerning changed timelines, translations, and costs.
Divisional Application Filing – We understand that some clients might prefer to maintain their patents under the old regime. With our extensive experience in invention harvesting, patent application drafting, and filing, we will assist our clients with inventions that could be considered for opt-in as divisional applications.
Conclusion
Reasonable renewal cost is an essential element to ensure that the unitary patents appeal to businesses, particularly start-ups. Additionally, it will lessen the gap between the price of patent protection in Europe and that of the US, Japan, and other nations. Making the choice of whether to pursue a unitary effect for their patents or stick with the current system is one of the most important decisions for businesses. Choosing whether or not to submit opt-out requests is another crucial task. Sagacious IP can assist your business in getting ready for the upcoming patent regime. To learn more about our expertise, visit our Unitary Patent and Unified Patent Court services page.
– The Editorial Team