Protecting your Brand in Africa with ARIPO Trademark Registration
Intergovernmental organizations, such as WIPO (World Intellectual Property Organization) and EUIPO (European Union Intellectual Property Office), allow applicants to register trademarks in multiple jurisdictions with a single application. African Regional Intellectual Property Organization or ARIPO is a similar body that registers and protects brand names and marks in over 20 countries in Africa. This accelerates the registration process, and helps applicants save registration and maintenance costs.
This article is a detailed study of ARIPO and delves into its advantages as well as the registration process. Before getting into the ARIPO trademark and its process, let us understand what trademark registration is and why it is crucial.
Trademark Registration
Registered trademarks have become immensely valuable assets in today's economies. Thus, owners are not only registering their marks, but they are also monitoring them on a regular basis to ensure that nobody can undermine their IP rights or diminish their brand image. Even though it is not mandatory to file for trademark registration, businesses and entrepreneurs are becoming aware of their IP rights and leaving no stone unturned in protecting their trademarks.
Below are the reasons to register a trademark.

Product / Brand Name Protection: Businesses must protect their mark and brand name against potential infringement. Unscrupulous market players regularly monitor successful businesses and their activities, such as their new products and brands, etc. Any unregistered brand name or logo invites imitation that can be difficult to control. Simply by registering your brand name, you can stop third parties from using your brand/product name, take action against imitation, and maintain brand exclusivity in the market. Moreover, failing to register the brand name can lead to a loss of revenue, market share, etc.
Build Unique Identity: In today's era of fierce market competition, it is not easy to set a business apart in the market. Thus, companies invest a lot of effort in ensuring the uniqueness of their brands and products. Therefore, it is always a good idea to register your brand with the relevant Patent and Trademark Office (PTO) to prevent squandering efforts. Registration with PTO can help build and protect the unique identity of brands and products.
Avoid Brand Confusion: By registering your brand with the PTOs, you can enhance brand recognition amongst customers to eliminate any confusion. As a result, they can swiftly and successfully identify your brands and products in the market, steering clear of imitations. Imagine a scenario where various suppliers of dairy products start offering their products with the same company name. As a result, customers will be unable to differentiate between the brands, and can end up purchasing inferior imitations. However, customers can easily recognize unique brands with no similar or identical brands in the market.
Boost Trust: Trust is a major factor to engage customers in the market, and trademarks play an instrumental role in building customer trust. A trademark registered with the concerned authorities implies that the business is certified by the government and follows proper guidelines to maintain the quality of products.
Enjoy Lasting IP Rights: Owners enjoy perpetual rights on their trademarks, and the IP rights expire only when one stops paying the renewal fee. While most national IP offices offer initial protection for 10 years upon registration, you can renew your trademark perpetually by paying the renewal fee.
Generate Additional Revenue: Customers easily trust registered products/brands owing to the government's inclusion in the registration process. Consumers prefer buying products from brands registered under National PTOs as they follow certain guidelines and rules. This helps businesses generate additional revenue by establishing trust, brand image and recognition in the market.
Protect Brand Legally: Trademark registration helps protect brands/products legally and restricts third parties from using a similar mark or brand name. In case a third party is found using the same mark, the rightful trademark owner can initiate legal action to immediately stop the party from using it and recover damages.
A trademark plays an important role for any startup, business organization, corporate, etc. It helps build brand image, trust, and strengthens brand recognition in the market. Furthermore, any company that does not invest in registering trademarks can find it challenging to expand business in other countries.
Thus, every business that seeks to establish brand identity and recognition in the market must file for trademark registration. Let us now delve into ARIPO and what it does.
Understanding ARIPO
The ARIPO (African Regional Intellectual Property Organization) is an inter-governmental body that provides and manages intellectual property assets on behalf of its 22 member states. These include Botswana, Cape Verde, Kingdom of Eswatini, The Gambia, Ghana, Kenya, Kingdom of Lesotho, Liberia, Malawi, Mauritius, Mozambique, Namibia, Rwanda, Sao Tome and Principe, Seychelles, Sierra Leone, Somalia, Sudan, Uganda, United Republic of Tanzania, Zambia, and Zimbabwe. The organization was founded in 1976 through the Lusaka Agreement to boost the development and protection of intellectual property rights in its member states. The main purpose of ARIPO is to encourage technological advancements that help its member states economically and boost industrial development. One can file a single application through ARIPO for protection in all the member states or file applications in member states individually.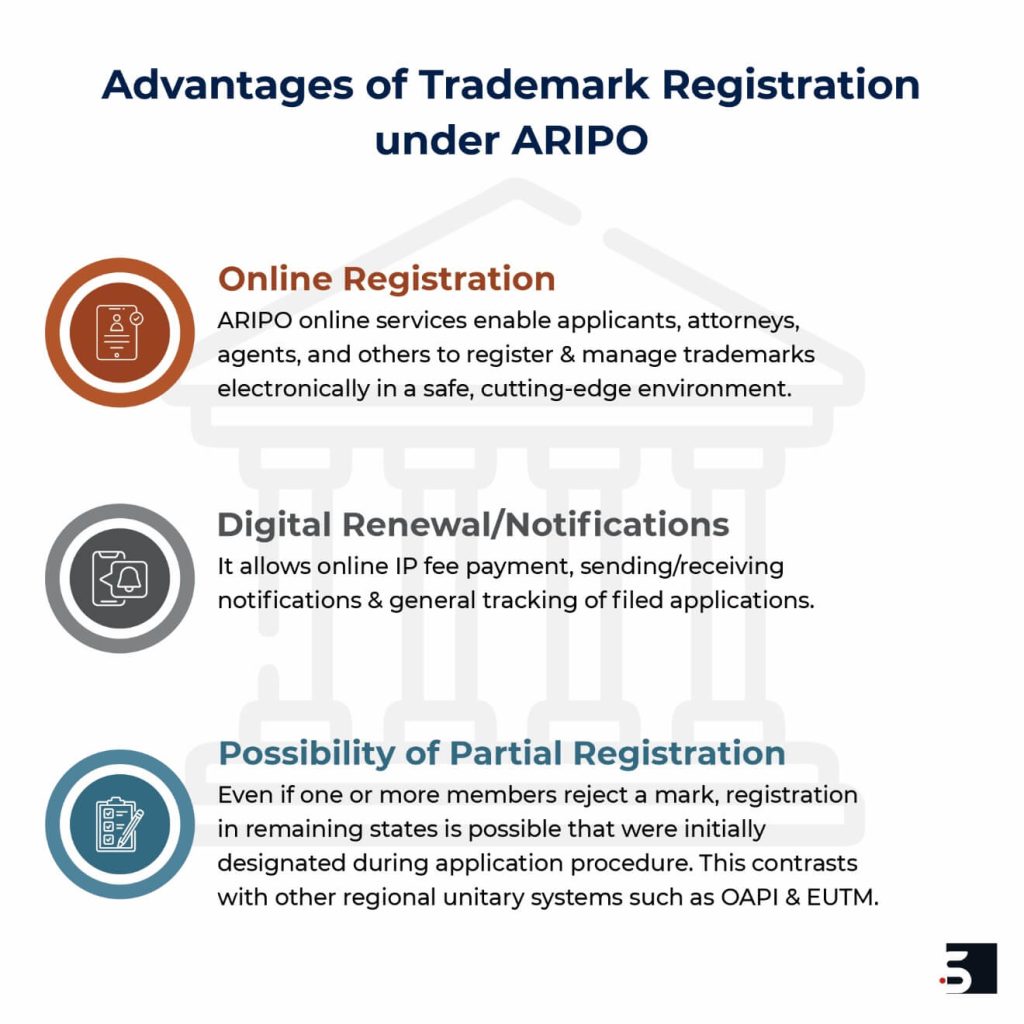 Procedure for ARIPO Trademark Registration
Any individual, company, or legal person, either themself or through an authorized representative, can file for an ARIPO trademark. An authorized person is either a trademark agent or legal attorney/practitioner recognized by the contracting states' national intellectual property office. They have the right to represent the application of the applicant. When the applicant is neither an ordinary resident nor has a principal place of business in any contracting state of ARIPO's Banjul Protocol, such an applicant must be represented while filing an application. Form M1 allows applicants to register a single or a series of trademarks under the protocol.
With 12 of the 20 member states using the Banjul Protocol currently, it offers a centralized trademark registration procedure for the convenience of applicants. Trademark registration applications may be filed either with the ARIPO or the intellectual property office in a member state. Moreover, the applicant must designate the member state(s) where the registration is sought.
If the applicant/owner of the mark decides to file an application directly with ARIPO or through a member state's IP office, the organization conducts a formal examination before granting the IP rights. Suppose the application contains all the required information, including the correct applicant details, and goods and services that adhere to NICE classes, ARIPO will notify the national IP offices to conduct a comprehensive examination according to their rules and regulations.
These national IP offices have nine months to perform a comprehensive examination to check the registrability of the mark. If the national IP office rejects the mark, they notify the same to ARIPO so that the organization can inform the applicant. When notifying the applicant, ARIPO also suggests possibilities for the applicant to take up the case with the national IP office.
In case the national IP office does not share any information with the ARIPO within the stipulated time, then the application is presumed to be accepted, and the IGO proceeds to publish the mark in its official journal. Once the mark is published, the opposition period of three months begins. During this time, any individual, company or other third parties can file a notice of opposition if they find any infringement with their existing trademark.
However, if there is no opposition and the applicant overcomes all other challenges, then the mark is eligible for registration in all countries where protection is sought. Once granted, trademark rights are valid for ten years from the application date.
Conclusion
The main motive of ARIPO is to foster creativity and innovation for the socio-economic growth of the member states through an effective IP system. Registering an ARIPO trademark can ensure the exclusive use of the name, phrase or logo and eliminate the chance that competitors may try to use it. The right to sue another business that misrepresents itself by using the trademark is also protected by ARIPO trademark registration.
Companies rely on trademark search to ensure they do not infringe on an existing trademark prior to launching a product in the market. This is where Sagacious IP comes into play. The trademark search services offered by Sagacious IP provide you with insights needed before filing trademark applications to save time and money. To know more about how we offer reliable trademark search service to our clients, visit our services page.
– Gopal Singh Rawat (Trademark) and the Editorial Team
Having Queries? Contact Us Now!