Best Practices For Conducting Design Patent Searches – Webinar
Searching patents on a patent database is an art of experience and technical expertise of the searcher. Hence, for this, one must know how to effectively search patents using technical keywords, various operators, and prior experience. However, in case of Industrial design patent searches, one cannot rely on keywords as the design can have a different title than expected.
For instance, a design patent for corkscrew that is useful for opening wine bottles can use the title "sommelier knife" or "waiter's friend". Moreover, it becomes tricky to capture such patents using general keyword-based search. Therefore, it is crucial to create an efficient search strategy to ensure the comprehensiveness of search.
Key-points covered in this webinar "Best Practices For Conducting Design Patent Searches" session:
Decide the need of a design search – know when and how?
Design patent databases that are available in the market.
What is design search (keyword)? Does it work on Design patent search?
What is Design search (Classification)? Does IPC or CPC Classification work for a design search?
Date Restrictions – How to ensure optimal date coverage.
Key-note speaker
Rohit Kumar, Assistant Manager, Sagacious IP
Anchor
Tanmay Mittal, IP Head, Sagacious IP
Submit Your Information to watch the Webinar Video:
Webinar Transcript
Tanmay Mittal – Welcome everyone to the webinar today!
This is Tanmay Mittal, Head of IP Solutions, India Region at Sagacious IP, signing in to welcome you all to our today's webinar. In our endeavour to demystify IP information and contribute towards boosting IP awareness, we are happy to host today's webinar which will throw light on best practices for searching design patents.
The topic for our today's webinar is "Best Practices for Conducting Design Patent Searches". Before I go on to introduce the esteemed speaker for our today's session, I'm delighted to welcome all the participants from different countries and thank them for taking out the time to join us today.
I always say that your participation is a wonderful encouragement to the efforts and attempt that we're making to raise awareness about Intellectual Property through the knowledge that has been honed by Sagacious IP over several years of working with Inventors, R&D Organizations, IP Departments, and IP Law Practices.
Without further wait, let me introduce Rohit to our listeners. He is a seasoned professional with more than seven years of experience in the field of intellectual property and works as an Assistant Manager with the Engineering Team at Sagacious IP.
Rohit holds a Bachelors of Technology degree in Mechanical Engineering, and he also holds a Postgraduate Diploma in Patent Laws from NALSAR University, Hyderabad.
At Sagacious IP, Rohit is responsible for managing clients' requirements related to various aspects of IP like Patentability, Monetization, Invalidation, Tech landscape, Technology Opinion, et cetera.
Welcome to the webinar, Rohit!
Rohit Kumar – Thank you Tanmay for the introduction, and welcome everyone to this webinar.
Tanmay Mittal – Thank you, Rohit.
I would like to mention that in case you have a particular topic in your mind and you would want us to host a session on that topic, then please feel free to drop us a line at webinar@sagaciousresearch.com. We will get back to you with more information on the same and schedule something for you.
Let us now get started with the main part of our presentation, and for that let me invite Rohit to begin the presentation.
Rohit Kumar – Let us begin this webinar which is on "Best Practices for the Design Patent Searches".
Disclaimer
At first, there is a quick disclaimer as we will be using lots of pictures for examples to make the understanding of the webinar efficient. We are using these pictures for the education purposes only, and there are no commercial benefits for using those. Moreover, we are not claiming any kind of ownership to those products and the logos which we are sharing in this webinar.
Design Patent
Let's begin with Design Patent. It is important to first understand what Design Patent is?
Design Patent provides protection to the ornamental, or we can say aesthetic aspect of a particular product. Now, the aesthetic or the ornamental is defined – how that particular product appears to a customer or to a person. Design patent also provides the protection to those aesthetic and ornamental aspects. The life of a design patent is generally 14 years in India, 15 years in US, and 25 years in Europe.
Case Study: Jaguar vs. Jiangling Motor Corporation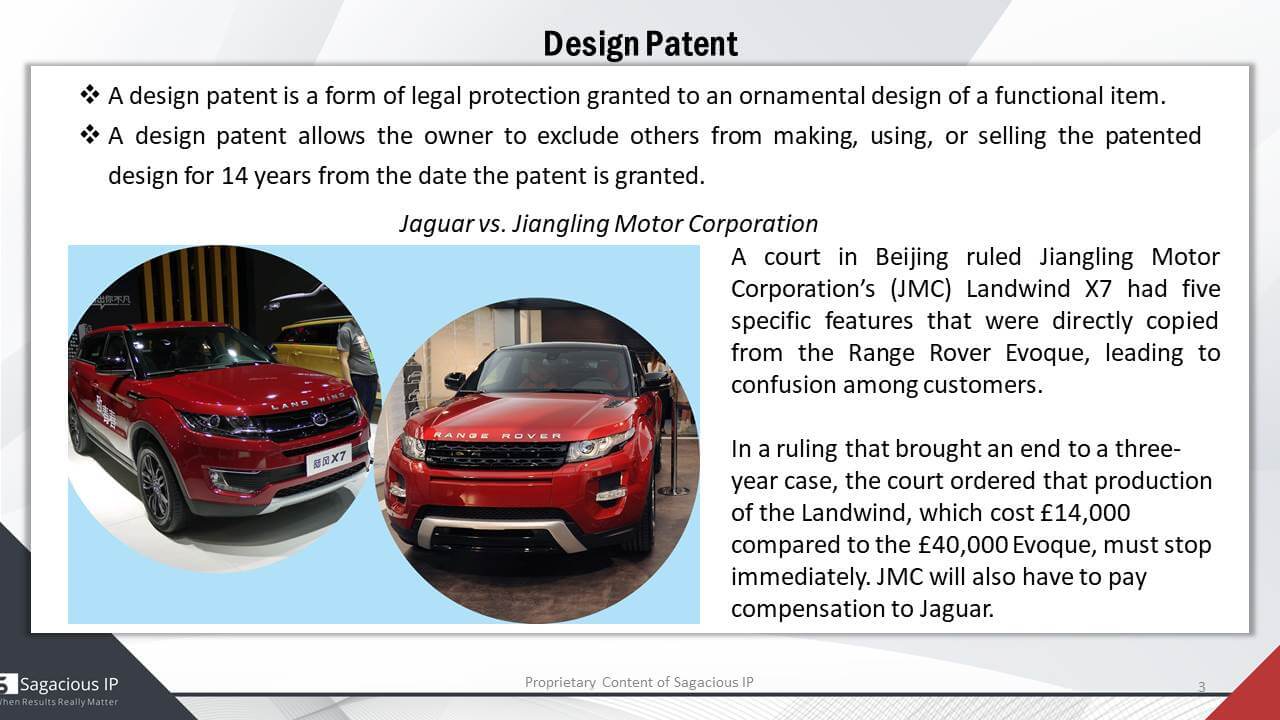 Here is a very quick case study which will help you to understand why design patents are necessary.
Jaguar has filed for a design patent for its Range Rover Evoque. Now in China, a company named Jangling Motor starts selling a copy of Range Rover Evoque at price of only €14,000 while the original price of Range Rover Evoque was £40,000. This was making huge loss to the Range Rover. They had applied for this design patent in China. They were able to show their muscle power to Jiangling Motor and stop them making and selling the copy of its Range Rover product.
In a nutshell, design patents help the companies to stop the copy of their products in the market and gain profits.
Design – Patents Components
Now, here, I'm showing you a simple layout of a US design patent – how a US design patent looks like. The various sections of the US design patents are presented here.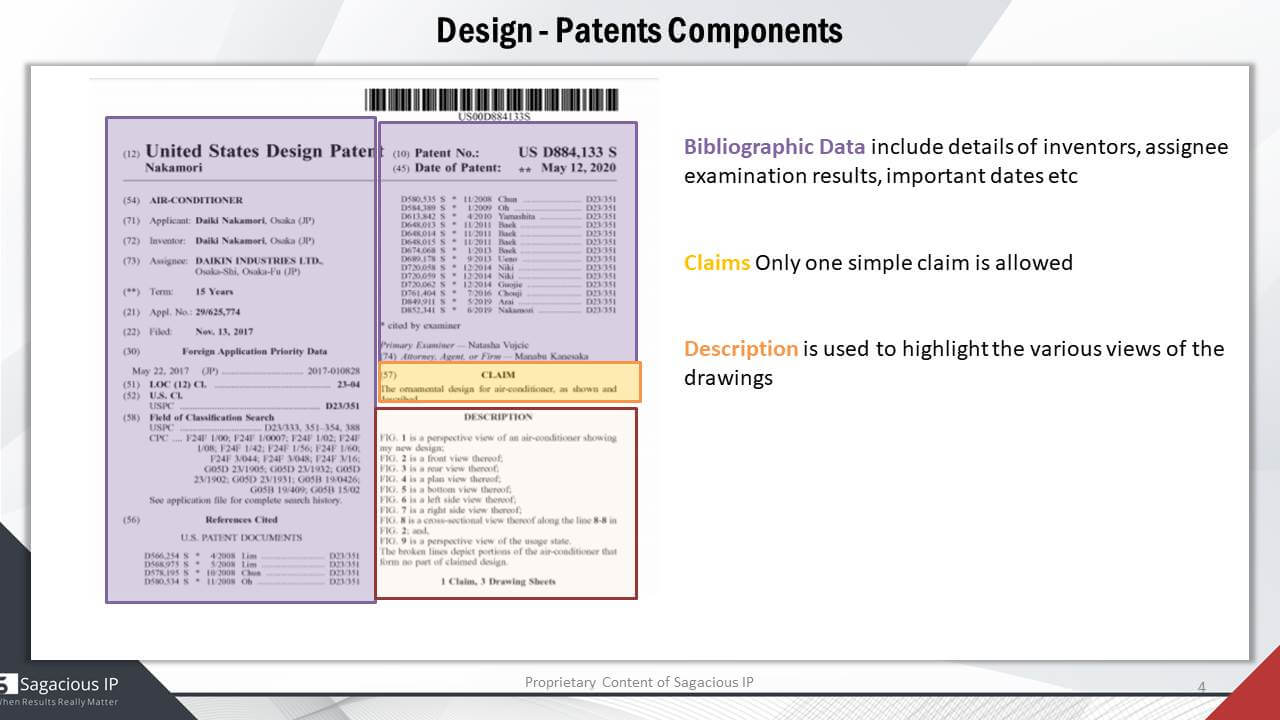 Bibliographic Data
The first section is the bibliographic data which is highlighted in the purple shape. The bibliographic data includes details such as inventor's name, assignee as well as the important dates like application date and filing date. All this helps us to identify and look for this particular design patent in the respective databases so that one can know that what type of technology is contained in it and if they are aware of this technology, they can, using the bibliographic data, trace back who is the owner or who is the inventor of this particular technology.
Claim
Then, there is the next section which is claim. There is only one simple claim that is allowed in the design patent. And it is very simple. Just a descriptive claim mentioning only what this design is for. Like, this is the ornamental design for a ring, or this is the ornamental design for a tiffin box. Such type of simple statement is allowed as a claim in design patent.
Description
Then there is a description section, which is just nothing, just containing the figure's number of the various views which are presented in the design patents.
So, here, we can see that in design patents. As the name says, it's a design patent. The main soul of this patent is design.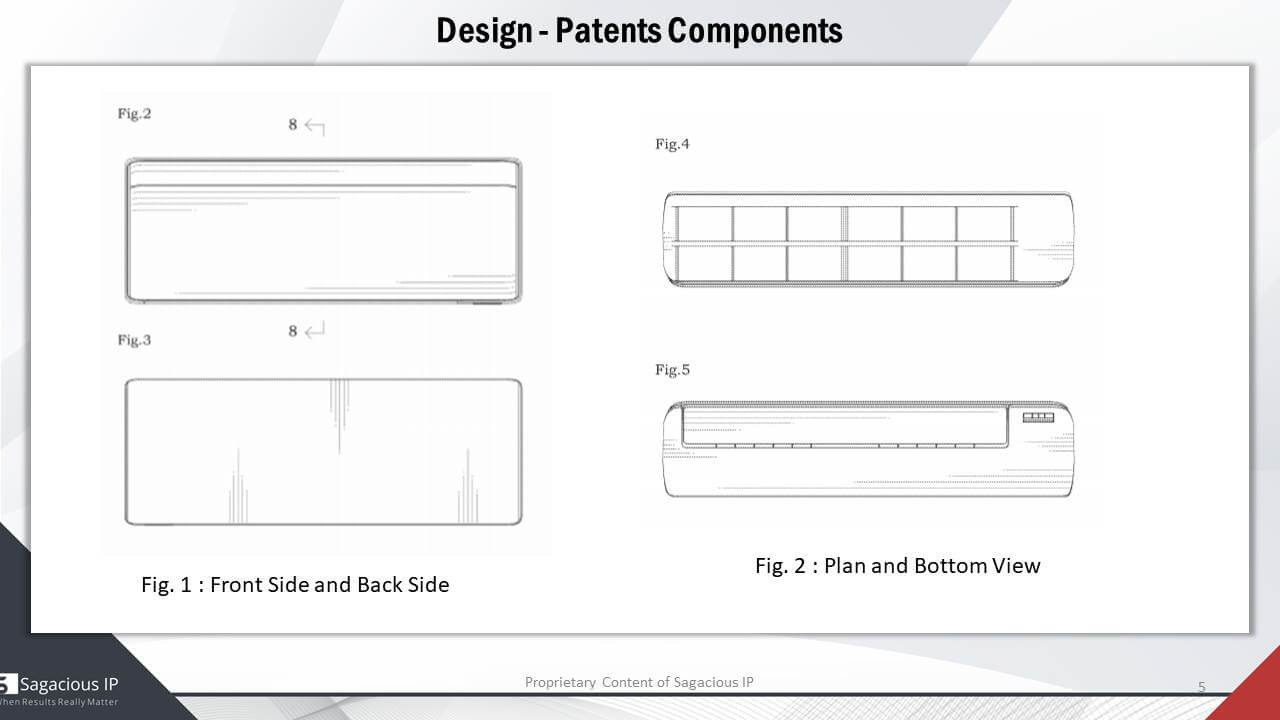 Here we can see an example of a split air conditioning unit where the solid lines represent the novel aspects of this product. There are different views which are presented in the design patent like top view, front view, side view, etc. There are multiple views which one can represent in the design patent.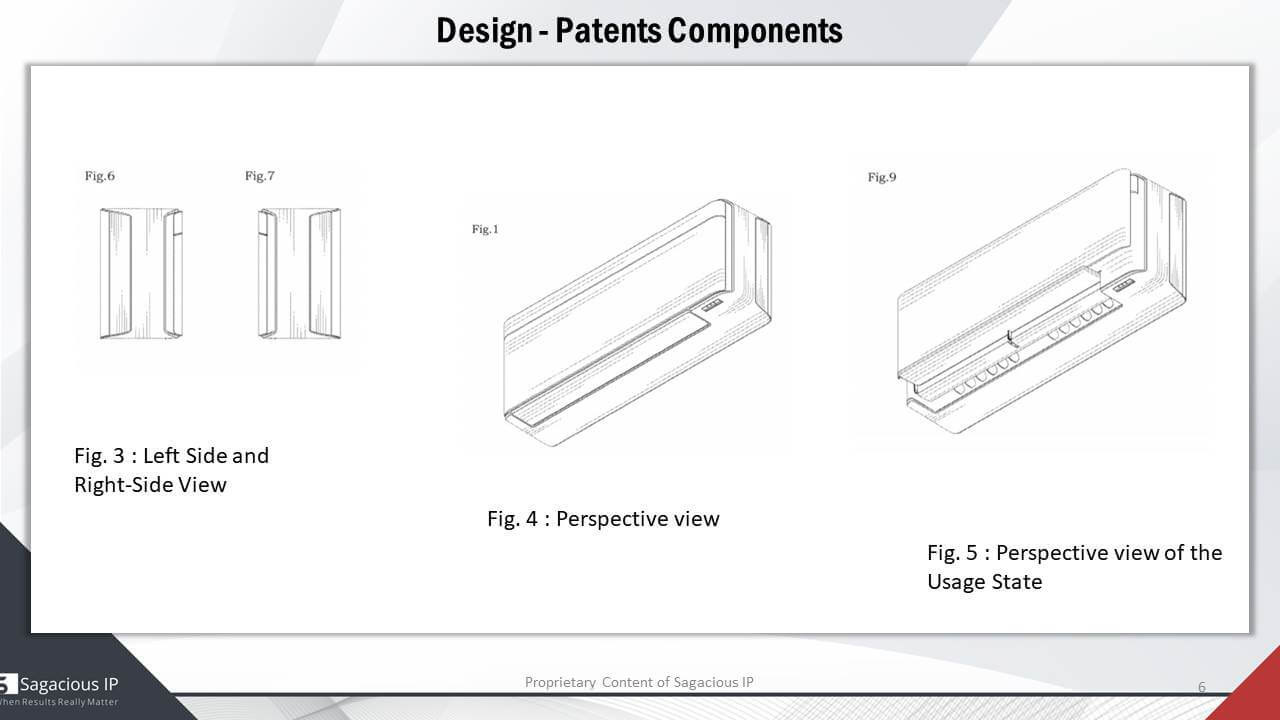 Deciding When to Do a Design Search
It is important that one should know when to do a design search. Here, we have a quick poll for you guys.
Tanmay Mittal – We have a quick poll for our audience today. How many claims are allowed in a design patent? So, we just took a look at one of the examples of a design patent from US.
In general, how many claims are allowed in the design patent?
We have options:
Single Claim
Unlimited Claims
Or no Claims allowed at all
So, you can choose one of the options. I'll keep this poll running for just one more minute.
Tanmay Mittal – Great!
I'll close the poll now. So, around 50% of us have voted that we are allowed only one claim, and 50% said that no claim at all. I would like Rohit to throw more light on that, and with that begin the next section – how can we decide when to do a design search?
Over to you, Rohit!
Rohit Kumar – Right! Thanks, Tanmay.
Scope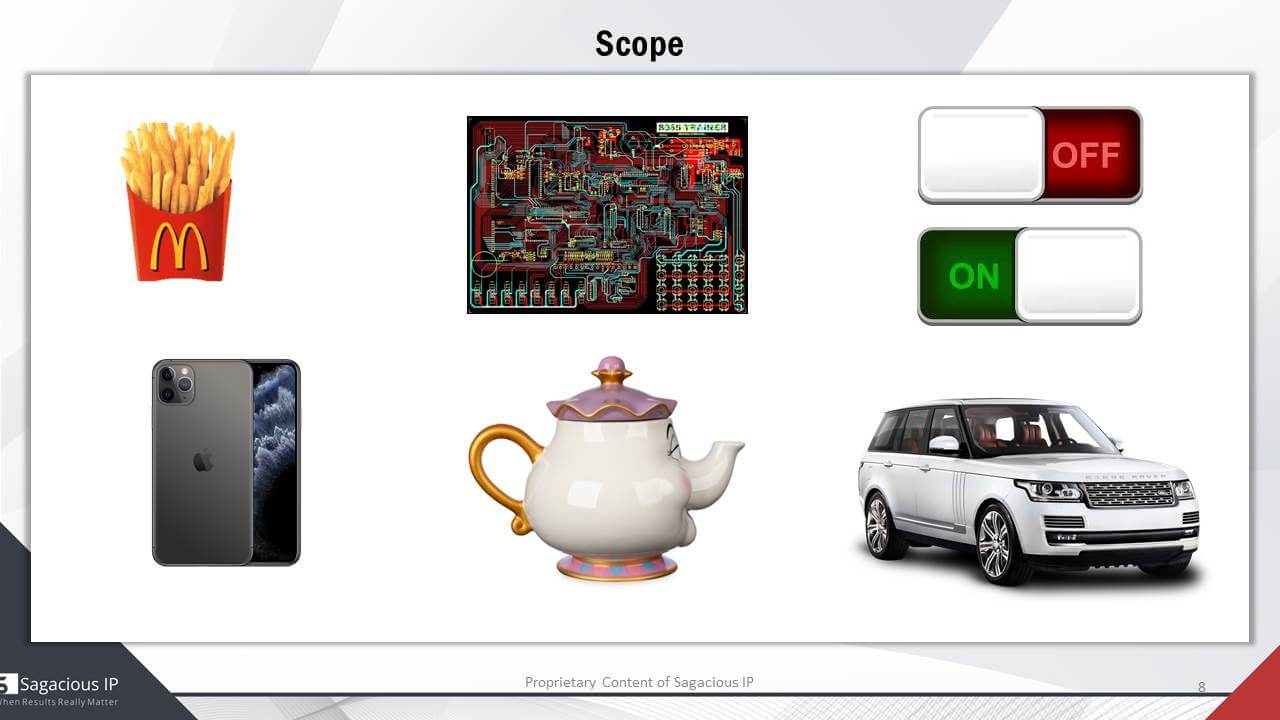 Now we will understand what things are covered in design patent. So, here different examples from different domains are presented in this slide. One can see that different elements like packet for holding French Fries, critical designs like the circuit board design, or a design of an automobile, UI designs, then physical appearance of a mobile phone. So, such types of different products are covered in the design patents and the appropriate protection of them is seen. I guess it is important that one should understand the scope of the coverage.
Let us say that we need to protect the design of this automobile car shown here. So, if we have this product in mind, we will be looking for whole product in the design search. This is not the right way of doing the design searching. One should need to know that what different components can be separated from it, and the independent design search can be conducted for those parts.
Let's say the alloy wheels. They can be a separate entity and can be used in different areas. So, if the design of the alloy wheel is unique and new, and then there is possibility of getting the design patent for that also. Moreover, one should cover that aspect in a separate search. One should not be looking for all the automobile body design. They should be looking for this alloy wheel design separately.
There might be a single separate patent showing this design or there might be similar case that can be done for the headlights, or there might be different patents or the different categories, where one can search these types of headlights and that can be found there.
So, if there is a design patent of that headlight already in the market and the company decided to use that design and they don't have the knowledge of that particular patent, and then the owner of that patent is waiting for this opportunity. He will go after this automobile maker that they are infringing my design and he will earn the profit.
So, it is critical that the scope of the search is well defined. If the product is given for the design search, various components, which can be separated from that product, and both products, which can exist independently, should be searched as a separate search. A separate search strategy for that product should be created. In this way, one can assure that each and every aspect of a particular design is properly covered.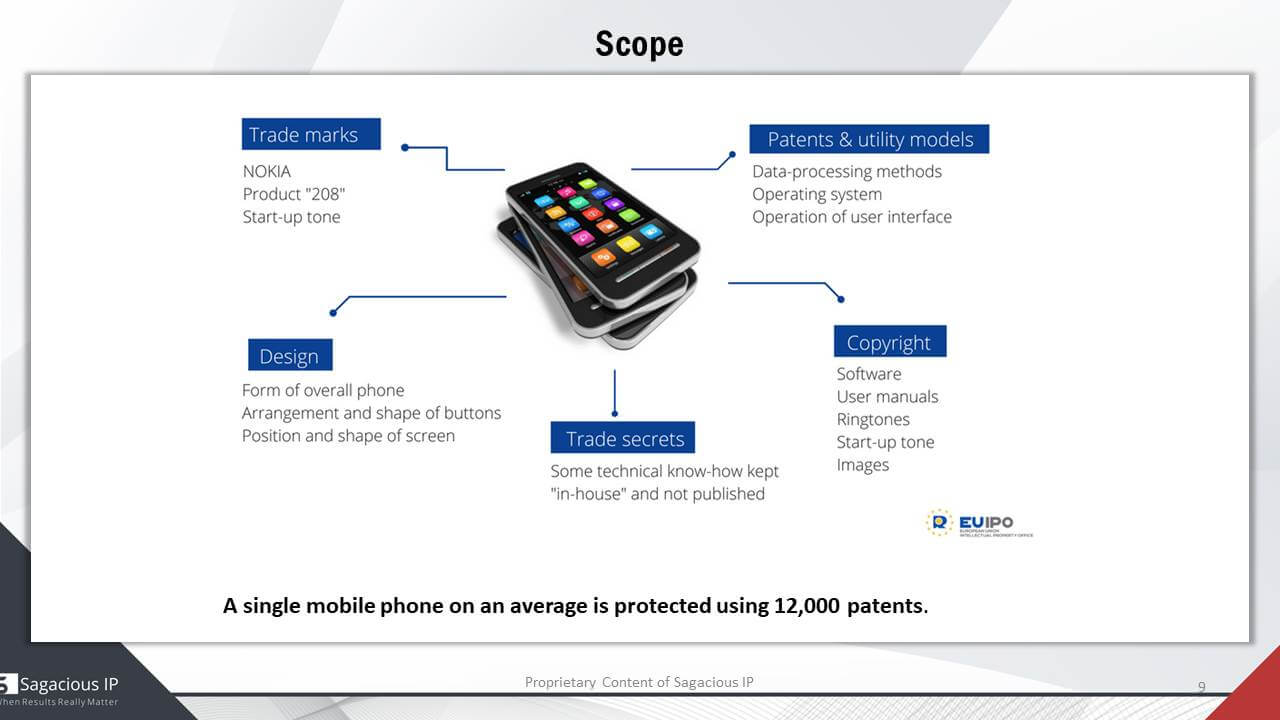 Now, here, this picture represents how a single mobile phone covers the various types of IP. So, here we can see a trademark is covered; Design Patents, Trade Secrets, Copyright, Patents and Utility Models.
So, all these IPs are covered in a single mobile phone. On an average, 12,000 patents are protecting a single mobile phone. Now, these 12,000 patents will be related to different components.
Then to the designs – Design will be covering the UI, the software, the icons, the interfaces which are used in the software of this mobile phone.
Then the hardware's physical appearance and the feel of this product are covered in the design patents. The design of circuit board is also covered using design patents. As I have mentioned in previous slides, a single product is having different type of designs and they all are protected independently. This whole mobile phone is not covered using a single utility or a single design patent. Multiple design patents are involved. Multiple utility patents are involved, and other different types of IP aspects or IP categories are involved behind this single product.
It is important that the scope of a search is well defined. If you look for a particular product and find the prior-art related to the design of that product in design patents, one should be clearly able to differentiate the various elements from that product from design perspective. And for that he must be aware of different type of design and which things can be covered in the design patents. Then, they can apply the appropriate of protection for those features.
So, it is important that one should understand this scope. That how design patent is covering the scope of a particular product.
Design vs Trademark
There's often confusion in the market when one goes for the design search that I am having a trademark. I have this product getting trademarked, and consumer can know this product belongs to me. I don't need to file for a design patent. I don't need the design patent. I have covered my product using the utility patent, and then they can skip the design patent and save your cost, but that can go costly.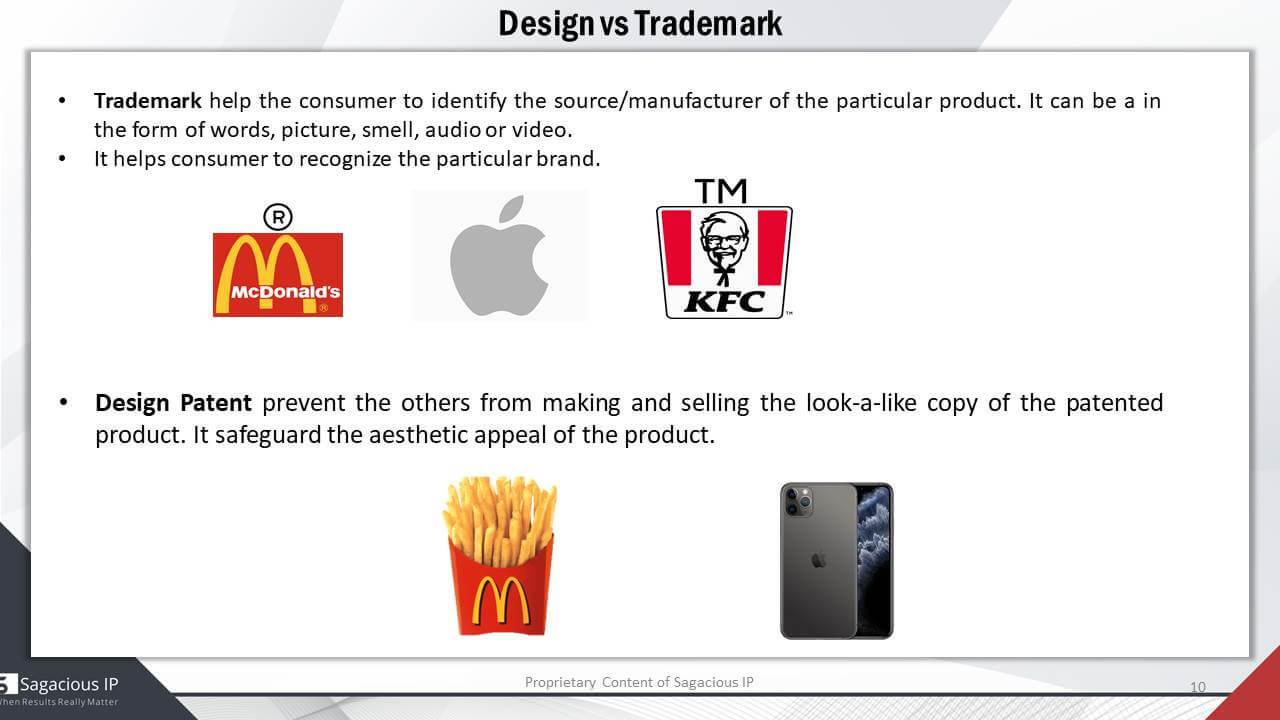 One need to first understand what Trademark is. A trademark helps the consumer to identify the source or manufacturer of the particular product. It is their logo or word mark which is pasted or integrated on the product so that a consumer can know that this particular product is manufactured by this company. If they are brand conscious, they can make their purchase according to the reputation of that particular company in the market. On the contrary, design patents stop others from making and selling the lookalike, or we can say duplicate copy of the protected products.
One example here is of this chip's packet. So, if McDonald has applied for this design patent for this chips holder. They can stop the competitors from using such type of chips holder, and they can give a premium appearance and premium feel to its customers. The customer would be like, "Oh! It's easy to hold the chips packet of McDonald's. I will make purchase from there. It's difficult in other cases." That's how using a design patent and seeking the appropriate protection help them in gaining customers' trust and gaining the profits.
Similarly, the feel and look of this mobile phone is also covered using design patent, so that the competitors don't start selling the copy of this particular product. And by this, they can ensure that the customers remain loyal to a particular brand, and they are addicted to its design, feel, and the look of its product.
Case Study
So, here is one very interesting case study.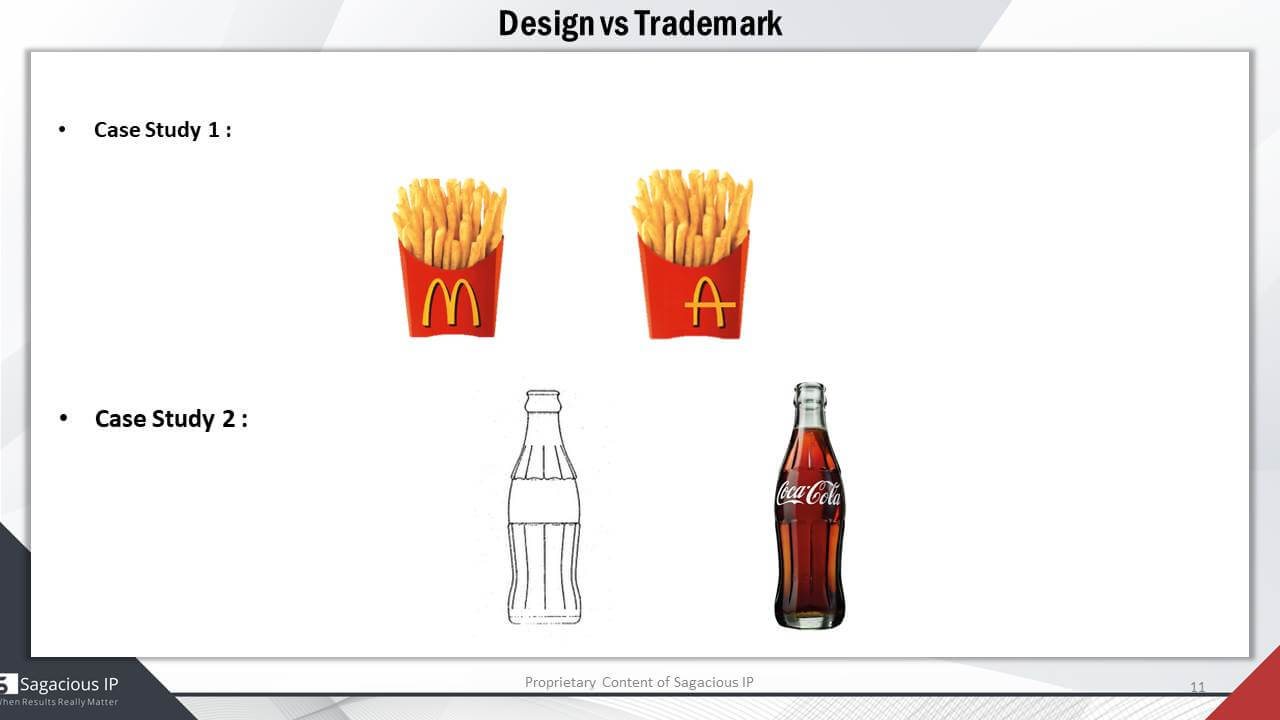 I'll go with the Coke case study here. In initial days, Coke has applied for the design patent of its Coke bottle so that it was able to cut the competition in the market. With proper advertisement and the popularity of its product, it was able to reach the large number of consumers.
After its design patent was revoked, still companies preferred not to sell their products in a copy of a Coke bottle. There is a reason. Because when Coke has applied for the design patent, it has given the Coca-Cola Company a monopoly period of 15 years in the U.S. I'll leave the rest of the countries.
In the U.S., no one was allowed to sell cold drink using this type of bottle. What ultimately happened? For 15 years people were buying the Coca-Cola products. They were making themselves aware about the feel and the look of the bottle. They were able to identify that it was a Coca-Cola product if the bottle was not containing any Tags or Stickers or a Trademark sign on that bottle. It gave the power to Coca-Cola to reach the minds of large number of customers so that after its design patent was revoked, still other companies preferred not to use this type of bottle as they would look like a duplicate copy of Coca-Cola. The popularity of Coca-Cola was high after that.
Thus, it was able to gain the loyal base of customer, earn huge profits, and maintain its brand reputation by having such type of strategy.
Best Practice 1: Choosing the Right Keywords
Now, we will start with our main agenda of today. It is related to the best practices for the design searches. In earlier slides, we learn about the design patents, various cases in the industry, and how industries are using design patents as a tool or as a strategy to gain profits to capture their customer base.
So, here, it becomes important that one should carry out the design patent searches perfectly. They should be able to understand how and when the design patent search need to be conducted and the appropriate way to conduct design patent search.
Keywords
So, our first practice is "Choosing the Right Keywords". When it comes to the keyword based searching, when it comes to the patent searching, every patent searcher, whether he's naïve, experienced, master, or any years of experience level, he is very much aware about the keyword searching. They generally do the keyword searching, and it's the first step. We can say baby step. Whenever a new product is given to a patent searcher or a new invention is given to a patent searcher, he will quickly read the invention disclosure and carry out the keyword based searching, but many of naïve professionals make a huge mistake during this step. We are going to learn what the mistake is and how to avoid it.
Case Study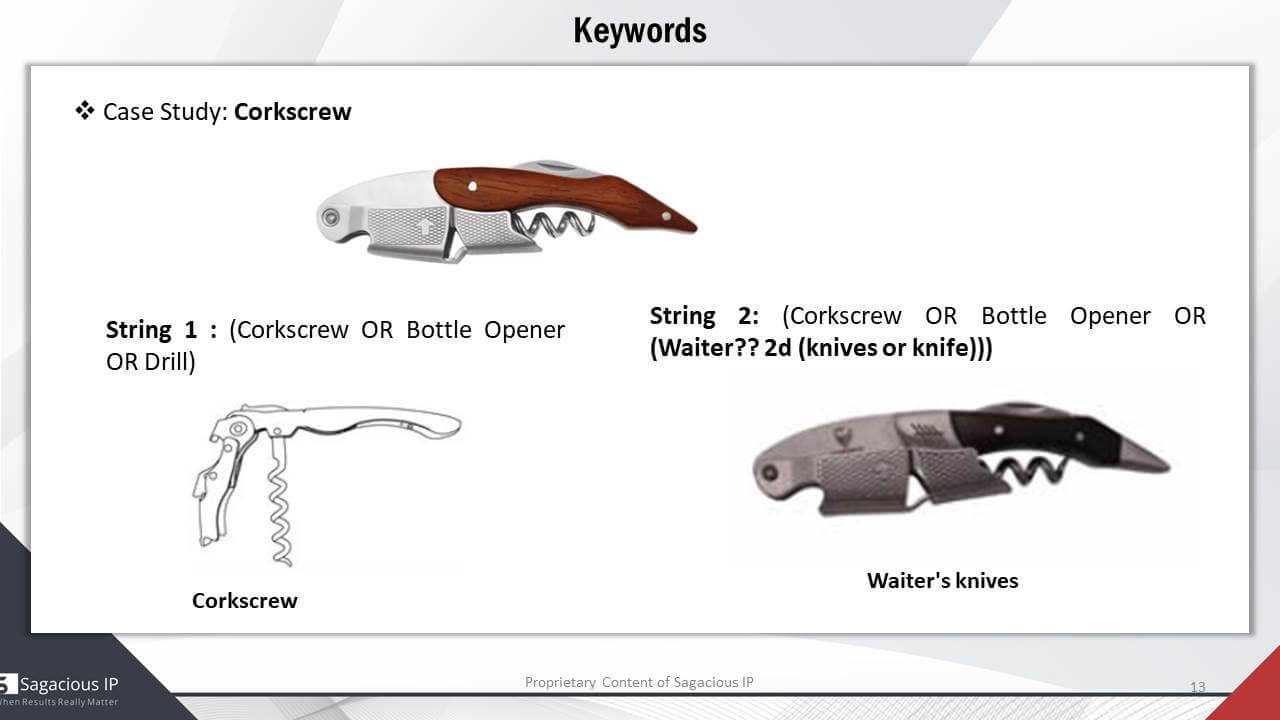 First, let me give you a case study here. So, initially, we had to search a corkscrew design as shown on the screen. The invention disclosure was saying that it's a corkscrew for opening a wine bottle.So, initially, what a naïve searcher will do. He will go to the patent search database and type the keywords.
Oh! It's a corkscrew. Done! Synonyms! He will use his instincts. Oh! It can be a bottle opener. Done! He will do random searches. Ok! I didn't find any related word to corkscrew, but its design is similar like Drill, so I can use this word. He will include that word also. So, He will prepare a Search Strategy – that Corkscrew, Bottle Opener, and drill. A search will be conducted, and the results, as shown below, will be captured – which are titled Corkscrew and which are having title Bottle Opener as the scope of the keyword is limited in the design patents. So, a naïve searcher uses his instincts to choose synonyms, but this practice needs to be stop.
Using the synonyms and the keyword are an important part of a patent search, but choosing the correct keywords and synonyms and making the iteration of this process are the critical aspect. It is important.
As you can see in String 2, keywords like waiter's knives or knife are used. By having such type of strategy, a searcher is able to identify a product which is nearly identical to this design, while the title of that design because of which he is able to capture this is waiter's knife.
So, initially, if one has used Corkscrew, Bottle Opener, or Drill only. They might not be able to capture this type of patent. So, it is important that practice of using the keywords, practice of using the string for selecting the keywords needs to be stop.
The usage of words in the design patent search is minimum, and if one is conducting a keyword based search, they must be aware of the main six principles of fetching the right keywords, right synonyms, and using them in the patent search strategy.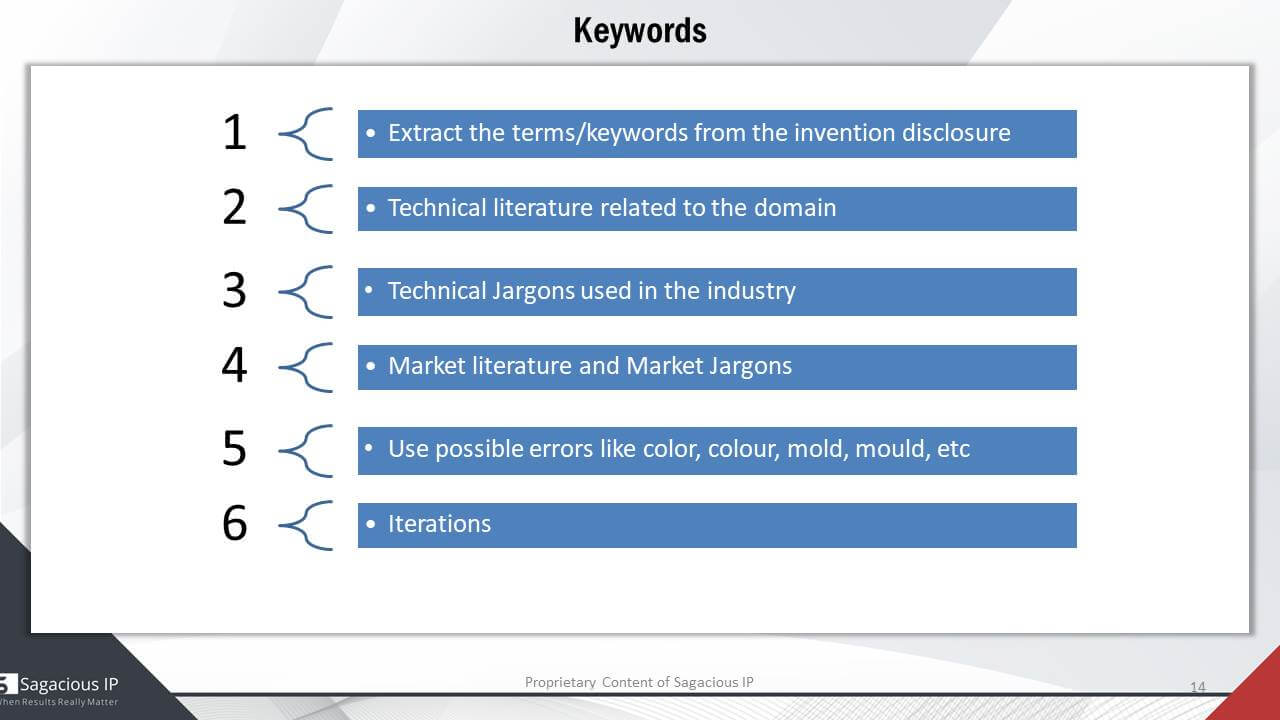 Extract the Terms/Keywords from the Invention Disclosure
The first fundamental principle for choosing the keyword is extracting the information from the invention disclosures.
Clients, generally, share the invention disclosures to describe their inventions. This gives the perspective to the searcher also. This is the product! This looks like this thing, and then their instinct they are applying to know other synonyms. Experience will be like I have conducted some previous searches, so I know two or three more synonyms. It's the first step, but it shouldn't be the last step.
There are five more steps which need to be followed before hitting the search database.
Technical Literature Related to the Domain
Second step is reading the technical literature related to the domain. It is corkscrew in normal world language. In technical literature, it is waiter's knife, sommelier knife, or bottle opening tool. Such type of words can be used to represent this type of product. Such type of information can be captured using technical literature related to the domain.
Technical Jargons Used in the Industry
Then, there are technical jargons which are used by the industry to represent that product like it's a sommelier knife. Such type of words which are not technical one, but they are used by the R&D experts or used by the industry to describe the various components of the product. So, such type of information needs to be researched.
Market literature and Market Jargons
The market literature and market jargons – how this product is sold in market, how different companies are branding and naming such type of products.
Use Possible Errors like Color, Colour, Mold, Mould, etc
There is need to eliminate errors. Now, Colour is written as C O L O R as well as C O L O U R. One should be aware of such type of differentiation. It should be integrated in the keyword search strategy.
Revision
One should be aware of these fundamental points while making the keyword selection. Also, there is one critical point which is not mentioned on this PPT, and that needs to be kept. It is Revision.
One needs to revise the search strategy timely basis. Moreover, one needs to put effort in the research for choosing the keywords. You are searching, using 2 or 3 synonyms on the search database. You might hit the jackpot using 2 and 3 words, but this strategy might not work for each and every project or each and every product.
So, it's critical that one should not use the instincts in choosing the words. Moreover, one should properly research; conduct the market survey to know the product, how it is being sold in market, and how it is named in the market. Use all that information to make a comprehensive search strategy for the design patents.
In Utility Patents, one can skip few words as there are lot of words involved in the utility parents. So, in the description, there might be some words which can help you capture that particular patent. However, in design patent, if you are skipping one word, then you're skipping a whole lot of section of results. And, that will cost money to the client. They might be happy that there is no prior-art for this product.
They will apply for the patent and start selling their product in the market. And, later on, there was one Russian patent and there was one Chinese patent. When they entered those markets, they face infringement and losses occur to them. It is important, while searching, to research, properly evaluate the keywords, and then integrate them into the search.
Best Practice 2: Using the Right Classification
Now, the next best practice is using the right classification. Keywords are well understood. Classification: we'll learn about it.
Classifications
Generally, when it comes to design patents, a searcher is mainly familiarize them with the Locarno Classes. They are using this classification system, which is used by most of the patent office across the globe. While creating the design search strategy, they'll be looking for the Locarno Classes.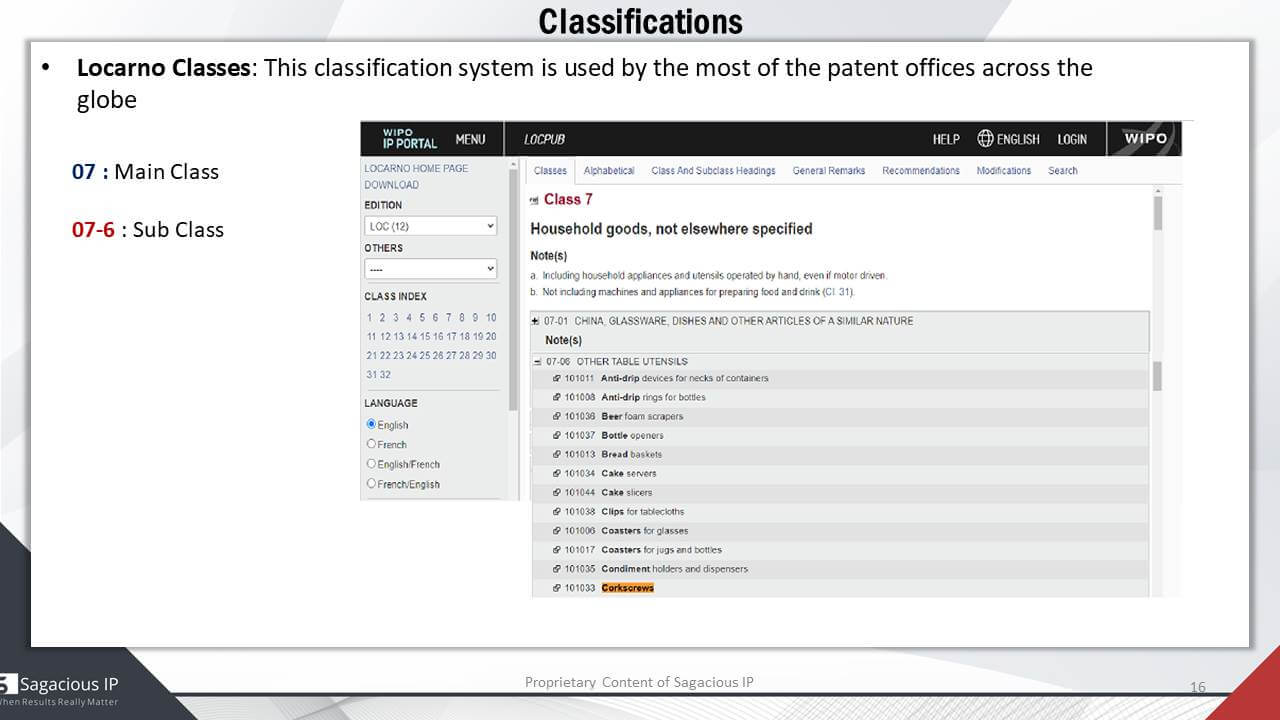 As you can see here that I have shown the interface of Locarno Classes which is the mandate of WIPO. So, for corkscrew, here, the main class is seven and the subclass is 0706 which is under title Other Table Utensils and that class is covering the products like Corkscrew. This Locarno Class will be used for conducting the search.
Is there only this class? Is there any possibility of using other classes, other way, or different classification that can be used?
Let's see what they are. So, apart from Locarno Classes, there are national design classes. Countries such as USA, Canada, and Japan have their own design patent classification system.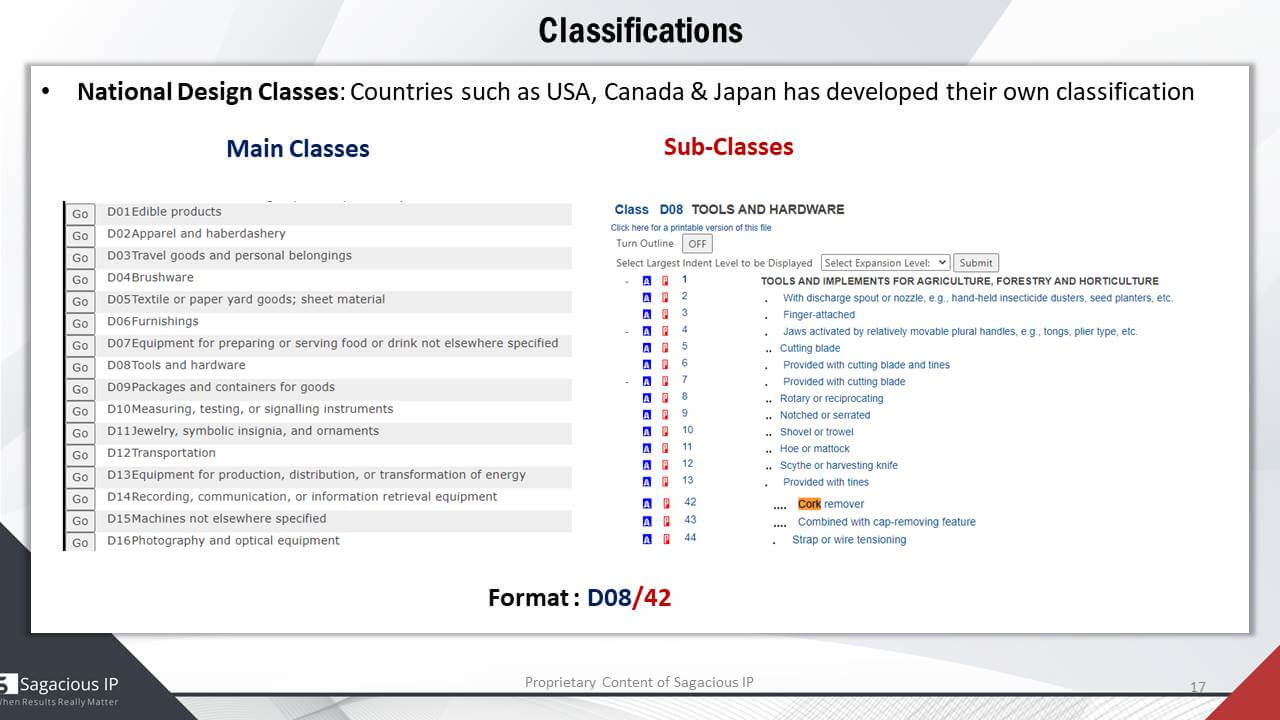 Here, an example of the U.S. design classification system is shown. Here, you can see the main class represented using D followed by numerals 01 for edible products, and then there is D08 for tools and hardware and followed by the subclass like 42, here, is of Cork Remover. Here is a new keyword. You can say that Cork remover can also be used in our keyword based searching as a synonym of Corkscrew. So, D08/42, this is the class.
For Canada, it has a different classification system. There is a different classification system in Japan. As a result, one should need to be aware of the various classifications. If one is conducting search in the U.S. and Japan, they must be aware of that. Apart from Locarno Classes, for the U.S. patents, they can use the design patent classification of the USA, and for Japan, they can use the design patent classification system of Japan. They can use the combination to create a comprehensive search strategy.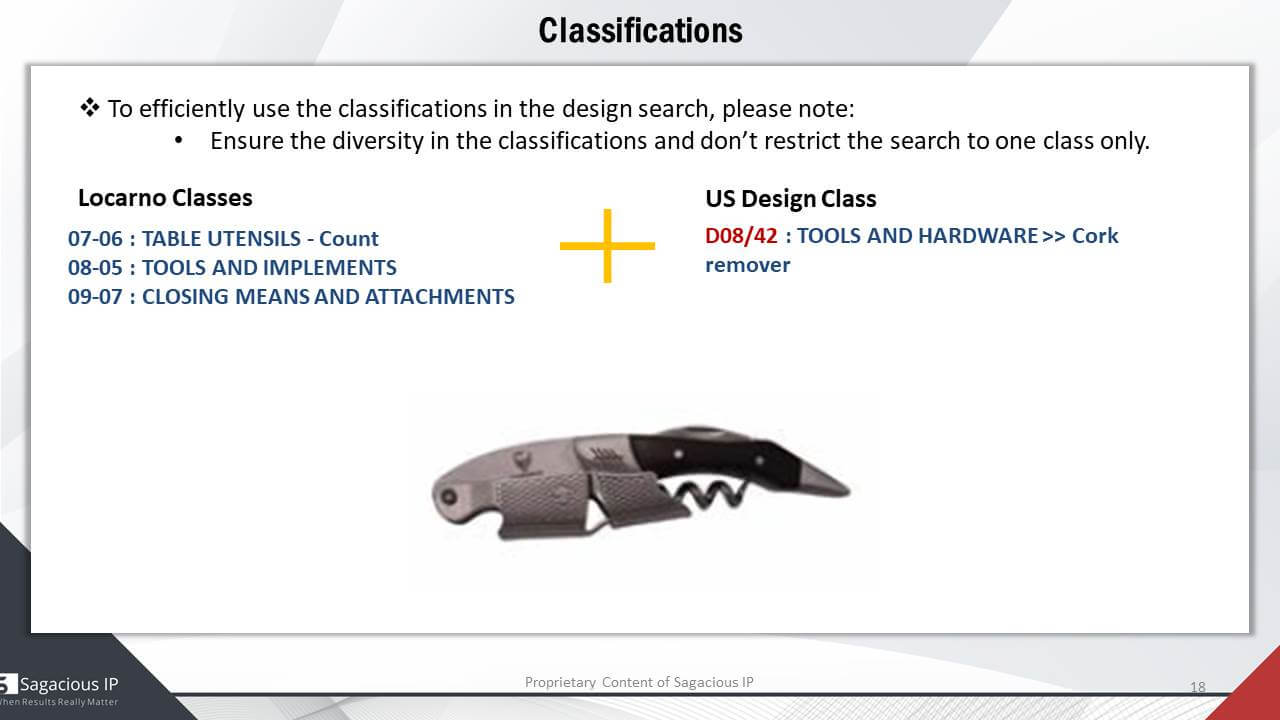 So, here, we can see how an efficient search strategy or comprehensive search strategy can be created using the diversity of the classification. Generally, design search is considered less important. Sometimes, the product is normal that there is non-patent literature, but the dates play a crucial role if you are conducting the invalidation search.
So, here, one needs to know the prior-art. In the market, NPL products are there, and NPL (Non-patent literature) can be used to destroy the validity of a particular design patent.
But establishing the date for non-patent literature is always a tough task. So, by having a comprehensive search strategy, one can ensure that their classification is covering each and every aspect and domains. Earlier, we have seen that 07-06 is of Corkscrew. However, it can be categorized in 08-05 that is related to the Tools and Implements. There is 09-07 Closing Means and Attachments.
One needs to be fully aware of the domain and the different areas in which this product can exist and can be categorized by the respective patent office. All those classes should be included. One shouldn't be restricting their search to just one single classification.
There is 1 class 07-06 that is mentioning Corkscrew. I'll read all the patents mentioned in that class and my search is done. That is a very wrong practice, and that needs to be stop. One should look for other domains and other areas where this type of products can exist, and that need to be integrated in the search strategy.
Similarly, if there is provision of National Design Classification System in that particular jurisdiction which you are covering in your search strategy, then you should also look and search using those National Design Classes. You shouldn't be eliminating them. I won't be using them. I'm doing the Locarno Classes only, and my search strategy is comprehensive. No, that's totally wrong. If you need to fetch the patent, you need to know your options and you need to use them very well. This way you can ensure that your coverage is optimum and you have covered the maximum possible patents from where the prior-arts can be found efficiently.
In Case the Patent Hit Count in the Class is High; Use the Combination of the Keywords also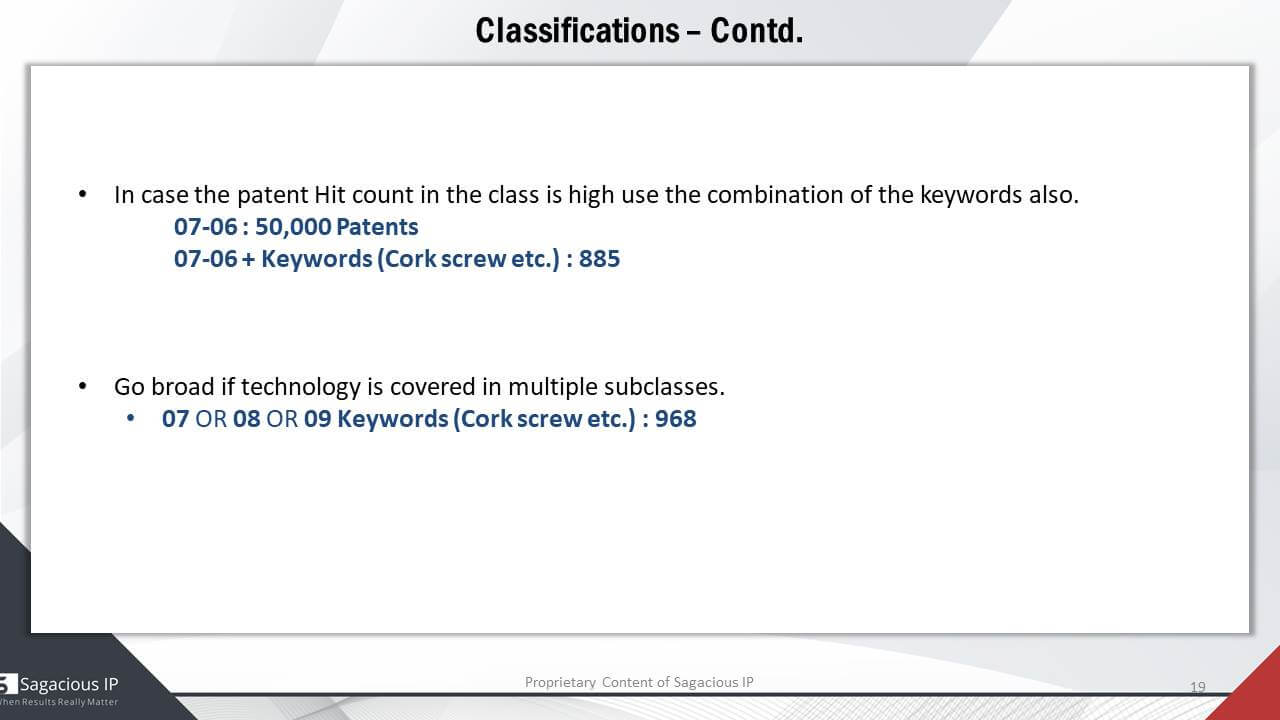 There's another strategy in the classification based search strategies. So, apart from using the different domain and diversity in classification, we can also use the combination to quickly cover the good patents in particular class. Now, the 07-06, I will term as bang on class. If there is a Corkscrew patent, 90% of all the Corkscrew patents are in the world are categorized in this class. The count of this class is 50,000 patents. But, that is not only covering the Corkscrew as the class definition was saying Table Tools. So, other items like corkscrew are possibly categorised in this classification system.
So, the good strategy is using the combination of keywords initially. One can use this class plus keywords and narrow down the result, as you can see, in 07-06, we have 50,000 patents. When we combine them with our keywords, the count significantly dropped to 885. That's a massive drop and massive saving in the search. While the person is looking at 50,000 patents, the count is dropped to 885.
But, remind you one thing that this is not the comprehensive patent search. This is the option of choosing the best one in the class. One might, after covering 885 patents, go after 50,000 patents. There are chances that some words or iterations because of which those patents are not getting captured or translation issues.
So, they might be covering these 50,000 patents. But, the main point here is covering the best one as soon as possible. So, by using keywords and class combinations, we can ensure that the best patents are covered at first and then we can decide. If we're getting the good patents in 885, we can skip. Else, we can continue with the 50,000.
Go Broad If Technology Is Covered in Multiple Subclasses
Third point is Going Broad. Now, we have seen in the previous slide that the main Locarno Classes, which are covering the corkscrew, are 07, 08, and 09. It's good practice that we use the broad search and not the narrow one like 07-06. We should skip that, or we should make another strategy. Moreover, we should include the broader level classification like 07, 08, and 09 with keywords. We are ensuring that we are having the diversity and different type of domain coverage in our search strategy, and the count is only 968 because of the use of keywords.
Patents related to corkscrew, waiter's knife, drill, or such type of titles used in those patents are categorized in these classes that can be easily captured, and then one can proceed with the next strategy accordingly by saving their time.
Best Practice 3: Choosing What Works for Particular Jurisdiction
Now, the third important point is Choosing What Works Best for a Particular Jurisdiction. It is critical that one should know what search options are available to them in a particular country.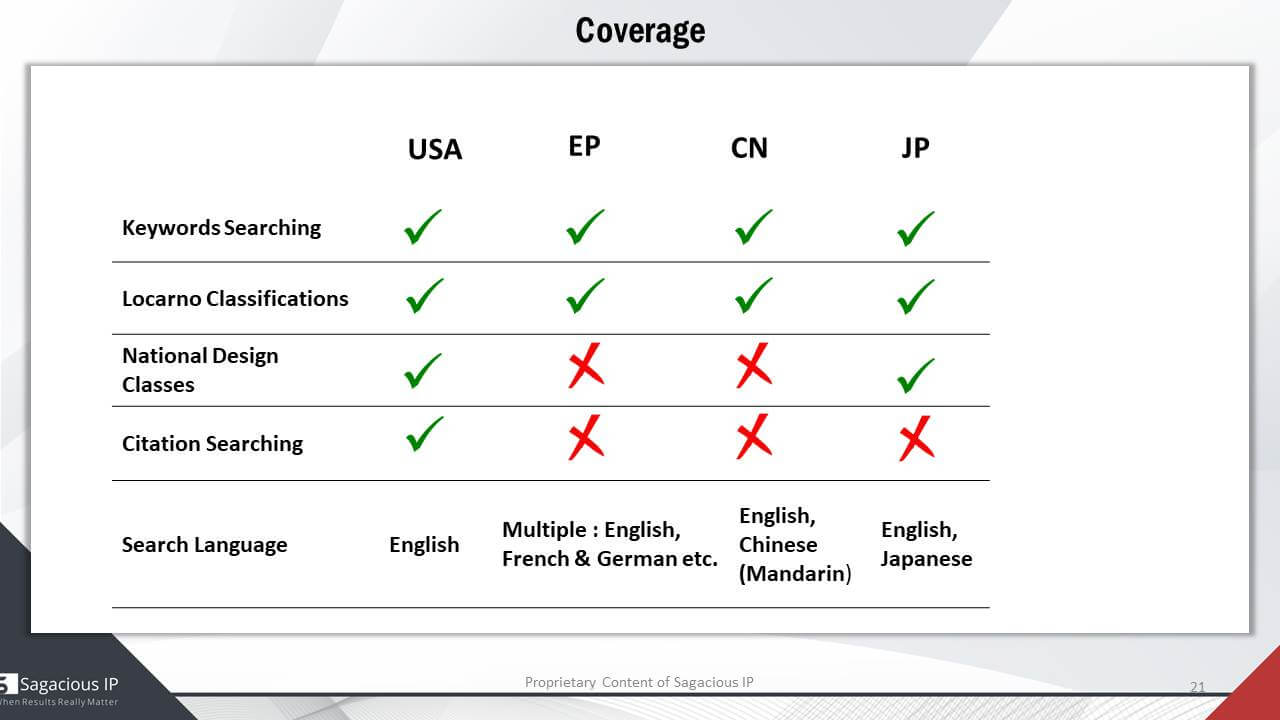 Coverage
Let us look: how is that possible or is it possible? So, here is a chart which is representing what type of search strategy or search options are available in a particular country.
USA
In the USA, one can conduct Keyword Based Searching and Locarno Classifications. National Design Classes can be used for identifying the design patents. Then, Citation Based Searching of design patent is possible. Search language is English only, so the most of the databases will be covering this jurisdiction.
EP
On the other hand, in EP, there are only two options which are keyword based searching and Locarno Classification. In EP, there is no National Design Classes. Citation isn't a strict criterion. So, in EP, citation searching isn't available. But, search languages, in EP, are multiple. If you're going after the United Kingdom patents, English will be used. If you're looking for French patents, use French language, and for Germany, use German.
So, there are different languages which can be used by the patent offices. So, in France, they prefer to have their patent application in French. Germany prefers to have its patent application in German. So, searching for European patents, they must be using keywords related to French and German also to make their search strategy comprehensive.
China
In China, again, the case is the same as EP. Only Keyword Based Searching and Locarno Classifications Based Searching are allowed. No, National Design Classes are there in China. Citations based searching isn't efficient or available in China.
Here, we have two language options as most of the Chinese patents are published in Chinese language (Mandarin), and then the English translation copies are available on the databases. So, one can use the English language as well as the Chinese language to create a search strategy for the Chinese patents.
Japan
In Japan, we have, again, Keywords Searching and Locarno Classifications. And, yes, National Design Classes are there. But, again, Citation Searching isn't there, and the language, here, is English and Japanese. So, one can use these two languages in their searches to make their search strategy comprehensive.
So, this table implies that one shouldn't be restricting their search strategy to one methodology.
Let us say one is conducting patent search in the USA, China and Japan. So, that shouldn't be like – I'll do the citation searching. They are doing the citation searching on Chinese patent and its database also which is not available. You can say – that's just an error. Nothing will be represented and they will show in their search strategy that we have done the Citation Based Analysis of Chinese Design Patents. But it is yielding nothing. Then, National Design Classes aren't there in China. So if you are selecting it, nothing will pop up in the database. If you are using the US design classes and choosing to identify the patents in China, It's a wrong strategy. One needs to be aware of the search options available and then prepare the search strategies according to that one single jurisdiction.
They shouldn't be restricting to one single search strategy to cover all jurisdictions. They should be able to know which and what type of search options are available for a particular jurisdiction. This way they can ensure that their search strategy is covering the best and the good patents that can be used as prior-art.
Best Practice 4: Choosing the Best Combination of Databases
After having the knowledge of keywords and classifications, and the search options, for a particular country, I will be using this type of strategy.
It's more critical that you choose your tool wisely. You know which database I will be using, what type of databases I'll be using. Don't be restricting to a particular limit or don't be exceeding the particular limit.
Database-Coverage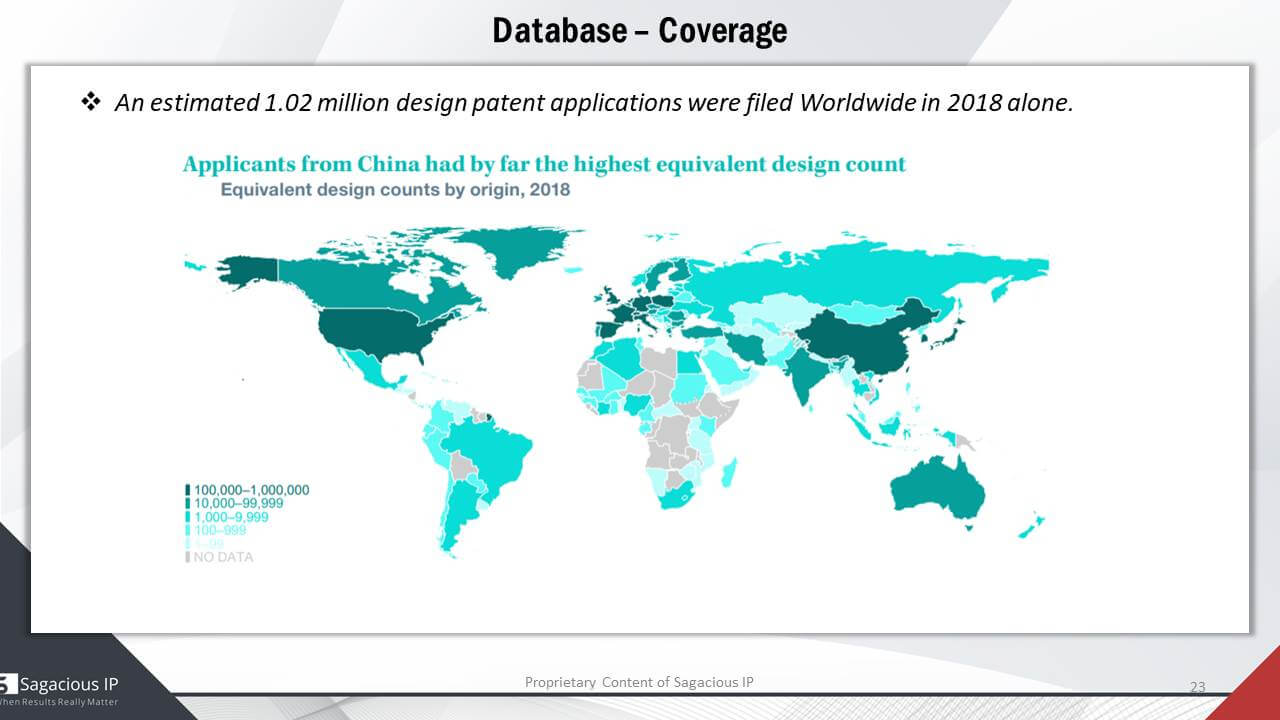 Here, it is estimated that 1.02 million, a huge number, design patents were filed in 2018 alone. That's a very big number. If one is searching for design patents, they might be covering millions of patents. So, the database should have good coverage to ensure that the maximum jurisdictions are covered.
Here, we can see the geographical distribution – how many patents are originating from a particular country. So, here, in the US, it's more than 1 lakh patents. In China, it's more than one lakh patents.
In Australia, it's in the range of 10,000 to 1 lakh. If one is searching for a patent in Australia in 2018 alone, there are more than 10,000 patents in Australia. One needs to look into those patents to ensure that there is no prior-art. If they are launching their product, they should be aware of an alive design patent there in Australia, which can cause loses in the future. That's a big task.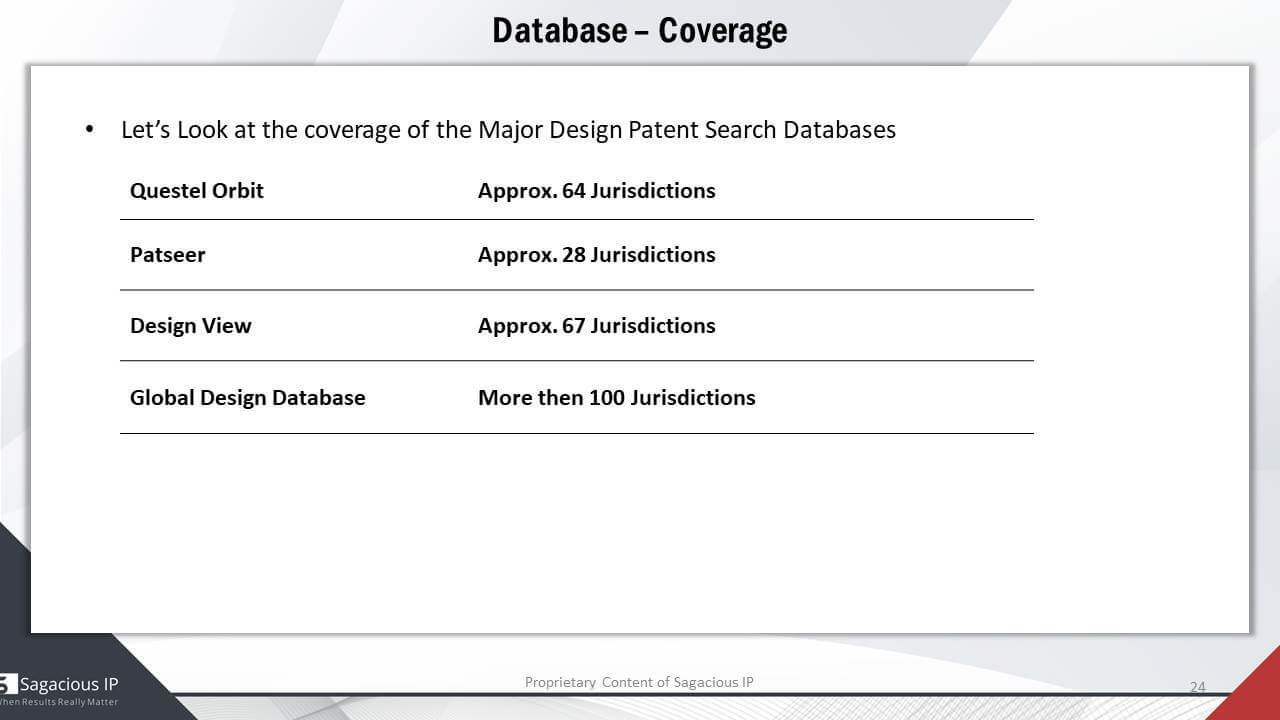 Now, let us look at the capabilities of the most used search databases in the industry. So, the first one is Questel Orbit that is covering only 64 jurisdictions. Patseer, on the other hand, is covering 28 jurisdictions.
Design View, which is an open database, is covering 67 jurisdictions. Global Design Database, which is managed by WIPO, is covering more than 100 jurisdictions. So, one can clearly see that there are limitations. These databases are not covering all the countries in the world. They are covering only important or few of the countries in the world.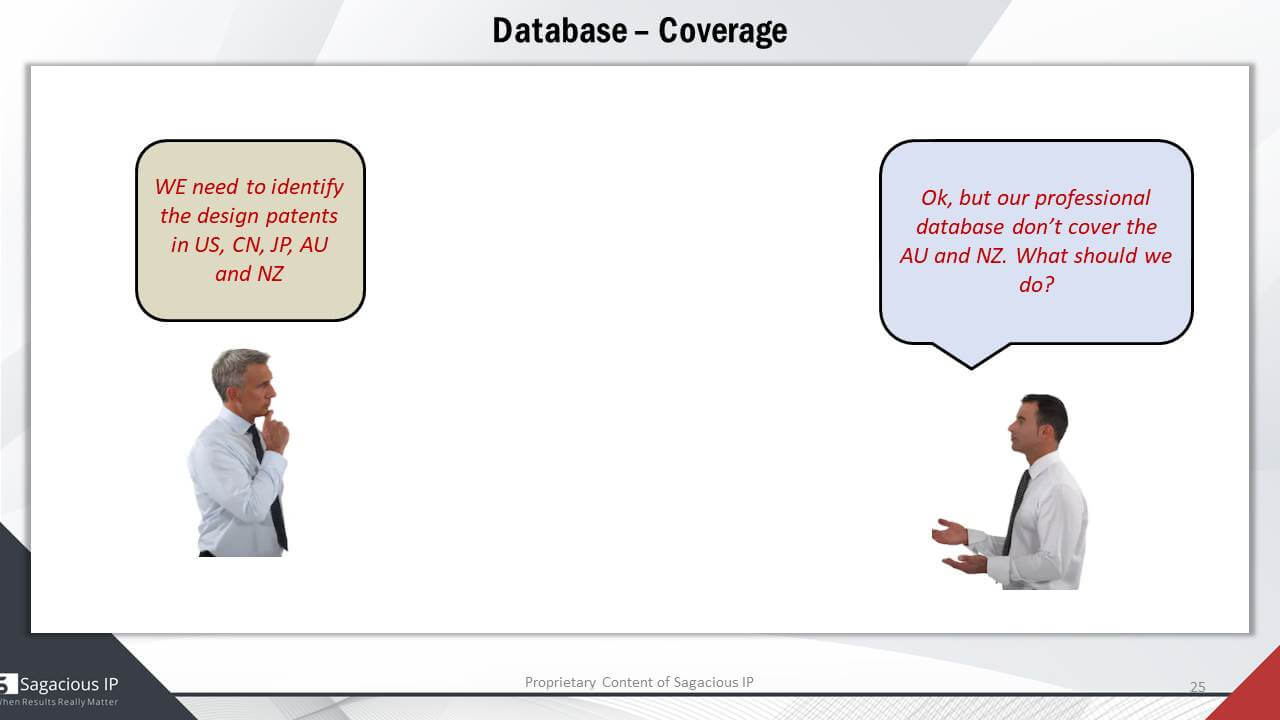 So, if client approaches that we need to identify the design patents in the US, China, Japan, Australia, and New Zealand. The professional says – Okay, but databases are not covering Australia and New Zealand. What should they do? Should they tell that we won't be able to cover the searches in Australia and New Zealand? Our databases are not covering that. We might not be able to search this, and you can drop Australia and New Zealand, and we will only cover US, China, and Japan.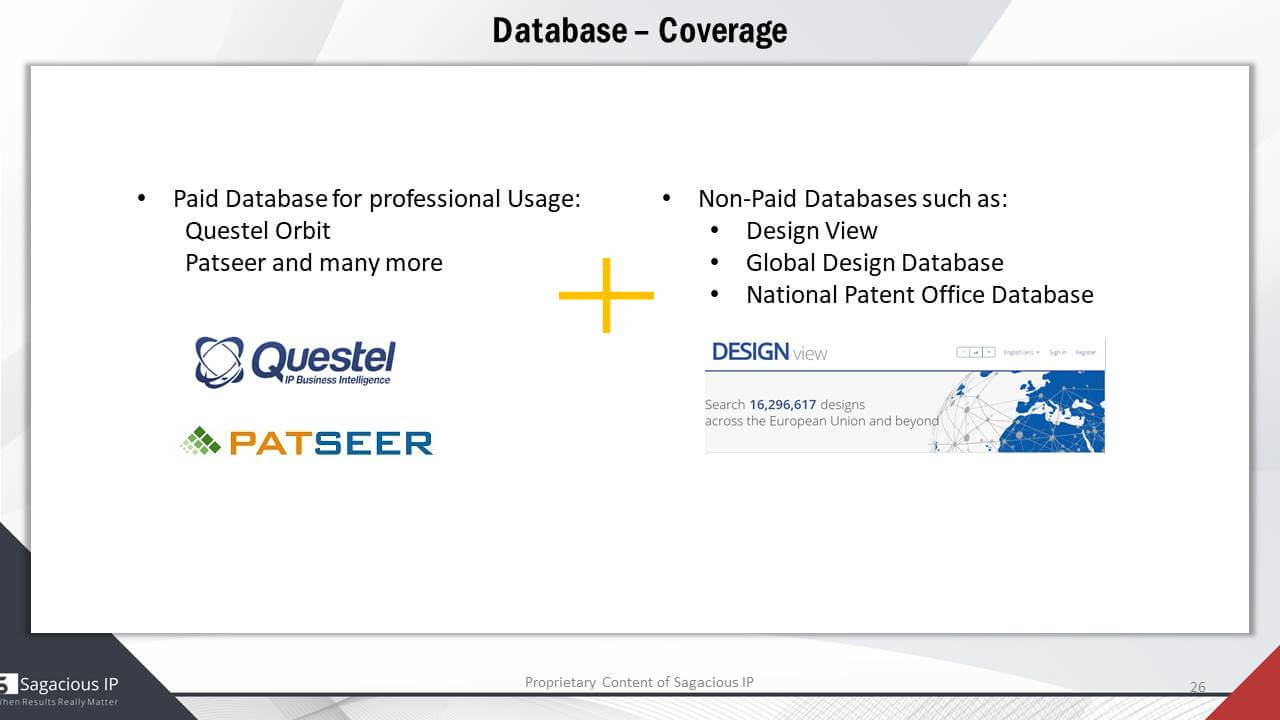 Then, one needs to know a perfect strategy that is the combination of databases and not relying on a single database for the whole search. They should be using the paid databases that they are having, and the combination of non-paid databases plus the National Design Patent Office databases to ensure the comprehensiveness of a search.
Now, as mentioned in the previous slide, that particular professional was not having the Australian search coverage in their patent databases. What they can do is they can search on the Australian Patent Office website for the design patent. They can use the professional databases for rest of the countries. For Australia, they can run a dedicated search on National Patents Database to ensure the comprehensiveness of the search.
Best Practice 5: Utility Patent Search
The next point is using the Utility Patent Search. Now, you will be surprised that I was speaking about the design patents and what utility patent is doing in this best practice. How a Utility Search can be a best practice for design patent search. Both are different terms. Utility is related to mechanism while design is related to aesthetic, so one need know that.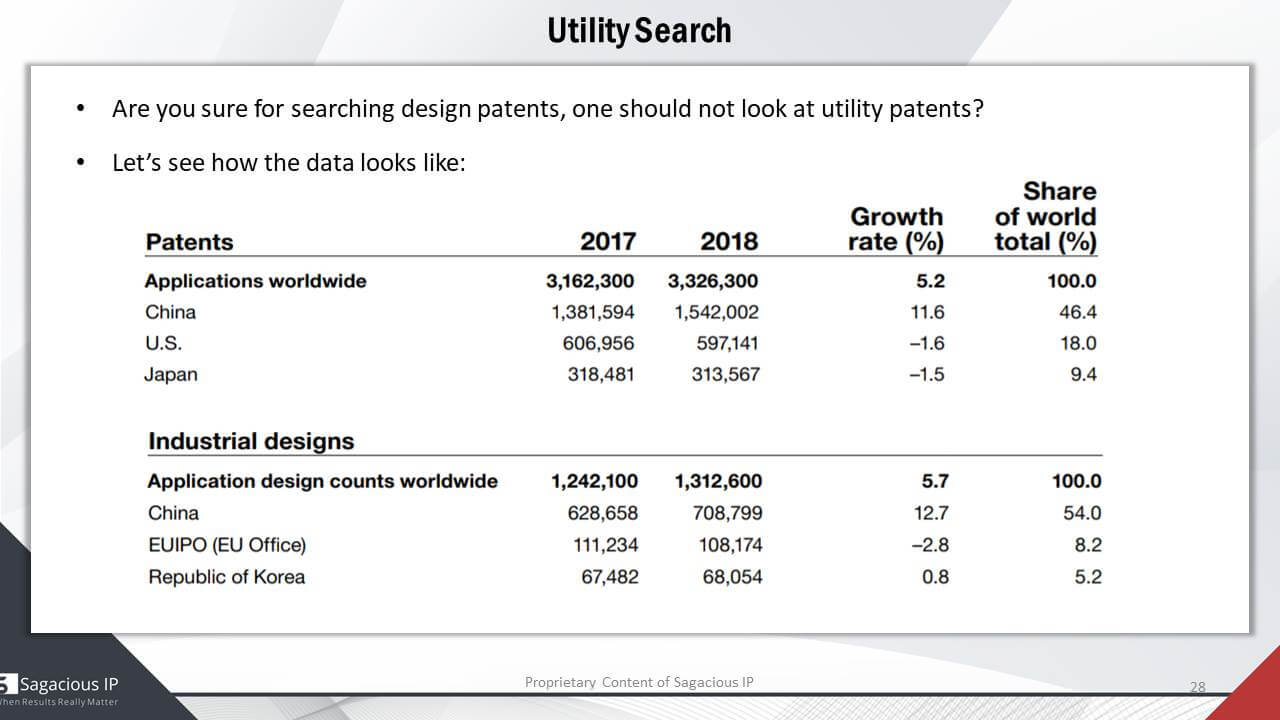 Here's the slide says that more than the double of the design patents the utility patents were filed. In 2018, you can see the number of the Design Patent. There is a significant difference and that need to be used for the benefit of the design patent search.
Now, most of the utility patents include the drawings to make the understanding of the claim and the description easy. Those drawings, which are provided in the utility patents, can also be used as a prior-art against the design patent.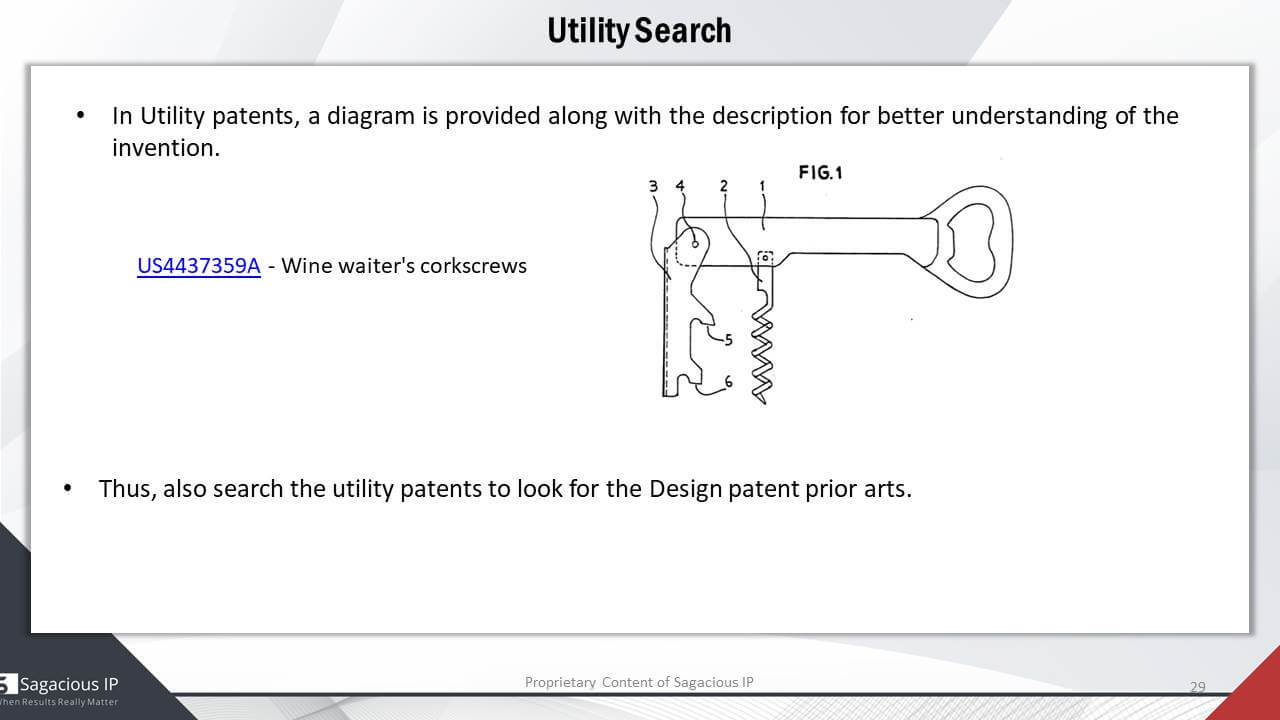 One should not be only searching for the design patents only in their design search databases. They should be looking into the utility patent also to ensure that no significant prior-art is getting missed. So, it is critical; one should know this thing. They are not just relying – it's a design patent search. I'll be searching on the design patent databases. I'll be looking for the design only and no utility search. They must include the utility search in their search strategy to ensure the optimum coverage.
Best Practice 6: Native Language Search
Then, it's the native language search. We have learned in the previous slides that in EP there are multiple languages, in China, one can search in English and Chinese, and then there in Japan, one can use Japanese and English.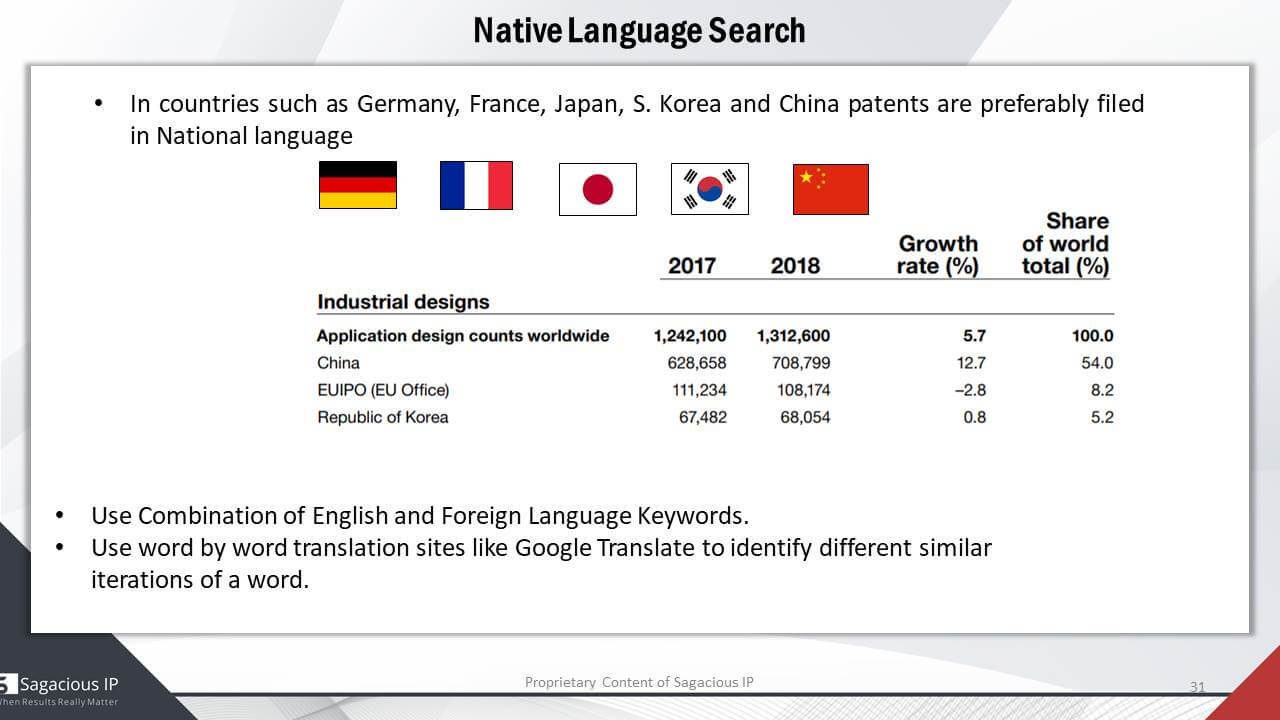 It is important that one should know how to use this combination in keywords, use the combination of English and foreign language keywords. Then you can use the translation. You can use the language translation sites like Google Translate to identify the different synonyms existing in that particular country.
Like, corkscrew is having different synonyms in English. Chances are that you are using the corkscrew word in French. But that French word might be having 2, 3 or 4 synonyms and those need to be captured to ensure that if we are using the native language words in the search strategy, they are having the perfect coverage of the technology domain.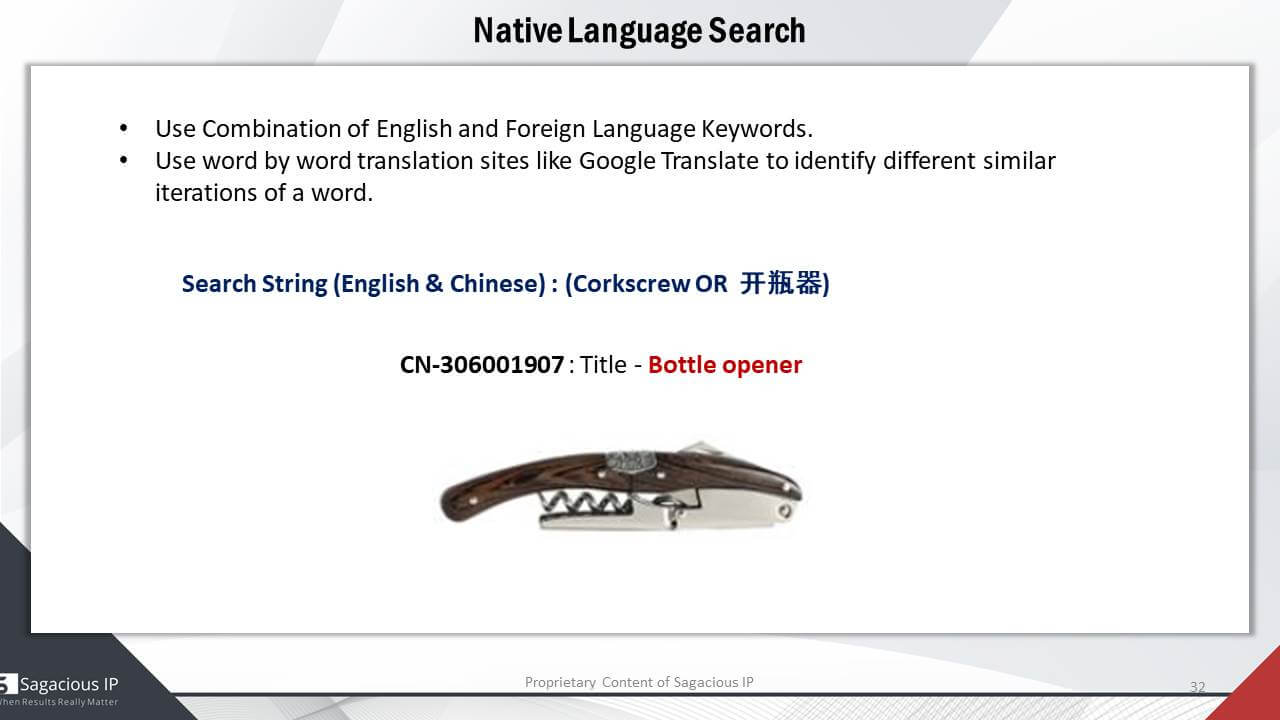 Like, here, you can see. We have used only "Corkscrew" and the Chinese Language Search in the search strategy and a patent which is titled "Bottle Opener" because this Chinese word was used in the title, while in English it is Corkscrew. So because of this Chinese word usage, we were able to capture the Chinese patent which was having a different English translation.
It is important that if you are searching in Chinese, Japanese, and the country, where the national languages are used in technical literature in patents, one should include those words also and its synonyms in their search strategy.
Best Practice 7: Never Shy Away from Hard Work
Now, all these strategies are mentioned above – different best practices. How one can ensure this strategy is perfect.
How one can ensure they are spending minimum time and covering the maximum output and ensuring that they are finding the best results. But in design, less smart work is required and more hard work is required because, in design patents, we are dealing with the designs and diagrams.
So, here, I present you a search strategy which was used to conduct a search related to the corkscrew project as mentioned in the best practice slides.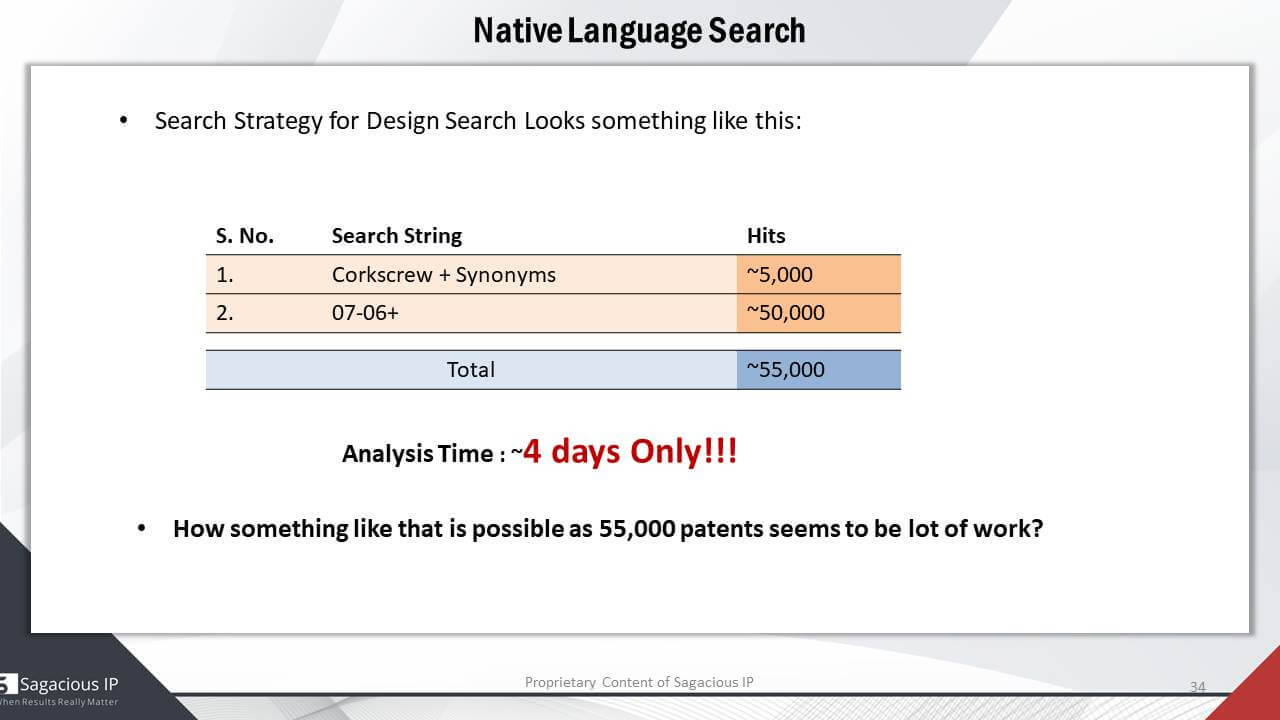 So, total 55,000 patents were there. One can use different strategies to lower down this number. But, our searchers were able to cover these 50,000 patents in only 30 hours. They were able to completely execute this project, because in utility patents, one needs to read the whole disclosure. One needs to look for the particular combination of words, understand what is contained in that, and the language can be tough to describe single product or can be easy. These types of challenges don't exist in the design search.
In design, one is only having the look at the design searches. They are only viewing if the design is totally different, then they are skipping and if the design is similar or looks relevant, then that is getting shortlisted. That's how the process speeds up.
So, besides, if one spends time, let us say next 2, 3, or 4 hours in lowering this number and still they are able to lower it to 45,000 only. That is of no use, and the 3 or 4 hours of lowering that number is also wasted.
It is important that one should practice hard work in design search. One should be ready that. Ok, if it's a design search, I'm not sticking to only just reading 10,000 for the whole project or 15,000. The sky is the limit.
So, one can go ask this project and the cost allow to the lakh also. So if 50,000 patents are getting covered in 30 hours, then it's not tough to cover one lakh in 55 or we can say 60 hours range. So, one should be able to understand when and how to use the best practices.
Is it necessary to use all those strategies to lower down the number for the sake of missing something good? Or they can have this kind of number and ensure the optimum coverage.
I believe if time permits, we can have Q&A session.
Questions and Answers
What Does a Dotted Line Signify in a US Design Patent?
Tanmay Mittal – Thank you for the informative session. While you were presenting, I had a couple of questions from our listeners. Let me pull them up and ask you.
So, one question that I have received is – In the US Design Patent, what do the dotted lines signify?
Rohit Kumar – in the US design patents, a dotted line signifies the prior-art. This is not getting covered in our claims. We are not claiming this dotted section. We are claiming solid lines only. If anything is in dotted, that is not our claim. We are not claiming that we are the creator of this particular aspect of the design. The claim is limited to solid lines only and the claim is not covering the dashed lines.
How Much Time Would a Supplemental Utility Patent Search for the Corkscrew Concept that You Showed Take?
Tanmay Mittal – We have another question for you, Rohit, from our listener, and the question is: how much time would a supplemental utility patent search for the corkscrew concept that you showed take?
Rohit Kumar – It depends upon the search strategy as in utility patents we will be looking for design. In a day, one can cover, let's say, 6000 to 8,000 utility patents, because design are viewed. No, we're not going into the description.
So, on average, in a single day, 6 to 8 thousands utility patents will be covered for this type of search. And, in this search, we have covered around 16,000 utility patterns to identify the required patents.
Do European Patents Facilitate Citation Analysis?
Tanmay Mittal – OK, Rohit, Thank you. Thank you! I hope you're able to answer the question and with that we have next question about citation analysis so the listener wants to know if you can explain a bit more on the citation analysis, and would European patents facilitate that?
Rohit Kumar – The citation analysis is a part of the US prosecution for design patents. In the US design patents, citations are shared as a mandate with the design patent, so they are available. One can go with the citation analysis for the US patent, but in countries like Europe, China, or Japan, this option is not available. It is not mandatory to supply the prior-art or the known arts with the design patents. So, citation and the concept of family are not there in Europe.
How Do You Identify a Patent family in Design Patent?
Tanmay Mittal – We have another question. How do you identify a patent family in design patent?
So, in the US, it is easy as the priority numbers will be used to identify the patent family. In Europe, to identify information like application number and the detail of inventor and owner are used to identify the family members.
Tanmay Mittal – Well, I'm just curious. I am not sure if the concept of patent family applies to design patents. I'm not sure, but you are the expert. So, I think, with design patent, it goes individually without the family thing.
Rohit Kumar – For the worldwide level, you are absolutely correct. They can have multiple family members in Europe like only one aspect of design is getting covered in one patent only, and then for the second, they are having the second patent. So, in Europe, one can see, and also, with the PCT system, the applications, which are file using the PCT system, that is Hague mandated by WIPO. So, there are members. Although they are not linked, they can be traced.
So, if one applicant has filed for the coverage in China and the same one has filed for the coverage in Germany or France, it can be traced back. So, one can ensure if we are having the prior-art in China, let search for this assignee or inventor in other countries also so as to ensure that they might have sought protection in other countries and that can be covered.
Tanmay Mittal – I think we're almost there with the time. I would want to say that this has been a wonderful session. We have had some good questions from our listeners today. I'm sure our listeners have had some great takeaways, and these pointers would be helpful.
These best practices would be helpful for them. Also, I would want to thank all our listeners to help us start this session on time and finished this on time. Thank you to all our listeners for that. I also want to thank Rohit for this insightful session. Just a quick reminder – if our listeners would want to have a session on a particular topic of their interest, then they can drop us a line at webinar@sagaciousresearch.com.
We will look into it and get back to you with more information on the same. Again, thank you everyone. We highly appreciate your participation, and we look forward to hosting more successful webinars in the future. Thank you everyone.
Submit Your Information to watch the Webinar Video: