How Patent Monitoring Service Can Safeguard Against Competition
In today's knowledge economy, information is power. Businesses must keep abreast with the latest developments in their technological area or invite possible risk of losing out to the competition. Awareness of the latest innovations in a field, such as recent patent filings, emerging innovators, etc. are all crucial aspects of information to watch out. However, with the staggering number of patent filings lately, keeping a track of all developments is often challenging for businesses. Patent monitoring is regarded as an effective solution to provide a consistent stream of information at various levels of innovation. This can help businesses respond quickly and efficiently to market developments and counter business risks.
The following article narrates the role of patent monitoring, and emphasizes its relevance not just for large businesses, but also for individual inventors, start-ups alike. You will also learn why Sagacious IP could be your ideal patent monitoring partner, and discover the patent monitoring services offered by us.
Patent Monitoring
New technologies are emerging in the market at an unprecedented rate, owing to the rapid speed of innovation in the present environment. Patent monitoring enables companies to keep an eye on competitors and their patent filings to spot risks and opportunities ahead. Businesses might also use patent monitoring to find new competitors in the industry. All this information is useful to make informed decisions and stay ahead of the curve. It also allows one to gauge the scale of research and development (R&D) in a specific domain and the type of patents being filed by a particular applicant.
Unlike most other forms of patent searches, patent monitoring can be carried out regularly (i.e., weekly, monthly, quarterly, or yearly) to find any newly granted patents or newly filed patent applications in an existing technology space or relating to a particular assignee. Any business that fails to perform patent monitoring risks capitalizing on great opportunities, and identifying threats that can prove disastrous for the business.
Need for Patent Monitoring
There are several reasons why one might consider conducting patent monitoring. The most significant of these are explained in detail here: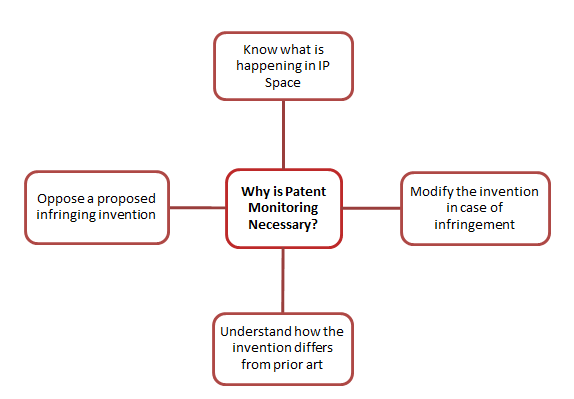 Understand IP trends: Regular patent monitoring provides you a perspective on what is happening in the intellectual property space for a particular technology. You will learn about recently granted patents, rejected applications, and more. This information can reduce the possibility of infringement, which further minimizes the chances of legal action.
Modify innovation: If the innovation infringes on other patents, the inventor can modify the idea to get around the issue. This is only possible if the company/inventor is aware of the most recent patent issues, which only a patent monitoring service can provide.
Differentiate from prior art: An applicant must explain how his or her invention differs from the existing prior art to move smoothly through the patent prosecution cycle. The applicant can explain the "new element" to the examiner during the examination phase by accessing the information gathered via patent monitoring.
Oppose new patent applications: By tracking new patent filings, patent monitoring also allows patent holders to timely oppose applications infringing on their inventions.
Thus, patent monitoring benefits organizations in various ways. In fact, it is amongst the most crucial tasks to be performed post patent grant. Let us now understand when to perform patent monitoring.
When to conduct Patent Monitoring
Patent monitoring is essential after a patent grant to guarantee that no new invention or application infringes on your invention. Moreover, patent monitoring is also vital during the patent prosecution process as it can provide critical data on prior arts. Since it also informs whether or not your innovation infringes on the rights of others, it can also enable an inventor to modify the invention to ensure its novelty and uniqueness. Therefore, patent monitoring is important at various stages of innovation and patenting.
Even after getting familiar with the meaning and need for patent monitoring, one may wonder about the precise advantages that patent monitoring can provide. The below section clears all such doubts.
Benefits of Patent Monitoring
The complexities involved in conducting patent monitoring require significant investment. While large companies can easily opt to perform it, small and medium sized businesses often question the need for patent monitoring. However, it is beneficial for companies of all sizes. Here are the major reasons why: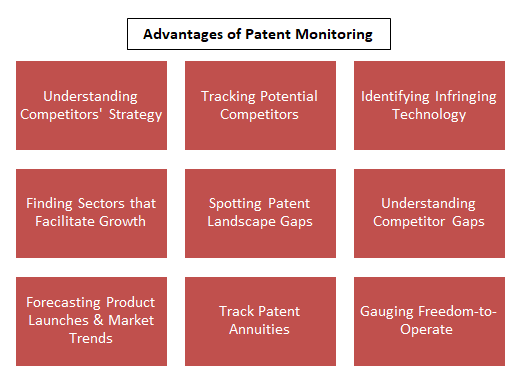 Understand Competitors' Market Strategy
A fundamental aspect of patent monitoring is that it enables one to comprehend competitors' market strategies. For instance, it answers various questions, such as what service or function is helping a competitor lead in a specific technological field. This can assist you in analyzing your own organizational and tactical choices, and elevate your business to a similar degree of achievement. You can benefit from knowing your competitors' moves in various other ways as well. For example, you can study your rivals' strengths, compare your work to theirs, and strengthen the areas where you fall short in comparison.
The advent of new entrants in the technology space constantly threatens existing businesses in the domain. In this situation, it is best to remain vigilant and aware of companies seeking to enter the market. This enables businesses to maintain better defenses against threats that may emerge in the future.
Identify Infringing Innovations
Every business seeks to avoid any patent infringement lawsuits. Patent monitoring can help you assess if your innovation infringes on the rights of others. This can protect the funds you will end up losing if embroiled in an infringement lawsuit. Moreover, by knowing that your initial concept might have led to infringement, you can expand your innovation in a new direction and adapt it to keep it from further infringement.
Find Sectors Facilitating Growth
It is always beneficial to be aware of your opponents' strong growth & development areas. This can help you build new technology that has not yet been identified. Choosing a new technological area can be more advantageous for a start-up since it is easier to build an identity and brand in sector that is already showcasing promising growth.
Recognize White Space in Patent Landscape
There is always an opportunity to find gaps or white spaces for new developments, regardless of how crowded the market or technological domain is. These "white spaces" can effectively establish exclusivity and spur innovative ideas to benefit the business. Patent monitoring can aid in locating these gaps by keeping an eye on the rivals' intellectual assets. When white gaps are discovered, these unique areas of interest may be covered by intellectual property rights.
Spot Competitors' Weaknesses
Being aware of your rivals' weaknesses can be a boon to your growth plans. Understanding their mistakes allows you to grow while capitalizing on your strongest traits, and develop in a way that will set you apart. Mistakes made by competitors are also lessons to steer clear of unproductive business strategies. Thus, you can readily form growth goals and action plans for your business and get ahead.
Predict Upcoming Product Launches and Market Trends
Data acquired through patent monitoring can provide key insights into market and competitor behavior. This data can be used effectively to anticipate new product launches and understand other companies' IP strategies. The ability to access such crucial data can influence the R&D objectives and practices of any business.
Patent monitoring also keeps track of patent annuity payments by competitors. When a business does not pay annuities, the intellectual property protection that a patent provides is lost. There are several reasons a company can choose not to renew protection. Nevertheless, it can be helpful for rivals looking to get around patent protection and utilize the innovation to their advantage.
Continuous patent monitoring assists businesses in evaluating their freedom to operate in various countries and determining whether it is commercially safe for them to sell their product in a region without infringing on any active patent claim(s) of a third party. Without such surveillance, a company may unintentionally violate a third party's patent, which could result in legal action. For all these reasons, patent owners – be it individual inventors or large conglomerates – should take advantage of patent monitoring. To further emphasize its need, we will now highlight how global leaders leverage this tool.
How Leading Businesses Utilize Patent Monitoring
Global leaders employ patent monitoring to get a step ahead of the competition. They have massive need for competitive intelligence, market forecasting, client retention, threat detection and/or mitigation, and identification and exploitation of commercial opportunities. Based on these objectives, there are five ways large companies use internal or external patent monitoring services.

1. Risk Mitigation
Risk is part and parcel of any business and can occur in several forms. Staying informed about forecasts through "alerts" on new rival filings can minimize these risks. Large companies leverage patent monitoring to anticipate rivals' moves in new technologies and jurisdictions, determine probable infringement, and then enforce rights or negotiate. This may also entail conducting due diligence before investing in a portfolio. For instance, the purchase of a sizable portfolio may not be viable if 90% of its applications have expired.
Additionally, patent monitoring entails post-grant surveillance of issued patents to enable the launch of own goods without obstruction, or to enjoy additional time for defense planning and preparation by carrying out invalidity analysis or clearance searches.
Some of the key insights obtained from patent monitoring that help mitigate risk include:
New entrants in a technology area in the past five years and their patent coverage.
New filings or publications in the relevant domain by rivals and their priority dates.
Significant patents filed and their similarity to own inventions.
Amount of active patents that are in a portfolio of interest or under competition.
Examiner rejections, as well as appeals.
Patent term.
2. Commercialization/Licensing Strategies
For businesses to get a return on their investments, they need R&D and products to have commercial viability. Thus, they must identify new competitors – such as start-ups with viable innovations – delay the competition, and fine-tune their own products when necessary. A few measures in that direction include quick product approval, patent invalidity searches, and market potential analysis. Additionally, companies can work with other parties to collaborate in a win-win situation and build patent pools.
Patent monitoring findings that facilitate the formulation of commercialization strategies include:
Emerging assignees and inventors with promising innovations.
Patent reassignments to figure out key technology holders.
Institutes or universities leading research for technology transfer.
Expertise maps for cross-licensing purposes.
Market dissemination of products and processes.
Geographies with potential and/or saturated markets.
Details regarding litigation proceedings, success of appeals, and more to support strategizing collaborations.
3. Research & Development
Before deciding on funding or grants, organizations involved in research and development must make wise decisions in order to determine whether their study will be profitable for them. Grant organizations working with universities and research institutes should also be certain that the research they are funding will positively influence society. Monitoring in R&D provides decision-makers access to other viewpoints before making any critical choices. These can include spotting gaps in early-stage research that prevents applications from becoming grants, figuring out the effects of the regulator and/or compliance changes, and finding the saturation point of patenting activity in a field due to outdated technologies.
Patent monitoring insights that boost R&D efforts are:
Recent developments based on technology maps.
Sector-wise application of the technology over a period of time.
Key players in major geographies and their growth/upcoming developments.
Rejected applications belonging to a domain to evaluate challenges.
Patent trends and market tendencies convergence.
Top domains' IPC or CPC classification.
4. IP & Business Strategy Building
To advance a business, it is essential to continue to build on IP and steer through various business strategies. This calls for thorough due diligence and meticulous planning, and entails closely monitoring the industrial ecosystem and adjusting appropriately.
Patent monitoring can help an active R&D facility acquire useful information from observed patents to create one's own portfolio. For a start-up, obtaining funding from technology incubators and investors may be necessary. Pruning one's patent portfolio to get rid of intellectual assets that are not economically viable can be extremely beneficial for long-term goals. The analysis permits developing a plan of defense against potential dangers, such as starting an opposition or conducting searches for patent validity/invalidity searches.
Findings that enable strategizing include:
Filing trends, research countries, and child members.
Claim priorities, scope, focus, and classification tags.
Promising jurisdictions forewent by competitors.
Technical and citation-based ranking.
SWOT (Strengths, weaknesses, opportunities, and threats) analysis using market information.
5. Patent Maintenance & Paralegal Support
Maintaining portfolios and monitoring their timely enforcement and validity is necessary, particularly when the portfolio is sizable and forms a part of patent pools or cross-licensing agreements. In addition to keeping track of patent pools with third parties, maintenance may include communicating with examiners, publishing applications, paying maintenance fees, etc. Negligence can result in lost profits and potential alliances.
Patent monitoring insights that boost patent maintenance efforts are:
Legal events that lead to the grant.
Post-grant events crucial are the maintenance of patents.
Businesses seeking to fulfill their patent monitoring needs can choose to perform the task in-house or onboard an outside patent monitoring partner. Many businesses opt for the latter; the next section elaborates on why.
Why Hire an External Patent Monitoring Partner?
Companies should stay up-to-date with the developments in the relevant intellectual property space and keep track of their competitors. However, this can be time-consuming, diverting one from other crucial activities necessary for business growth. Here, an external patent monitoring partner can assist in the optimum utilization of time, finances, and other resources. These patent monitoring experts can guarantee on-time delivery and good value for your money.
Sagacious IP's Patent Monitoring Service
Here are a few reasons why Sagacious IP might be your best choice for a partner in patent monitoring:
A team of more than 300 techno-legal specialists working in fields, such as life sciences, engineering, and ICT.
Reporting and disclosure capabilities in over 16 languages.
Coverage of more than 100 geographies in ten or more specialized databases in various technical areas.
Analysis of patents owned by partners, subsidiaries, or companies of interest.
Expertise in monitoring setup, including targeted searches based on biosequences and chemical structures.
Diligent monitoring of an applicant's publications on a global or regional basis.
Tracking any new filings made by rivals and grouping publications according to taxonomy and then further by geographic location.
Sagacious IP offers several types of patent monitoring services, and based on your needs, you can choose the one that suits you the best. Let us dive deep into these types.
Types of Patent Monitoring Services Offered by Sagacious IP
There are four different patent monitoring types, and all of these are explained below in detail.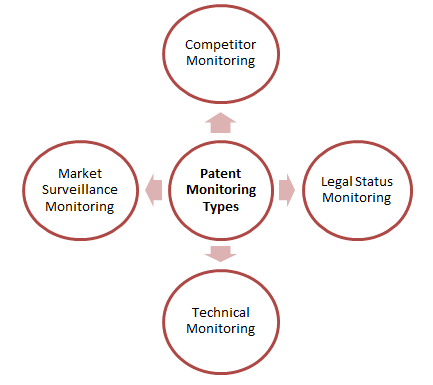 1. Competitor Monitoring: Due to the increased number of patent filings, there is a growing necessity for businesses to monitor their competitors' patents. Competitor monitoring can help stay up-to-date on the acceptance, rejection, publication, or expiration of the patent applications of competitors in a related field. It entails maintaining tabs on how their business is developing and how they are working with other organizations, and additionally, how they are advancing by employing market tactics. Here is what sets us apart from other competitor monitoring service providers:
Regular updates on infringing products and market activities.
Competitor monitoring on a regional as well as global scale.
Monitoring on competitor's market activities, including M&As, product launches, exhibitions, and conferences.
2. Legal Status Monitoring: This patent monitoring service helps obtain information regarding the status of a patent application both before and after the grant. It can provide access to information that can aid patent opposition, risk assessment, and business opportunity evaluation. Here is how Sagacious IP is able to offer unparalleled patent legal status monitoring services:
Pre and post-grant patent monitoring.
Ability to monitor patent assignments.
Well-versed with patent databases of various national PTOs.
Massive coverage – either directly or via a network of associates.
Expertise in monitoring Asian jurisdiction patents as well (covering China, Japan, Korea, Taiwan and India).
Clear highlighting of updates in the current monitoring period for improved visibility.
3. Technical Monitoring: This covers the search for recently published or accepted patents in the related technical field. It examines the technical disclosure of the relevant patents and publications. The study's primary focus is on the patent subject matter, including claims, classifications, and citations. We are a renowned technical monitoring service provider. Here is why:
We cover numerous technology areas via multiple strategies, combining keywords, IPC/CPC, inventor/assignee, spider search strategies, etc.
Our team extracts insights to timely track new business opportunities.
100+ geographies covered in multiple technology areas via 10+ specialized databases.
4. Market Surveillance Monitoring: It is the process of keeping an eye on specific markets or related domains for the launch of new products and partnerships that may encourage the creation of more advanced goods in the future. The process encompasses market actions, including mergers and acquisitions, research partnerships in technological fields and other target sectors. Here is how we deliver unsurpassed market surveillance monitoring services:
We extract insights from the monitoring activity to timely track new licensing opportunities.
Our team focuses on market activity in the technology sector, such as M&As, exhibitions, research collaborations, etc.
We summarize newer publications and products for easy understanding.
Final Thoughts
It is evident that the data gathered through patent monitoring can help businesses develop their IP strategy, identify threats from competitors, and foresee opportunities. Making important decisions without understanding the market situation can negatively affect a company's finances and reputation. As a result, working with a trustworthy patent for ongoing patent monitoring may benefit a business. Furthermore, since patent monitoring is a continuous process, its cost must be estimated using an appropriate budgeting technique. It will help the business comprehend the advantages and disadvantages of using patent monitoring.
Sagacious IP provides customised patent monitoring services to aid clients in keeping an eye on specific technical fields and competitors' IP. Our team of highly experienced patent analysts is dedicated to providing companies with the most dependable and affordable patent monitoring solutions. You can visit our patent monitoring service page to learn more about our expertise.
– Honey Mago (ICT Licensing) and the Editorial Team
Having Queries? Contact Us Now!