Why Outsourcing to Trademark Search Companies is Recommended for Businesses
A Trademark search is a critical step before initiating the trademark application filing process. While some businesses may decide to perform trademark searches themselves to reduce costs, it is highly recommended to avail of the services of a third-party expert. This is because inaccurate trademark searching can have serious repercussions, such as application rejection and infringement lawsuit.
A novel way to tackle this challenge is to leverage the services of skillful trademark search companies adept in trademark searches to fetch relevant results promptly and at a reasonable cost. This approach can significantly reduce the risk of trademark legal issues at a later stage.
This article lists the perils of not conducting a trademark search and emphasizes on the need to engage experts. It also narrates the difference in conducting trademark search in-house or through an expert service provider to make an informed decision.
Risks of Not Conducting a Trademark Search
All businesses must perform a comprehensive trademark search before launching products and services in the market. Failure to conduct the search at the right time invites several risks which are listed below.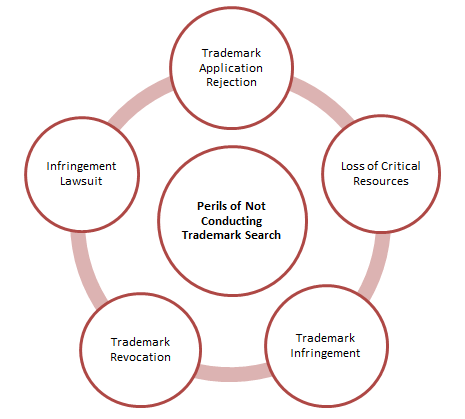 1. Rejection of your Trademark Application: Trademark search helps identify already registered competing marks before launching any product or brand in the market. Failure to conduct a thorough trademark search could mean missing a similar pre-existing registered trademark. This could spell trouble for your company or client, and result in the rejection of the trademark application.
2. Loss of Time and Money: Filing for trademark registration consumes a lot of time and money. Imagine receiving a legal notice stating that the mark you are using infringes the third party's brand name. Whatever resources you and your team have spent on filing the application for the mark would go in vain. This will not only waste time, but infringement lawsuit expenses and the damages arising out of it will only add burden on the company's finances.
3. Infringement of your Registered Mark: While only a few businesses realize this, a trademark search is also necessary after registering your mark. Failure to search or monitor your existing trademark invites possible infringement by third parties. Rampant use of potentially infringing competing marks in the market can diminish your brand's exclusivity and also significantly affect your brand's success. Thus, trademark owners must always keep an eye on newly filed marks to check for any similarity with their registered marks/names.
4. Potential Revocation of an Existing Mark: In case a trademark search was not conducted or improperly carried out before registration, the registered mark may be susceptible to revocation. Discovery of a pre-existing trademark at a later stage can easily revoke your trademark. The risks of a delayed or improperly conducted trademark search can arise at any stage during the lifetime of a trademark. This type of search must be performed at the earliest.
5. Trademark Infringement Lawsuit: Use of brand names and marks without trademark search invites infringement lawsuits from third parties owning identical or similar marks. Such litigations often put a big dent in a company's financial and other resources. Trademark search is a simple process to avoid such setbacks for the business. It scours online and offline spaces for any marks that could raise issues at a later stage.
The different options for conducting a trademark search are broken down into two definitive ways – in-house and external searching. We compare the two in the next section.
In-House Vs. External Trademark Search
Conducting trademark search through in-house teams may appear cheaper than hiring external trademark search companies. However, this initial money saving may prove far costlier further down the line. The below table highlights the differences between the two options.
| | | |
| --- | --- | --- |
| S.No. | In-House Teams | Trademark Search Companies |
| 1. | Internal professionals might lack niche expertise in case the company ventures into a new industry. | External trademark search experts have IP analysts with specialized expertise in diverse sectors/industries. |
| 2. | Scaling trademark searches with in-house teams can be a challenging task. | Trademark search companies have teams of IP experts and have sufficient bandwidth to take up diverse projects. |
| 3. | In-house teams or professionals often perform a range of tasks, besides trademark searches. Thus, they might not be search experts. | These companies hire professionals solely to conduct trademark searches for their clients, and are expert trademark analysts. |
| 4. | In-house teams may take longer to perform trademark searches as they might have other ongoing tasks. | They assign the task to a dedicated group/individual with clearly defined deadlines for project delivery. |
| 5. | An in-house team needs access to paid tools to perform a global trademark search. | Most trademark search companies have subscriptions to most of the paid databases for a global trademark search. |
| 6. | Team members might lack the expertise and face difficulty creating variations of words, translations, and strategies to fetch targeted results. | They have trained professionals with experience in making variations of words and translations, and creating multiple strategies for different databases to fetch targeted results. |
| 7. | Since in-house IP teams perform a variety of tasks for the company, they may have difficulty delivering Trademark Search Reports on time. | Trademark search companies have dedicated professionals to deliver reports on or before expected delivery date. |
Table 1: In-House Vs. External Trademark Searches
Regardless of whether you use internal resources or an external company, it is recommended to perform trademark searches regularly and promptly. Now let us explain how Sagacious IP has been helping companies from all over the world with their trademark search needs.
Why Choose Sagacious IP for Trademark Search?
Sagacious IP is a leading, award-winning intellectual property research and consulting company that has been helping stakeholders in the IP ecosystem through innovative solutions and services since 2008. We have served over 1,200 clients from over 45 countries with more than 12,500 projects in over 16 languages. The following are the main reasons that set Sagacious IP apart from other trademark search companies:
1. Leading Trademark Search Service Provider
Product-driven companies across the spectrum rely on trademark searches before launching products and services in new markets. And Sagacious IP has been helping such companies and numerous more to avoid any IP-related obstacles in entering new markets. We have been successfully delivering trademark search solutions globally since 2014, serving more than 200 clients in a year. Our trademark search solutions are designed to provide all the useful insights that clients need before filing a trademark application.
2. Cost Saving and Prompt Project Delivery
Sagacious IP's trademark search service enables businesses to save time and cost while filing trademarks by allowing them to side-step any form of infringement or rejection. Our clients rely on us for trademark searches and use the time to expand their businesses. We provide all required information within the set timeline so that they can make an informed decision for filing a trademark application.
3. Team Size and Experience of Trademark Experts
Our client-focused IP professionals provide relevant search results in the trademark search report for clients to make the most optimal decision. Sagacious IP has a team of experts boasting more than 35 years of combined experience in global and country-specific trademark searches. We provide trademark search solutions for small businesses, entrepreneurs, startups, Fortune 500s, etc.
4. Tools for Trademark Search
Tools are quite critical in performing trademark searches. Sagacious IP uses national and paid databases to perform these searches as per client needs. Moreover, we have also built proprietary tools, such as Trademark Dashboard, to offer seamless services to our clients.
5. Proprietary Tools
We have designed the "Trademark Dashboard" keeping our clients' requirements in mind. This centralized portal allows our customers to search and find their projects by name, so they do not need to locate reports on email. Another interesting feature in the dashboard facilitates reviewing the search results. Trademark Dashboard also has numerous other features, such as filtering by owner name and class, and generating the report in PDF and MS Excel formats. Feel free to contact us for a demo.
6. Experience with National PTO Databases
IP offices maintain national IP databases that contain information on all the trademarks registered within their jurisdictions. We have experience in database searching that is maintained by the following IP offices:
7. Access to Paid Databases
Sagacious IP also utilizes paid databases that provide a wide range of additional services as compared to national databases. However, they use algorithms to fetch relevant results, and can be quite complex. Therefore, they require the expertise of a professional trademark searcher. Since commercial databases can be quite expensive, not everyone can afford them. Sagacious IP has subscriptions to several such databases to help provide cost-effective trademark search solutions. We use the below-mentioned paid databases to offer trademark search services to our clients:
Markify
CorSearch – On Client's Request
Orbit Trademark – On Client's Request
8. Effective Pricing for Bulk Orders
Competitive pricing also sets Sagacious IP apart from other trademark search companies in the world. Outsourcing your searches to us is an optimal alternative to conducting these searches yourself, saving time and money.
Conclusion
Even though a huge number of businesses perform the task internally, it is a good idea to hire knowledgeable trademark search companies. The benefits of outsourcing trademark search go far beyond monetary savings, when done correctly. You get the most outstanding results while enjoying more time to concentrate on other crucial matters.
Sagacious IP is committed to delivering the most suitable solutions through its team of client-focused IP experts. We also offer effective pricing for bulk search orders. By using cutting-edge tools, we offer trademark search services to different participants in the innovation ecosystem, including startups, Fortune 500s, and facilitators. To learn more about our experience, please visit our trademark search service page.
– Gopal Singh Rawat (Trademark) and the Editorial Team
Having Queries? Contact Us Now!