How RPA Innovations are Changing the Legal and IP Industries
RPA or robotic process automation facilitates streamlining workflows, allowing organizations to become more profitable, responsive, and flexible. Moreover, it has proven to be a significant tool for businesses during this era of digital transformation. Companies such as UiPath, Blue Prism, Automation Anywhere, EdgeVerve, Kofax, Pegasystems, HelpSystems, AntWorks, Softomotive, ARGOS LABS, WorkFusion, NICE, etc. are actively working in the domain of robotic process automation and are developing RPA platforms to enhance the user experience of RPA software and integrate the technology with other tools and databases. RPA innovations are touching all industries and areas, and law is no exception. For instance, they are helping attorneys and IP experts in managing data security, e-filing, managing and drafting patents, and much more.
This article is a comprehensive discussion on robotic process automation, the combination of Artificial Intelligence (AI) and RPA, industries using RPA, the advantages of using RPA in legal and IP industries, the future of RPA, and much more.
RPA Defined
Robotic process automation is a type of easily programable software that performs basic tasks just as humans do. It enables the creation, deployment, and management of software robots that mimic human actions by interacting with software and digital systems. These software robots create a seamless workflow with multiple steps to achieve automation. Such software is vastly used to perform mundane tasks like sending receipt messages, checking a form for completeness, updating a spreadsheet with the name on the form, etc. RPA innovations are being used in accounting and finance sector to automate the bulk of simple data analysis and entry tasks. Thereby reducing the manual workload on employees by automating repetitive, tedious, and simple operational tasks, helping companies perform jobs faster and more accurately.
Intelligent Automation: Combination of AI and RPA Innovations
Tools and products use AI to leverage information from diverse sources. RPA innovations are helping automate structured data-based activities, many of which formerly required manual interaction. However, the combination of AI with RPA offers enormous value in developing solutions that use a technological knowledge base to expedite procedures and communications across applications.
Natural Language Processing (NLP): With the help of this type of AI, RPA technology bots can extract helpful information from human speech or text. The software can synthesize text documents, extract meaningful information from emails and voicemails, and more with the aid of NLP.
Intelligent Document Processing (IDP): Regardless of the style of the original document, an IDP system leverages technologies, such as Computer Vision (CV) and Optical Character Recognition (OCR), to detect and classify critical information.
Predictive Analytics: Artificial intelligence can easily find patterns in massive datasets. As a result, these algorithms can forecast the future with startling accuracy using previous data. Moreover, RPA bots can automatically create reports using AI-driven predictive analytics that support leaders in making wise decisions.
Machine Learning (ML): It refers to software algorithms that get better through experience. Intelligent RPA bots have a feedback loop feature. As a result, the bot learns from corrections and keeps getting better.
Sectors that use Robotic Process Automation
Today, most sectors, including telecommunications, banking, insurance, and finance, as well as ones that involve repetitive operations, employ RPA technology. Figure 1 below elaborates on the various sectors using RPA innovations and how they are doing it.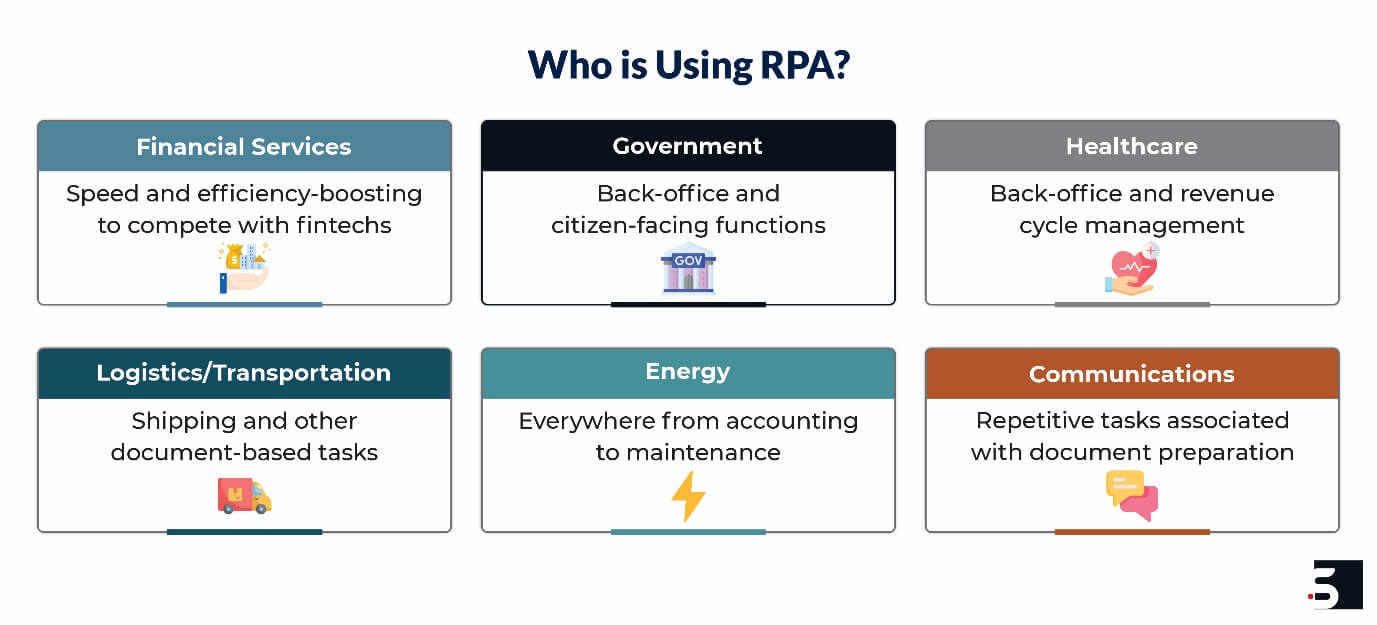 Robotic Process Automation in Legal Industry
Implementing RPA innovations can significantly decrease the workload for legal industry employees, helping them concentrate on other essential tasks that they can only perform manually. By creating novel legal procedures that are significantly more sophisticated than basic repetitive tasks, legal departments and law firms are uniquely positioned to take RPA to the next level. Today, globally recognized legal firms, such as Deloitte Legal, European Company Lawyers Association (ECLA), and many others are using RPA innovations within their organizations.
RPA Innovations Transforming the Legal Industry
In the legal sector, RPA innovations help reduce time and cost, especially when the most common method of charging by law firms is by the hour. Other changes brought in by RPA innovations are:
Role of RPA in the Legal Industry
The legal industry is using RPA innovations to automatically carry out a variety of repetitive operations with the objectives of reducing operational stress, minimizing risk, and assuring legal compliance.
Risk Assessment and Mitigation: An automation process can calculate case-to-cost data, find a client's credit rating, search accounts payable, and categorize them in risk registers along with a risk profile of the client. It helps in determining the opportunity cost of picking a particular client.
Legal Compliance and Contract Management: By collecting all the contracts and compliance in a database, an RPA robot can continuously perform due diligence and create suspicious activity reports (SAR) to spot potential risks and avoid fines or sanctions to the firms.
Document Automation: Once the documents or forms related to a client are digitized, one can implement RPA to capture and validate the information and create an understandable format. Further, RPA technology bots can extract and enter information from the forms into your systems.
E-discovery and Review: A software bot can search for a case from numerous digital records and pull the proper record in a minute.
E-filing: Many legal departments face difficulties collecting data from the CMS, sending it to e-filing portals, storing particular case numbers, and tracking communication via a designated portal. RPA bots gather specified documents fast and with precision, make appropriate adjustments, and provide the information for inspection and submission in one place.
Conflict Identification: RPA innovations can help automate the declaration and verification of conflicts of interest inside a searchable internal database, cutting the time it takes to find conflicts from weeks to minutes.
Continuous Update of Regulatory Changes: A robot can monitor and update all the regulatory changes made in the regulatory requirements database.
Legal Inquiry Chatbot (Robotterny): Legal inquiry chatbots respond to common queries over email or any internal chat tools in real-time.
Thus, RPA innovation in the legal industry can automate complete email management, data storage, and productivity systems.
Role of Robotic Process Automation in the IP Industry
RPA technology can play a major role in the intellectual property industry as well. Read on to find out how.
E-Filing: Applying simple rules, one can automatically extract the case details from a database and submit them to e-file portals.
Data Security Management: Data related to intellectual property rights is sensitive and requires high security and privacy. RPA innovations can help conduct continuous data monitoring, DLP solution, and audit using RPA bots, and ensure the highest levels of privacy and security of data.
Paralegal Activities: All the activities, such as filing, recording, searching databases, etc., performed by paralegals can be achieved using attended or unattended robots. An attended bot "attends to" or assists a human with a task. They collaborate with humans to execute tasks quickly. Unattended bots operate alone, with no human intervention. These bots frequently take on the role of virtual employees, performing repetitive, high-volume activities so that workers can concentrate on work that adds more value.
Trademarks: Registering a trademark in multiple jurisdictions and manually entering the required data requires a great effort which can affect efficiency. RPA swiftly and accurately uploads and manages new trademark portfolios, significantly reducing the amount of manual entry.
Patent Management: RPA innovations enable IP attorneys to digitize the approval of patent documents and monitor application status.
Drafting Patents: This requires error checking at various stages. One can perform error finding and correction using RPA bots. Also, one can automate drawing design and illustration using attended robots.
Prosecution: RPA bots can retrieve the data from the database and update the status as required to check the prosecution history of a patent application.
Document Automation: Once the documents or forms related to a client are digitized, RPA innovations can capture and validate the information and create an understandable format. Further, RPA bots can extract information from the forms and enter it into your systems.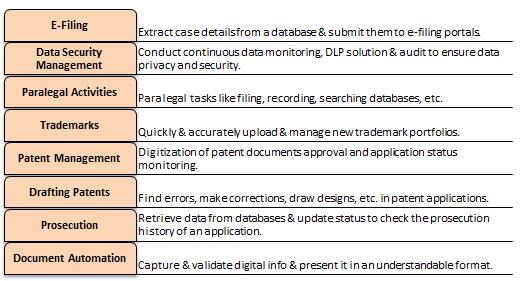 Future of Robotic Process Automation
RPA innovations are increasingly merging with AI, and knowledge-based RPA is rapidly gaining popularity among end users. Robotic process automation service providers are forging collaborations to bolster competitiveness. Companies are benefitting from RPA innovations, which have helped them to enhance work efficiency, accuracy, greater consistency, lower costs, scalability, and achieve more incredible quality results.
Conclusion
RPA innovations are a component of intelligent automation, and there are ample opportunities across sectors to employ robotic process automation to improve productivity, efficiency, and customer service. It can firmly root your organization in the 21st century by providing chances to operate quicker and more thoughtfully. Many big enterprises are already using RPA for numerous operations.
With the rapid increase in technology, it seems impossible for any company to innovate alone and lead the pack. Sagacious IP's experts help businesses find the best possible solution to technical problems and grow in today's hyper-competitive business arena. Our team of experts offers a multifaceted technology scouting service. It is a process of locating, identifying, and assessing technology, goods, services, and new trends, whether they are already available or in development. In short, it is a method of technology forecasting. If you would like to know more about it, please visit our dedicated service page.  
– Deepshikha Shekhawat (ICT Drafting & Prosecution), Ajay Reddy (ICT Searching) and the Editorial Team