Introduction to Pharmaceutical Trademarks
A trademark is sign that distinguishes the products or services of one company from the products or services of its competitors. It can be a word, design, logo, symbol, colour, paragraph or a combination of these.
Pharmaceutical trademarks are like ordinary trademarks; however, they are primarily registered for trustworthy pharmaceutical goods and services such as life-saving drugs and healthcare product & services. Notably, a pharmaceutical trademark name may be based on the particular nature of the name related to the chemical, ingredient, etc. which may be changed in time. For instance, if the drug for LIVER is LIV, then with the increase in dosage the newly invented drug for the same manufacturer will be named LIV 1.
Importance of Pharmaceutical Trademarks
Trademarks play a crucial role in the pharmaceutical industry. Some of the benefits of pharmaceutical trademarks are: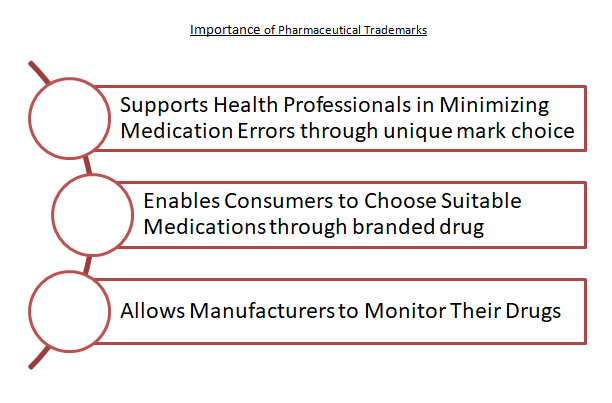 Supporting Health Professionals to Minimize Medication Errors
The process of selecting a trademark is intended to ensure that the mark is unique and distinctive. Many physicians, nurses, and other practitioners find it difficult to remember or spell generic names owing to the similarity of various generic names for pharmaceutical drugs in the same category. By using distinctive trademarks for every pharmaceutical drug, healthcare practitioners ensure that the right medication is being administered to the patient.
Enabling Consumers to Choose Suitable Medications
Consumers are usually reluctant to change their preferred branded drug, especially to a generic version. For some consumers, the reason can be the peace of mind that comes with administration of the familiar branded drug while for others it can be the adverse effects related to the different inactive ingredients in the new drug. Additionally, with the advent of direct-to-consumer (DTC) advertising in many countries, consumers can learn about the availability of novel treatments for their medical conditions immediately.
Allowing Manufacturers to Monitor Their Drugs
The use of trademarks enables manufacturers to monitor the safety of their existing drugs. Reports of side effects that only mention the generic name of a drug would not help manufacturers in assessing whether their drugs were involved. In fact, it would lead to expensive investigations that could be avoided if the manufacturer involved was distinguishable via pharmaceutical trademark.
Regulatory Approval for Pharmaceutical Trademarks & Importance of Global Trademark Searches
To buy or sell pharmaceutical products in the market, an approval from the health authority and the appropriate trademark registry is mandatory. This means that pharmaceutical companies need to choose strong trademarks available in each country where the product will be launched. As a result, a global knockout trademark search must be performed before the pharmaceutical trademark registration to ensure that their desired trademark is unique and that their branding does not have a negative connotation in any country.
Furthermore, a trademark search is also needed to prevent the infringement of a drug manufacturing formula as every drug requires extensive research and possesses a distinct manufacturing formula. The following factors help in choosing a strong pharmaceutical trademark:
Pharmaceutical trademark should be on the rule of standard trademark.
Pharmaceutical trademark must be registered with the United States Patent and Trademark Office (USPTO).
Pharmaceutical trademark should follow the United States Food and Drug Administration (US FDA) rules.
Since trademarks are valuable for the pharmaceutical domain, a thorough search must be performed before registering it to avoid infringement. Whether you are performing the search in the USPTO trademark database, WIPO trademark database, EPO trademark database or considering a custom search, Sagacious IP's team can help you get the desired result. The team is equipped with all possible means to provide you accurate and reliable data. For more details contact us.
-Nitesh Chouhan (Trademark) and The Editorial Team