How To Reduce Time And Cost in Obtaining Patents
The process for reducing time and cost for obtaining patents is a major checkpoint to consider while applying for patents. This is because this process is extremely lengthy and time consuming. The associated costs involved are also high. Experts believe that the primary reason behind the tedious patent application process is often prosecution delays. The well-known 'patent term adjustment' process fails to be useful too. This happens especially when inventions that belong to a field of technology are constantly evolving.
To tackle these delays, patent offices have undertaken several initiatives. One such initiative is the accelerated examination program. Here, the USPTO will advance an application for examination (if the applicant files a grantable petition). Such initiatives are however applicable only to specific individuals. They are not a solution to counter the delay in obtaining a patent. In case the technology domain is an occluded one, even accelerated examinations may not really prove useful. The application may further lack substantial examination. Thereby it may remain prone to invalidation during post examination proceedings (bearing in mind the additional costs incurred).
Reduce Time and Cost in Obtaining Patents via Suggested Strategies, Solutions and Best Practices
A significant proportion of delay and cost in obtaining a patent can be minimized. This is possible when the drafted application is properly envisioning the future. We focus on the best practices that one can follow during the process.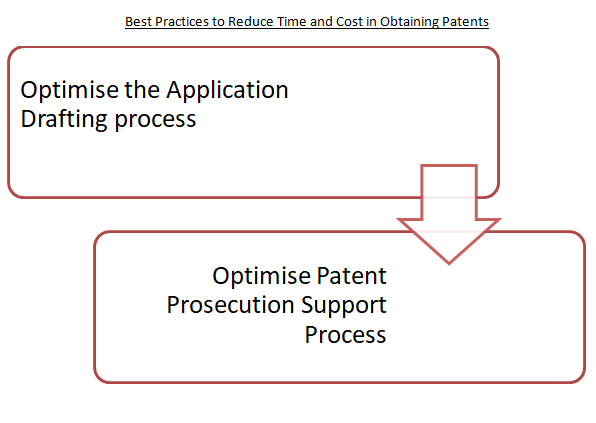 Optimising the application drafting process
Optimising patent prosecution support process
Prosecution delays are a major roadblock; hence, a proper drafting strategy needs to include potential prosecution issues.
Based on our experience in the industry, we have summarized relevant challenges and issues. Additionally, their suggested solutions, strategies and best practices followed in the process of obtaining patents also follow the lead.
Download our Sample Report to know the expertise used by our leading IP creators. This helps in optimising both the application drafting process, as well as the patent prosecution support process.
Sagacious IP is a one of the largest IP solutions providers globally, helping organizations monetize, defend, and expand their IP portfolios.