Innovation Management: Crucial Aspects for Setting Up an Effective Innovation Culture
The ongoing COVID-19 pandemic has triggered an economic recession, with a direct impact on production and sales. Critical functions such as IP also foresee an effect. This is because R&D centres expect to receive budgetary cuts on the non-product development activities. We, however, believe that there is a silver lining to this as it happens to be the right time and opportunity to focus on IP and innovation management.
The following article discusses the various aspects that are essential for setting up an effective innovation culture.
Innovation Management
Innovation management is the process of effectively managing innovative ideas. This is often unstructured and could benefit from adopting some of the best practices that are being tested in most of the research and development (R&D) organizations. There are two perspectives to understand the investment that you make in the R&D field:
Once we have the perspectives in place, the next step is to understand what it takes to hone an innovation culture.
Prerequisites for Running an IP Program
Prior to starting any IP program, it is important to ask yourself the following questions:
If your answer to all these questions is 'no', then you need to start with defining your inventors. The first step is to divide your inventor groups and assign a head who is knowledgeable about the product and the market. It will be wise to build an online platform so that an inventor can reach out to you and share his/her ideas on a forum. Companies that have sizable IP portfolios have IP committees that review the ideas before forwarding them for IP protection.
To keep the inventors motivated, you need to have an official IP policy in place that includes all the monetary rewards and recognition programs that motivate them to submit their ideas. Once the structures are in place, the next step is to monetize the IP assets.
Innovation Lifecycle and the Related Best Practices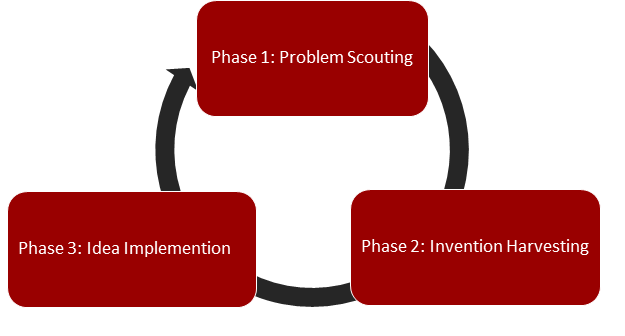 We believe that innovation management best practices start right from the problem statement that you give to the R&D team. If you are solving the right problem, then it is a step in the right direction. Next, you need to move on to consider what exactly you want to solve. A problem-solution approach kickstarts ideas from different inventors. This is where the ideation phase or 'Invention Harvesting' starts. The last and important segment of innovation management best practices is where you take the idea and merge it into a product. You cannot call it an invention unless the inventive product actually hits the market and performs there.
Let us now discuss each phase of the innovation cycle and the associated best practices in detail:
Phase 1: Problem Scouting
It is always said that we should not invest our time in reinventing the wheel. So, what are the things that we must understand while scouting a problem and what should be taken care of while we are defining a problem statement? To start off, problems could come from any of the organisational hierarchies. It could come from your CXO, your R&D department heads or your product managers. It could also come from your customers. It is crucial to take inputs from them to identify the scope of the problem.
The biggest challenge in problem scouting is that we do not have enough inputs from different verticals of the company. So, we need to set a clear vision for the team, identify the right problem, and tackle all the challenges step-by-step. Next, we need to conduct the actual study. This study could be performed by doing a quick state-of-the-art analysis to understand the existing prior arts and do a thorough analysis of the technology.
Phase 2: Invention Harvesting
The invention harvesting workflow consists of three parts/stages – pre-ideation, ideation, and protection. In pre-ideation, you stimulate your inventors to get ideas. During ideation, you start getting broad ideas from the inventors and you support their thought processes. Finally, in the protection stage, you decide whether or not to protect an idea based on your business needs.
Phase 3: Idea Implementation
Once you have accumulated a substantial number of ideas and protected some of them through patents, you should not leave those patented ideas just like that. This is because patented ideas do not hold any business value until they are used. Hence, inventors should be encouraged to create prototypes out of their ideas. Companies that have incubation centres add a proof of concept to their idea that shows how that idea works. This motivates more inventors to submit their ideas. Furthermore, people who manage the innovation life cycle should encourage inventive activities that motivate people to see their ideas develop and be included in a product.
Once an idea gets qualified as a product, it goes to the design phase. Herein, the actual scrutiny of the idea is done. After the idea is tested, it is introduced into the product and later launched into the market.
Final Thoughts
The process of managing innovation can often be tricky. However, if done the right way, it can transform your big innovative ideas into successful products. While developing products, it is advisable to run a check at every development stage to ensure that the IP rights of others are not violated. If they are, then you should have enough time to work around that thought and launch the product safely.
In case you are looking for IP services for your business, getting expert guidance is crucial. Sagacious IP offers various IP solutions for different business needs. This includes but is not limited to services such as Intellectual Property Management Solutions and Freedom to Operate searches. We also have a webinar on this subject, click here for details.
-Sumit Prasad (Technology & Innovation), Vaibhav Henry (ICT) and The Editorial Team
Having Queries? Contact Us Now!