The Smart Home Technology and The Future
The digital age has reshaped almost every aspect of our lives, including how we live, through products that make our homes smarter. Bill Gates, founder of Microsoft Corporation, began building his smart home in 1988 and finished in 2005. Today, you need not be a billionaire to own a smart home and spend 17 years to shape it. Whether you're operating your home through a central system or app-based devices, the choices are wide-ranging and just keep expanding.
The global home automation market size, valued at US$ 45.8 billion in 2017, is estimated to reach US$ 114 billion by the end of 2025, with a CAGR of 12%. Home Automation, also known as "Smart Home Technology", is basically the way to automate your home by using technology. You can monitor almost every part of your home via Internet of Things (IoT) and digitally control almost every aspect of your home.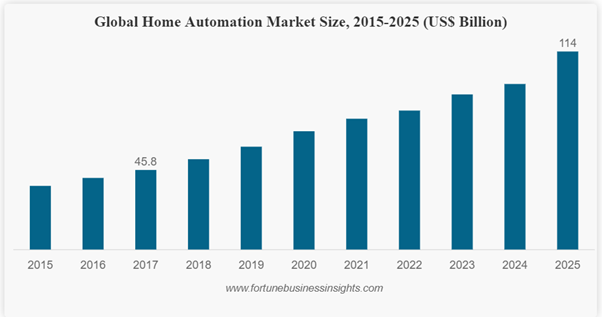 Top patents in the Smart Home Technology and their market applicability
In our review of patents related to home automation technology, we discovered that top ten patents in the field of home automation technology cover a number of sub-systems for controlling various smart devices controlling the home HVAC system (heating, ventilation and air conditioning), smart energy management systems, smart gateways, automatic control of home appliances based on the location of the user, etc.
Many of the top patents relate to electronic systems, e.g. smart thermostats. They regulate temperature, heating, and cooling by controlling the HVAC system of the house. Google holds multiple patents among the top ten patents pertaining to self-learning thermostats capable of controlling the HVAC system,. Also, it informs the user of the power consumed by the HVAC system, interactive thermostat technology software to navigate through choices and monitor the household air quality index, etc.
Some prime examples of smart thermostats available in the market right now are:
Honeywell Wi-Fi smart touchscreen thermostats.
Ecobee smart thermostats.
Emerson Sensitouch Wi-Fi smart thermostats.
Carrier CorWi-Fi thermostat with energy reports, etc.
These smart thermostats consist of touch screens and displays for setting and displaying the required temperature. The thermostat then accordingly controls and monitors the appliances associated with the HVAC system of the house. It provides the energy usage reports and interactive user interface for ease of operation.
We also discovered a patent that belongs to a not-so-popular company among the top ten patents. It relates to the well-known Google Nest products with the Home/Away Assist feature. The patent is related to a home automation system that allows smartphone users to control their home appliances automatically when they are within its range.
For Google Nest devices, the Home/Away Assist feature also has the same features. It can be used to monitor various home appliances such as Google Home, speakers, alarm system, thermostats, smoke alarm, etc. by sensing the user's smartphone presence. Thus, minimizing the manual human intervention and automating the processes.
Some of the most significant trends emerging in the home automation sector are as follows:
Device interoperability and open platforms
Voice controlled home automation systems
Hardware interfaces with software-define
Also, customers continue to look for smart home devices that prioritize reliability and usability. Businesses strive to develop technologies that require a single control interface to connect independent devices and protocols. Single apps and platforms are now developed in a way that give consumers the ability to greatly enhance control and convenience.
Smart Home Technology Market Drivers
Increasing demand for smart sensors, switches, relays, among other smart devices, is leading to a rise in the adoption rate of advanced technologies such as AI and NFC. Emerging smart city initiatives around the globe are also fostering developments in the home automation industry. The key drivers of the home automation markets improve purchasing power of people, growing investment in infrastructure building, technological innovations, and government support.
Also Read: Supporting Licensing Firms Through Sagacious IP Expertise
5 Ways Home Automation Industry can shape the Future:
Independent Platform control
Smart and self-diagnosing devices
Safety and security
IoT enabled systems at home
A greener world with IoT
The Future of Home Automation
As we continue to move towards digital integration in every area of our lives, the notion of having a home that directly interacts with its occupants doesn't seem as far-fetched as it did a decade ago. The home automation market is expected to expand globally. This is because of rising disposable income and increasing demand for high-end energy consuming products.
Also, over the past few years, the home automation industry has blown up in popularity. With this, new smart home products are continuing to debut in the market. With the advent of many automation systems, based on IoT and AI, home automation has become a reality. If IoT were to become indispensable, we are looking at a multi-billion-dollar opportunity in the Indian market as well.
Sagacious IP offers customised solutions to meet your individual needs. Based on our long standing expertise, we strategically address your business challenges and then propose novel solutions. Our consulting approach rather than a report-only tactic drives actionable results for businesses to adapt and grow.
The technology that once impressed us in science fiction is now a reality.
Watch our Recorded Webinar Below (we have covered Home Automation topic in this webinar)

---
Exclusive Report – download below

– Saloni Yadav and The Editorial Team