Application Scouting: Innovation in Chemical Industry
Competitive Intelligence is an information-gathering and analysis process that helps a company develop its strategy and identify competitive gaps.
Application scouting is a part of competitive intelligence which serves as a tool for making competitive strategies for companies. One may also consider it as an element of open innovation.
Companies wanting to engage in open innovations require networking with other companies, small and medium size enterprises, R&D facilities, startup firms, individual inventors, public or private universities, research institutes and the like.
Moreover, the application scouting process enables clients to take informed strategic decisions on extending existing technologies to new applications. This allows channelizing of information related to new application areas for their existing technology portfolio. Performing application scouting also creates support for clients in collaborating with others or buying out licenses.
Why Application Scouting ?
With the increasing globalization, R&D and technology complexity; identification and usage of external sources of knowledge becomes increasingly important. That is where a company like Sagacious IP plays an indispensable role.
It is the logical response to the enlargement of market of the existing technologies for globalization of R&D. This is so as innovation is rarely the result of a single eureka moment and majority of technologies enter the market after the adoption from another industry, discipline, or use.
One purpose of Application scouting is searching for new application areas for the existing technologies of client and expansion of market for their existing technology portfolio; and the other is facilitating sourcing needed for entering into the market related to new applications.
Methodology for Application Scouting
The methodology steps for performing search & analysis in the application scouting process are in the graph below: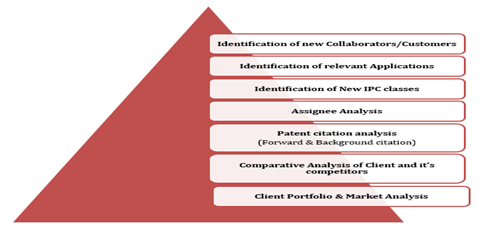 Figure 1: Overview of the steps followed for performing the application scouting project
Case Study
In an Application scouting project, Sagacious IP performed analysis to determine new applications in polymer hybrid industry. The objective of the search was to:
(a) Identify new application areas for the domain related to Silicone Polymer Hybrids;
(b) Identify new customers in the domain of Silicone Hybrids;
(c) Perform a Comparative Analysis of Client portfolio with its competitors in the domain of Silicone Hybrids.
Hence, in order to understand the technology & application areas in which the client is working upon, a thorough study of polymer hybrid industry & client's portfolio and following insights were retrieved
Figure 2: Overview of Silicone hybrid technology (a) Well-known application areas (b) Types of polymers used as hybrids with Silicone (c) Types of Polymers Vs. Applications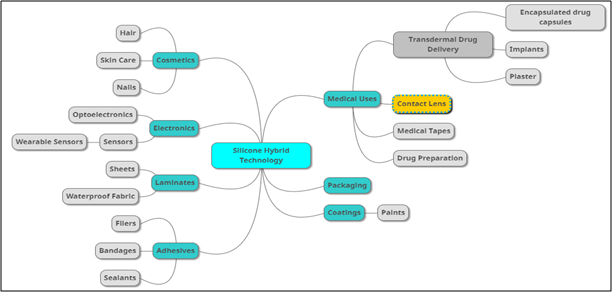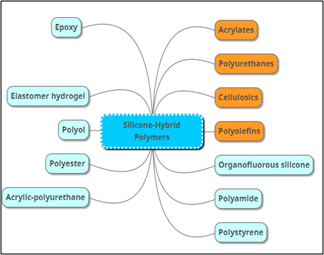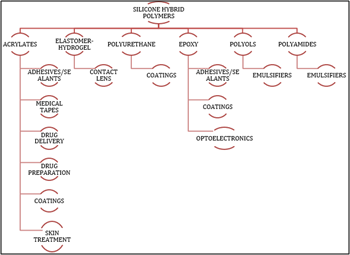 Portfolio of the client's competitors who were engaged in the same application domain were also studied and a comparative study and analysis was carried out. The outcome of the study was represented graphically showing comparative filing trends, application domains, type of polymers used, etc.
Further, a patent-based search & analysis was carried out to identify new applications. The analysis comprised Citation-IPC/CPC mix analysis and Assignee-IPC/CPC mix analysis; wherein, the analysis involved analyzing & comparing the patent classifications with respect to the client's portfolio.
This analysis resulted in the identification of new application areas which is not yet explored by the client. The applications identified were studied in detail to drill them down to few relevant applications.
Sagacious IP then sought to identify potential collaborators or customers for the relevant application areas. In doing so, Sagacious IP further performed non-patent analysis including market research to support the data identified from patent-based analysis.
Outcome
In the market & patent study, it was observed that silicone hybrid technology is being widely used. It covered plethora of applications in fields like medical, electronics, cosmetics, in coating and sealants; however, the domain of optical lenses and wearable sensors was least explored by the Client.
Sagacious IP then searched for the market in this domain and companies working in the same domain that might be potential collaborators.
Accordingly, Sagacious IP identified a CA based firm manufacturing Silicone Hydrogel based contact lenses, which could be a potential collaborator for client in the domain of Silicone Hybrids. The firm relies on sole suppliers for certain raw materials used to make their silicone hydrogel contact lens products. Apart from this, a list of few additional collaborators were also extracted and provided.
If you would like to go through the silicone hybrid technology trend and exemplary snapshots of the outcome of the search & analysis analyzed by our experts, please click here.
– Pooja Chhikara (Life Sciences) and the Editorial Team