5 Core Benefits of Hybrid Patentability Searches That Optimize IP Filing Process
Businesses or individual inventors perform exhaustive patentability searches as a first crucial step to ensure that their idea is patent-worthy. Depending on the size of a business or availability of resources, they either conduct searches in-house or outsource them to seasoned professionals. Either way, they incur costs on patentability searches. As companies cannot forgo this step, it is natural for them to actively seek solutions to perform quick, accurate yet cost-effective searches. The following article unveils 5 core benefits of hybrid patentability searches that make IP filing process a breeze.
Hybrid Patentability Search
Performing manual patentability searches can be a daunting task for companies that are running on a tight budget or have limited resources. This is because, quite often, sizable data needs to be screened for patentability. In case companies outsource their searches, they have to navigate a different set of challenges associated with the process. As a solution to the aforementioned challenges, Sagacious IP has developed a hybrid approach to ensure quality results at considerably lower costs and turnaround time.
Unlike conventional patentability searches which are performed manually, a hybrid approach entails manual and AI-based searches performed sequentially in two stages. In the first stage, 6X ideas are fed into an AI tool to ascertain the level of novelty of ideas and eliminate non-worthy ones. These knockout novelty searches are followed by manual pre-filing searches that are run to obtain patent-worthy ideas.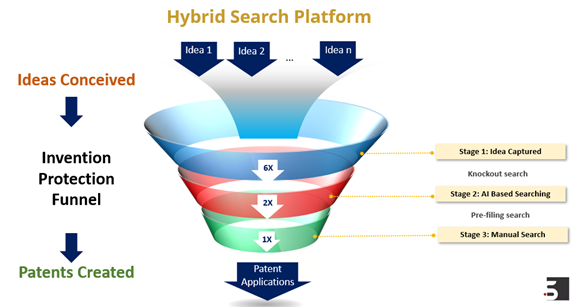 Tangible and Intangible Benefits of Hybrid Search
Here are the top five advantages of performing a hybrid patentability search:
Tangible Advantages
Overall Cost Savings – Unlike conventional search, a hybrid patentability search involves a two-stage screening comprising of knockout novelty searches and manual pre-filing searches. This two-step approach costs one-third of the conventional search costs. Furthermore, the ideas screened using a hybrid approach have a high return on investment (ROI) as the companies are certain of their patent-worthiness.
Saving IP Protection Costs – If a company has a well set up idea screening process, it can save costs associated with office actions (OAs) and responses that are subsequently filed by a patent attorney. The hybrid approach, which involves AI-based and manual searches, helps companies eliminate worthless ideas in early stages and in turn save costs associated with office actions. Furthermore, it can help them save costs associated with patents that may get lapsed or revoked later on.
Investing in Contemporary Search – Apart from knocking out non-patentable ideas, the hybrid approach helps companies focus on high-value inventions. For instance, if a company identifies some high business value ideas during the first level (AI-based) screening, additional searches can be performed on those ideas to ensure that the right scope and aspects of the invention are covered. In terms of costs, the hybrid approach is less expensive as compared to traditional searches for high-value inventions as they help them save 33% on the overall search costs.
Intangible Advantages
Reduced Turnaround Time – An inventor's time, as well as ideas, are extremely valuable. So any delay in patentability searches can critically affect the chances of patent filing. For instance, a patent search process that involves multiple levels of engagement not only breaks an inventor's chain of thoughts but also interrupts the next steps in the patent filing process. With the help of a hybrid patentability search that involves a two-stage screening, ideas can be accurately checked for patentability, thereby reducing the overall turnaround time.
Deriving Value from Ideas: If a company has an efficient idea screening process in place, its in-house IP team can quickly check if an idea under consideration is patent-worthy or not. The hybrid patentability search via its AI tool enables its users to do just that – quickly and effectively search all publicly available prior-arts in real time. The screened ideas are better refined as they have been mapped against prior-arts to knockout worthless ones.
Looking Ahead
Although expensive, patentability searches are imperative for a successful patent filing. Since these searches are an indispensable part of patent filing process, companies cannot forgo it. Resultantly, they look for all possible solutions that can help them save costs and reduce the turnaround time. Hybrid patentability search, a mix of AI-based and manual search, offers the aforementioned benefits to its users.
This innovative approach is part of Sagacious IP's "IT for IP" servicewhichoffers a hybrid mix of AI-driven tools and tailored IT solutions for IP departments, IP law practitioners, business intelligence units, etc. Click here to know more about the service and click here for the webinar.
-Sumit Prasad (ICT Searching) and The Editorial Team